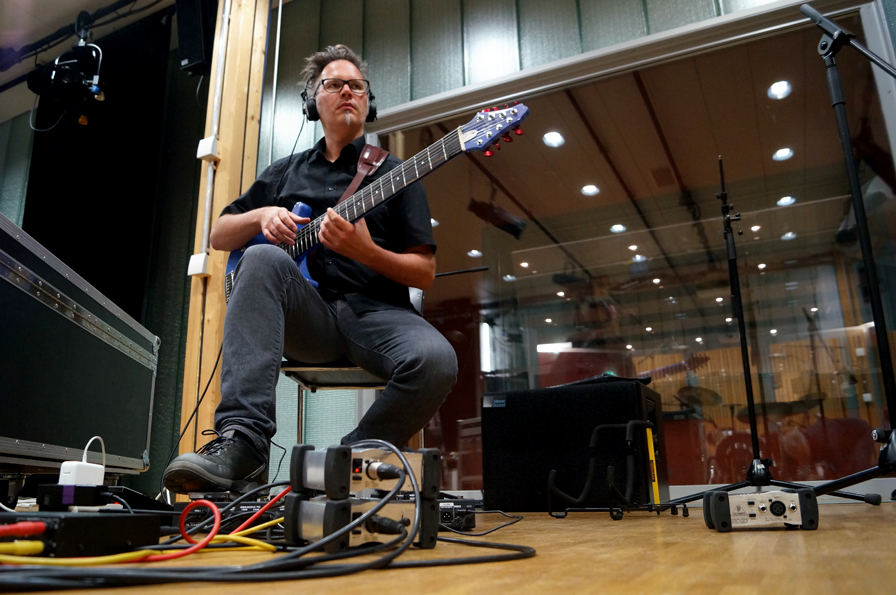 Too many people try to write music that is easy to play," says Austrian touch guitarist Markus Reuter. "For me, the real creative challenge lies in pursuing something I wouldn't typically attempt. I like to force myself out of the comfort zone and use rules-based algorithmic and serial compositional techniques that enable me to come up with new guitar lines. If you don't have rules, you can do anything, which means you may do nothing interesting because the possibilities are overwhelming or they are limited by your existing knowledge."
Reuter's unique compositional approach is at the core of Pole, the new CD by Tuner, his duo project with King Crimson drummer Pat Mastelotto. The song-based album weaves together melodic, minimalist, prog-rock, and experimental influences into an edgy, yet cohesive whole.
"The entirety of Pole is based on defined sequences of numbers," explains Reuter. "I assign a series of notes, pitches, chords, or sets of intervals to each number in a series, and then I stick to that series for the entire piece. It's similar to 12-tone technique in which you have to play all 12 notes before you use the first note again. If an unexpected chord emerged as a result of the sequence, I didn't try to change it to make the song sound conventional. I forced myself to make the chords work within the context."
Reuter's touch-guitar talents can also be heard on Lovefield by Centrozoon, his all-improv duo with electronics maestro Bernhard Wostheinrich, and Eleven Questions, a collaboration with ambient-music pioneer Robert Rich. All of his recent efforts feature him on the 8-string Warr Guitar TSG-8—an instrument that looks similar to a standard electric guitar, but enables the player to use two-handed tapping techniques similar to those employed on a Chapman Stick. After years playing classical guitar and piano, Reuter was drawn to the touch-guitar universe upon hearing Tony Levin playing a Chapman Stick with Peter Gabriel and King Crimson. Reuter discussed the possibilities of the instrument with Robert Fripp while attending one of Fripp's Guitar Craft courses in 1993, which propelled him to pursue the Chapman Stick on a serious level until 1997, when he switched to the Warr Guitar on a full-time basis.
"You play the Warr Guitar with a touch-style technique, which means you only use one finger to produce a note," says Reuter. "The subtleties of the touch technique are wonderful, because the energy flows directly from the finger into the string. Unlike a regular guitar, you don't have to coordinate the right and left hand, because the individual fingers directly translate into the vibration of the strings. It's a more immediate and direct connection to the essence of the note."
Reuter has an affinity for Fripp's New Standard Tuning, and he uses a variant applicable to his Warr Guitar in the form of (low to high) Bb, F, C, G, D, A, C, D.
"This tuning gives the instrument sharp overtones and a rich, bell-like quality," says Reuter. "After using this tuning, standard guitar tuning always sounds slightly flat and dull to me."
For signal processing, Reuter employs a Boss GT-5, a Boss GT-6, an Oberheim Echoplex Digital Pro, and an Alesis Quadraverb 2.
"If you dive deep into the programming of the Boss boxes, you can create a really personal palette of sounds that is truly unique," says Reuter. "The GT-5, in particular, was groundbreaking, because it enabled you to change the order of the effects—you could do things like having the reverb go into the wah. It also has six LFOs that you can assign to any parameter, which means you can really go wild with sonic combinations."
Photo by Stephan Thelen.