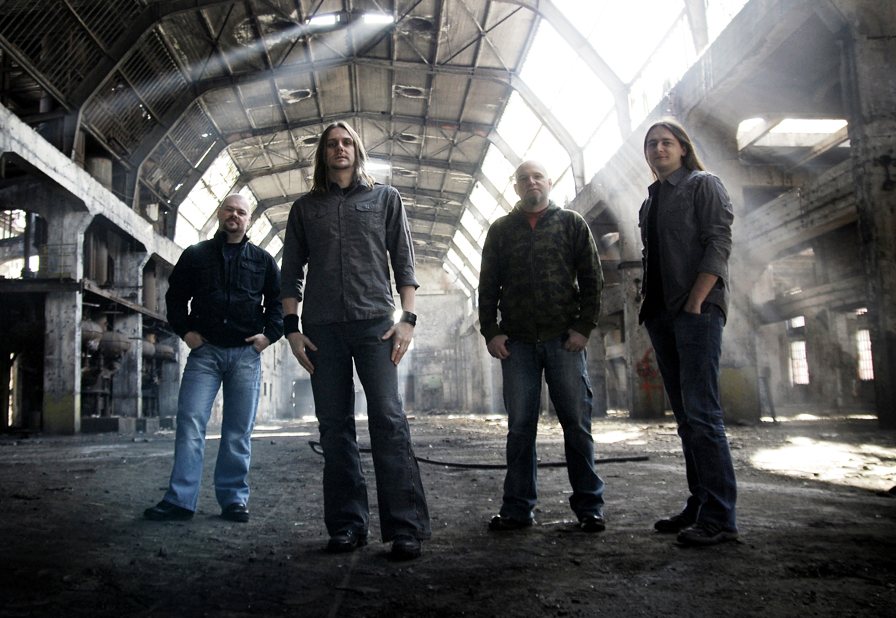 Poland's Riverside puts a magnifying glass on the frenetic pace of modern social interaction and technology. On its latest album, Anno Domini High Definition, the group's engaging and highly melodic take on progressive rock, infused with ambient textures and percolating electronica influences, has won it an enormous following in its homeland, where the album topped the charts.
"The album reflects what I see day-to-day where I live in Warsaw, the capital of Poland," says lead guitarist Piotr Grudzinski. "The city is in a period of transformation and significant growth. Everyone's always in a big rush now, especially regarding things relating to their careers. And in general, humankind is also always driving for new, faster technologies and tools without looking at how these things may adversely impact society. We look at those developments on the album within a concept we call 'liquid modernity.'"
Anno Domini High Definition comprises a five-part song cycle that elaborates on this perspective, with the track "Egoist Hedonist" as a highlight. It's a rollercoaster ride that finds Grudzinski exploring addictive metal riffs, propulsive rhythms, and solos that alternate between the soaring and searing.
"My approach as a guitarist is to play melodies that listeners will remember," says Grudzinski. "I'm not interested in complicated soloing. And you'll hear more riffs on the new album, because we wanted to create music we could play at rock festivals. Previously, we played mellower stuff and longer art-rock songs. Then we started playing at festivals like Monsters of Rock with Slayer and Motorhead, as well as getting the opening slot for a Dream Theater tour, and we wanted heavier material that worked in those contexts."
Grudzinski uses Mayones Setius Pro guitars with Merlin Eclipse active pickups for recording and performing. They feature mahogany bodies with flamed-maple tops, and mahogany and maple bolt-on necks with rosewood fingerboards.
"I'm really a patriot about my gear, so I play Polish guitars with Polish pickups, and my whole system was put together by a Polish company called Mark L," explains Grudzinski. "The Mayones Setius Pro is a really excellent, flexible instrument with a very warm, deep, and heavy sound that lets me go anywhere Riverside's music takes me. I've also got an endorsement deal with Mayones, which is great, because I'm not a rich guy. Working with them means I get access to really superb guitars in a country where it's often difficult to get high-quality instruments without ordering them from abroad."
The remainder of Grudzinski's signal chain includes Eventide TimeFactor, ModFactor and PitchFactor pedals; Mark L Jazzy Drive Deluxe and Vanilla Sky overdrive pedals; Ernie Ball volume and wah pedals; and a Line 6 POD X3 Live multi-effects pedal (controlled by a Mark L LS-16 MIDI Loop & Switch system), along with a TC Electronic M2000 studio effects processor, and an ISP Decimator Pro- Rack G noise reduction system. He plugs into a Marshall JMP-1 preamp pushing a Mesa/ Boogie Simul-Class 2:Ninety stereo power amplifier and a Marshall 1960AV 4x12 cabinet, and controls the entire rig with a Mark L FC-25 MIDI Control System.
Riverside continues expanding its fan base with word of mouth and social media support that's helped the band land gigs all over Europe and America. But Grudzinski insists on maintaining a grounded, pragmatic perspective on Riverside's achievements in the midst of the emerging accolades and acclaim.
"My opinion is everything that can be done has been done with music," he says. "As musicians, we are not changing music theory or adding more notes to scales. Since the beginning of the rock era, probably every way of connecting chords and melodies has been attempted. Today, I think most of us are copying the patterns of others from the past. But that doesn't mean new music can't be meaningful and interesting. So, those are the two things we focus on."