Robert Berry
Rewriting the Rules
by Anil Prasad
Copyright © 2018 Anil Prasad.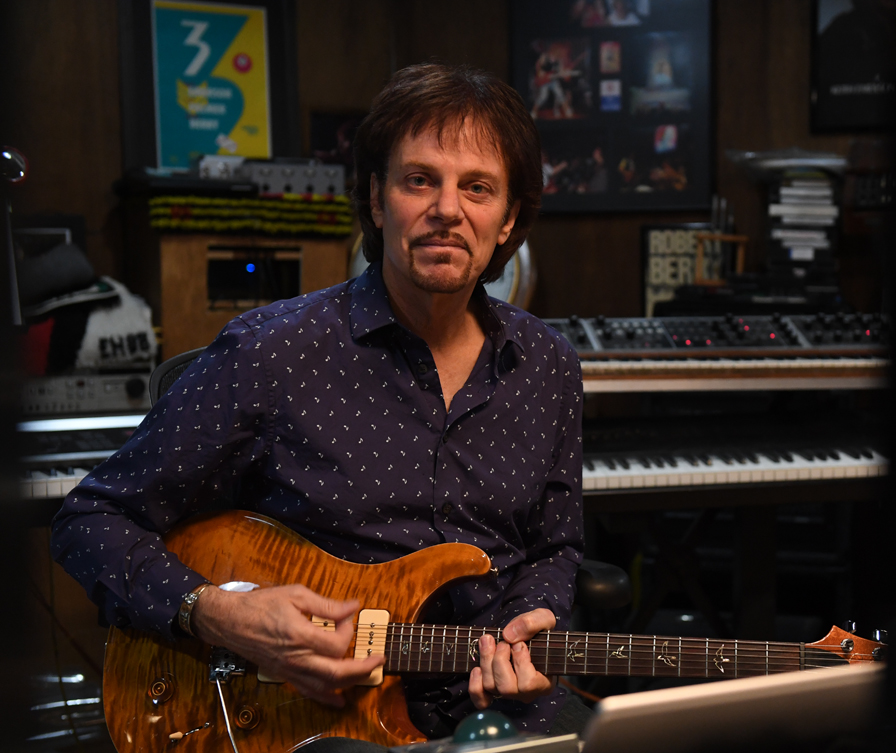 Robert Berry's musical path is a case study in tenacity and positivity. Across his 40-year career, the singer-songwriter, multi-instrumentalist and producer has touched the lives of hundreds of musicians. As the owner of Soundtek Studios in San Jose, California, he's worked on thousands of songs for artists across the broadest spectrum of experience imaginable, from amateurs to the world-famous.
Berry is also a San Francisco Bay Area legend. He helmed two major regional groups, Hush and The Robert Berry Band, between 1978 and 1985. Both bridged progressive and AOR leanings, and cultivated significant followings. His work with The Robert Berry Band was particularly impactful given it caught the ears of music business luminaries including Geffen A&R man John Kalodner and Journey's manager Herbie Herbert. Both chose to take Berry under their wings in the '80s. Their involvement resulted in Berry working with Steve Howe's group GTR, Sammy Hagar, Don Airey, and Joe Lynn Turner, just to name a few.
While those relationships proved fleeting, Berry's Geffen association led him to become involved in 3, a prog-meets-pop band with Keith Emerson and Carl Palmer. The trio released a single 1988 studio album titled To the Power of Three. The recording combined Emerson's intricate, virtuoso keyboard work, Palmer's kinetic drumming and Berry's soaring vocals, bass playing and modern songwriting into an adventurous, yet accessible whole. The album was successful, with the single "Talkin' Bout" hitting no. 9 on the Billboard rock charts.
While 3's album sales and tour attendance were strong, Emerson's commitment to the project wasn't. He disbanded the group after two years together. Emerson was unable to get past the criticism Emerson, Lake and Palmer (ELP) fans had for 3's more streamlined sound. Although 3 created one prog-rock epic in "Desde la Vida," the majority of its output was song-based and explored personal, straightforward topic matter far from ELP's ornate, sometimes fantasy-oriented leanings.
After 3 broke up, Berry and Emerson remained in touch to varying degrees. In 2015, they rekindled their working relationship and agreed to create a follow-up to the 3 album. The two collaborated on songs, music and arrangements and were set to hit the studio, just prior to the shock waves caused by Emerson committing suicide in March 2016.
After much reflection, Berry chose to continue with the project. He recorded the entirety of it on his own, including performing the keyboard parts Emerson had written for it. Berry's eight years of classical piano training, combined with years working as a drummer in various capacities served him well during the process. He chose to put the resulting album, The Rules Have Changed, out under the 3.2 moniker to signify the reemergence of the 3 vision, as well as to acknowledge the differences in circumstances it represents.
Berry does an excellent job with the keyboard work on the album, but it wasn't how he intended to move forward with the project. In fact, Emerson provided Berry with a great deal of recordings to integrate into the album. However, the Emerson estate stated it didn't want them used on the album, citing its desire to have Emerson remembered as a composer, not a rock musician.
Prior to conducting this interview at Soundtek, Innerviews sat with Berry at his studio listening to Pro Tools sessions of Emerson's original parts that had to be removed to satisfy the estate's decision. Emerson's contributions are exactly what his fans would expect—expansive, exploratory keyboard work that was his signature. Why the estate would prevent Emerson's final recordings from being heard by the world is a question that has yet to be answered satisfactorily.
Even with that knowledge in the air, the fact is Berry has delivered an enthralling roller coaster ride that combines the progressive world with myriad musical styles. Listeners will encounter classical, Celtic, jazz, pop, and folk influences within its art-rock structures. The album is a labor of love that's part tribute to Emerson and part resolute determination to ensure an uncompromising, inventive outcome.
Berry explores the soul searching, complexities and inspiration that drove The Rules Have Changed to completion. He also goes deep into his storied career, including his five solo albums, working with Alliance, Ambrosia, and GTR, and his involvement with several prog-rock tribute albums for the Magna Carta label.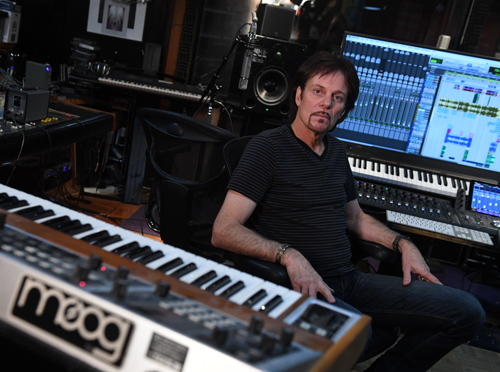 Give me an overview of Soundtek Studio's history.
I started Soundtek in 1981. I was working in a studio in San Jose called Tiki right out of high school and college. I'm a great team player and when it comes to working on other people's music I always want to give 110 percent to make it as good as it can be. That's what I wanted my own studio to be about. So, I took out a loan and bought a $65,000 Neotek Series III board which was a major thing to do. I already had a couple of nice Les Paul guitars and put them up for collateral against the loan. You could still do that in 1981. Like many famous studios I've worked in, Soundtek is a big square box. I've treated it in certain places, but I've never used a sound designer for acoustics. It sounds great.
Initially, I started out getting a lot of people coming through that weren't rock bands. My band Hush was doing very well locally in 1981. We had a little record deal and toured. So, while my career was about rock, at the studio I would get a lot of country bands. I was raised in the country and I'm a fairly good chicken picker. I also had a lot of singer-songwriters coming in. There was something called the South Bay Songwriters Association back then, now known as the West Coast Songwriters Association. I would do three songs in a day for $500 for a lot of people who were part of the association. They'd use the studio's instruments, sing their three songs, and in eight hours they would have their demos. I did so many of those, probably three days a week every week for the first five or six years of the business. It ended up becoming too much for me. I changed it to what I called a "master deal" in which over the course of an eight-hour day, I would work with the musician, have them play their instrument and sing, and then I do everything else. I would talk to them about lyrics, song structure, and anything else I could provide input on. I'd give them my perspective as a songwriter and encourage them to step outside of themselves to get the best results.
So, you're part consultant, in addition to engineer and producer.
More like psychiatrist. [laughs] I'm really there to support their art and connect with them. If I didn't connect to the people that came into the studio, it just wouldn't work. I work in every genre, including teenagers doing hip-hop. Sometimes their dads will bring them in to give them their first professional studio experience. And when they do, they get the best microphones and sound.
Sometimes well-known musicians come in. Jerry Miller, Moby Grape's guitarist comes in every couple of months to work. The Doobie Brothers' bassist Tiran Porter, Boston's guitarist Gary Pihl, Sammy Hagar's drummer David Lauser, Gregg Rolie, Steve Morse, Fee Waybill, Ambrosia, and of course, Keith Emerson and Carl Palmer have worked here. But music is music to me. It doesn't matter if you're famous or not. This is what I do five days a week. I like to call it my day job.
Tell me about your journey towards becoming a professional musician.
My dad had a music store called The Bob Berry Piano House and Vox Room in San Jose. They held lessons there and the lead teacher's name was Carolyn Bull, a German lady who was very strict and really hard on me as a student. I think it was because my dad owned the store she taught at. I had to play at all of her group recitals. I was the kid that represented her 40 students and always had to be the best one, even though I don't think I really was. I look at the classical music I played then and think "I actually did that." For eight years, I was playing complex music and within teachers' association competitions. Even with all of that, I was a very shy kid. If someone came to ring the doorbell, I would hide behind my mom. No-one believes that I could have been like that, but I was.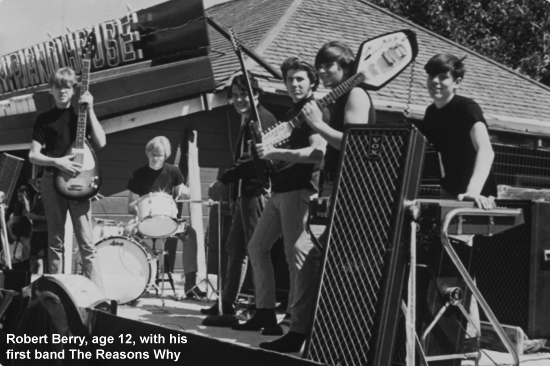 I joined my first band at age 12. They were a bunch of senior high school students and called themselves The Reasons Why. I think they included me because they thought they could get free equipment from my dad's store. [laughs] The funny thing is I could barely play their music, even with my classical training. I didn't know how to play something as a simple as a C chord back then. I had my dad write out all the chords. I was scared to death playing with these 17-18 year-old guys and doing fraternity shows. I sometimes was forced to sing as well. So, my mom got me a voice teacher, who happened to be the head of the music department of San Jose University. She also got me a jazz piano teacher named Jay Dorsa, who I worked with for two years.
My mom was sensing that music was my calling. I didn't like to play baseball or draw. I liked cars and had a go-kart that I liked to go really fast in. But other than that, I had no hobbies. It was all music. Kids would ask me if I wanted to come out and play ball on the street and I'd always say "No, I'm practicing my piano," even though I hated practicing. I just didn't want to do sports. I still barely watch sports.
I was actually in a professional band in eighth grade called 4th Street Exit. They were also seniors in high school and played everywhere in the San Francisco Bay Area. I made $30 a week with that band. We made a single called "A Love Like This" backed with "Strange One," recorded at Tiki studios in San Jose, where I would work again later on.
After 4th Street Exit and a few other bands in high school, a drummer named Richard Katz and I learned all of Lee Michaels' songs and created a Lee Michaels tribute act called Blue Ash. We'd play at my high school. It was at the end of my junior year and I was playing a Hammond B-3. We'd play during lunch and get standing ovations. So, here I am, a guy that didn't want to sing, who was kind of shy, and originally in a band because people wanted to get free equipment from my dad, getting all this attention and it changed my life. I should mention Richard went on to become a great visual artist. He did the cover for my Pilgrimage to a Point album. He worked for Hallmark for a while.
My dad moved us up to the foothills of Saratoga, California where he bought an acre of land, which is unheard of in the area. He grew up on a farm and wanted us to have a little bit of that experience. It changed me for the better. I hadn't really been writing songs previously, but all of a sudden, I realized that I really liked doing it. I started working on all kinds of songs and my writing standards started elevating.
I actually wrote a rock opera at age 19. I recorded it on a four-track Teac machine and played all the instruments. I just kept recording and working on it for a long time. I got a job at a music store called Maple Leaf Music in San Jose so I could buy better equipment. I didn't work at my dad's store beause by that point, he stopped selling Vox equipment and focused on pianos and organs.
Eventually, I had a pretty good set-up with my own equipment and finished working on the rock opera. I decided to go to Tiki studios to mix the four-track recordings through some real reverb. The studio owner Grady O'Neal asked me "Where did you record this? It sounds as good as what we do here." I said "At home on my Teac." He said "You're kidding me, right?" And that's coming from a guy using big Ampex machines. So, I got the rock opera done. Richard Katz named it Ock Ropera for me, changing the first two letters. Silly high school stuff.
How did you arrive at the point of playing guitar, bass and drums?
I had two guitar lessons at my dad's store. I was already taking piano lessons and didn't want to take any more lessons on guitar. I learned a couple of chords. Guitar and bass aren't that hard to learn on your own. They're really natural-feeling things to do for me. I was playing drums at age 14 because there was a little drum set in my garage where I would practice. I would come home from school and just go to the garage and work on stuff. My mom would try and get me to come in for dinner. When I did, I'd just go right back out to the garage and continue. I was fortunate I was a C to C+ student. I don't consider myself smart, but I could get by well enough so I could spend all my free time in the garage recording. I wrote crappy, awful, funky-sounding songs nobody ever heard during my late teens. I probably spent 10,000 hours working on them, writing and playing instruments. Another thing that contributed to this is that I don't mind being alone. I find a lot of peace and uninhibited creativity being alone. I'm a self-starter.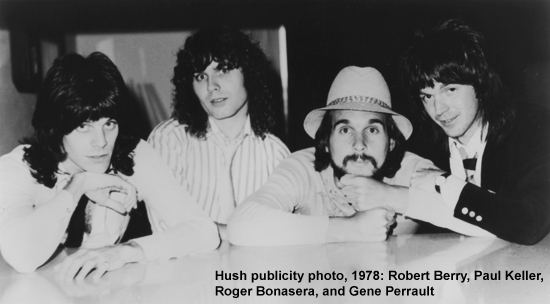 Chronicle your journey as part of Hush.
Hush started in 1977 as a progressive rock cover band. It was put together by a booking agency in San Jose. It combined two bands—my early college band Herbie Squirrel and another band called Jasper. The agency said "We can get you guys booked everywhere." So, we said okay and realized we all liked the English stuff happening at the time, so we had that connection. Most people think we named the band after Deep Purple's "Hush," but it came out of hearing some guy just saying "What about naming your band Hush?" That was it. It sounded cool to us.
Hush practiced a 10-minute medley of songs for a couple of months because there was a band showcase coming up for the booking agency. I actually had a Mellotron, so we were able to do The Moody Blues' "Nights in White Satin." We also did Led Zeppelin's "Stairway to Heaven" with the flutes on the Mellotron. We got a lot of interest after that showcase and were offered gigs that started just two weeks later. The problem was we only had 10 minutes of connected songs that we had practiced. We had to really jump in and put together a complete set.
We went on to play every college and high school in the South Bay of the San Francisco Bay Area for the next five years. We co-billed with Pablo Cruise, Ambrosia and Sons of Champlin. There was a bunch of local buzz happening.
We released a self-titled album that came out first on Gnome Records in 1977 and then was re-released on ASI Records with a different track listing in 1978. Our music was sent to KSAN radio in San Francisco, who ran a battle of the bands thing and we won. After that, we got to play Winterland opening for Rush, UFO and Max Webster in 1977. We thought we were on our way. But Rush's road crew thought Hush was ripping off their band's name, so they turned our monitors up until they fed back. We had this opportunity to do a sold out Winterland concert playing original progressive music with an album out. So, here we are and the monitors are going crazy. I looked at Rush's road crew and said "Could you cut the monitors?" They were more than happy to, because it meant we wouldn't be able to hear ourselves. But we were a really tight band that practiced all the time, so it went fine. To this day, people still come up to me and say "I was at Winterland in 1977 and you guys were really good."
We built up a serious base here and played a lot of gigs. We toured with Black Oak Arkansas and Triumph. When we got back from all those shows, we realized the album did okay, but it wasn't enough to make bigger things happen. We did a second album called Hush '79, but then the record company went bankrupt. We released that one locally in the '90s on cassette. So, we regrouped and decided we were going to go all out with the next album and try and win a Bammie award, which used to be a major Bay Area thing.
The next album that got released, Hot Tonight, came out on a label called Big Cheese Records in 1983. It was Hush trying to be Foreigner and what you heard on radio. We were told to be more accessible, but it wasn't the real us. But we won a Bammie for it. We were a serious favorite here in the South Bay and beyond. But we were really unhappy with the audience we had developed full of fans of our fake Foreigner album. So, I got the guys together and we agreed we were going to stop doing original music. Instead, we decided we were going to go out and do two hours of Rolling Stones music non-stop and get rid of all those fans who made us who we are. I know it sounds crazy, but we did that for two years. Our opening act was a video screen playing MTV videos. We would never have another band on the bill. We also got rid of every progressive rock fan we had. Instead, we got fans who would drink beer, have fun and party. We were wildly successful doing that in terms of a draw. We made a lot of money doing it, but realized the band was musically dead. So, I moved on and started The Robert Berry Band.
The Robert Berry Band proved to be life-changing. Tell me what unfolded.
At that point, I didn't think I could be a progressive rock musician. I didn't believe it could fly. I had started writing a whole bunch of songs that didn't apply to Hush. I felt I needed different guys to make this music. What sealed the deal was when KOME held a best San Jose band concert. I entered a solo song called "You Can't Do That" which was more like Huey Lewis. It was rockin', but had a groove to it. We won their top prize. So, I ended up making an album in 1984 called Back to Back that included it and my other new songs. They had lush keyboard stuff and funkier drums than Hush.
This might sound strange, but I really didn't put it out. I got an offer from a pressing plant in Taiwan that wanted us to use it for Soundtek projects. They said "We'll send you 500 LPs as a test." I said okay, sent them the non-Hush tracks to press and then two months later, the albums showed up by ship.
Now, I didn't know that my friend Rob Fowler, a graphic artist who did the cover for the new 3.2 album, sent copies of Back to Back to Cashbox and Billboard. It ended up getting named a pick of the week by both of them. Rob also sent the album to a bunch of managers and music industry people. A copy got to Herbie Herbert and he agreed to become my manager.
Back to Back was a beautiful piece of work that I thought would just be something I could show clients who wanted a record pressed of their work they did at Soundtek. I gave away 200 copies at a New Year's Eve show because I really had no plans for the album. Without really trying, it got local radio attention and The Robert Berry Band played a battle of the bands show that it didn't win. But as I say all the time, opportunity is transient. Little did I know Rob had sent the album to Geffen Records, too.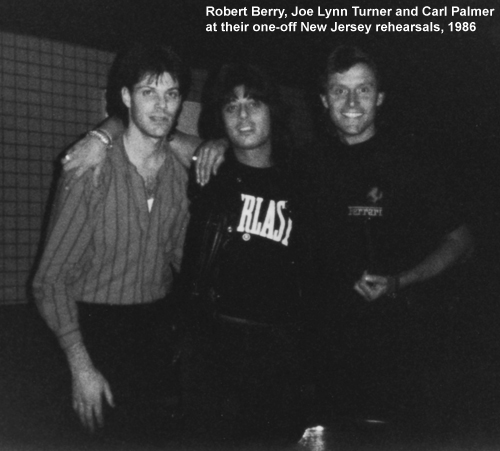 John Kalodner, who ran A&R at Geffen, took a serious interest in you, resulting in a roller coaster ride that involved Asia, Carl Palmer and GTR. Detail what went down.
John and Herbie Herbert heard my stuff and thought about making me into a new Bryan Adams kind of guy, but a little funkier, soulful and groove-oriented. I did a song for John called "Runaway" that he put in the soundtrack of a movie called Out of Bounds. I went to Little Mountain Sound Studios in Canada to work with Bruce Fairbairn on that. A version would end up on the 3 album later. As it turns out, John gave that and Back to Back to Carl Palmer.
I got a call from someone claiming to be Carl in 1985. I thought it was Richard Katz, my drummer friend, imitating Carl. I went along with what I thought was a joke and said "Yeah, yeah, good to hear from you Carl." And then the voice on the phone started talking about John Kalodner and I realized it must really be Carl. He said there was a problem with John Wetton in Asia and that they planned to replace him. Carl also said "I like your sound and writing. Either we're going to reboot Asia with a new front-man or I'm going to start a new band." Now, Asia was my favorite band. They had the perfect mix of my hero Steve Howe on guitar and Geoff Downes' incredible keyboards. As it turns out, Asia didn't continue at the time. Carl then said in 1986 "My manager Brian Lane is going to be in town in San Francisco with GTR. I'd like you to meet him." So, I met Brian and he was very nice to me. He said "Carl is really up to doing something with you. I don't know what we're going to do, but I'll make it happen and you'll hear from us."
Next, Carl calls me and said "Would you like to meet me in New Jersey? I'm thinking about working with this singer who has some good material too. His name is Joe Lynn Turner—the guy from Deep Purple and Rainbow." I said "I'm in. Let's meet." I flew out there, met Carl at the airport and we went to the hotel together. We told the front desk guy we had reservations for Palmer and Berry. He said "Which one's Arnold and which one's Chuck?" I thought that was hilarious.
So, we show up at the studio and there's Joe, together with Alan Greenwood, the keyboardist from Foreigner. But Joe didn't want to do anybody's material but his. Carl wouldn't have anything to do with that. We played a couple of songs with Joe and walked out. For me, a guy who hadn't really done anything major before, I was pretty disappointed. I came back home. Then Carl called again and said "Don Airey is interested in forming a band and we should get together with him. You'll need to fly to London for that." So, I did that. Don was a really sweet guy, but we just couldn't get it going with the songs. It just didn't click. So, I went home again.
Next, Brian calls me and said "Steve Hackett is leaving GTR. They need a songwriter and a guy who plays some keyboards because Geoff Downes is doing Asia again. Would you be interested?" I thought to myself "All of these opportunities are happening, but everything is falling through. But this seems real and it's with Steve Howe, my guitar hero." So, again, I said okay and flew back to London and met Steve at his house. His whole family was there. His son Dylan was just a little kid and I remember him throwing popcorn around the place and Steve saying "He's just having a good time." Steve was so mellow and cool. He said "I'd just like to get to know you and write some songs." He gave me a cassette with a song called "You Have Yourself to Blame." I went back to the flat Brian rented me. Geoff Downes had loaned me an Elka keyboard. I brought my own guitar and four-track cassette recorder in a big suitcase. I stayed up all night working on the song. I thought "Steve's a vegetarian. He's mellow. I don't think he'd ever look at someone and say 'That's not my fault. You're to blame.' Steve would say 'I only have myself to blame.'" So, I changed the words. It's a very Buddhist kind of sentiment.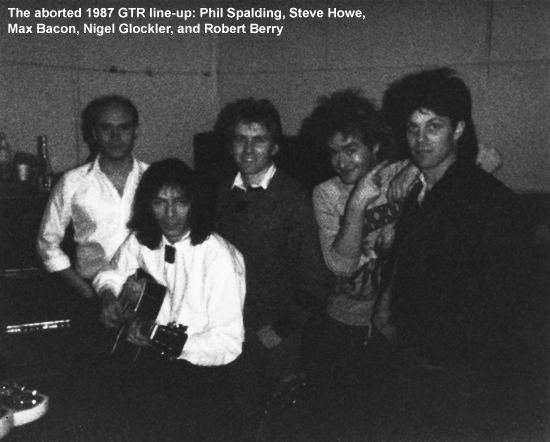 I worked on the lyrics and came up with some guitar parts that I felt lived up to the name GTR. My thought was the debut GTR album was too keyboard-focused. I didn't go to bed until 4:30am. I didn't have enough time to put together a demo. When I was in the taxi going to Steve's house at 11am, I thought "I'm going to have to play and sing this for Steve." I had taken every chance I could with the song. I figured at this point in life I had to be true to my instincts and just go for it. Steve had an eight-track Teac half-inch tape machine. I said "If you give me a chance to put down the parts, I can show you what I've worked out for the song." I gave it a new beginning with big Pete Townshend chords leading into the Steve stuff. I wrote all these new words. I'm plucking it out for Steve. I play decent guitar, but not worthy of Steve.
After I play it for him, he turns off the tape and said "I've got to tell you that nobody since Jon Anderson has ever torn apart one of my songs and changed it so much." Inside my head, I'm thinking he's going to continue "I don't know who the hell you think you are." But what he actually said was "You made it sound marvelous. You understood the meaning. The new parts are tremendous. I love it. Here's another song to work on." So, I took that song, "The Love We Share" and worked on that as well.
I put a bunch of songs and music together for GTR with Steve, including "Young Hearts" and "Talkin' Bout" which would later be a major hit for 3. Because of what I do in my own studio for so many musicians, I can pick up on people's styles really quickly. Steve was enthusiastic, so we went to the farm studio in the Devon countryside where Yes had recorded previously. When we finally got together with the band, there was Phil Spalding on bass, Max Bacon on vocals and Nigel Glockler on drums. Phil and Max had just spent a couple of years being pushed around by Steve Howe and Steve Hackett and decided they were going to be really hard on me. Phil kept telling me to get the time changes together. Max was upset that my deal with Brian Lane stated I would get to sing one lead vocal on the GTR album we were working on as a prelude to my pending solo career Geffen was grooming me for.
The truth is Max didn't want me singing on anything—not even one song. Even when I sang a harmony, he would come up to the microphone and double it so my own sound wouldn't come through. I don't know if he felt threatened. Everyone seemed okay to have my songwriting on the album, but they didn't want my voice on it. I did an awful lot with Steve for these sessions but felt I wasn't being allowed to do what I needed to do. I don't know why Steve was letting it happen. So, after we did the demos, I decided they didn't really need me. I thought "They have my songs. I'll leave and they can just use them if they want." I wrote Steve a nice letter saying exactly that. I mailed it to him the day before I told Brian Lane I was leaving. He was really upset because he thought he could salvage things. Ultimately, GTR failed when they were left to their own devices. They renamed it Nerotrend for a while, but nothing ever came out other than session bootlegs. And by the way, those bootlegs actually contain many Robert Berry Band recordings, not just exclusively GTR stuff.
As it turns out, the GTR situation turned out to be what led to the opportunity with 3. Tell me how that happened.
I told Brian Lane "I just know there's something better for me. I'm gonna go home." He set up a flight for me. I'm thinking he's probably relieved to get rid of this American kid once and for all. Then the next day he calls me again and said "Would you like to meet Keith Emerson before you leave England?" I said "Why?" Brian said "He heard your songs and likes what you do. He and Carl have been talking about possibly working with you. How about having lunch with Keith?" Now, I worshipped Steve Howe, but I wasn't afraid to meet him. But with Keith, I was really nervous. I thought he was going to be a crazy scientist-type guy because of the amazing things he's done. But Keith was really fun with lots of jokes. We had a glass of wine at lunch and Keith said "I'd like to get into something like what Carl did with Asia. I'd like to make some money and be in something different than ELP. I'd also like to get away from the struggles ELP had." Of course, he's talking about the difficulties he had with Greg Lake.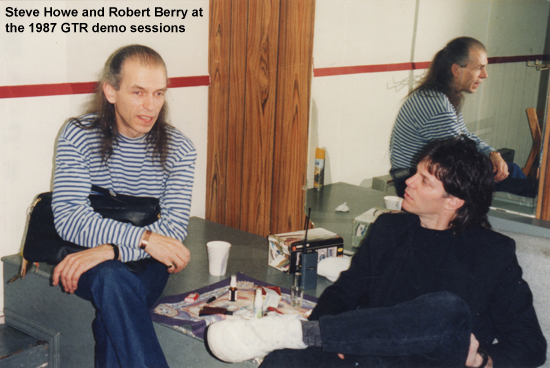 I said "Wow. I was about to head home thinking there was something better for me and here it is. I'd love to do it." Keith then said "I have only one question though. It's important to me that if we go on tour that we play a couple of ELP songs." I looked at him and smiled, and said "Of course. I would never expect you to leave your legacy behind. I'd honored to play them." I thought I'd be singing "Lucky Man," but as it turned out, he meant playing instrumentals like "Fanfare for the Common Man" and "Hoedown" which were great to do. We left the meeting with me saying "I have no ego involved in this. I just want to move forward and make really good music with really good people and they don't come any better than you." He said "You're very kind" in a humble way.
Now, I was still heading home after the GTR thing. I thought I had guys renting my studio and as it turned out, they never showed up. I was close to not having enough money to pay the rent and make equipment payments. So, I worked a month straight to build up the revenue again and pay those bills. Then I went back to England to meet Carl and Keith.
Carl and I show up at Keith's Stonehill House in Sussex to work in his barn, where he had a studio and rehearsal space. But when we show up at this incredible mansion, there's nobody around. Then we look up at the second story window and there's Keith speaking with his butt cheeks. [laughs] He's flapping his cheeks saying "I'll be right down. Hang on." He really was a funny guy. He finally comes down and Carl said "Oh, Emerson." He said that many times across the years I worked with them. [laughs]
We worked in the barn for months. Keith had a big eight-track recorder and we put together ideas for the 3 album before we went to Easy Hire Rehearsal Studios in Islington. They had a recording studio in there that looked a lot like Soundtek. We did some GTR demos there. I felt we could record the 3 album there. Keith and Carl went "Really? No, we go to top-end places." I said "I know how to use this stuff." We ended up doing some demos there, including "Eight Miles High" that we gave to John Kalodner, along with a video for that track.
We went into a video production house that offered to do a video for £1,000. The producer would do six bands a day. Brian Lane's idea was for it to look like Close Encounters of the Third Kind with big lights. We had a girl who worked at Brian's office and two of her friends come down for the shoot to play drums. They weren't drummers, but banged on them dressed in these black bikini-looking things. Keith is playing a keytar and Carl is on a Rhythmstick. Everyone was having a lot of fun. We saw the video and thought it was tremendous. There was so much energy. Kalodner loved it.
3 also originated because a proposed ELP reunion crashed and burned after Emerson, Lake and Powell folded. What do you recall about that situation?
Yes, ELP was supposed to do some shows in Germany in 1987, but Keith and Carl had such a blow out with Greg that they asked me to do the shows in Greg's place. We talked about maybe starting a new band. Then we decided to just do the band and forget about those shows. At the time, Keith and Carl said they'd never work with Greg again.
The band considered the names Smoking Guns and Czar before arriving at 3. Tell me about the discussions that took place.
We were just fishing for a name. Somebody said there's this new band Guns and Roses in Los Angeles that's getting known. I believe Keith said something like "Well, how about Smoking Guns? That would be a cool name." We wrote it down as an option. Brian Lane came up with the name Czar and we really liked it. It sounded strong and powerful, but it was kind of pompous for a band name. ELP was always accused of being pompous, so we all said we can't use it. Then Brian said "Well, you don't want to be pompous, so how about 3? Not the word three, but the number itself. No-one's ever used a number before." We said that was probably true. Later, record stores would tell us why you don't use a number—because they have nowhere to put the record. [laughs] But that's how it started. We felt it was simple. The band had three people. It worked.
In the early days of 3, singer-songwriter Sue Shifrin was also involved. Why didn't that work out?
Sue was at Keith's barn for some rehearsals. She also came out to Easy Hire Rehearsal Studios. She was there to sing "Chains," which was her song. We didn't do any of her other songs and she didn't sing on my songs. Keith had worked with her previously. She was David Cassidy's girlfriend and stuck in London because he was down on the East End doing a play. She had written songs for Tina Turner, Cher and Meat Loaf. Brian Lane was excited about us working with her because she was responsible for hit material. The idea was she would be part of 3, but she was only with it for a month.
I think the turning point with Sue came when Keith was working on "Chains" and started playing his Yamaha GX-1 keyboard—the same one he used on "Fanfare for the Common Man." When he started playing it, she said "It sounds good, but why are you using that duck sound on it?" He looked at me and then stared at Carl and said "That duck sound?" very sarcastically. It was a priceless moment. That was the point at which Keith became unhappy. We told Brian she wasn't quite right for the band and he worked out a way for her to be happy with what she was doing in her career, but allow us to keep "Chains." It was a well-written pop song. I think it was wrong for the album though. Same with "Runaway," but Geffen had invested money in it previously and they wanted it on the album.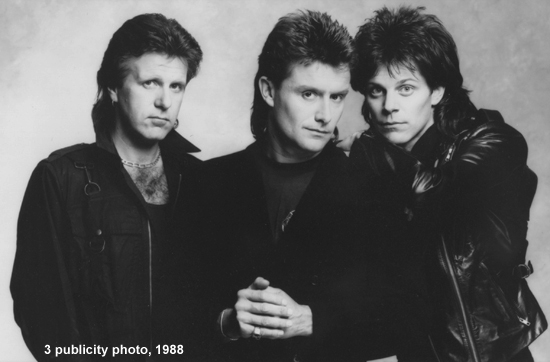 When you were at Easy Hire Rehearsal Studios, so was Terence Trent D'Arby. Tell me the tale.
That's a really funny story. He was in the next studio practicing "Wishing Well," which was just starting to climb up the English charts. It had that melody that goes ba-ba-ba and for some reason, he felt he had to rehearse the song all day long for a whole week. He wanted it perfect. It was driving Keith really nuts. We could hear the melody over and over through the walls. So, Keith started playing it over and over with his GX-1 and the now-famous "duck" sound. [laughs] The GX-1 also had a whammy bar and vibrato, so we're making total fun of the song and jamming on the riff with all these silly sounds. Suddenly, D'Arby walks in the door of our studio and we're all laughing. He just looked at all of us and walked right out. There was no "That's not funny" or anything. He just came in and out with no interaction. It was absolutely hilarious.
3's only single "Talkin' Bout" went to number nine on the Billboard rock charts. Describe how it evolved from its GTR version to 3.
It started even before that. I used to do a lot of high tech industry videos for a company called Silicon Graphics, as well as Intel, Apple and Tandem Computers. The intro to "Talkin' Bout" came from a Silicon Graphics video I wrote the music for. I always liked it and started writing a song with it. The Robert Berry Band played it, too. Steve Howe wanted it for GTR and did some Going for the One-style guitar on it. I played keyboards on the GTR version. I remember Max Bacon contributing a very stiff, enunciated vocal to it in which he'd sing "I'm talking about you." He just wouldn't sing it more casually as "talkin' bout" for some reason. Keith really liked the song and once he got ahold of it, suddenly it sounded huge.
The 3 album was made right when the Roland D-50 keyboard came out. It's why "Talkin' Bout" and the rest of the album sound so fresh today. We had one of the first D-50s and it's an amazing-sounding keyboard with all these airy, swishy, grainy sounds. After the 3 album, not many people used the keyboard. I think it's because they associated it with 3 and Keith Emerson.
Another interesting thing about "Talkin' Bout" and the whole 3 album is that we wanted it to have as modern a sound as possible. What we did was program all the kick drum patterns. Every kick drum sound you hear on the record was played by a drum machine. I told Carl "We need to compete with the new music that's happening—that sequenced, dance stuff. If we take just that one element—the kick drum—and make it sound tight, punchy, digital, and in your face, it'll add another dimension to what we do. It'll be a combination of sound for this new world we're operating in.
I never thought "Talkin' Bout" would be a hit. I didn't even think it would ever be on an album. I was supposed to be the "Run to You" Bryan Adams guy for Geffen. "Talkin' Bout" had all these weird progressions. And when Keith put the Emerson into it, we knew it transformed into something really special. It had a bit of that "Fanfare for the Common Man" feel to it. Geffen felt it could get radio play. They decided it was going to be the first single and it went to number nine.
Because it became a hit, the composition of our audiences started to change. Progressive rock fans are mostly male, often intelligent, and sometimes very critical. But now we had a lot of young girls in the crowd that loved the song and what it said. It was a positive song.
Why wasn't there a follow-up single after "Talkin' Bout" charted in the top 10?
"Lover to Lover" was supposed to be the second single. It was another song that bridged the progressive gap like "Talkin' Bout" had. It was a little more commercial, lyrically, but Keith's playing on it was genius. So, Geffen planned to release it. But Keith had got so much criticism for 3 and it was very hard on him. ELP fans would say 3 didn't do enough fancy ELP-style stuff and that I wasn't Greg Lake.
Keith was losing interest in 3 towards the end of our tour. Guns and Roses, Aerosmith and Whitesnake had become really big for Geffen and the label didn't want to invest in a second 3 single. They said "We want you guys back in the studio to start a second album." Music was changing. It was getting more hard rock and grunge-focused, even though we had a lot of radio support for 3. Geffen was courting Nirvana at that point.
Tell me about the making of "Desde la Vida."
It was based on a Ginastera piece called "Creole Dance" Keith was playing. He wanted to do something with it. The song is about being Spanish and how the Spaniards love the land and lived off the Earth. I asked Carl "How do you feel about having some Spanish lyrics in it?" Carl knew Spanish, but he said "I don't write lyrics." I said "I'll give you a line in English and you give it to me in Spanish." Carl had a great time working on them. They kept telling me "We want fresh ideas from you. We don't want you to be Greg Lake." Keith had a lot of great parts for the song. It was actually going to be five minutes longer with a Spanish guitar part I had worked on, but I didn't want to push too hard for it. Adding guitar seemed to make it feel like I was making those sessions more about me, even though I'm not that kind of guy. I didn't want to have that happen. We ended up with a stupendous, very developed Emerson-driven piece with lots of great Carl parts as well. It was a grand track and not commercial at all. We wanted to have one epic piece on the album and this was it.
Live on stage, I would also play some keyboards on "Desde la Vida." Keith wasn't thrilled about that at first, because nobody had ever played keyboards on stage with him before. Keith playing with one hand was as good as anybody playing with two, but he let me do it.
When you recorded the 3 album, a fairly silly song called "Business and Pleasure" was completed and left off of it. What do you recall about making it?
I came up with that song. The song was about the office workplace and the male-female thing that can happen. John Kalodner had a lot of girlfriends. He was always talking about them. I asked him "How many girlfriends' names can you name? I'd like to use them in a song." He said "I have 100." [laughs] I said "Can you give me 20 names?" He started rattling off the names of these girls he was dating. I wrote them down. I had a Korg DSS-1 sampler that Keith had got me. I put each name on a key—all 20 of them. I hooked up a sequencer to it and it spit those names out rapidly, which you hear in the introduction to the song after typewriter sounds. The names ended up being the rhythm for the song. They go so fast you almost can't tell what they are. It's an odd piece and really fun, but not something anyone thought should have been on the album. It didn't fit. John cut it. He said it was totally wrong for our sound. Keith did some honky-tonk piano on it. I've cleaned it up and beefed it up so it sounds better. Someday, people will be able to hear it.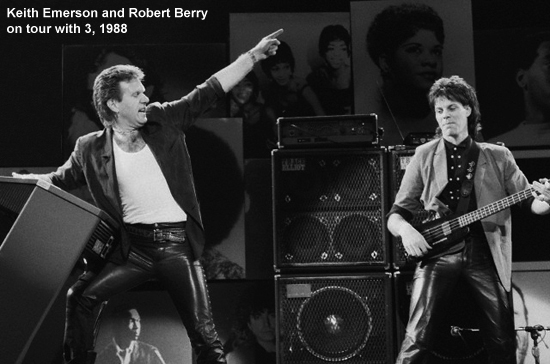 How do you look back at the 3 tour?
3 was a really fun band to see live. We initially had two female backup singers, along with a guitarist named Paul Keller to augment the band. Along the way, we got rid of one singer and were planning to have the other one leave at the end because ELP fans couldn't handle having girls in the group. This all had to do with Keith's insecurities. Right from the start of the 3 tour, Keith would sit in the dressing room before the show and go "My God, they're booing us. Listen." Then Carl would go "Oh, Emerson. They're yelling 'Keith, Keith, Keith.' Can't you hear that?" And Keith would just go "Oh." But he had this built-in idea that the ELP fan base was having a problem and that they felt 3 had no depth, even though we did "Desde la Vida" which is one of the all-time great Emerson tunes.
We started in Poughkeepsie, New York. We rehearsed two days there and then played a show. Immediately, most fans loved it. We looked at each other after the first song and felt we were on to something. At the outset, we had "Runaway," Chains" and "You Do or You Don't" in the set. Halfway through the tour, "Chains" and "Runaway" were gone. By the end of it "You Do or You Don't" was gone. Those with the most straight-ahead tunes. It's because some of Keith's fans were wearing on him. He didn't want to play those songs anymore.
We were having fun jamming on things like "Rondo" though. One thing ELP didn't do was jam. It was a structured band, so fans loved 3's jams. Because we were playing 2,500-seaters, fans could be really close to Keith and Carl. They could never do that with ELP. In terms of my perception, the fans thought "Here's this new guy who's not Greg Lake" but I felt I held my own. When we played our hit single "Talkin' Bout" I felt like I was on top of the world. I thought "I can't believe it's my song that's in the top 10."
We brought Keith's huge Moog setup wherever we went. We had the Hammond organ too—the one he throws around the stage. Because the stages were sometimes small, we would have Paul Keller and our background vocalists off in the corners. Once there wasn't enough room for the Hammond to move around and it fell offstage. But we always delivered. Carl always did a great drum solo that was as good as it gets.
One of the big highlights was when we played Madison Square Garden at the Atlantic Records 40th anniversary celebration. We left Texas, flew there that night and walked in on Led Zeppelin rehearsing. They sounded incredible. They were playing a blues tune. But the next day, they were awful. But 3 put on a great show and had a great time. For some reason, the Aaron Copland estate said they didn't want "Fanfare for the Common Man" broadcast that night. Keith was heartbroken about that. And even though Brian Lane was telling us not to play it, we decided to anyway. We thought it would be great for the audience. They told us they weren't going to broadcast it, but we didn't care. We were there representing ELP and we thought the audience deserved to hear it. As it turns out, it was broadcast outside North America.
Another great memory of being on tour is when 3 played The Fillmore in San Francisco. Keith went down to my dad's music store and signed Korg digital pianos for him to sell. He must have signed 10 of them and my dad would sell them to these old ladies. He'd tell them "Oh, Keith Emerson came down and signed them. It's a special model." That was Keith. A sweet guy that wanted to help people, including my dad.
How did you handle the criticism directed at you?
Prior to 3, I had played with Steve Howe, Geoff Downes, Matt Clifford, and Joe Lynn Turner and Alan Greenwood for 10 minutes. I had met Jon Anderson at Brian Lane's office who said "Oh, you're the new guy with Emerson." And people didn't think I had the right to be on a stage with Keith and Carl? They're right, I didn't! [laughs] I was nobody. But there I was. And my song was number nine and that was good enough for me.
I can't say I liked the criticism. I didn't like it when people said my voice wasn't as good as Greg's. I didn't have his big choirboy voice. I wanted to be Lou Gramm. He's my singer. I think Greg Lake is fantastic. I think the job he did when he stepped in for Asia in Japan in 1983 was genius. I don't think anybody else could have done that.
But every night I played with 3 in every big city, there was always someone who had worked with me at Tiki studios when I was young or at Soundtek. They would always make sure that I knew who they were. They'd say things like "We're so proud of you" and "Wow, you worked on my song and now you're doing this." I took the right turn at some point and this is what happened. I felt honored and fulfilled that I got to play with 3.
But I knew something was wrong towards the end of the tour. We were dropping songs. We got rid of a female background vocalist because of more criticism Keith had received from fans. John Kalodner came to the Los Angeles show expecting to see the four-piece band and two backing singers, with Keith being really proud of what had been achieved. John could tell Keith wasn't especially proud of 3. Keith was still doing a great job performing, but John knew something was wrong. At the end of the 3 tour, Keith decided he didn't want anything to do with 3 anymore because of all the criticism.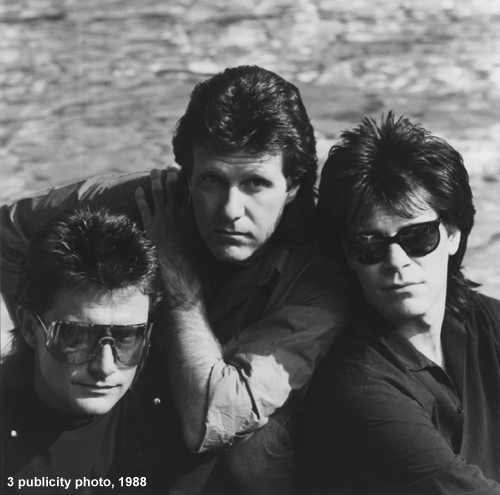 What did that reveal about Emerson to you?
I spent a lot of time with Keith at his home. I got to know his kids, his mom and Eleanor, his wife at the time of 3. I'd have dinner and we'd all be talking. All of a sudden, Keith would just disappear. He'd go to this huge fireplace in another room with his keyboard backwards and headphones on. He would just practice playing keyboards backwards so the shows would be as good as they could be. The dedication that man had was incredible. He was the best Keith Emerson there could ever be. There was nobody like him. He created that style and lived it. He was the style. His arms and fingers were like hammers.
It surprised me that the amount of dedication, depth and artistry he had could be shaken so easily by criticism. He wasn't confident when it came to that stuff. As the years went on after 3, I felt the fire wasn't there in Greg Lake's writing and the incarnations of ELP that followed. The edge in the music was gone. The harsh, energetic thing that made ELP so interesting wasn't there. But at the time of 3, he still had it and proved it on stage every night, yet he got criticized for the softer parts of the music. He just couldn't take it.
As we know, at the end of his life, criticism affected him even more badly. At the end, people were criticizing his playing even though they knew he had arm problems. They knew he had operations and that his fingers were stiff. But these people would still say "Why doesn't he give it up? He doesn't play like he used to." Keith was very sensitive to that.
How was the news that 3 was finished broken to you?
Brian Lane called me and said "We need to have a meeting. Keith doesn't want to do this anymore and we have to break up the business and sign papers." I had been working on a new song called "Last Ride Into the Sun" that I thought would be perfect for 3. I felt it reflected what we needed to be. At the meeting I said "Before we do this, I'd like to play you something, because I know after our tour and the album what we should be. They let me play it. Keith just looked at me and said "That sounds like me." I said "Yeah, exactly. And if it already sounds like you, just think of what it can sound like when you take it to that next Emerson level. You can do whatever you want with it." He said "No. I don't think we should be doing this anymore."
It really bothered Keith that a fan wrote him a letter about the scantily-clad background vocalists we had on stage. Keith wrote him back and said "I'm sorry. You're right. It is embarrassing. I was wrong." This is after Carl, Keith and I all sat in a room picking out girls for the "Talkin' Bout" video in sort of full Playboy model mode. The video looked great, as did the "Eight Miles High" video. The women gave the videos an energy and a look that was different from anything ELP had done.
It was a strange thing given that Keith had arranged all the female backing vocals on the album, which had a very cool sound. Some people think the vocals were keyboards, but it was two girls singing, including Suzie O'List, the sister of Davy O'List from The Nice. Keith loved the singing on the album and on stage, but he let the fan criticism get to him. I can't tell you why. As I said, I was quite heavily criticized for my role in 3, but it was never as hard on me as it was on Keith. At the end of the day, I was just glad it happened and I'm very proud of 3 to this day. But I knew it was done and I moved on. That's my thing—thinking about what I'm going to do tomorrow.
After that band broke up, you released a 1993 solo album titled Pilgrimage to a Point that contained songs intended for GTR and 3. Tell me how that effort emerged.
I had no plans to use any of that material I had written for GTR and the second 3 album. Andy Latimer lived nearby in Mountain View. He heard about Soundtek and my career. He thought it would be a great place to work. When he was here, we were talking about how GTR and 3 didn't work out. I said "I'm the luckiest guy you've never heard of. Nothing seems to work out for me for more than a year or two." Then he said "Why are you sitting on the material? Why don't you put it out?" That burned in the back of my brain for a while and I decided to do it.
Richard Katz did the cover. I told him I wanted a Roger Dean-type thing that captured my musical travels. He listened to it and said "That's a pilgrimage. It's your pilgrimage to a point." So, I thought that would a perfect name for the album. I also included a Beatles-sounding track called "Roller Coaster" because they were part of my pilgrimage as well. There were a couple of new songs on the disc, too.
I pressed 1,000 copies of Pilgrimage to a Point myself and released it as a mail order item. We were still pre-Internet shopping then. The Asia fan club got a hold of a copy before it came out. The guy that ran it said "You got to work with all those amazing guys. I'll help get the word out."
I sold all 1,000 copies right out of the office here at Soundtek and mailed them out. Things traveled a lot slower back then before the Internet was a thing. People had to read print magazines to find out about stuff. At the time, people were still wondering what a second 3 album would have sounded like. They were also longing for another GTR album. The album got a lot of praise and a lot of magazines ended up writing about it. So, that was cool.
I should mention there's a song called "Another Man" on the album which was a tribute to "Lucky Man." I wrote it hoping ELP would do it when they got back together after 3. I heard Greg didn't have many songs, so I gave it a shot. I wrote it with a similar structure to "Lucky Man" though it's not obviously related. I got it to Carl, but they decided they wouldn't do anyone else's songs.
You followed up Pilgrimage to a Point with two further solo albums: 1994's In These Eyes and 1995's Takin' It Back. Dig into the story of those records.
I just wanted to make an album after 3. In These Eyes was a little more pop, with some progressive tendencies. These were songs that were already written and sitting in my vault. A friend of mine in South Africa said "I can get you a deal over there with Cirrus Moon Records." So, I went for it. South Africa had this thing at the time during which a certain amount of artists working in South Africa had to be played on the radio. My friend felt it could be a good launching pad. But right as it came out in April 1994, apartheid came to an end, which was a really great thing. The government changed. Everything changed, including control of the radio stations. But that meant the album wasn't going to go anywhere.
We need to go back to John Kalodner for a second before we talk about Takin' It Back. He did two things. One was give my Back to Back album to Carl Palmer. He also gave it to the Sammy Hagar band. Sammy had stopped his solo band in 1986 because he joined Van Halen. But the guys in Sammy's band—Gary Pihl, David Lauser and Jesse Harms—wanted to keep the unit together. They thought I could take over the front-man role in the band so it kept going under a new name. But I was a progressive rock guy. I had to go with Carl.
In 1995, Sammy was in the process of being kicked out of Van Halen in a weird way. He didn't want to do a greatest hits album. He thought "We're on top of the world. We don't need to do a greatest hits album and tour." But they were forcing it on him. There was a lot of money to be made. However, Sammy's a dynamo. No-one's going to push him around.
So, Sammy started doing solo shows around that time. He wanted to use Michael Anthony on bass, but Van Halen wouldn't let him. So, one day, David Lauser, who remembers me from the Kalodner stuff, calls me and said "Do you want to play bass with Sammy?" I've said this already, but opportunity is transient. [laughs] So, I said yes. There was no pressure on me. I was just the bass player. The hardest thing I had to do was sing backing vocals for "I'll Fall in Love Again." I had to thump that bass and it was so much fun to do. I had never done anything that hard rock before. So, when the Sammy gigs were done, I got back to my studio and these hard rock songs just dripped out of me.
I wrote "Takin' It Back" and some other harder songs. "Takin' It Back" is one of my favorite tunes of mine because it's a bit progressive within the hard rock thing. A record label in Germany called Long Island Records really wanted it and I agreed to do it. I also included a new version of 3's "You Do or You Don't" on it that was guitar-focused. I always felt it should have been a guitar song. It really wasn't a keyboard song. I also got to do my Lou Gramm thing on the album. The record label went bankrupt right as the album came out and that was that. Things weren't going to work out—again.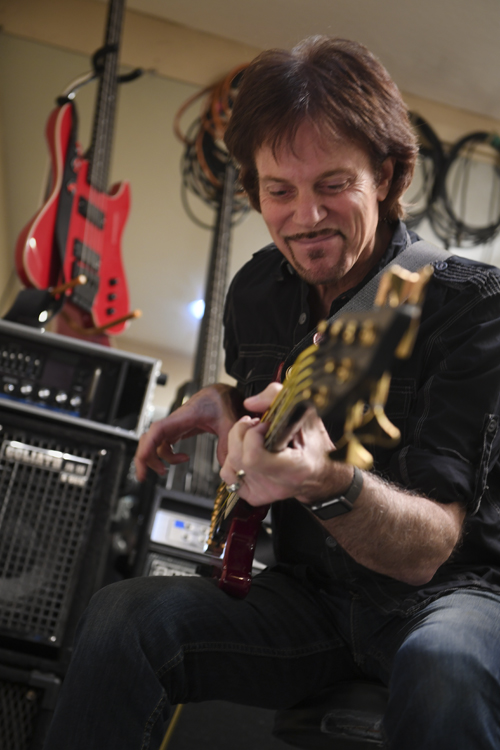 Given you had been working with Brian Lane, John Kalodner and Geffen Records, why did you need to resort to using these smaller overseas labels?
I'm a surface networker. I'm not good at doing that. John Kalodner was right at the top of the business with whatever he was doing. My time with Geffen had ended and I didn't know what was next. After Takin' It Back though, Gary Pihl and David Lauser, along with Alan Fitzgerald, approached me about the idea of reforming the Sammy Hagar band again with me as front-man. That's how the band Alliance was formed in 1996. We got a contract with Escape Music in Europe and developed a fan base over there. The melodic rock stuff to this day is still happening in Western and Eastern Europe, South America and Russia. They still love it. In America, not so much.
Alliance exists to this day and has released four albums, with a fifth one forthcoming. What made this band a keeper for you?
I was able to fill in many parts they needed, including lyrics, chords and arrangements. They're all great musicians and we all clicked really well. We found a manager and it just works. We released our self-titled album in 1997 and got some critical acclaim. So, we kept going and fit Alliance into the rest of our busy careers. I'm really happy with our 1999 album Missing Piece which was a heavier record. It was more like Led Zeppelin at its harshest. It was great, but the label didn't push it very hard. Our 2008 album Road to Heaven still had that heaviness, but also an Americana influence. It also got great reviews, but again, nothing happened with it in terms of the music business.
We have half a new Alliance album in the can. All the songs are written and the rhythm tracks are done. My focus is on 3.2, but in the next year or so, I'll get back on it, finish up the vocals and complete it. We're able to work in this piecemeal way because we're all the best of friends. We do exactly what we want to do. When we have time we make things happen with Alliance.
Between 1995 and 1999, you worked on several progressive rock tribute albums for the Magna Carta label. Reflect on that period.
My friend Rob Fowler, who sent Back to Back everywhere, also made this happen. He sent Pilgrimage to a Point to Mike Varney, who runs Magna Carta together with Peter Morticelli. One day, I get a call from Mike. He said "I booked Hush at Central Catholic High School in Modesto. I booked all the bands there. Would you consider doing something for Magna Carta?" I said "I sent Pilgrimage to a Point to you. Did you hear it?" He said "Really? I'll get back to you." He hangs up. Then he listens to it and said "We'd like to put that out." I said I already did it myself. He replied "We don't want to do it then. But let me tell you about this tribute album idea me and Pete have. We want to do revisit Dark Side of the Moon. It has been on the charts for 200 weeks. People will be interested."
I was honest with him and said "I'll do it if you want me to, but I really don't want to make a sound-alike Pink Floyd album." But because opportunity is transient, I agreed to it. I'm not really proud of it. The album The Moon Revisited was a recreation—an exact copy of the album done by a bunch of people you don't care about doing it. [laughs] But it sold well enough that Magna Carta said they want to do a Yes tribute, which is one of my all-time favorite bands. They said "We want you to do a track for it." I said "I'm interested, but it has to be 'Roundabout.' Hush played it at high school and college dances. People would dance to it." Pete said "A lot of people want to do that song." But we had become close friends and he let me do it.
I told Pete "I'm going to make 'Roundabout' danceable. I'm going to do it in half-time. And I'm going to get my buddy Steve Howe to play on the ending." I recorded it in D, even though the original version is in E. I played bass through a Hiwatt amp head and a Vox amp, which gave it a bigger and more ballsy sound. I sent the song in progress to Steve and he faxed me back saying "I love what you did. The new bass line kicks the original all about. I think I like it better." But he insisted on playing his part in E. The genius thing he did was transition the ending from D into D# and then into E for the main riff. It was fantastic and Magna Carta was blown away by it. It was the standout track on the Tales From Yesterday album according to the reviews it got.
I contributed much more to the Jethro Tull To Cry You a Song tribute album. I worked as both a producer and arranger for it. It had two previous members of Jethro Tull on it as the rhythm section—Glenn Cornick on bass and Clive Bunker on drums. But they wouldn't talk to each other, so we had to record them separately and mix them together. I also got to do "Locomotive Breath" and my solo version of "Minstrel in the Gallery" on the album. Ian Anderson wrote me to tell me that he liked my take on "Minstrel" which meant a lot to me. I had played "Minstrel" with Hush previously. Similar to "Roundabout," it was given an almost danceable arrangement.
My version of "Mission" on the Rush tribute Working Man was designed to be a tougher-sounding update of the original. Across all those Magna Carta tributes, I was trying to modernize the tracks. That included my take on "Karn Evil 9" on the ELP tribute Encores, Legends & Paradox. They let me use Jordan Rudess on keyboards and Simon Phillips on drums for it. Both of them played the hell out of it. That album was split down the middle, with me producing half of it and my friend Trent Gardner doing the other half.
Was it strange for you to be working on an ELP tribute album after 3?
No, because I felt Keith and Carl would really like it. I felt we did a fantastic job in paying tribute to their music. You heard two different approaches on the album. My tracks expanded on the originals. Trent veered off from the original versions of the songs. It was an interesting thing to have both visions on that album. As it turns out, Keith decided he hated the album. I didn't understand how he could have hated "Karn Evil 9" with what Jordan and Simon played on it. I don't think he got that deep into the album. He heard something on the album Trent did and he hated the writing changes and that was that. But the fans liked it. The album gained me a little respect with ELP fans that hated me and found me disgusting because I wasn't Greg. For a long time, it was a case of "How dare he play with Emerson and Palmer?" Now, those same fans were saying "He did them justice." That was a nice thing and it felt like it helped me bridge a little bit of a gap with them.
Between 2004 and 2005, you were part of Ambrosia. Tell me about that experience.
There's a piece of me that's so Ambrosia. I loved how they combined the progressive thing and blue-eyed soul. I thought I could be the more rocking voice and Joe Puerta could be the more soulful voice. It was a great combination for a while. Basically, we replaced David Pack with two voices. In 2004, they hadn't made a serious comeback yet. They were just playing a few gigs a year. I thought they were fantastic and I was ready to commit myself seriously to it. I toured for two years with Ambrosia, but I couldn't get them to do a new album. I believe if you keep your creative skills sharp, they won't go away. Look at Paul McCartney and Mick Jagger. They're fairly old guys now, but they're still out there making serious music.
I didn't realize David Pack was essentially 50 percent of Ambrosia. His guitar playing and vocals were superb. He also had the drive to get things to happen with management and record companies. As the new guy, I didn't think I'd step in and be able to do all of that, but when I realized nothing was happening with a new album, I admit that I tried to push it a little bit. I was frustrated and left because they wouldn't do it. I wasn't a very good fit from their end, either. They were probably relieved and thought "Great, we don't have to let him down." It was a band I had hoped I would have been in the rest of my life, but as usual, I was the luckiest guy in the world whose career never worked out.
Your most recent album, The Dividing Line from 2008, bridges all of your musical influences. Tell me what you were going for and how it came about.
Back then, I was on MySpace like everyone else. I got a message from this guy that said he's with Frontiers Records. He said "I want to let you know I think you're a great artist." I'm not that well-known, but I put my heart and soul into everything I do. And here's this guy from this serious record label writing me. So, because opportunity is transient [laughs], I said "Thanks. If I wanted to pursue a deal with Frontiers, who should I talk to?" The message back said "Me. I'm Serafino Perugino and I run Frontiers. When do you want to do it?" It happened just like that. He offered me more money than I thought I would ever get for a solo album. He said "We've always wanted to hear a second 3 album. What would a new Robert Berry solo album sound like?"
The Dividing Line didn't sound like a 3 album. It has more of my Asia influences on it. It's a smoother album than Takin' It Back. The title of the album was about how people are often on one side or the other of this great big line down the middle. That line can be wanting to be a good man. If you stay on one side of that line, you can be that. That's where the song "One Good Man" came from. It was one of the songs I wrote for GTR. I had also lost Mike Wible, the keyboardist from The Robert Berry Band to cancer. I was remembering Mike as the gentle soul he was. He was such a wonderful guy and musician. The song "Faith" is about how we are remembered and about him.
"Young Hearts" was another GTR song that really sounds like how I intended it to sound with that band. There's some personal stuff in it. I was married at the time and possibly going to get divorced and that's reflected in it. And "Can't Let Go" is about the dream I had when I left GTR and Ambrosia. I just knew there was a better fit out there for me.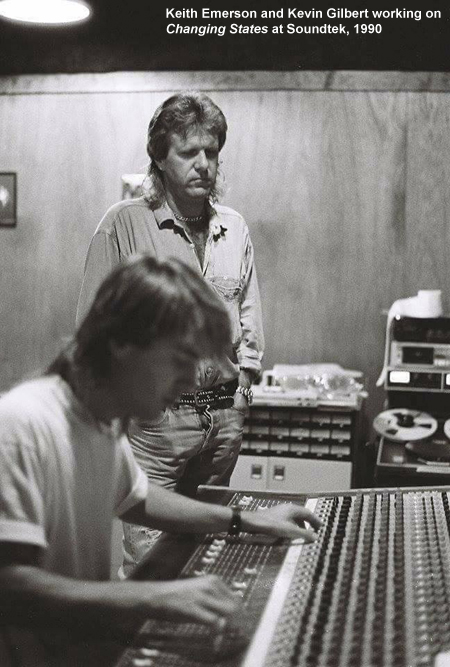 Tell me about your relationship with Emerson in the years after 3 dissolved.
Keith and I stayed in touch. After 3 broke up, he came down to stay at my house and record some stuff at Soundtek. He was working with Marc Bonilla on guitar, Mickey Sorey on drums, a conga player, and me on bass. It was the earliest version of the Keith Emerson band. But this version of the band didn't get off the ground. Keith was searching for what he wanted to do next. He knew I had a studio and thought I could be the band's bassist. Honestly, I wasn't very interested in it. I didn't want to play ELP covers like "Tarkus." I felt there was something better for me than that. I also felt there was something better for Keith too. It just wasn't happening and it fell apart. I was also heading more into straight rock territory because I was working with Sammy Hagar and Alliance during that period.
Keith also started his Changing States solo album here at Soundtek, together with Kevin Gilbert. In fact, Keith traded me a Korg T1 keyboard in exchange for studio time. Kevin was a local guy at the time who worked in another studio right down the street.
I remember the first thing Kevin did when he walked into Soundtek was say "I want to see your snare drum." I said "Why?" He said "Because everyone that comes in my studio asks me if I can get the snare drum sound that Robert Berry gets at Soundtek." [laughs] I said "You're kidding me, it's just this really old wooden Ludwig snare." He goes "That's it?" He couldn't believe it.
Kevin was really respectful and happy to be at Soundtek hanging out with me and Keith. It was very easy-going, despite the competition between our studios in the area. I didn't know Kevin that well. I later learned how self-contained he was and that he could do anything he put his mind to, including playing pretty much any instrument. But I was willing to help Keith and Kevin do whatever they wanted, though I didn't really want to be a part of it. They did a couple of things that sounded pretty good. I wrote some lyrics for one of the pieces, but they didn't use them. Changing States didn't have great sounds on it for some reason. It fell short of what I thought Keith could do. I know it sounds like a rude statement, but I never thought the majesty and royalty of Keith came out in any music he made while he was in California. It was the music he did in England that was magic.
They did a week of work here. I also used Keith on some Magna Carta sessions, including an album called Steinway to Heaven. Keith went on to reform ELP and they did Black Moon. He also moved to Los Angeles and bought a condo in Santa Monica. I think he put the Keith Emerson band back together with Marc Bonilla again after the ELP reunions were done. We were in touch occasionally after that. Keith would send a Christmas card sometimes saying "Hope you're fine-tuned" as he would put it.
All of that changed with a serendipitous turn of events in 2015 that resurrected interest in 3. Describe what happened.
Carl Palmer's manager Bruce Pilato sent me an email out of the blue one day. He said "There's a company called RockBeat that wants to put out a remastered 3 concert in its entirety from Boston." Bruce said Keith and Carl wanted to do it. He said he wanted to check with me and see if I'm good with it. It was all set up and ready to go. Of course I was good with it. In fact, I thought "Oh my God, that's fantastic."
I was very curious to see what would happen with Live Boston '88 when it came out. As it turned out, it did very well and people were excited to hear it. We were doing all of that material some people in 1988 thought was second rate, but in these energetic live versions. There's lots of soloing and jamming. We're having fun with the audience. It's a great performance.
One night, Keith had a glass of wine at home and decided to put on the new 3 live release. Suddenly, Keith who was so depressed about the fan criticism of 3, calls me up afterwards and said "Robert, we were a really great band." I'm like "Who is this?" [laughs] I went on to say "Of course we were." He replied "This album is fantastic." He had discounted 3 so much previously. He would barely talk about it in interviews. Carl always thought it was a fun time with no drama. Everyone got along well. But here's Keith enthusiastic about 3 again.
You know what I'm about to say. Opportunity is transient. [laughs] I'm thinking "This is an open door to a follow-up 3 album." I had talked to Carl about it before, but never Keith. There was no way he was ever going to consider it. During that conversation, I calmly said "What would you think about doing a follow-up?" Keith calmly said "Maybe." And there was my open door.
As I mentioned when we were talking about The Dividing Line, Frontiers had asked about a second 3 album back in 2008. So, I got in touched with Serafino Perugino from the label and said "I might have an open door here." He said "I'm ready to support you" and he offered us a decent advance. Next, I called Keith and said "Frontiers wants a new 3 album. You can have the advance in your pocket tomorrow." Keith replied "That's interesting. What record company has money like that these days?" I said "You're Keith Emerson. Are you kidding me?" Somehow he thought nobody cared anymore. But Frontiers certainly did. I hung up the phone, half out of my mind. I was excited because I had been waiting for this moment.
I continued the dialog with Serafino and Keith. Frontiers agreed to give us total artistic control. And even though Keith's right hand was a bit stiff, his left hand was capable of doing great things. He could still play. Keith said "You know Robert, I can play songs better than I used to." I replied "I'm not thinking about doing short songs for this. Maybe we'll do one. The label wants a 'Talkin' Bout' and we can do that, but I want this album to be whatever we want it to be." Keith agreed to do it at that point. Frontiers agreed to give Keith an ever bigger advance because they were so enthusiastic. Keith said "How did you do that?" I told him Frontiers wants the best Keith Emerson album possible and they think the investment is worth it.
So, things start to get serious. Keith said "I need to have the big Moog shipped to Soundtek." [laughs] I said "I don't want the big Moog in the studio. We don't have the room. I'm having my Memorymoog rebuilt which will work just as well." But Keith wanted the big Moog and I said "Okay, we'll bring it out here when it's time to record." And that's when we started working on ideas for the album.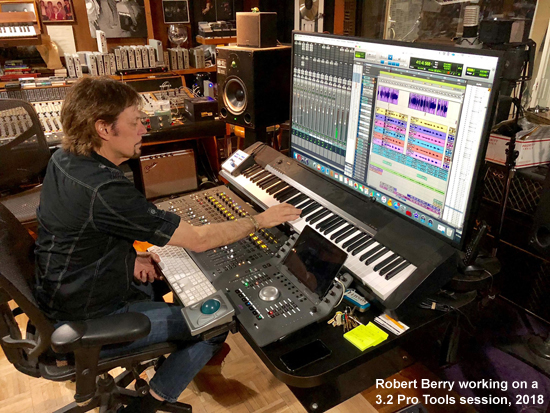 How did the creative process work with Emerson for it?
Keith would play me parts over the phone on his Casio keyboard. We'd talk about specific parts, keys and chords and I'd put them into Pro Tools. He would make suggestions for the pieces. I also had a couple of unused 3 songs from 1987 on cassette that we were considering. Keith also recorded a bunch of stuff and sent me digital files of that material to work with as I set up the album for the recording sessions. There were lots of fresh ideas right off the top of his head. I had started putting together "Powerful Man" as the album's "Talkin' Bout." I also had an acoustic guitar number in progress. I thought "Why did I always get stuck playing bass in 3? I want to play some guitar too." [laughs]
Why wasn't Palmer involved?
He was already doing his ELP Legacy band, which I had seen play here in the Bay Area a couple of times. I talked to him about it and he said he'd consider it, but for a price. Carl is a very good businessman and a hell of a famous drummer. He wanted a lot of money to do three songs and Frontiers wasn't happy about that. The truth is, Carl didn't really want to do it. It was a case of "I'll do three tracks, but I'm going to ensure I get paid well." I thanked him because I knew he was considering it as a favor to me.
My take was I wanted to get the album's songs written and get Keith's arrangements worked out and then we'd worry about the drummer. We were talking about using Simon Phillips if Carl wouldn't work out. I also thought maybe Carl would be impressed by the songs when they were finished and reconsider his view. I had high hopes for a great album. I thought it was going to be a fiery, kicking record. I'm feeling really good about it. Things were in motion for the album to happen and for Keith to come down to Soundtek to record. And then on March 11, 2016, he was gone.
Describe the moment you heard about Emerson's passing and how you reacted.
I found out from Eleanor Emerson, his ex-wife. Word hadn't got out for about half a day, but she heard right away. She sent me an email that said "I hate to tell you the bad news, but Keith's gone." And then I start hearing it from many friends of mine. I thought "What? I can't believe it." I knew Keith was very unhappy, but I couldn't believe he would shoot himself. I lost someone I consider one of the sweetest guys ever who was also great at his craft. He was accessible. He cared about people. He was someone I could trust.
Keith was so distraught towards the end of his life. He had four shows coming up in Japan, but he didn't feel up to doing them. He told me "At my age of 72, doing four nights in a row is really hard." I said "I've seen Paul McCartney do it. I think you can too. What's the contract say?" Keith said "There's no contract." I said "Why not cancel it?" Keith replied "These are my biggest fans. I can't cancel on them." A week later, we talked again and he said "Oh man, they sold out the shows. Now they're talking about doing two shows a night." He was really worried about it. He told me "I just want to get past this. I'm going to do these shows, visit my grandkids and then we'll start my part of recording the 3 album." I said "I'll have everything laid out and ready to go. The Moog will be here. I have the latest Pro Tools. We'll have the best of everything waiting." And we never got to do it. Those Japanese shows aren't the reason Keith is gone. There were other things that contributed to his decision. When you add them all up, I guess they were just too much.
I admit I also felt that I had lost the 28-year dream of doing a second 3 album. The carpet had been pulled out from under it. We had the outline for the album and all these parts ready. So, all at once, my friend and the 3 album were gone.
Tell me about picking up the pieces and how that led you to recasting the album as 3.2 and having it emerge as a solo project with Emerson's writing contributions incorporated into it.
Six months later, Serafino got in touch and said "Have you thought about finding another keyboard player and completing the album? What about Geoff Downes?" I said I love Geoff, but it doesn't feel right to me. I can't see doing it with any other keyboard player. And then I thought, "Keith's son Aaron plays keyboards. Perhaps he could play on it and it could serve as a tribute to his dad." That felt like it could be real.
I approached Aaron and he was excited and thought it would be cool. So, I sent him "One by One" and it was very complex. It had his dad's parts on it. Aaron wrote me back and said "I don't play like my dad and this is his music. That's not what I do. I can't do this." Aaron is in a funk band that jams and grooves.
At this point, I'm thinking about the album a lot again. How could I make it real? Keith wanted the album title to be 1—just the numeral 1. I wasn't crazy about that. But I decided not to address it until after we got the album done. But that got me thinking about playing keyboards myself. I thought perhaps the album could be one guy. I was a classically-trained pianist. Let's give it a shot. So, I did two songs in which I played everything, including the drums. I kept asking myself "What would Keith do here?" I felt he was speaking through my fingers. On my solo albums, I focus more on a Geoff Downes or Rick Wakeman thing with big pads. But for this material, I was playing everything the way I felt Keith might have played it. I spent a lot of time figuring out his fingerings and learning how to make those leaps he made so effortlessly. I just worked and worked on it until I hit it. It all goes back to my eight years of classical piano lessons. I had 20 percent of the album laid out with Keith's parts already on it. It was a perfect springboard for my additional creativity.
I sent the two tracks to Serafino and he said "You have to finish this. This is exactly what we were hoping the next 3 album would be. Can you do it all by yourself?" With his encouragement, I decided to see if I could do the whole thing on my own.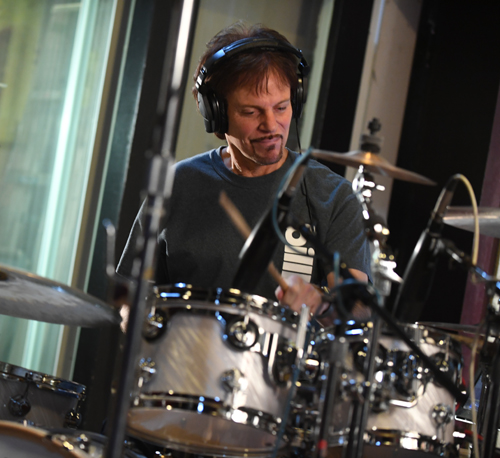 Your original vision for the album was to incorporate the parts Emerson recorded for you in advance of the sessions. Why didn't you use them?
I had versions of the tracks ready to go, using both the digital files Keith gave me and the 1987 cassette. The cassette recording sounded great. Put through the latest technology, I was able to make that material work well. I sent them to Aaron Emerson and said "I want to make sure you're okay with this. I've decided to do it on my own, but including the parts Keith sent me, as well as material from the cassette." Aaron said "I can't make that decision on my own. I'd love for you to do it that way. I know my dad wanted to do this album. I know you put your heart and soul into it." I also said "I've spoken to Keith's girlfriend Mari Kawaguchi and said she's supportive."
So, the decision goes in front of a six-member panel that makes up the Keith Emerson estate. It included a manager, a publishing manager and a legal representative. Everyone said they had done due diligence for the estate on the matter. The decision came back and they said "You can't use Keith's material. We don't want Keith remembered as a rock and roll keyboard player." I said "What? He planned to make this album. It's already almost done." They replied "Sorry, we want him known as a composer and have other people perform his works. That will be his legacy."
Aaron and Mari were supportive the whole time, but this was the decision of the panel. People were outvoted. As you can imagine, I was very upset. But I said to Aaron "I'm going to abide by their wishes." I thought about things, and then I sent a letter to the estate. It said "I've spent hundreds of hours doing this album. I'm capable of rewriting every one of these things Keith gave me inside out and re-playing every piece. It'll sound just like him. And the estate won't make any royalties. I'll finish what Keith and I started and use the material he gave me to work from." It was a light threat but I really didn't want to change Keith's parts or orchestrations.
Finally, I got an email back and it said "If you follow these stipulations, we'll give you the rights to do this and use his music. Since we want him to be known as a composer, you can't use any of his playing. You can't use the recordings from the hard drive or the cassette. You also can't put Keith's face on the cover art. We want all the copyrights registered correctly and there has to be a 50/50 split on royalties and credits between you and the estate." That was very upsetting to me, because I had all his playing included in the versions of the tracks I had.
I thought about it long and hard and agreed to their terms. I decided I'm just going to copy every nuance, articulation and sound that Keith gave me. I knew the fans were likely going to criticize me for doing it. But that wasn't even the worst part of it for me. The worst part is that I wasn't going to get to do it the way we planned to do it, using his playing. But I decided I'm going to make this vision of 3 a reality. I have the songs. I'm going to sing them as well as I can. I'm determined to make this more Emerson and Berry than anything that was ever done in the whole history of 3.
Why did you choose the name 3.2 instead of calling it a Robert Berry album?
I went with 3.2 because as they say in the software world, it's the second version. It was the culmination of a 28-year-old dream for me. I went into the 3 break-up meeting in 1989 and really felt we could and should save the band. It broke my heart and I came home so sad. I really felt we could have got the Greg Lake fans to accept me at that point and we could have played across Europe. But the focus was always on conquering the USA and that rarely works for anybody.
The positive reaction to the 3 live recordings that came out also influenced the decision. The comments were really good and ELP fans reevaluated 3. Suddenly, a lot them are buying into it. It validated my idea that we should have kept going.
Once the album was completed and I sent it off to Frontiers, they were extremely happy and said it was fantastic. The initial feedback from listeners all over the world has been incredibly positive too and it has been a best-seller on Amazon. People understand why I made this album and they've been very supportive. There was nothing easy about it, but I couldn't be happier with how things are going. It's being accepted as a 3 follow-up album. The sound, playing and plan were executed and finished within the exact parameters Keith and I had decided on. The best comments are when fans say "I can feel him in the music." With that, my work and dedication to our partnership is complete.
In the midst of working on the 3.2 album in 2017, you got a surprise call from Palmer, but it wasn't about the project. Tell me what transpired.
Carl told me John Wetton was very sick. Asia was hoping he was going to be okay, but he wasn't going to be well enough to do a tour opening for Journey. Carl said the band's manager, Bruce Pilato, wanted to know if I'd be interested. I said it would be a dream come true and I'd love to do it. I sent Carl a version of me doing "Only Time Will Tell" with piano and voice to convince him I could approximate John's smoothness and richness. He said "I know you'd be really good for this, but don't get your hopes up. There's another person in consideration." Billy Sherwood, who was working with Geoff Downes in Yes, did the tour. It was an easy transition for them. John also asked for Billy to do it. So, I understood and respected that decision. I had a lot of work to do for the 3.2 album, so I kept focusing on that, as well as my day-to-day life at my studio.
In my lifetime, I've been very lucky to work with some great artists. One of my favorite musicians is John. When John agreed to sing on Sounds Like Christmas, the first album by my classic rock Christmas band December People in 2001, I was thrilled. He had a great voice and was a funny guy. He told me a few jokes I can't repeat but will remember forever. I was saddened by his loss, but through Carl, I knew he had hopes of getting better right until the end. John had quite an incredible career and still remained a gentle soul.
Let's go through the 3.2 album track by track, starting with "One by One."
I started writing the track because Keith wanted to call the album 1. I had no idea ELP had a song called "One by One" on Black Moon. It wasn't until the album was delivered and ready to go that I found out about the ELP song. People started asking me if I had covered the ELP song. It has nothing to do with it. It's a new song. It's all about how the world is today and why we need to put ourselves in each other's shoes to understand their perspectives. When Keith died, the song's lyrics changed a little bit to also refer to the fact that all of a sudden, people can leave us just like that.
Next up is "Powerful Man."
That's a very important song to me. In this song, a powerful man is a guy who's successful in his world and how that influences his kids. Kids see who their dad is and even if they don't want to emulate him, through osmosis, they pick up on the power he has in terms of what he's good at. The father could be the CEO of a company or own a restaurant in which he treats his customers right. Even among the musicians I know, I see it in people like Sammy Hagar's son Aaron, who is also a hell of a singer. There's Keith Emerson's son, also named Aaron, who's a very fine keyboard player. I'm influenced by my father who ran a piano store and was also a musician.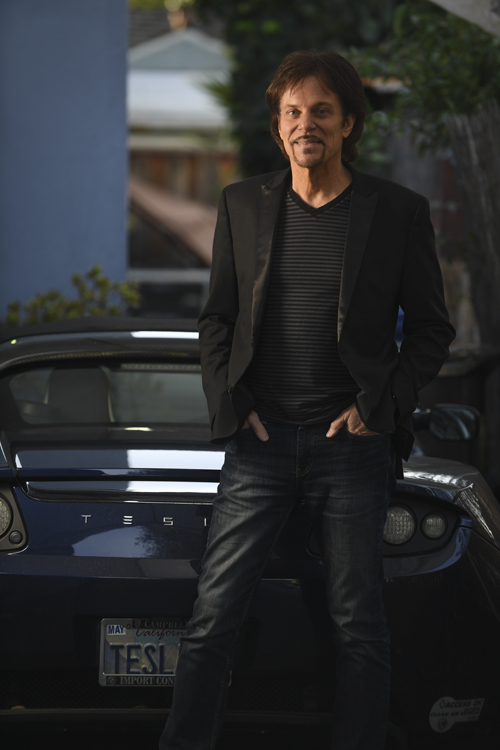 The most personal piece on the album is the title track "The Rules Have Changed." Tell me what you wanted to capture in it.
Six months after Keith left us, my friend Trent Gardner from Magellan committed suicide. He's someone I worked with a lot, especially on the Magna Carta tribute albums. I learned there's a very dark place that people who commit suicide get to that most of us can't understand and never will.
Trent was so in control of who he was and what his music sounded like. He said he'd write a minute of music a day and when that was done, his day was done, musically speaking. Everything he did was so exact. He was a police officer once and a sort of survivalist. I thought he was a guy with no loose ends. And then I got the call that Trent had shot himself on the front lawn of his house.
I've had a few other good friends and acquaintances commit suicide. The rules had changed for all of these people. They got into such a deep, dark hole and they couldn't get out of it. The original song title was "Down in the Hole." With each of these losses, the world lost so much in one fell swoop. The song is about the emotions from what I experienced with the departure of both Keith and Trent.
"Our Bond" also relates to Emerson's passing. Tell me about that one.
"Our bond" was written a couple of weeks after Keith died. I posted an acoustic version to Facebook as a way of describing how we all felt. It just sort of came out of me, but was very difficult to write. I was really choked up when I completed it. The bond we all shared—friends, family, fans, and musicians—is both the appreciation of Keith and the terrible emotion of losing him. The track includes many quotes from Keith's history. You'll hear snippets of "Fanfare for the Common Man," "America," "Desde la Vida," "Tarkus," "Talkin' Bout," and "On May Way Home." It ends with a single note because Keith wanted the album to be called 1.
"What You're Dreaming Now" discusses the drive and tenacity you've exhibited throughout your career. Elaborate on what you're communicating on it.
Some of the music came from the 1987 3 cassette I talked about earlier. The lyrics and melody were new. It's about the realization of this dream that took 30 years to make a reality. It's also about all the other groups and projects I've been involved in over the years. Many of them were the realization of a dream too, including the ones that didn't work out, like GTR and Ambrosia. Things like working with Sammy Hagar and Greg Kihn—whose band I'm currently a part of—were also dreams that came true and turned into positive experiences. The idea is that I don't stop dreaming about what I can do in music. I just keep doing new things and moving forward—it's about what I'm dreaming now. You'll also hear some of the 3 digital kick drum approach on it.
"Somebody's Watching" continues with the theme of applying positivity to the surprises life throws at us. What inspired it?
It's about how sometimes things happen that you can't explain. For instance, my wife Rebecca's dad died three months apart from my dad's passing. There's really no reason for why we should have been together. I was playing a gig once and signed a t-shirt for her. She told me she was a first-grade teacher and went home. When I got home I thought "I have to find her. She's the girl for me." I can't tell you why that is, except for the connection between our fathers. I don't even know that I believe in heaven. But there's something there I can't put my finger on. It's like our fathers were talking, having a cigar and playing cards and one of them said "I think our kids will really get along well." I feel like there's an element of faith in how we met. I had to talk her into it, though. [laughs] She said "You're serious?" I said "Yes, get to know me as a person instead of as a rock musician." And now we've been together for eight years and just celebrated our fourth wedding anniversary. Somebody was definitely watching.
It also refers to me feeling like Keith was right beside me as I made the album. I couldn't have played some of the things I did on it without him guiding me. I'm not a new age kind of guy. I'm more someone that deals in black and white. But there are definitely some things that happen beyond what we can comprehend.
"This Letter" relates to some of your final communication with Emerson.
It goes back to when Keith wrote me about how he was going to come to Soundtek to work on the second 3 album, but first he had to see his grandkids. He said to me around 2006 "Aaron just told me I'm going to be a grandfather. I'm not ready for that." It first made him feel old. But by the time we reconnected for this album, being a grandfather was the most important thing to him. So, I wanted this song to be about how important love was to him and to me. I remember talking to Keith about my wife Rebecca. I showed him a photo of us and he said "Rebecca's a keeper, lose the beard." [laughs] I told him I never thought I'd live to see the day when I found the perfect match for me.
The song starts out with acoustic guitar, with kind of a Celtic feel and then busts open with layers of keyboards. That transition represents the joy of getting to a point where loving someone is so wonderful and important to complete your life.
"Your Mark on the World" explores the ideas of legacy and impact.
Sometimes, older musicians come to Soundtek and tell me "I've been a musician all my life. I've played all over the place but I've got no studio recordings to show for it. I want to leave something behind when I go." That's part of what it's about—the mark on the world you make and what people remember you for.
My dad was great. His mark on the world is that he was a respected musician and music store owner. I still hear from people who tell me "I used to go to your dad's store. He was the nicest guy. He let me play those Vox guitars and treated me so well." He had a real impact on a lot of people.
What do believe is your mark on the world?
I think it's when some 13-year-old girl comes into the studio and records some music. She's going to be 70 someday and have those songs from when she was 13. Maybe she'll become a full-time musician. Maybe she'll make some albums. Maybe those songs we recorded at Soundtek will be all she does before she chooses to focus on something else in her life. Who knows? But she'll still have those songs, whether they're for her, her family or the world. So, my mark on the world are the 300 songs I work on every year for my clients. Of course, I also hope my music remains in the hearts of people.
The Japanese edition includes "Sailor's Hornpipe," an instrumental track based on the traditional tune. What made you want to cover it?
I'm often asked by Frontiers to provide a bonus track for Japanese editions of albums. I wanted to make it special. Usually, I do an acoustic version of a song. But I wanted to give them something bombastic and over-the-top, which is what "Sailor's Hornpipe" is. Keith and I had discussed it and I used many of his link sections in it. I'm proud of it, but it doesn't fit the heart of the album. I was just thinking about something fun and hard to play and it came to mind. I went on YouTube and listened to a few different versions of it and away I went. It was the last thing I did for the album. I wish everybody could get every track, but the reality is sometimes different territories get different songs.
You're contemplating a tour in support of the 3.2 album. Describe what you're thinking about doing.
I want to perform my prog-rock history on tour. I want to do a 90-minute show that's almost like a greatest hits of my career. I'm thinking about doing 3's "Desde la Vida and "Talkin' Bout," a few songs from the 3.2 album, and "Last Ride Into the Sun." I'll also do the prog-rock covers from the Magna Carta tributes like "Karn Evil 9," "Roundabout" and "Minstrel in the Gallery." It'll be a show in which people will know most of the songs. I'm looking at 2019 for Europe and South America. North America is a lot more difficult, but we're looking into it. I'm really looking forward to making this happen.
What's your perspective on the value of music in these difficult times we find ourselves in?
The Dividing Line wasn't really about politics, but I do think right now, the dividing is so thick that you almost can't get close to each other. At least we used to be able to touch, hand to hand. Everything shouldn't be about making a stand and putting your side against my side. I hate that this is what's going on. I can understand having a different point of view than me. I will try to understand it, even if I don't agree with it. I think music can bring a lot of us together in a place that we enjoy, where we love each other as we share that experience. Music is a universal thing.
You use the word "Faith" in a song title on Dividing Line, as well in the lyrics of 3.2's "This Letter." What does faith mean to you?
It means spirituality. I believe in all kinds of possibilities. Sometimes I believe you earn your next life, which is more of a Buddhist kind of thing. I hope that could be true—the better you are, the more you do for people, and the more of a positive difference you make for the world, the less likely it is you're going to come back as a snake. [laughs] I hope that doing those things could mean you would come back as a happy person. I'm lucky. I'm a happy person. Maybe it's related to that somehow. A life well lived means knowing who you are, considering how you act, ensuring what you give is positive, and having what remains when you're gone be valuable. I want my mark on the world to be a positive one.