Surinder Sandhu
Evolutionary Processes
by Anil Prasad
Copyright © 2005 Anil Prasad.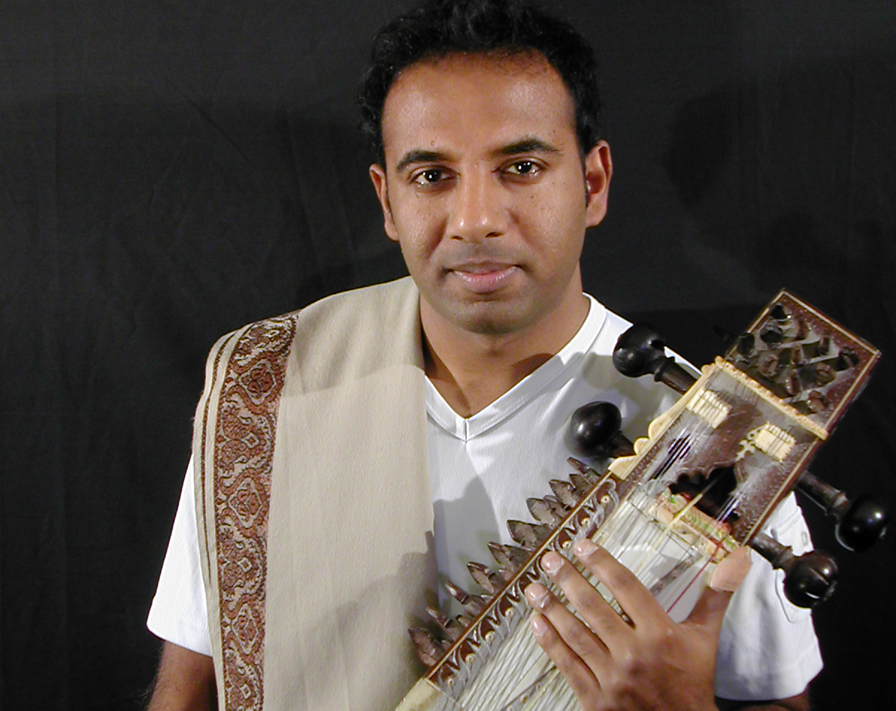 I think the guitar is the perfect companion for Indian music," says Britain-based composer and sarangi player Surinder Sandhu. "It's got everything, including harmony and rhythm. Indian instruments like the sarangi are predominantly monotonal and melodic, so they compliment each other very well."
Both of Sandhu's CDs, 2003's SauRang Orchestra and 2004's Cycles and Stories, offer a fresh and inventive guitar-infused take on the Indian fusion genre popularized by Oregon and John McLaughlin's Shakti. At the albums' core are Sandhu's virtuoso performances on the sarangi, a violin-like North Indian classical instrument. The music also has its roots in the Indian raga, a systematic melodic form that features combinations of notes designed to evoke distinct atmospheres, moods and emotions.
Sandhu's albums make the combination of Indian classical music, jazz, rock and symphonic elements sound seamless, but getting them to work together poses unique challenges.
"The very strict ascending and descending scales of ragas can create great problems when you're trying to make chord shapes and progressions," he explains. "So, melodically, I take things from ragas, but the harmonic structures come from the Western side of the equation. There's also the issue of playing in very particular Indian scales and emphasizing certain notes that are characteristic to ragas. It's a complex, but greatly enjoyable process for me and the musicians involved."
Some of the renowned players that contribute to Sandhu's recordings include guitarists Steve Vai, Peter Brown and Roland Chadwick; saxophonists George Brooks and Andy Sheppard; and members of the Royal Liverpool Philharmonic Orchestra.
"My choice of players has a lot to do with their phrasing," he says. "With Indian music, the opening phrases of a piece can be really beautiful with a musician just playing two or three notes. In a way, that's the beauty of Indian music. I tend to take that philosophy when collaborating with Western musicians too. I like to work with virtuosos who are capable of playing just one or two phrases that hold a lot weight. I'm more interested in a musician whose phrasing and ornamentation contains a lot of character and compliments the composition than I am in them playing a lot of intensive notes."
Vai took that philosophy to heart when collaborating with Sandhu on SauRang Orchestra.
"The things Steve did, including the sustains and using the whammy bar to mimic the slides we do in Indian music, are really impressive," says Sandhu. "I spent a few days at his place in Los Angeles working on the record. I'd sit there with my sarangi and he'd have his electric guitar and we'd go through all of the phrasing. He's a true perfectionist and wanted to do everything just right. Initially, I thought that was crazy because the slides and grace notes of Indian music are difficult enough if you're playing an Indian instrument, let alone for someone who isn't that familiar with Indian music and isn't playing an Indian instrument. But he really wanted to capture it, so he'd play the phrases over and over again until he got them right. It was such a powerful experience. He brought so much to that record."
Sandhu's own motivation for pursuing such innovative projects derives from similar motivations.
"For me, it's not enough to just play an instrument," he says. "I also feel a need to contribute to the evolutionary process of music."