Security Project
Looking for a Spark
by Anil Prasad
Content copyright © 2018 Anil Prasad. Photos copyright © 2018 Jerry LoFaro.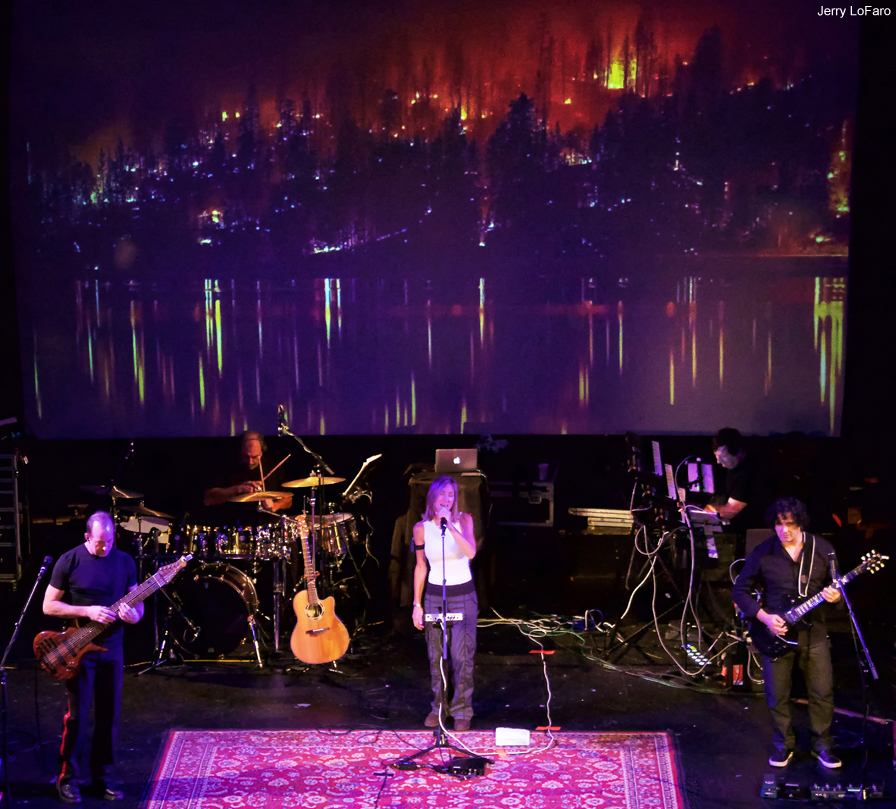 When people think of tribute bands, they usually consider the musicians involved as following a safe, populist, tried-and-true path. Security Project is different. The group focuses on Peter Gabriel's most experimental output, drawn from his first four albums. It takes its name from the fourth eponymous Gabriel release from 1982, which carried the alternate name Security for the American market.
Security Project is about risk and reinvention. When one considers who its members are, that reality becomes clear. Drummer Jerry Marotta played with Gabriel from 1977-1986. He's one of the world's most prolific session players, as well as a renowned producer. Touch guitarist Trey Gunn is known for his work in King Crimson, 11 solo albums and as the founder of the 7d Media record label. Vocalist Happy Rhodes has 12 solo albums to her credit and has built a worldwide following for her eclectic rock and pop output. Guitarist Michael Cozzi was a member of Shriekback, Shakespears Sister and Sky Cries Mary, and has significant output in the soundtrack, commercial and video game realms. Keyboardist David Jameson was part of Time Machine, and his Ph.D. in computer science led him to music technology positions at IBM, Digiportal and Deskew.
The group's pedigrees point to musicians doing this for love of the music, rather than to trying to generate revenue at all costs. All of them have serious careers with their own spheres of influence. This is something they're doing simply because they want to. In fact, Security Project is operating at a break-even point. Of course, the band looks forward to moving the needle into the black. But its core motivations reside in ensuring they perform the songs at the highest levels possible, while ensuring their own personalities shine through.
Security Project is also designed to fill a void, given Gabriel's rare performances are mostly made up of his more popular output from So onwards. To date, the group has released three albums and an EP. Its most recent recordings, Contact and Five, both from 2017, feature the current lineup. They're immersive listening experiences that take the material and infuse it with new arrangements and elements—all while staying true to the spirit of the work. The songs' minimalist, world music and avant components are fully intact and often further extended.
Innerviews held conversations with Gunn, Marotta and Rhodes between 2016 and 2018. Across that period, the band encountered shifting personnel and directions, complex issues to address, as well as an elevating profile.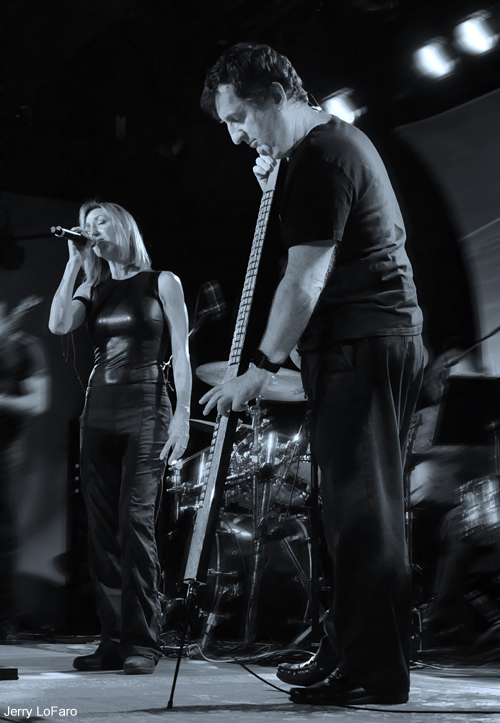 Describe the origins of Security Project.
Marotta: My history goes back to 1977 when I joined the Peter Gabriel band for 10 years. I recorded and toured with Peter throughout that period, right through the Plays Live album. I played on some of So, but not all of it. At that particular time, I was working on a record for Paul McCartney and schedules got mixed up. Suddenly, I could only focus on one project and I chose the McCartney album.
Trey and I have a personal history going back to the early '90s, including working together on David Sylvian and Robert Fripp's The First Day in 1993. And my history with Robert goes back to the second Gabriel album, which he produced. At one point, before King Crimson made Thrak, Trey, Robert and I got together in Woodstock just to jam on stuff, including early forms of pieces that made it onto that album.
Gunn: Both Jerry and I were approached to do a celebration of the 25th anniversary of the Security record in 2012. I was told "Tony Levin doesn't want to do it, so do you?" [laughs] I initially responded with "That sounds like a terrible idea." But I was told Jerry was interested and since I had played with him previously, I decided to think about it.
Marotta: I didn't want to do it either. I said no for six months initially. But because it was being discussed with Trey as well, it caught my interest.
Gunn: My exact words were "I should hear a no. But I'm not hearing a no. So, let's try it." [laughs]
Marotta: A few years before Security Project began, I was also approached to check out a group called The Waiting Room, fronted by a singer named Josh Gleason. They played a show at The Bearsville Theater in Woodstock. His manager approached Tony Levin, Larry Fast and myself to put together the original Peter Gabriel band with Josh instead of Peter. The reason was that years had gone by without Peter touring, so the idea was let's get a band on the road doing this material. I met Josh after the gig, but nothing initially happened.
Eventually, we had a gathering at my studio in Woodstock called Dreamland, with Josh, Trey, Fuzzbee Morse on guitar, and David Jameson on keyboards. Sid McGinnis, Peter's first guitarist, and Larry Fast also came by. We learned to play a few songs. I hadn't listened to any of that music in years prior to getting together for this day. It wasn't until I started playing it again that I was reminded of how remarkable it was. So, that's where the real conversations began. Larry and Sid both chose not to do it.
Gunn: The funny thing about Sid during that meeting is he remembered he didn't have a really great time playing with Peter. David Rhodes no longer plays like a conventional guitarist by the time of the third Gabriel album. Michael Cozzi proved to be an ideal guitarist for Security Project in that he sees the guitar as a sound device, too. After that Woodstock session, we continued to test things out with the people that wanted to do it, ensured it worked, and organized a short run of shows around Woodstock and then the East Coast. The band at that point was Jerry, Josh, Michael, David, and me.
Jerry, as someone that was actually part of the Gabriel band during its heyday, what was in it for you to be a part of Security Project?
Marotta: I felt the concept we had was honoring and paying tribute to Peter. If it wasn't about that, I wouldn't be doing it. We're certainly not doing it for the money. We're not making any money with the group at the moment, despite the insane amount of work involved. We really got sucked into the music. Nothing else matters. I'm like a working class, court-appointed drummer that plays on people's records. I've played on millions of them, including many I didn't like.
I can tell you this, for sure: I'd rather play "Lay Your Hands on Me," "San Jacinto," "I Have the Touch," "Wallflower," "Rhythm of the Heat," "Family and the Fishing Net," and "Family Snapshot" than a lot of other music. These aren't really rock songs in any conventional sense. There's very little straight-ahead rock in this stuff. They're really cinematic and satisfying. So, that's why I'm doing it—love of the music. If I'm going to play music at this point in my life, I'm going to play music I love.
We didn't write this music. But I hope little by little, we'll integrate some of our own original stuff. There's some killer shit that this band can do in terms of new music. We can and should do that in the future. For now, we see that audiences are so moved by the material. I don't think Peter plays much of it himself anymore. We're rearranging, revitalizing, re-envisioning, and reinvigorating what we think is classic music.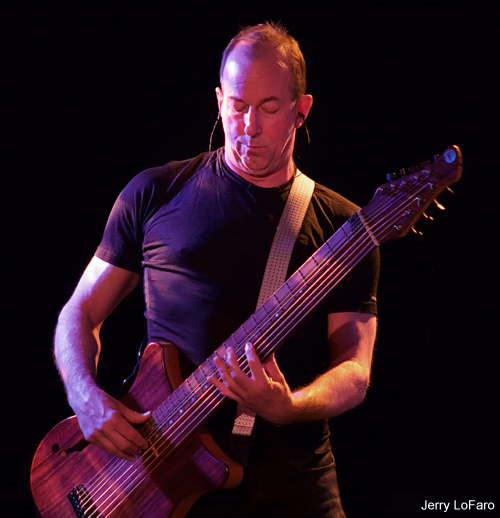 Trey, you have a significant solo and collaborative career. You also run the 7d Media label. What drove you to make time for this endeavor?
Gunn: We didn't even know if it would be any good or if anyone would care. But we knew we had something really good happening. I really love playing with Jerry and the rest of the band, and the music is amazing. We're kind of cheating the process by having such amazing material to play. There are so many bands with great musicians out there, but often the music is just okay. This Gabriel material is great. It's also really hard to make work. It's a serious challenge because it's so unusual. Jerry was there for the creative process. A lot of times he can hear where things were never quite finished. In a way, some of the recordings are sketches of what could be possible as the songs further evolved. They're almost like scores. You'll hear us taking some of this music and doing new things with it. That's part of the appeal, too.
Expand on the challenge of approaching this unique material.
Gunn: "Family and the Fishing Net" seemed impossible to play initially. It seemed like more of a mood piece, with almost no form to it. But once we got into it, we realized there's a lot of form. "Intruder" was another one that seemed like it didn't have much form. I thought it was just a drum beat. But if you examine it again, there's a very strong form in there. Once we tackled those, we had a "holy shit" moment and realized we could do pretty much any of his stuff.
Marotta: Some of the music took a lot of time to learn and some of it really doesn't have a lot of room for reinvention. "San Jacinto" and "Family and the Fishing Net" are examples of that. A good starting point was for us to just present that music the way it is. We don't currently play "Shock the Monkey," but Trey is almost done with a completely reworked version of it that's phenomenal and exciting. We think it's so interesting that perhaps it has radio impact potential. Maybe someone will want to play it as a cover of a song from long ago.
Gunn: Some of the music needed authentic sounds to make them work. David Jameson had to make sounds for "Lay Your Hands on Me," "San Jacinto" and others. I think the difficulty in making or obtaining the sounds is why this material is rarely covered. I remember Steve Lillywhite, who produced the third Gabriel album, said "The surface of this music is as important as the structure and depth." I think that's very true, especially when it comes to the third and fourth records, because some of the sounds are so particular. As Jerry has told me, the music wasn't scored with all these layers. Sometimes, they were added later. So, when you strip down the music without those sounds, sometimes part of the essence of the song isn't there anymore.
Marotta: I remember in 1977, Peter had a Polymoog. Later, he had a Prophet 5 and a Memorymoog. It was the early days of polyphonic synthesizers. But when we got to the fourth album, Peter got a Fairlight. There was almost nobody else using it at the time. It was more like a sound design system. They were just figuring out what to do with its sampling and waveform capabilities. But significant sounds came out of it for that album. The intro to "Lay Your Hands on Me" was Peter dropping a rock on a piece of flagstone. He sampled the sound of it bouncing off the flagstone and played it with the keyboard. It was a simple ambient sound, but back then, his music was one of the only places you were going to hear things like that.
Gunn: Our version of "Here Comes the Flood" is pretty different. I had the idea of not doing it with a piano intro, because Gabriel has done that so much in the past. We also do a version of "Intruder" that's heavier than the original. My reference points are pretty different from Jerry, given that he was in the band. I never saw the original Gabriel band live. I only heard the Plays Live album from that era. I saw a mini-set Gabriel did at a WOMAD festival in '94, but he focused on So and Us material.
Another important challenge is communicating the feeling of the music. You can play it without the feeling, but it sounds stark. The structures of the songs are so strange. Memorizing those structures and keeping track of all the parts is difficult. Some of the arrangements are utterly odd and unique. Those albums were made pre-Pro Tools. Today, everything would be square. On those Gabriel albums, things aren't square. For instance, "Intruder" has two extra beats in the verse here and there. I never knew that until we did Security Project. And look at "San Jacinto"—the chorus doesn't appear until the end of the song. And then there are three rounds of it.
Marotta: I can certainly tell you that Peter was mumbling, singing and getting turned around sometimes as he was making these albums. If you analyze things, you'll sometimes have to wait another bar than what you expect for a verse to begin. But Peter loved that kind of stuff. He believed a fuck-up could be the thing that turns a song into what it really is. There were even things like when they put a tape on and they thought it was recording at 15 IPS, but it was recording at 30 IPS. So, it double-sped the thing. Peter would listen back to things like that and go "That's amazing. It's perfectly in time but twice the speed." That's sometimes how stuff happened. Other people would go "Oh my God, turn that off." Peter would go "Oh, I love that."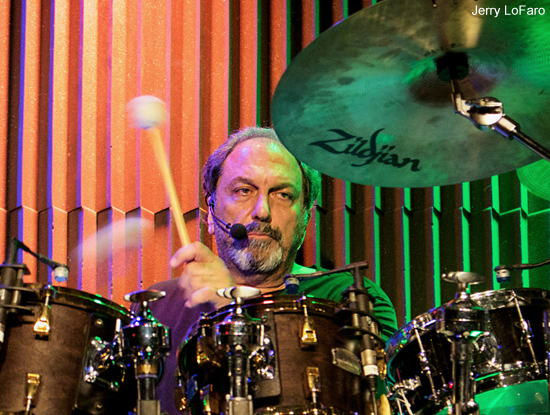 Jerry, can you reflect more deeply on the making of Security?
Marotta: When we were making Security, we weren't patting each other on the back after every session going "Yeah, we're killing it! We're making a groundbreaking record." But it was a groundbreaking record. In 1983, the year after we made the album, every session I'd do anywhere in the world had that record in the control room. Every studio I worked at got the lowest-level gopher guy to come up to me and ask if I could stay after the session and talk to everyone about how Security was made. Even David Foster and Humberto Gatica went "Excuse me, but how did you make that record? It's unbelievable." But the record really was us kicking things around. It was a painstaking process. No song was written before we recorded them in any conventional way.
I remember when we were recording "Rhythm of the Heat," Peter was listening to shortwave radio at night. Music from Africa and Morocco was drifting into England. He was being deeply influenced by African and Middle Eastern music and rhythms. It was all very tribal and I really responded well to that, too. Peter never told anybody what to do as far as I can remember. We would just get together in a room and play. Sometimes Peter might have had some of the parts ready, but what's amazing about Peter is his ability to get really excited about something new and integrate it into what we were doing, like the repetitive rhythm that starts that song.
Hearing the closing section of "Rhythm of the Heat" was life-altering for me as a kid.
Marotta: That's an example of where Peter was an absolute genius and visionary. I don't remember walking out that night going "Oh my God, we just created a moment in music history." But what I do remember is Ekome Dance Company, the African percussion group from Bristol, coming over to Ashcombe House where we were recording. They got this thing going in that time signature they used and it was a lot of fun.
"Kiss of Life" was similarly impactful on me. What do you recall about the making of it?
Marotta: They totally fucked up "Kiss of Life." They sped it up for the album. We had this killer groove going and they tinkered with it a little too much. The original track we did was badass. Two years later when it came out, I put it on and thought "That's not what we did." I don't know how they fucked with it, but they did. They used some kind of archaic looping that involved copying stuff from one two-inch tape to another.
I'm recording a version of "Kiss of Life" for a record by Paul D'Adamo. I think our version is better. I never liked the first section of the original track, so I got rid of it. Now it starts out with a vocal thing and moves into a synth groove. Then we do the "Kiss of Life" vocal thing at the end. In this particular case, I think we're doing "Kiss of Life" in a way that improves on the original.
Jerry, were you in the studio when Kate Bush recorded her parts for the third Peter Gabriel album in 1979?
Marotta: I wasn't there for that.
Gunn: Robert Fripp was there though. He told me Kate did a perfect take the first time, but Peter kept asking her to do it over and over again so they could watch her sing. [laughs]
Marotta: I did witness something really interesting though. In 1985, I was working with Paul McCartney on his Press to Play record in Sussex. Peter had changed the recording schedule for what was to become So. I had already committed to Paul's record, so I would work weekends on So. I was there when Youssou N'Dour came to record. Peter was so excited. He was sweating. Hours went by after Youssou was supposed to arrive. Then he gets there and his people tell us we only have 40 minutes with him, because he has to catch a plane. It was insane. So, we're in the control room and Peter and I are singing "In your eyes, in your eyes" to Youssou. They fire up the microphone and Youssou opened his mouth and started doing that amazing thing he does. We had goose bumps. But we only had 40 minutes to capture everything. Peter had to take whatever Youssou gave him during that time and figure out how to make it work on "In Your Eyes." It was a good example of circumstances influencing an outcome. It was the beginning of their relationship that has lasted to this day.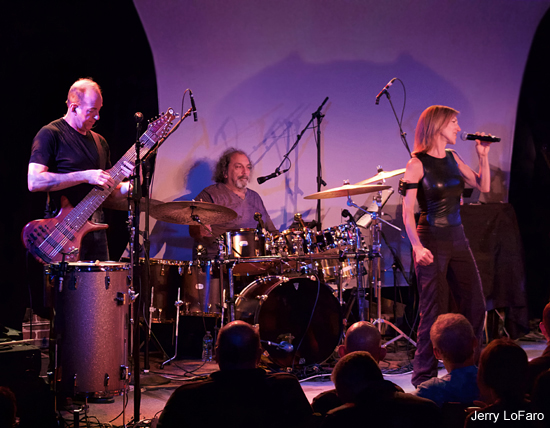 Jerry, the physicality of the drum performances on the early Gabriel music was intense—almost athletic at times. What was it like for you to step back into that younger version of yourself for Security Project?
Marotta: I get into fighting shape if we're out on tour long enough. I was a bodybuilder back in the days of the Gabriel band. I was in incredible shape. Now, I'm older. I do go to the gym and work out as best I can. I have some shoulder and joint problems, but playing this material now is like training for a marathon. We rehearse this material pretty seriously. I'm now at the point where I'm still upright by the end of the shows. [laughs]
Trey, what's it like adapting Tony Levin's bass parts?
Gunn: I've been doing that for quite a while. [laughs] If there is an iconic bass or Stick part in a song, like "Elephant Talk," "I Don't Remember" or "Family Snapshot," I play it the way it's supposed to be played. But other stuff I adapt depending on how I feel like playing it. We have arguments in the band, because David likes a very authentic approach. He's knows every sound. He made scores of all the music. I'm not authentic at all. The truth is, sometimes it's not easy to hear what the hell the bass is doing on some of the tracks, so interpretation is required. I'm now even using a fretless instrument to play a bunch of songs. It's about whatever sounds right to me. Unlike when I was in King Crimson, I don't feel I have to prove myself as a player anymore. I think another interesting thing is that Gabriel wasn't always beholden to ensuring Tony was present in all of the tracks. There are times when it wasn't Tony, or it was Tony's playing combined with someone else's.
Marotta: Tony told me realized that on some songs he's played on, the final version had up to three different bass players on it. Tony is brilliant and so is Trey. Like Trey says, sometimes we don't want to change the original. Look at "Don't Give Up." It's just voice, bass and a synth pad. How can you change that? There's a backbone that needs to stay intact. But there are things you can bring to the table around that.
Describe the progression of vocalists you've had leading up to the addition of Happy Rhodes.
Gunn: Our original singer Josh Gleason could sound quite a bit like Peter. At times, he sounded so much like Peter that it was almost uncomfortable. [laughs] But it worked well with him. We went with the idea of trying to do the music almost more authentically than Peter was doing it when it came out. I don't mean to sound arrogant by saying that. What I'm referring to is the fact that we have this new technology that allows us to really have the sounds Gabriel used and represent them in a way that wasn't possible in the early '80s. That, combined with Josh's approach, made that version of the band something that was close to the original approach of the music.
What happened next was Josh wasn't available for the level of touring we wanted to do. He had three kids with a new baby on the way and a really good day job. He could do maybe 10 shows a year and not consecutively. We wanted to work more and that's how Brian Cummins came into the picture in late 2013.
Brian was in a Genesis cover band called The Carpet Crawlers. He also had a one-man Peter Gabriel show using loops. We saw him on YouTube and reached out to him. We got on a Skype call with Brian and he had his whole family there in the living room watching. [laughs] He said yes. Brian was a very confident front man for the band. He's from Liverpool and is very British. He had been singing Peter's stuff since he was a kid and had the inflections without having to strain his voice. He also had an emotional quality that was quite moving at times. Brian has an aural photographic memory that was astounding. He was almost a librarian of the material, right down to identifying the guitar effects on the original recordings.
So, things worked with Brian until 2016. At that point, there was a kind of contentious rub within the band about the question of doing things authentically. I'm on one side saying "It's time to tear this shit apart." [laughs] I had enjoyed playing a lot of the material exactly like the original recordings. But even Gabriel, when he performs some of this material, isn't authentic to it anymore. He's been playing that material his whole career and considers the recordings just a moment in time. So, his band plays things in other ways. I didn't live with that music on stage for decades, but I reached the point where I really wanted to do some things differently. Jerry also wanted to loosen things up. Brian didn't feel the same way. So, another change was in the air.
For many years, Jerry and I had discussed different singers that could work in Security Project. It's a daunting task to front this band. Every once in a while we would throw out the idea of having a woman as lead singer to really change things up.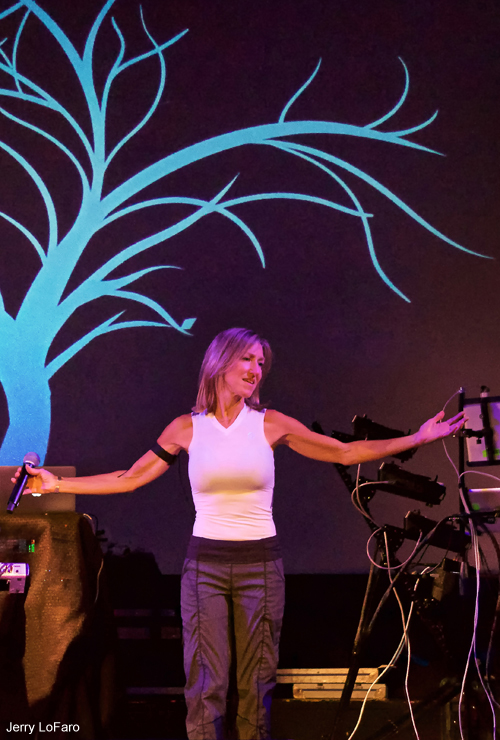 Marotta: When I realized Brian wasn't going to be there for the long term, I started thinking about where I'd like to see Security Project go. The band considered how we could take it in another direction. I didn't want to go out and just replicate Gabriel's music any longer. I started having strong feelings about having a woman singer. It would help take us out of the "tribute band" realm for sure. I was having dinner with Scott Harris one night. He's a good friend and a great musician. He mentioned to me he thought Happy Rhodes could be a good fit. Trey and I had both worked with her in the past. I started sifting through her extensive back catalog of 11 albums and was reminded of what an amazing singer she is. Not long after that, Happy came to a show we were doing.
Rhodes: My husband Bob Muller was once Trey's drummer. So, I knew Trey through Bob going back to 1995. That's when I was recording my Building the Colossus album, which included Jerry playing drums on a couple of songs. He also played on my 1998 album Many Worlds are Born Tonight. Both Jerry and I lived in Woodstock at the time. Security Project were going to be in town and Bob and I decided "We know Trey and Jerry, so let's go see the show. It'll be cool." Bob and I stayed after the show and said hi to Trey and Jerry and went on our merry way.
Marotta: When we were packing up our gear, Trey and I looked at each other at same time said "Happy!" She has a four-octave range, lots of experience and is a wonderful human being.
Gunn: Once Brian officially moved on, we thought more about Happy. We love her work. We had an upcoming tour booked on the East Coast in 2016 and had a decision to make. We could have found someone that sounds like Peter again, slotted him in, and not offended any fans. But my take was "Come on guys, when the chips are down, you don't play it safe. You take risks. We gotta call Happy. Now's the moment." Some people in the band were more open to it than others. There was some skepticism, and understandably so, as it would be a major change.
Rhodes: Six months after the Woodstock show, I got a call from Trey. He said "I'm not offering anything here, but I want you to think about what you would say if I asked you to maybe be the lead singer for Security Project." [laughs] That was the most out of the blue, weirdest thing that could have ever possibly happened to me. That's especially true given the fact that I had been semi-retired for at least 10 years. I had a completely uncharacteristic kneejerk reaction and said "Yep, I'd do it, no problem." I had absolutely no confidence I could do it, but there was something about the timing that made me know I should do it. Then Trey got serious, asked me for real, and I said yes.
Gunn: Happy was concerned that fans would be shocked by this change—that it would be too much for them. Of course, I couldn't have cared less about that. If we're doing something good, they're still going to come out and see us. Happy also did something very clever. Some of the promoters were really pissed off that Brian was no longer the singer and that we were going to have a woman singing. The promoters asked if we could take Brian's voice out of some of our earlier recordings and overdub Happy's voice on them so they could hear what it would sound like. Happy said "No, fuck that. I don't want to audition. There's no winning in that scenario. I'm not going to be put to the test by these people. Either they're going to do it or I don't want to do it." Michael stood up and said "She's a badass!" [laughs] So, that's how it started.
How has the addition of Happy changed the band?
Gunn: When Happy started singing the material, we gelled more into a group. With Brian, it was more about Brian's voice, despite how good the players and production were. Ninety percent of the time it was down to "Wow, that guy sounds just like Peter." Now that element is gone, we have blended more into a group dynamic without the obvious reference to Peter. For my money, it's super-interesting with Happy. It loosened up the mortar of all this material. We've taken more of the material, and dislodged and changed it. We still have more to do in that regard. We're tearing more and more pieces apart as we go along.
Marotta: It has really been awesome. I think making an unexpected change like this is just the kind of thing Peter himself would do. Happy was totally unexpected and she delivers in every way. She memorized all the lyrics which in itself is a serious task. She got deep inside the meaning of the songs which had a major impact on how she delivers them on stage. Imagine having to not only sing Peter's unusual lyrics, but do it in front of audiences with people who had seen tours I've done with Peter between 1977-1986. Happy has razor-sharp focus and incredible chops, so it works great.
All along, we wanted to reinvent some of the music. But with our two previous singers sounding a lot like Peter, it was a struggle. As we started rehearsing with Happy, the material started going in its own direction. "I Don't Remember" and "Intruder" are two prime examples. Both took on a new life of their own that is totally organic. It just happened without anyone directing them. There's more on the horizon. Unlike our previous singers, Happy is also a writer. She has many of her own albums and the ability to create new material. That means we can take the band in new directions in the future. We perform Happy's "Collective Heart" sometimes during our sets. I'm hopeful we can incorporate some of Trey's music into the show as well.
Gunn: One of the tricky things is that Happy has a very quiet voice and Jerry is pretty loud. For the first tour, we had a battle with the drums bleeding into the vocal mic. We sorted that out by getting Happy on a cordless headset mic. She then exploded as a performer. She was initially focused on singing during the first run. But after that, she started moving all over the stage and putting her presence out there. She's such a pro—a great singer that's always in tune.
Tom Lord-Alge, the renowned engineer and mixer that's worked with Gabriel, was a fan of Security Project prior to Happy joining. He wasn't prepared to be convinced by the new show. But after two songs, he adjusted and was completely and utterly sold. He walked in preferring the original concept, but then what's unique about this version of the band starts to sink in. So, while it's shocking for some people at first, the majority of them do realize it really works well.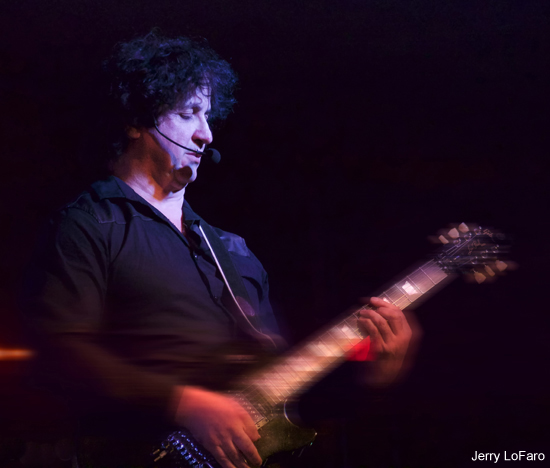 Happy, tell me about your interest in Gabriel's music and what it's like for you to be on stage with the group.
Rhodes: I was late coming to Gabriel in terms of him as a musical influence, but so much of his music is incredibly moving. It has got me through some dark times. I remember when I was riding on a bus to a waitressing job, I'd listen to "Mercy Street" or "San Jacinto" and it would make my world a hell of a lot better at the job. Music tends to do that for people. So, to be able to be up there singing his stuff is amazing.
It's also great for me to sing someone else's stuff, to be honest. I've mostly sung my own songs previously. It's a lot more fun than performing my own material. I say that because doing Gabriel's music is freeing. I don't have to play an instrument and I can put all my attention into singing. It's so much fun working with the guys in the band. Every night, somebody plays something different. Everyone is always upping their game, which keeps things fresh and wonderful. It's a blast. Everyone is so talented.
Before I joined the band, I think a great deal of fans wanted to hear the music done the way Gabriel did it. Brian Cummins was so wonderful in that context. He really delivered that. Obviously, there was no way I was going to do that. I was lucky in that there were so many people that were open to the idea of me singing the material.
The truth is, when I first approached the idea of Security Project, I had no idea how I could pull off this material. I do have the advantage of being able to sound like a man when I need to, so there is that. What I did was set up a system at home and played the music without any lead vocals. I sung to it day in and day out. There were so many times when I'd hit stop and pull my hair out as I said "This isn't going to happen. I sound ridiculous doing this music." It was such a weird thing for me to do. What I had to do was strengthen my voice. I can't sing as high in my natural register as most tenors can. I had to retrain my voice to be able to sing higher without going into falsetto or a head voice. I'm still learning how to do that. Security Project is making me become a better singer. I like the fact that the music allows me to perform with every part of my vocal register. That's a cool thing.
Since Happy joined the band, it added Kate Bush's "Mother Stands for Comfort" to the set list. Talk about the decision to incorporate that into the repertoire.
Rhodes: Kate Bush has influenced me. Adding a Kate song is a logical thing to do in Security Project because of her participation in the early Gabriel music, and also because I happen to be able to sound like her—remotely, anyway. Kate is brilliant. I think her music fits in the same genre. People who love Gabriel usually like Kate, too. There are a whole bunch of people who fit into that category.
Gunn: I love doing the Kate song. When Happy joined, I immediately thought "We have to do a Kate tune. Which one should we do?" I came up with the idea of "Mother Stands for Comfort," but just doing it as a duo or trio. I wasn't sure if Happy would want to do it, but she's willing to try anything.
The band has released a live album and EP with Happy to date. What are your thoughts on how well they capture the concert experience?
Gunn: We wanted to get them out to people so they could hear what we sound like with Happy. We aren't able to play across the world. In fact, we don't play that many shows at all. So, we started with the Five EP, which included the Kate Bush track on it. We then wanted a bigger document of the show out, so we did the Contact release to show how the band had evolved more fully. Michael Cozzi is a production wizard and really did a great job on them. We all play direct, except for Jerry and Happy. So, it can be a complex process to record and produce us well.
Rhodes: When I listen to my own performances on them, I feel I have a long way to go. It weirds me out to listen to myself singing Gabriel's music. It's because I'm singing someone else's work. I can listen to my own records any day of the week. I don't have that reaction to them. I think my performances are fine, but I want to get some more dirt and grit into them as we move forward. I'm still too Karen Carpenter-smooth on some of the material. I think I bring accuracy to the music, but I sometimes think I need to work on the feeling more. My hope is that the door is also open for us to write original music together for future recordings, too. I would like that to happen. Fans have said they feel the same way.
Trey, in 2015 you released The Waters, They Are Rising, a solo album based around touch guitar improvisation introductions to Gabriel's "Here Comes the Flood" performed during Security Project shows. Tell me about the impetus to create the recording.
Gunn: Actually, it was Jerry's idea. I was doing these intros every night and I tried to have them go somewhere unique each time. One night, Jerry said "You should record those and put out a record." I thought that was a great idea.
Marotta: I was listening to Trey play those intros every evening and thought they were amazing. They were all different from one another.
Gunn: So, I went ahead and recorded the intros for many nights during an East Coast tour. I fleshed them out a little bit, but not too much. They were all kind of in the same key, so I needed to intersperse them with some other music. I had to end the improvisations before the song started because I didn't want to pay Gabriel publishing money. [laughs] Also, I didn't want to have "Here Comes the Flood" over and over on an album.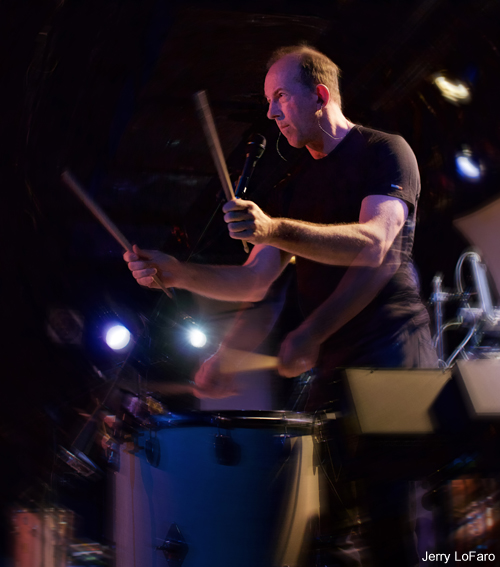 You chose to price the CD at $30 as both an experiment and a statement about the value of music in this challenging era. Explore that decision.
Gunn: I chose to charge double the regular price as a way of highlighting how much work goes into this music and what I believe the value is. I feel like what we do as musicians is no different from making a craft beer, an exquisitely-made espresso, a boutique guitar amplifier, or a custom-made pair of pants. The process is involved.
Marotta: I thought it was a great idea. We live in an era in which people call me to play on music with a mindset of "How little will he do this for?" The bottom line is this work is my life and reflects my heart and soul. I don't want to sell an album for $7.99. If you don't want to buy it because it's $20-$30, don't buy it. But there will only be so many of them. There aren't going to be thousands and thousands of them. So, how about treating them like a unique piece of art?
There are now three generations of listeners that have grown up without the concept of buying music. Everyone in Security Project grew up with that. I still like to buy music. I actually buy more now than I did before. I like the packaging. I like having something to hold instead of looking at my phone and seeing a single image of the artist.
Gunn: The hardest part for me in the conversation about the value of music hits me when I pay a hotel bill on tour. I think "This is the shittiest hotel, in the middle of nowhere in Nevada. It's so shitty that I'm going to get herpes from the pillow and there are cockroaches. And yet it's going to cost at least $40." So, give us $20-$30 for a CD—something you'll actually enjoy and listen to multiple times. Come on.
In June 1993, both Jerry and Trey were announced as members for what would become King Crimson's Thrak lineup. Why did you not end up in the final lineup, Jerry?
Marotta: I really don't know. Like I said earlier, I had done some rehearsals with Trey and Robert on material that would end up on Thrak, but I don't know if that was with the idea of reforming King Crimson at the time. King Crimson is Robert's band and it exists when it exists and it disappears for long periods of time.
I did the Sylvian-Fripp record The First Day with Robert in 1993 and then there was a tour for it that I didn't do. Pat Mastelotto was the drummer for that tour. I think Robert felt Pat was more suited for King Crimson than I was. I had never heard a King Crimson record back then. I wasn't a fan. I never lobbied for the position. I didn't know what to think of it. What happened is there was a conversation with Robert afterwards during which he said "Jerry, you're a fantastic drummer. You're just not the right drummer for King Crimson" and that was the end of it.
Gunn: I think Robert had the idea for the double drummers around that period as well.
Marotta: There wasn't a falling out with Robert. I was just surprised that he liked me at all back when he produced the second Gabriel album between 1977 and 1978. Everyone was talking about Robert and I didn't know who he was. I didn't know Peter was in Genesis before I started playing with him either. I used to be in a band called Orleans around that time, listening to R&B and Black music. I wasn't into much progressive music except maybe a little Yes. I was really worried the first day we were in Holland with Robert. I didn't know what was going to happen.
So, we recorded that first day and Robert says "Jerry, would you stay after the session?" [laughs] I said "Of course." But what I thought was "I'm done. I'm out." So, everybody leaves and I'm in the control room with Robert. He said "Sit down." He set up two Revox tape machines and proceeds to do a 30-minute Frippertronics piece. And that was it. I realized that was his way of saying "Welcome. I like you. I'm sharing this experience with you." I don't know how often he would do that in front of anybody. We started playing together after the second Gabriel album, including on his Exposure record.
We're losing so many important musicians these days. Historically, tribute bands have had negative associations. But given the fact that some of these musicians simply aren't around anymore or capable of performing, does that provide added legitimacy for what tribute bands do?
Gunn: I think part of the issue is the tradition we come from is one in which people write their own music. What Security Project does is go into Peter's repertoire. Now, that music is so obscure and strange that it has rarely been in anyone else's repertoire in any significant way until recently. But now people are doing that material as opposed to typical jazz and blues standards. In the rock realm, you're supposed to try and be original. Maybe we're helping loosen that up a bit.
Marotta: There's also a lot of bad music out there these days. Maybe this music needs to be out there to some degree. We have the luxury of being able to play this music. Peter mostly doesn't. We can play this show and he can't. We don't play "Sledgehammer," "Big Time," "Don't Give Up" and the hits from So. He can't do a show without doing those songs. We're not looking to fill an arena. We're out to play this music for people who want to hear it. Occasionally, people see us who don't know who Peter is. They find out about the show and realize that this is amazing music.
What would you like audiences to take away every night when they leave a Security Project show?
Gunn: Simply put, the strength of the material.
Marotta: The powerful messages, lyrics and atmospheres of the songs. I'd also like people to know Security Project isn't just a tribute to Peter. It's also a tribute to Tony Levin, Larry Fast and David Rhodes. Security was such a collaborative effort. Every band member was deeply involved in it, as well as David Lord who produced and engineered it. I hope people walk away from the show invigorated and stimulated.
Rhodes: The music is very moving for me, personally. Obviously it moves a lot of people. When I'm on stage and look out in the audience as we break into "The Lamb Lies Down on Broadway," I can see how important the music is to them. I can see it in their faces. I can tell we're taking them back to a different time in their lives, and it was obviously a good time, because they're very happy. I think the most satisfying thing for us is knowing that we're bringing people joy when they come see us.