Spirit of the West
Dramatic Turns
by Anil Prasad
Copyright © 1993 Anil Prasad.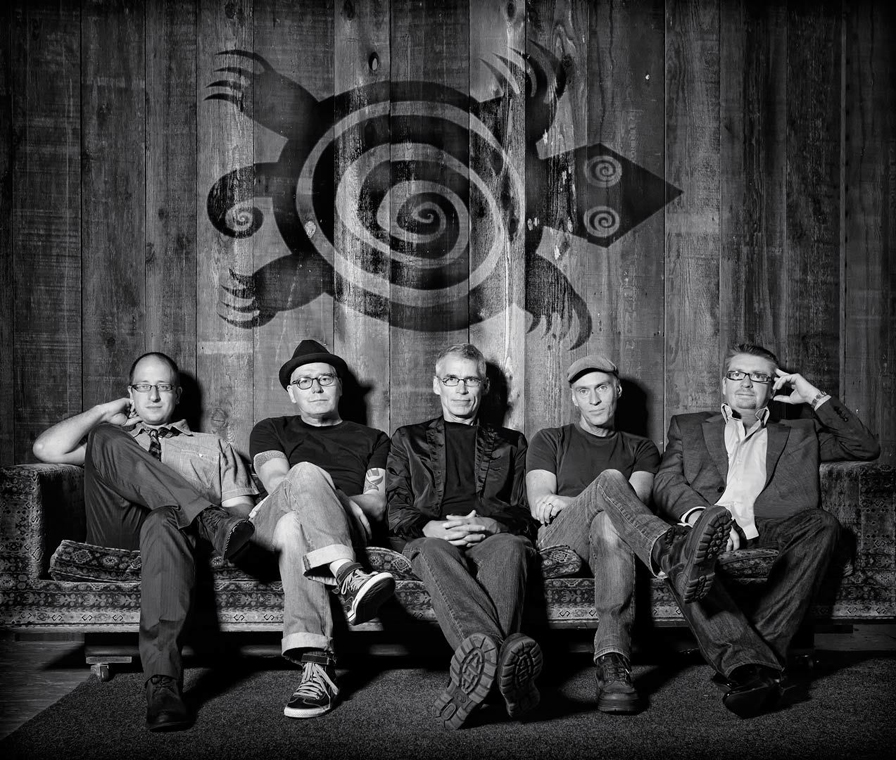 Spirit of the West fearlessly reinvented itself in 1991, recasting itself as an electric rock act after eight years spent as a celebrated Celtic folk group. Founded in 1983, the Vancouver-based band reenergized Canada's folk scene with a brisk blend of amped-up traditional tunes and often politically-charged original material. Native rights, bigotry, poverty, and climate change are a few of the issues they've explored in depth in their work.
Its 1990 release Save This House broke the band wide open in Canada. It was Spirit of the West's major label debut on Warner Music. Both its title track and "Home for a Rest" established themselves as fixtures across college radio and the CBC. The latter track, an ode to inebriation and unraveling from excess, has practically established itself as an alternate Canadian national anthem among a generation of listeners.
As Spirit of the West's audience expanded, the band's ambitions increased in tandem. Go Figure, it's 1991 album, found the group integrating electric guitars, keyboards and drums into its sound. The songwriting became more urgent and the group's stage shows were more raucous than ever.
Clearly, the band was experiencing a creative rebirth, but it wasn't without controversy. After eight years focused on the folk scene and acoustic underpinnings, the change didn't sit comfortably with some fans. Spirit of the West found itself having to create a new conversation with its existing fan base about its intent, while many new listeners found their way into the fold.
The band's new vision crystallized with its 1993 release Faithlift. It's Spirit of the West's biggest-selling album to date, and included a top-40 hit single with "And if Venice is Sinking." While very much a rock-based album, it included a few songs, such as "Sadness Grows" and "Death on the Beach," that reflected the group's Celtic folk roots.
Spirit of the West's current lineup includes John Mann on vocals and guitar; Geoffrey Kelly on vocals, guitar, flutes, whistles, and bodrhan; multi-instrumentalists Hugh McMillan and Linda McRae, and drummer Vince Ditrich. Kelly spoke to Innerviews about how the group's change in direction enabled it to pursue a more expansive vision.
This year marks the band's tenth anniversary. What evolution do you feel has occurred across its history?
At the beginning, we considered ourselves part of the folk scene, which is pretty insular. After a while, that started to get to us. Like any close-knit scene, the folk world can turn its back on things, so we rebelled against that. We stopped doing folk festivals and we no longer wanted to be associated with the folk scene. We started exploring the alternative rock scene and found we had a more comfortable home there. I think that's where we really reside now. We certainly have folk roots, but we've grown from being a folk band into a rock band through 10 years. On the surface, it might appear to have happened in the last two or three years, but we've been slowly edging that way and took a dramatic turn with Go Figure. We've permanently admitted that we're not only into folk music. We have diverse tastes and they're affecting our music.
How do you look back at Go Figure?
I think we had the material there, but I don't think the band was quite together. In a way I'm kind of singling out Vince Ditrich. He was the newest addition and he was still searching for where he sat in a band with a career of having no drummer. He was a bit unsure of how much authority to have back there. Having had no drummer, we tend to have our own inherent rhythm. Vince found that difficult because drummers learn from day one to be the clock and be square on the beat. It wasn't Vince's fault, it was just the timing. We could have used another six months playing live with Vince before making the record. Some of the songs are kind of stiff and a couple of songs are a bit long, but I think they were the batch of songs that we had at the time. They kind of all hang together in a way, but I guess every band looks back on their records and has doubts and finds fault with certain things.
Do you feel it alienated some of your fans?
Honestly, I would say it probably did. I think we knew that was going to happen to a degree, but we felt that those who were really die-hard fans would at first be shocked, but after repeated listens might think this is pretty good even though it's different. We felt we came to the end of our acoustic road. We felt we were bankrupt musically. After doing a tour with The Wonder Stuff in Europe we felt we should really try something like this. It would open stuff up songwriting-wise and bring out our pop side a little more, so we went for it. In a way we paid a price, but we've survived. You always hate for people to abandon you, but it's inevitable. I think our whole approach to getting people into the record was not as good as it could have been. We downplayed the change a lot, although we thought the title of the album would be enough to signal the change. I think we've weathered the storm and now we'll be able to do whatever we want in the future.
What shift do you feel Faithlift represents?
We did a lot of travelling after Go Figure came out, so it reflects real wide range of stuff, topically. There's "Bone of Contention," which is about Pee-Wee Herman, "And if Venice is Sinking," which is about John's honeymoon in Venice. There's a song about being in Germany a little too long. There's even one about a shopping list we found on the ground in Toronto. It's a real weird combination of songs. I think the album leans slightly heavier to what Go Figure was, which probably a lot of old fans don't want to hear, but we tried to find the right music for the lyrics. A lot of the songs called for a crunchier kind of sound. A few are kind of Save This House-ish, though.
The band is known for having a strong political component in its work. How does that manifest itself on Faithlift?
There are lots of politics in Faithlift, but we tried not to retread old ground. "Far Too Canadian" from Go Figure was a pretty sweeping statement and we thought we could easily write something about the Quebec referendum that would be very similar. We decided there wasn't a lot of point in that. Politically, we're looking elsewhere. We're looking within ourselves a bit more instead of pointing at politicians. We've done our share of that.
You're originally from Scotland. Contrast the public's appetite for politics in that country to that of Canadians.
There's such a strong movement for separation in Scotland at the moment. They've never been happy to bow down to the Queen. I agree with it. Things are no better in the UK, though. But people seem to get out there and make their voices heard. They definitely take it to the streets. In Canada, there aren't that many of us who really band together and make noise. Perhaps the odd letter gets written here and there. I'm thrilled to be Canadian, but I think we tend to be a little too easygoing about things, especially as we live in the shadow of America. A lot of us would like to think that's not the truth, but I think that's the Canadian way.
Spirit of the West recently covered Joni Mitchell's "Coyote." for the Back To The Garden tribute album. What attracted you to recording that cover?
The truth is we've never really been into doing other people's songs. But they're definitely a challenge to do and it can be kind of fun. We enjoyed doing "Coyote" because Joni Mitchell means a lot to us. John Mann did a really great job putting his own personality into it. Apparently, Joni really liked it, so that's a good sign. I usually find cover records hard to listen to. There are so many different bands interpreting things in different ways on them, so I skip around when I play them. Those albums are curious things.
The band has long wanted to break the American market. Where do things stand at the moment for you?
I think we have the same frustrations as many bands signed to a Canadian arm of a major label. They just don't seem to have the power to get the releases down to the U.S. or get the U.S. branches to work the albums. I don't understand why. Out of the entire Warner domestic roster, only two acts have releases in the U.S. and that's Blue Rodeo and Loreena McKennitt. It's hard to know what the answer is to this problem. It isn't the end-all for us to have an American release, but we'd just like some kind of shot at it. We're hoping Faithlift can take it to the next level and have an impact there.