Stephen W Tayler
Experiential Evocation
by Anil Prasad
Copyright © 2020 Anil Prasad.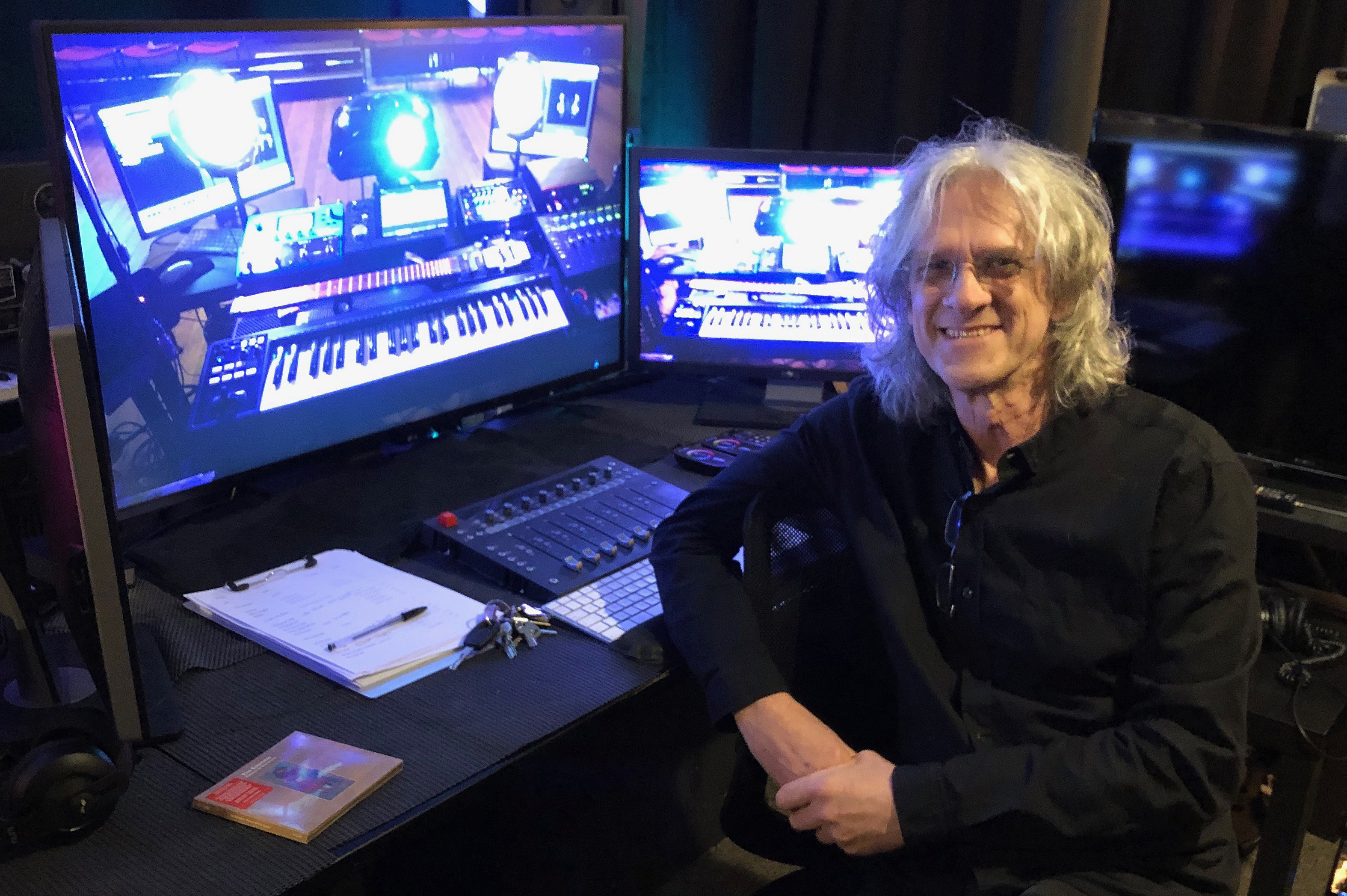 Stephen W Tayler at his Real World studio in Wiltshire, England, 2020 | Photo: Anil Prasad
Stephen W Tayler is a one-man beehive of activity in his working environment at Real World Studios in the village of Box, Wiltshire in England. The producer, mixer, engineer, composer, and visual artist is working on many simultaneous projects. He's creating new stereo and surround mixes of the Be-Bop Deluxe catalog for a series of box sets. A new solo album, multimedia and performance project titled Da Capo is brewing. At the time of Innerviews' visit to Real World, he was also creating ambitious visuals for Howard Jones' Transform tour. In fact, Jones had just stopped by a few days earlier to film video segments for it.
While Real World is mostly associated with Peter Gabriel and countless recording projects, Tayler is currently its most ubiquitous artist. His studio space has been based there for seven years, which he shares with his partner Sadia Sadia, a renowned visual and installation artist. The large space was acquired from singer-songwriter Clark Datchler of Johnny Hates Jazz, who had worked with Tayler on a mixing project. When Datchler moved out of the area, he offered it to Tayler and Sadia, and they can now be found working there most days of the year.
The Real World complex is located in a serene, rural area full of natural beauty. It's surrounded by lush gardens and water, with the Bybrook River running right through the former water mill converted to house some of its facilities. Tayler's studio is located across the water from the main campus. It's a neat, organized space dominated by computers, large computer and audio monitors, and hard drives. There's a film backdrop set up as well. Shelves of books, Blu-rays and DVDs abound next to a small kitchen and storage area.
While Tayler is focused on the here and now, his history mixing and engineering hundreds of the most well-known and revered rock and pop albums of the 20th century is stunning to contemplate. A small snapshot of the key artists and bands he's worked include Tommy Bolin, Brand X, Bill Bruford, Phil Collins, The Fixx, Peter Gabriel, Genesis, Gong, Jethro Tull, Stevie Nicks, Noa, Rush, Thompson Twins, Tina Turner, Suzanne Vega, and The Waterboys.
Tayler also has a long-standing working relationship with Kate Bush. He mixed the majority of 2010's Director's Cut, Bush's project that reimagined and revisited earlier material. Bush also had Tayler mix the entirety of her 2011 recording 50 Words for Snow, which found him also capturing contributions from Elton John, Steve Gadd and Stephen Fry. In 2014, Tayler contributed to Bush's historic 22-show residency at the Hammersmith Apollo, which was her first series of gigs in 35 years. He was responsible for controlling Bush's vocal sound, processing and effects. Tayler subsequently mixed and handled post-production for the 2016 KT Fellowship Presents Before the Dawn live album.
He's a soft-spoken, calm and contemplative presence, in contrast to the sometimes mercurial personalities he's had to manage across his career. During a five-hour conversation at Real World, in addition to many follow-up exchanges, he explored the expanse of his career from its humble beginnings to his ascension as one of the world's most sought-after recording experts. The conversation touches on dozens of his projects, as well as his emergence as a solo artist, which began with 2012's Ostinato. The meticulously-sculpted instrumental release channels Tayler's varied musical interests and experiences, with a focus on minimalist and ambient realms.
How did your journey into the world of engineering, mixing and production begin and evolve?
I was a child musician and a chorister at New College Chapel in Oxford, which introduced me to the world of classical music. It was quite a prolific choir, which did recordings broadcast on the BBC. So, I think my fascination with recording and the behind-the-scenes aspect of music started there.
Next, I got a music scholarship to Shrewsbury School. I was playing clarinet and organ. Following on from that, I wound up as a student at the Royal College of Music in London. I was focused on clarinet and organ there, but my older brothers and sisters were big Beatles, Beach Boys and Who fans, so I heard all of that growing up. I ended up picking up electric guitar and saxophone. I became a jack-of-all-trades, rather than a master of one particular thing.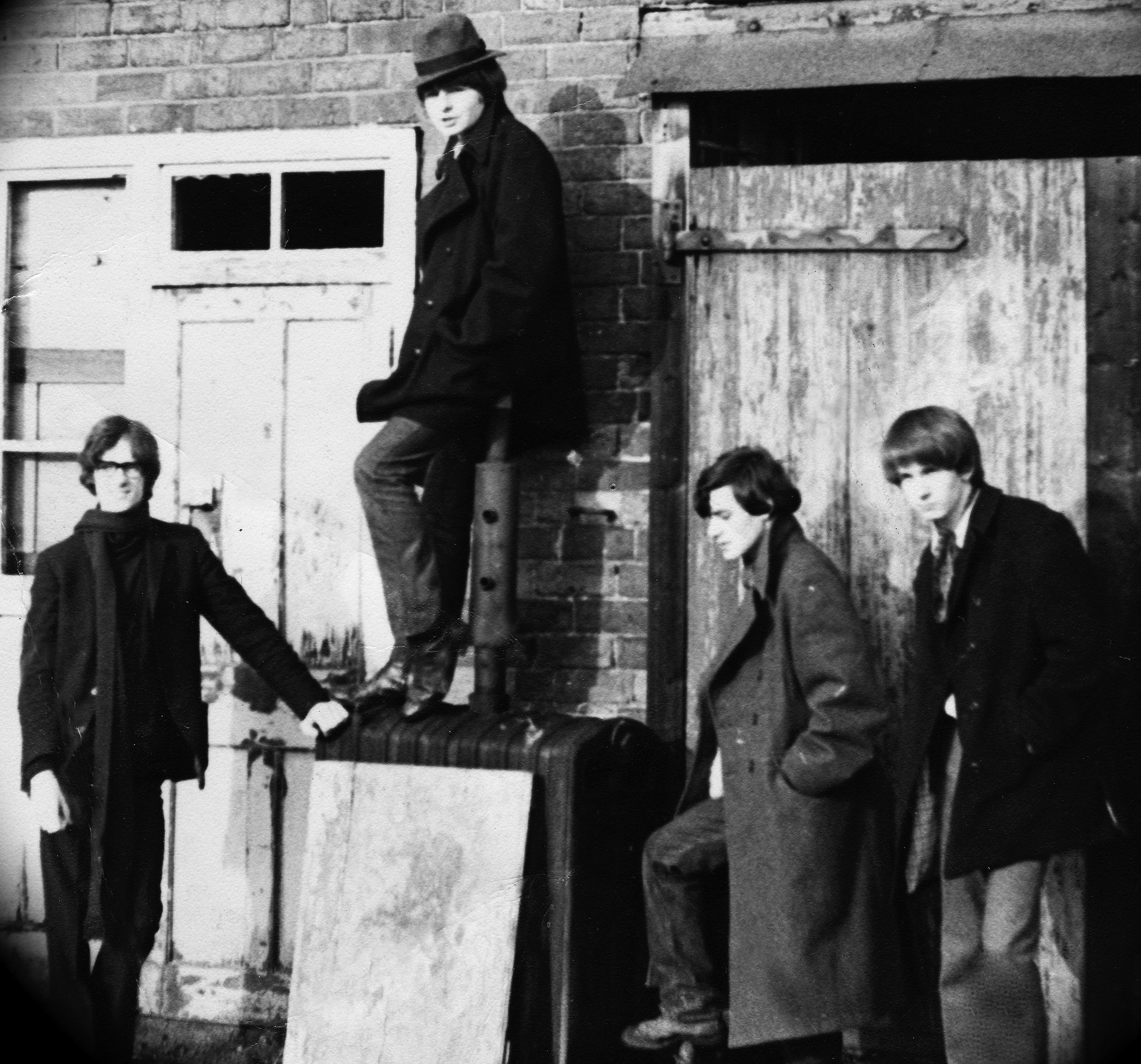 Prometheus Unbound, 1969 | Photo: Stephen W Tayler Collection
At the age of 16, my first band at school started by playing covers, rehearsing in the school's sports pavilion. At first it was two guitars, with me on lead guitar and vocals, and bass and drums. We played songs by the Beatles, The Who, Fleetwood Mac, Led Zeppelin, and Cream. And when I acquired my Farfisa Compact organ, we started to play songs by The Nice, The Doors, Deep Purple, and Iron Butterfly. We played a few school dances, but I don't remember anyone dancing when we played. [laughs]
We called ourselves Prometheus Unbound, which seemed a little pretentious, although it made a bit more sense when we were joined by a sax and flute player and started writing our own somewhat eclectic, quirky material. We thought we were going to be the next Soft Machine or Pink Floyd. We had a lot of fun, but nothing came of it.
I bought a tape recorder back then in the late '60s, so a lot of interests were gelling together. When I finished music college, I decided I wanted to move into the behind-the-glass aspect of music production. My start in the industry was first as a tea boy, then assistant engineer, and then I became an engineer and mixer. The latter two are what most people know me for and where the majority of my career has been focused. I also formed close relationships with producers and musicians that enabled me to go beyond the technical role of getting the sounds and into getting involved in the concept of what the musicians wanted people to hear. I've also been involved in a lot of projects as producer or co-producer.
For much of my career, I didn't really let on I was a musician. I preferred people not to think I was a frustrated musician, because it changes their perception of you. But in the last 20 years, that part of my identity has emerged and I've been involved in some co-writing, culminating in my own solo music projects.
Twenty years ago, this began partly in combination with Sadia Sadia. When we met, her focus was as a record producer, based in Canada. That's how we first worked together. Eventually, we started collaborating as songwriters, first on a project called Equa, in which we had access to a load of world music recordings we wanted to fuse together with our own writing. The idea was to introduce as many elements as possible from different parts of the world, and find rhythms, harmonies, chorus lines, and chord structures that would make everything fit together.
Sadia's career then moved into the world of being an experimental filmmaker and installation artist. So, we began to write music that accompanied these films. That naturally led me into concentrating on my own recording projects under my own name, beginning with my first solo album Ostinato.
Provide a snapshot of what you do as an engineer and mixer.
There are actually quite a few different levels to how this works. The basic starting point is the capturing of sound onto recording devices, whether that's tape or, these days, hard drives and other devices. But it's really about being the link in the chain to ensuring what needs to be captured is captured professionally, documented and then reproduced in ways that require it to be delivered for, whether it's for broadcast or for albums.
So, this means setting up microphones, instruments and connecting electronic instruments, and capturing the sound of those as perfectly as you can. This can just be a very technical exercise, but with the whole process of record-making, it allows you creative ways of expressing how you want people to hear things. There are so many different ways you can manipulate sound, and this is where, if you like, the individual's personality or character comes into it, because you can influence the tonal quality or the dynamic quality, or you can limit the dynamic quality, in order to make things either sound interesting, characterful, or at least understandable.
But then as you get deeper into looking at how you present music, the initial idea of recording was to try and recreate the sound of an orchestra you go see in a concert hall. Originally, capturing that to put it on record was to try and recreate the sound that you heard in the room, which is actually quite difficult because it depends on the equipment you play it back on.
I think what happened with the development of the whole recording industry was, suddenly, being able to add character to these recordings, particularly in pop efforts. But if you think back to the sound of Elvis or the Beatles, people were really starting to manipulate what you heard by changing the tonal quality and changing the levels at which you hear things. So, even though typically a recording sounded like the drummer was at the back of the room behind the band, you could make the drummer sound like they're right in front of you, with the singer in the back. You can really play with all of that to create the sound you want people to hear. So, that has developed into all kinds of different styles of music making and record production.
Depending on who you're working with, you're either given a lot of control, or you're fed information on how people want you to make it sound. I'd say from my point of view these days, I have quite a lot of influence on what people want to hear from me. I can introduce ideas and concepts into how things should sound.
How did you get involved so quickly at the start of your career in the mid-'70s working with such major musicians?
I was very lucky to literally walk in off the street into a studio looking for a part-time or temporary job. When I left music college, I actually had already arranged to go for training at the BBC. I'd been through a whole process of auditions because I thought maybe I should do it the proper way. And I was accepted for that, but what happened was that I finished music college at the end of July 1974 and the BBC said "You can start your training in January."
So, the first Monday after I finished college—at that time I lived in a bedsit in Knightsbridge—I just thought, "I'll go up and see if I can find a studio and see if they can give me a part-time job." I jumped on the Tube, went up to Soho, which seemed like the center of the film and music industries back then. I just happened to turn down this alleyway and I saw a sign that said Trident Studios. I recognized that name from a couple of albums I had. I didn't really know much more about it than that. I just knew it from the credits.
I walked in and said to the receptionist "Do you know if there are any vacancies going? I'm looking for a temporary job." And she said, "Hang on," and she called up to the studio manager and he said, "Send him up." I went up and had a chat with him and, I found out about this later, but somebody had actually been sacked that morning, meaning there was a vacancy.
Trident was a down-to-earth company with very London people running it. I don't know if I sound slightly posh or not but I told him about myself and history, and he said "Well, you're too old, you're overqualified, and you're way too posh for us." [laughs] Then he said, "But I've got a feeling about you. Can you start tomorrow?" I said "Sure." And I did. I started as a tea boy the next day, which was hell for six months—a trial by fire.
Trident had a reputation at that time for being where quite a lot of the Beatles' "White Album" was done, as well all the early David Bowie and Elton John work. Queen was still managed by Trident then and were being developed. I seemed to come in at a moment when really interesting artists were appearing at Trident. Among them were Return to Forever, Chick Corea, Stanley Clarke, Mahavishnu Orchestra, and Shakti.
There's a chain of events here. Ken Scott was originally one of the staff producers and engineers at Trident, and he mentored an engineer called Dennis MacKay. Ken Scott moved on, but he had worked with Dennis on some of these jazz-rock albums. Dennis inherited engineering and co-producing some of these projects. I was lucky enough to be his assistant on some of the projects that he engineered.
A really fast sort of promotional ladder was happening. People were moving on like crazy. Dennis then starting producing and wanted to relinquish the engineer's role, and we'd become quite close working together. So, I became his engineer. Suddenly, I found myself working as an assistant on Brand X's first album Unorthodox Behaviour. By the time it came to make their second album Moroccan Roll, Dennis was now producing and didn't want to touch any of the controls. So, I became the engineer for that.
What period of time did this transition occur?
Well, I was tea boy for six months, then the promotional ladder kept moving as people moved on. There were four engineers, four assistants and three tea boys at any given moment. So, if one left, then everybody else moved up the ladder.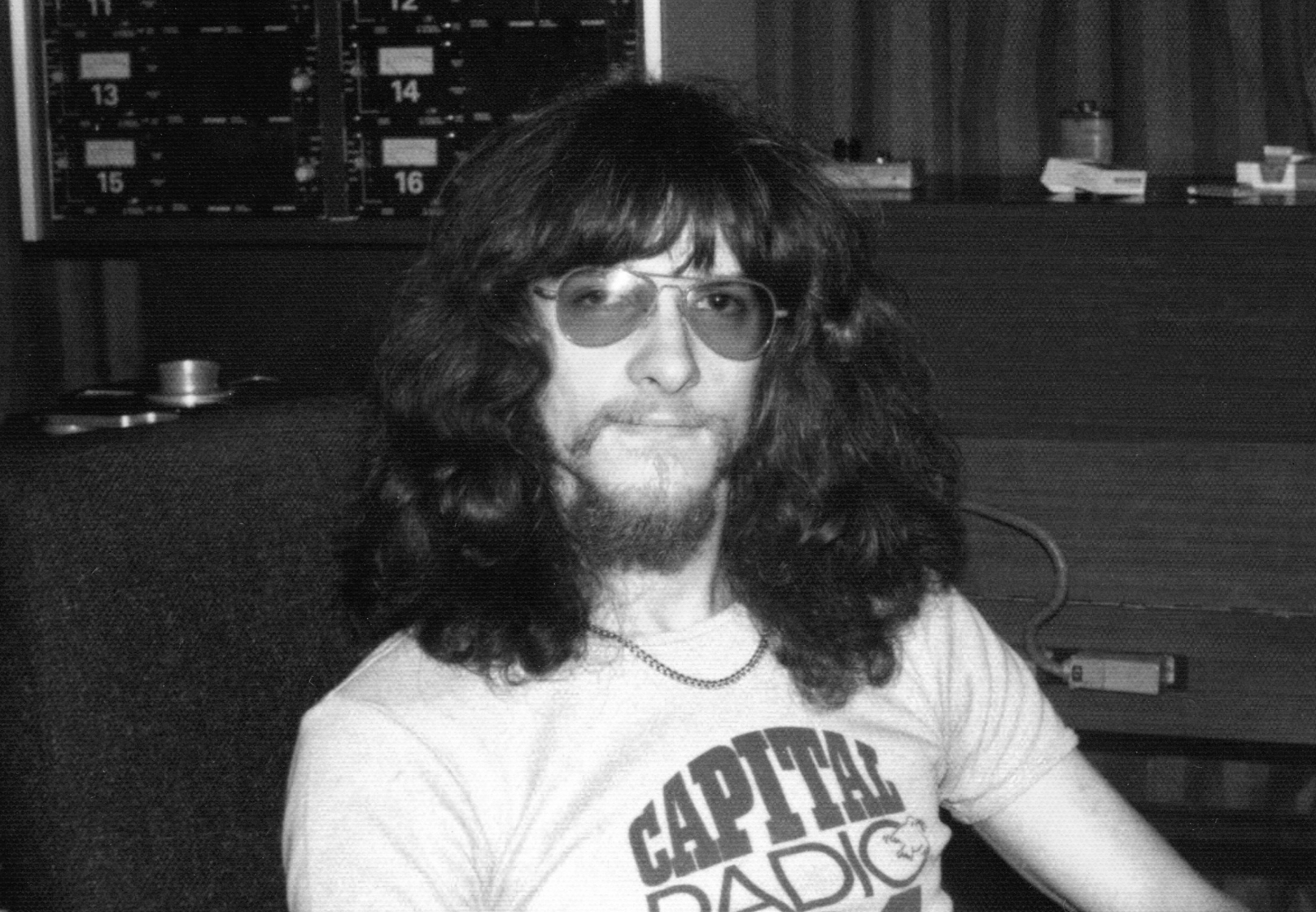 Stephen W Tayler at Trident Studios, London, England, 1976 | Photo: Stephen W Tayler Collection
What was involved in being tea boy for Trident?
I'd bring tea! [laughs] I'd also sit at reception all night, fetch takeaway food and even cook from time-to-time. When I first started, there were only two of us and they made us both work 24 hours on, 24 hours off. That was the hardest thing I ever did in my life. Again, it was trial by fire. It's to see what you're made of.
There were six months of doing that before my first assistant engineer tape op role. The second period lasted 18 months. So, two years almost to the day from when I joined Trident, I had my first session. My first one was a bit of an accident. What happened was, we were a very busy studio and had sessions during the day and sessions during the night with change-overs every 12 hours for our recording and mix rooms. One day, one of the engineers got sick. He'd been working for 36 hours straight and was supposed to do another session. He got sent home and I got pulled in at the last minute and was told "You're gonna have to engineer this session. But don't worry, this is one of those three-hour re-recording sessions for a song for Top of the Pops."
Top of the Pops during that period insisted bands re-record the backing tracks. I was told "Don't worry, because what we always do is, the band comes in, they bring a copy of the backing track of their original single, we make a copy of that, we sit around for three hours and drink tea, and everybody gets paid. Job done." [laughs] I thought, "Oh, that's a relief, I'm not being thrown in at the deep end." Except, once in a blue moon, a representative of the Musician's Union would come along to make sure that things were done properly. And they did for this session, and I found myself actually having to record and mix a track in three hours for Top of the Pops.
It was for a band called Stretch and the song was "Why Did You Do It?" It turned out okay. It wasn't perfect, but it was good enough and it was used on Top of the Pops the next day. That was trial by fire again and I think that gave them the confidence to say, "Right, you can become one of our engineers now."
Backtracking a bit, what was it like for you to be in the presence of Mahavishnu Orchestra, Shakti and Return to Forever during their heyday? You were witnessing jazz-rock history in the making.
I was a big fan of a lot of jazz-rock and prog-rock when I joined Trident. Some of my favorite albums were by Yes, Genesis and Mahavishnu Orchestra. I saw all kinds of gigs. When I started as a tea boy at Trident, during my first week, I was making tea for Queen, Supertramp and Ace, who all had big hit singles and albums on the go. I was a fan of all of them, but I had to pinch myself and realize "Well, they're just people who are talented." I had to get used to that and not act strangely amongst them, but being in the presence of these really famous musicians was kind of mind-blowing.
With Return to Forever, I was very much on the periphery of a mix session, so there wasn't really a lot to witness other than tapes being played, mixed and recorded. But when I was an assistant engineer working on say, a Shakti session, I found myself understanding the music with my background as a musician and being able to sort of follow what was going on. Now, as a tape op back then, you were required to operate the tape machine on behalf of the engineer. They had no remote controls. So if you wanted to start recording in the middle of a recording at a specific point, he would have to instruct you when to press the record button. And so, this was a trust you had to develop with your engineer or producer.
Some of this music was really complex. And when they said, "Well, after the seventh bar which is in 15/8, we require you to drop in on the third beat of the following bar," I understood that, which was useful for everyone. So, yes it was fascinating to be amongst these people.
Shakti was one of the most magical sessions to have been involved with because I was witnessing live, off-the-studio-floor performances with these incredible musicians like Zakir Hussain performing on tabla and Vikku Vinayakram on ghatam. It was fascinating to experience because a feeling you don't always get in the recording studio is that you're witnessing a completely live event. Increasingly, over the years, it has become a much more processed, step-by-step controlled environment. But in the mid-'70s, a lot of this stuff was live in the studio and to be in that environment and part of that, sitting on the edge of my seat, was truly amazing. John McLaughlin was a lot of fun to work with. There was both a very spiritual, yet very reverent side to him. He also had a wicked sense of humor. Even though the music was very serious and hallowed, the Shakti musicians were just wonderful people to be around. That sort of reverence isn't something I got to witness on many projects. Some recording sessions can even be quite confrontational. It's always a different experience depending on the personalities involved.
What's an example of a confrontation you witnessed?
One of the toughest ones I'd say was during the making of the first album by U.K. from 1978 with Bill Bruford, Eddie Jobson, John Wetton, and Allan Holdsworth. I remember Bill coming in to record with U.K. which was a real eye-opener, because I'd been following Yes. He had obviously left Yes, but it was a real privilege to work with him.
The band had four musicians with two each from opposite ends of the musical spectrum, which made for a really fascinating blend of music and sound. There was no producer for that. It was produced by the band, so I did feel in that situation, my role as engineer actually became even more influential and crucial. I wasn't responding to a producer who's particularly concentrating on the recording process, but working with the musicians directly.
And there were lovely people in the band, but there were two very different schools of thought. You had the jazzers and the rockers. They even referred to themselves that way at the time. Bill is very methodical, prepared and prefers very structured things. Holdsworth was a bit more from the improvisational and free-style school. They formed the jazz-rock end of the band. Then you had John who, with his legacy of playing with some of the most amazing rock bands ever, brought a melodic songwriting and rock-solid end to things.
Then we had Eddie who comes from somewhere between the worlds of glam rock and the extremism of Frank Zappa. He played with Roxy Music as well. John and Eddie were at the spectacular, opposite end of what the band was trying to do with their very impressive progressive leanings. This made for a wonderful musical experience, but there were confrontations and arguments. One of the main things that made the sessions so difficult was that Allan and Bill were used to having all the musicians performing live in the studio together at once. Eddie and John wanted to get a backing track down and then lay on all the keyboards and guitars. That frustrated Allan quite a lot and he was never really happy with what he was doing. But thank goodness we got through it and made such a great album. It's a shame they broke up after that album, but reformed quite shortly after that with a different lineup.
Elaborate on your role on the U.K. album.
It's not as though I got a production credit for it, but I had quite a lot of influence in the techniques and methods used to capture the sound, particularly on the keyboard end of it. I had worked with Bill on a previous solo album, and Allan as well. With Bill, we had started to open up the idea of how to record drums. Previously, almost all bands recorded the drummer in a booth for separation of sound, so they didn't spill into the other instruments, but that gave the drums a very tight, enclosed sound.
I was beginning to have influence by being able to say "Let's move the drums out into the main studio floor and put more microphones on them. Let's get the sound of the room, rather than the sound of the drums in a cupboard."
When it came to mixing the record, I felt like I had to have quite a lot of control. We had four separate musicians all kind of looking out for their own parts. This is back in the days before automation or faders. You actually had to have people controlling the faders to balance things out the way you wanted to hear them. The danger was the guitarist would get hold of the guitar faders and the drummer would be on the drum faders. This would lead to something called "fader fighting" where gradually everything gets louder and louder and louder.
So, I had to exert some kind of influence on the band, which is normally what the producer's role is. I did feel like my role in that album was quite crucial in keeping it all focused and together. There was a blurred line on it between engineering, mixing and production for me.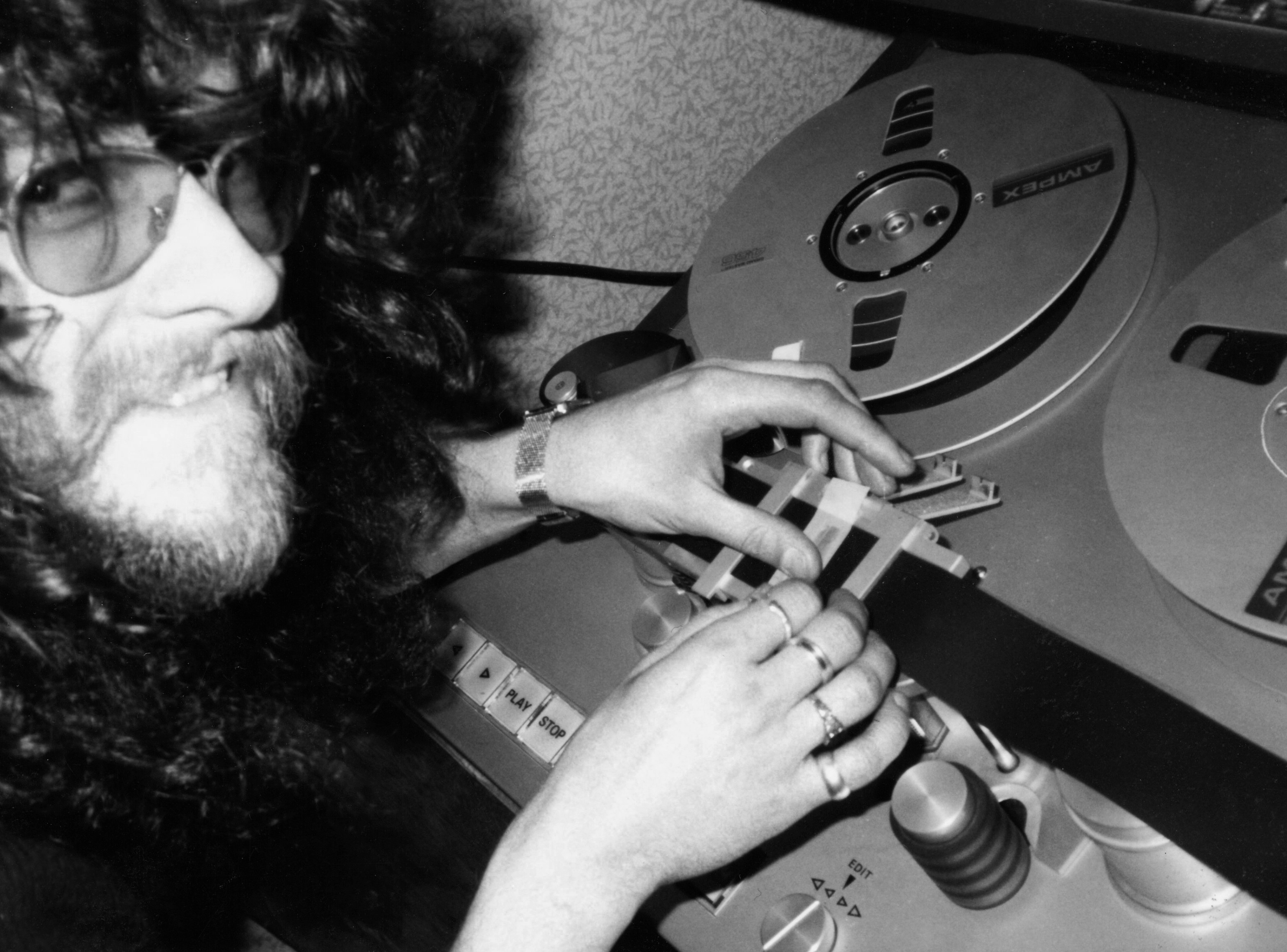 Stephen W Tayler at Farmyard Studios, Little Chalfont, Buckinghamshire, England, 1982 | Photo: Stephen W Tayler Collection
Describe how you evolved into the role of mixing albums.
The first couple of albums I mixed from start to finish weren't recorded by me. They were recorded by Dennis MacKay as producer, but when he brought them in to be mixed, he sat back and let me take control of the console. The albums were Gong's Gazeuse! and Tommy Bolin's Private Eyes, both from 1976.
They each have a very particular sound, partly because of the way Dennis had recorded them, and partly because of the console we were mixing them on, which was at that time the 20-channel Sound Techniques desk in Trident's mix room. It was a wonderful desk. Only 19 of the channels worked. It had bass and treble controls. There were no middle frequencies. It was very simple and straightforward. You could position things left, center, right, half-left, half-right, or you had one pan pot in which you could make things move if you wanted.
It was very interesting for me to interpret how somebody else's recording could sound. And we're using very basic equipment like 16-track recorders. We had a few graphic equalizers, limiters, phasers, delays, compressors, classic valve equipment, and several stereo tape machines. The one thing that wasn't in the room but was in another part of the building was a plate echo in which you fed sound into it, have it reverberate around on a large metal plate, and then it comes back sounding like the ambience in a large space.
Some guitarists had toys and pedals they could put their instruments through, but at that time we didn't have many things like those in the studio. We had to be very inventive with these limited resources. The techniques you could play with were basically about tonality and dynamics. Time manipulation through reverberation—which is basically a time effect—or delay by feeding sound into a tape machine and having it recorded on the record head and played back on the playback head, was something else we'd do. The speed of the machine would determine the length of the delay, so it could either be a very quick slap-back, or it could be a long repeat echo.
As I mentioned, the first project in which I was recording and mixing engineer from start to finish was Brand X's Moroccan Roll in 1977, which we recorded downstairs in the main Trident studio. While we were recording that, I was able to start incorporating my ideas on how to capture sounds, where to put microphones and what microphones to use.
By the time it came to mixing it, we were supposed to have had a new mixer installed in the mix room—a Trident mixer rather than the Sound Techniques one, and it was going be a big one. But the building of this room had got way behind schedule so it wasn't ready. Suddenly, the first album that I was going to mix that I had recorded had to be mixed in a completely different studio somewhere else in London with a mixing console I'd never used before. This was a bit of a shock. We wound up at Morgan Studios in North London on a Cadac mixing console which I'd never seen before or since.
There was a steep learning curve. Fortunately, the technology wasn't that hugely complicated back then. The biggest thing was listening on a different pair of loudspeakers which was difficult to get used to. I always find it quite weird that my first full production as the engineer of an album for Trident Studios wound up being mixed at Morgan. But it still turned out really well, so I'm very happy about that.
By 1977, things were starting to get a bit more sophisticated in the studio in terms of synchronizing 24-track tape machines. You now had 48 tracks to play with. It actually slowed the process down a bit because you had to wait for things to hook up and synchronize, but this was starting to change the way you considered recording things.
When you had 16 tracks, you wouldn't be able to record every microphone on a drum kit on a separate channel. You would have to make decisions. You might put the bass drum on one track, the snare drum on one track, and then the rest of the kit—the cymbals, the high hats, the tom-toms, and cowbell—would go on a stereo pair, so you could give them some sort of stereo image.
These decisions were made as you went along. For instance, if you were recording backing singers, you'd probably record three people onto one microphone on one track. With the expansion of track capability, the luxury of saying, "Oh right, well, I've got 10 microphones on this drum kit and two room mics as well, and they can all have their own channel" emerged. This meant that you didn't have to be quite so committed in the early stages, but it gave you a lot more to think about at the other end of the scale when you're mixing.
We were also beginning to see more and more electronic developments in terms of studio toys like phasers and flangers. Now, we had digital delays replacing tape machines to make delay effects. People were only just starting to talk about fader automation. During this whole period, if you had a big, complicated mix with 48 tracks, and no automation, you would have to have quite a team of people to control a mix. The changes were giving us a lot more scope, and a lot more possibility by having more tracks, but it also made the mixing job quite complicated. The people involved in mixing would have to trust one another as they controlled the channels.
There was an alternative to that, which was you'd work on really short bits of a song. You'd get it sounding right for the first four bars, record that onto tape, then concentrate on the next four bars, get that how you want it, record it onto tape, and edit it together. Back then, songs were quite often put together in this rather long-winded way. I think what was starting to happen was that the recording process was actually starting to get longer and longer. People were getting into way more detail about how to capture sound. They also started to delay decision-making. All of this was really changing the way things were done. When I started, some albums were being recorded and mixed in days or a few weeks.
By 1979, you chose to move on from Trident. Tell me about the fork in the road you contemplated and the impact of the decision you made.
I had three possible ways of moving forward. I was being offered management by Hit & Run Music, which was associated with people I'd worked with such as Brand X, Peter Gabriel and Genesis. They were starting to manage producers and engineers. That kind of looked like the obvious route. It would have been logical because I was friends with people from Hit & Run and their whole crowd.
But there was a real friction in my personal life in terms of my work hours and being away from home. So, I was looking for other opportunities to make a fresh start. I went off to the United States and went to Chicago and Los Angeles to see what the scene was like out there.
What coincidentally happened with that relates to me having just been in Trident Studios the week before, working with Peter Gabriel on a 1980 B-side called "I Don't Remember," which was originally the flipside of the "Games Without Frontiers" single before it was re-recorded as an album track. I had started working on it with the band, but they were in the middle of a tour and it just so happened the day I was arriving in America for my trip, Peter's band was on tour. They were in New York City and wanted to try and carry on with the recording of this track, which remained unfinished.
I landed in Chicago and was immediately flown to New York City, because Peter and his band were there. And so was Robert Fripp, who Peter wanted to play guitar on the track. I found myself in Atlantic Studios to finish co-producing the track. I didn't engineer the session. Jimmy Douglass did. But we didn't finish it in New York because we ran out of time. I went back to Chicago and a couple of days later, Peter was playing there. We had the backing track recorded in London, Robert recorded in New York, and now we were looking for a studio in Chicago where we could perhaps put the vocal on and mix it. We ended up booking a studio called Paragon. We went in, put the vocal on, mixed it, and it turned out great. Peter moved on with the band on his tour and I carried on with my investigation of the States.
I came back to London and "I Don't Remember" wound up being a B-side, even though they originally thought of it as an A-side. The interesting thing that came out of that was I carried on working at Trident, even having given my notice, but still had the possibility of going to Hit & Run. I also now had a disco producer based in Los Angeles who was quite keen for me to go out there and work with him, but I didn't want to do that. And then I got a call from the owner at Paragon Studios in Chicago saying, "Do you want to come and work with me at Paragon? I'm about to set up a new studio in Los Angeles."
Long story short, I made that decision, partly encouraged by my now ex-wife. It was a new start, with new opportunities. I thought it would take me away from the circumstances that were causing conflict in my life. I made a massive decision. I sold my house and we emigrated to America with two small children. We went to Chicago. But it didn't work out. The studio owner had been a complete liar. His clients and staff had kind of gone by the time I arrived. It was the late '70s. It wasn't like I could easily make long-distance phone calls or send emails. I'd been naïve and a bit too impulsive in taking this course of action. I ended up staying in America for about three months and, much to my family's displeasure, I said, "We're going back home." Except we didn't have a home to go to because we'd sold it. And now we'd wasted all the money we made from that and were broke. Also, I hadn't worked for six months.
It was absolutely a rather low point in my life. But I bit my lip and said, "I'm going to go and contact Hit & Run again." A few months earlier I'd been talking about doing more solo projects with Peter Gabriel and Phil Collins. I'd lost all that. They both had moved on and I think Hugh Padgham ended up doing all those recordings.
I ended up being represented by Hit & Run. They had a small roster of engineers and producers, one of whom was a chap I'd met a few years ago in the corridors at Trident named Rupert Hine, based in Buckinghamshire. I had to actually move back in with my parents with my wife and kids at the start when I came back. We eventually found a house in Buckinghamshire and it just happened to be down the road from the studio where Rupert was a partner—Farmyard Studios. I got a call from the manager at Hit & Run who said, "Listen, Rupert's starting a new solo album, and he's been working with this other engineer for a while, but I've got a feeling that the two of you together would make a really interesting team."
I think he was also trying to put two of his clients together, but he had a good instinct. This is the guy who managed Brand X, funnily enough—Brian Murray-Smith. And so he put me and Rupert in the studio together at Farmyard to start some work on Rupert's album Immunity which came out in 1981. And that was the start of a relationship in 1980 that has continued ever since.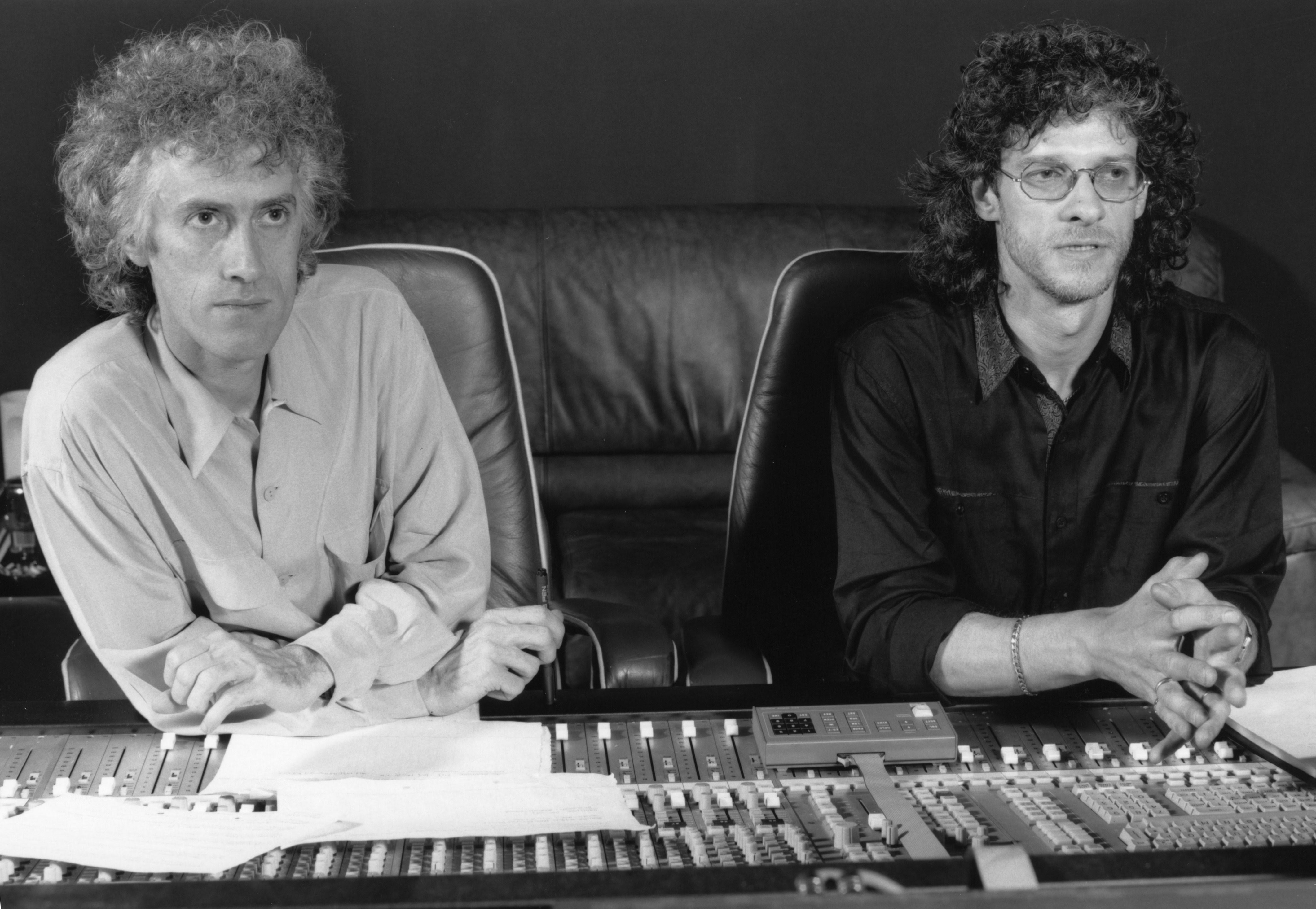 Rupert Hine and Stephen W Tayler at Nomis Studios, London, England, 1990 | Photo: Stephen W Tayler Collection
Expand on why Immunity was such a turning point for you.
I'd known Rupert a little bit, but I hadn't worked with him previously in a significant way. I think I was a tape op on a session for him a few years earlier. But we knew each other and were very friendly. Rupert had some ideas about this solo album he was planning. At the top of his list—and something he asked me if I would be happy to go along with—was "Forget everything you've ever learned. Throw away all your ideas and devices. Let's start from scratch." Now, he hadn't been in the industry that long—10 years or something like that. I'd only been in it about five as an operating engineer. But the idea of rewriting the rule book was rather interesting.
This actually led to the concept of pretty much all of Immunity starting off with him writing songs on a piano using the wonderful, rather obscure and deep lyrics from his partner at the time, Jeannette Obstoj. She didn't write love songs. These were about religion, politics, belief systems, paranoia, spies, and espionage.
What Rupert wanted to do was then take away the piano parts and replace each note individually using unusual instruments or techniques. For instance, some songs started with a guitarist playing slightly damped chords. They were playing things like octaves and fifths with a dampened right hand. Rupert's idea was "Right, we won't use a guitar, we'll use a piano. So, reach inside the piano, and dampen the two individual strings I'm going to play."
We used monophonic synthesizers. We engaged in strange sampling techniques before samplers had emerged, such as just using tape to play things. We took single hits off tape or edited things together on tape. So, we would have an explosion sound that we would queue up and press on a particular beat so that it would hit the downbeat of the bar. We also had a gadget called a Harmonizer, which was the first pitch-shifting device invented by a company called Eventide. It was rather crude-sounding, but it allowed you to take the pitch of a sound either an octave up or an octave down in varying steps. But you could also, through some really complex electronic method, control it with a keyboard. So, you could feed a sound into this and then play it as an instrument. What we wound up doing was we'd find a way of capturing a sound on a tape loop, such as scraping piano strings and play it back during a session. It would be continuous.
We also developed a means of using something called a noise gate, which opens and shuts when you choose. Once again, it was cued by this keyboard you're using to control the pitch. When you press a note, it would open up the noise gate to allow the sound through. When you took your finger off the key, it would close it down again. So, you could now play single notes and melodies with this thing. It had a very curious, quirky sound to it. But this created a lot of really unusual sounds on that record. The monophonic quasi-synthesizer had some very flute-like sounds that didn't sound like a Mellotron or anything like that. They sounded quite unique and you'd have to record each note separately if you wanted to make a chord out of it.
So, we're really thinking this through in very particular ways. And then we found a particular way of recording Rupert's voice. Prior to that, Rupert was famous for being in a band called Quantum Jump in which he always sang in rather a deep, Americanized accent, sort of like The Lone Ranger. Now, this was his chance create his voice. Rather than sing out, he would sing in a very restrained way. We put him off the center of the mic which made his voice sound even thinner. He was singing only using an English accent.
We were throwing away all the rules and doing all these interesting things. This allowed us to create a very unique-sounding record that I think still sounds wildly individual even today. Because weren't using classic synthesizer sounds, it hasn't dated like some other records have.
Immunity wasn't a huge commercial success, but there are some real fans of it out there. What it did was act as a flagship for ideas and techniques. A surprising number of productions came into being after people heard the kind of things we were doing on that record. Immunity was a very important moment for us.
What projects came out of it?
After Immunity, we began to work with The Fixx. Saga were fans of Immunity as well. Chris de Burgh was influenced by it and we worked with him. I later learned Kate Bush was also a huge fan of the record and knew it intimately. So, 1980 was a very interesting time. People were reinventing how they approached things. Peter Gabriel's third album found him using the Fairlight and removing all the cymbals. Kate Bush was starting to work on The Dreaming, also using the Fairlight. We were all independently doing stuff that was breaking the rules. The era was a bridge between individuality and the simplicity of the '70s.
By the mid-'80s, studios were becoming very similar, with similar equipment and techniques being used. The early '80s was a magical period. Technology was beginning to offer new possibilities. New synthesizers were appearing with memory storage, which made a huge difference. Rather than always creating sounds from scratch, you could snapshot things and recall them. All of these things combined into affecting how records were being made. It required a certain attitude—a willingness to learn and to go outside of your comfort zone.
Let's take a deeper look at a few key album projects you've worked on, starting with Genesis' A Trick of the Tail (1976).
This was being made just after Peter Gabriel left Genesis. At first, they didn't have a singer. I got the impression that Phil Collins was sort of standing at the edge going, "Me, me, me." And I got the impression the others were kind of going, "Oh yeah, Phil. Stay over there on the drums." [laughs] So, they had some audition sessions for a singer using the track "Squonk." A number of singers came in. Most of them were complete unknowns. There was one guy who I recognized as being a session singer from a few of the other projects I've been involved with. I remember most of the singers didn't seem to work or fit. There were definitely some odd glances between members of Genesis and a few rather terrible singers auditioned, but they still let them have a shot.
Eventually, I remember Phil saying "Oh go on, let me have a go." Of course, he'd sung backing vocals in the past, so I think people knew what his voice was like. I was there at the session where they recorded Phil's audition for the song and he just blew everyone away. It was obvious there was the character of Peter's style, probably partly to do with the fact that Phil had sung harmonies with Peter in the past. But it was kind of a revelation and there was this realization that, "This is what we will do then."
Were the audition recordings saved?
I doubt it, because we were recording on the master 24-track tape and we needed to reuse it for the final lead vocals when they were ready. It's not like Pro Tools today where you can keep endless takes.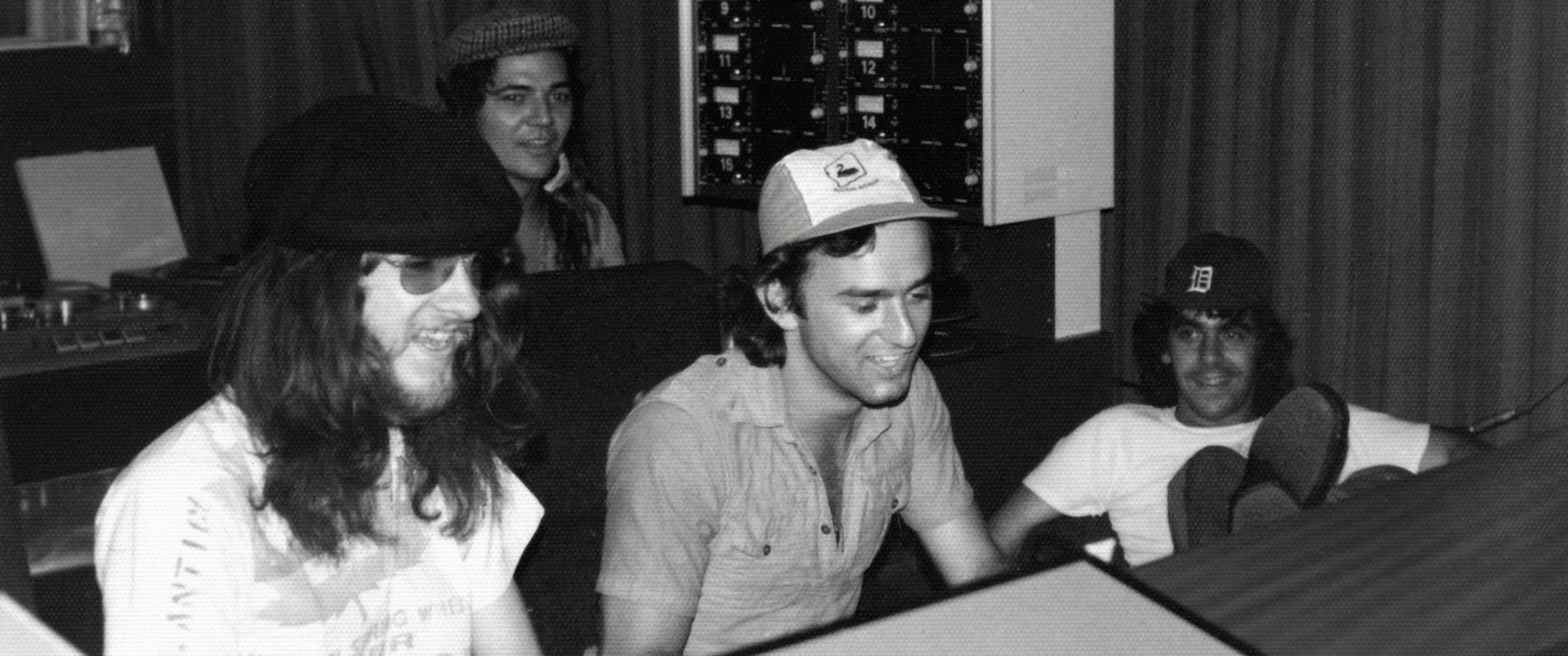 Stephen W Tayler, Tommy Bolin, Neil Ross, and Dennis MacKay, during Bolin's 1976 Private Eyes Trident sessions | Photo: Stephen W Tayler Collection
Tommy Bolin's Private Eyes (1976).
Private Eyes was my first proper job as a full engineer at Trident. I wasn't involved with the recording. That was done in the States. At this time, Tommy had been playing with the touring line-up of Deep Purple, and I remember the atmosphere and entourage were quite rock and roll, with lots of partying and outrageous behaviour.
But we had a wonderful time when it was just us in the mix room. There was great music and sounds blaring out of the massive studio monitors, along with very silly humor. We all wore hats. Sometimes all of us were wearing berets. We took several photos of the four of us swapping seats, but with the hats staying in the same position. We spent much of the time in hysterics, but the work did get done.
It was an incredible experience for me to be a part of this amazing-sounding record. Fond memories. On the last night of working on the album after Tommy had gone back to his hotel, Dennis said "I don't think we will see Tommy again," which felt very strange at the time. A couple of months after that we heard the tragic news that Tommy had died from an accidental overdose while on tour.
Gong's Gazeuse! (1976).
Gazeuse! was a very interesting project. I was only involved in mix sessions because the album had been recorded elsewhere, probably in France. This wasn't the Daevid Allen version of Gong I remembered. It had much more in common with the fusion albums I'd heard by John McLaughlin and Allan Holdsworth.
I remember Pierre Moerlen being there, as well as Dennis MacKay, who produced and recorded. I don't recall anyone else from the band being there. I was blown away by the quality of Dennis' recording on this record. He was really good at recording drums. He had a very particular technique. My drum sound ended up being very different to his.
One thing I remember so fondly about that album—one of the first albums I ever mixed—is Dennis MacKay's use of tape phasing, which he loved. Tape phasing is a technique that causes a sort of skyrocket effect. I'm sure lots of people know what it is but it's a very particular sound that's created by having two recordings of the same instrument or instruments played together, but then going out of time and out of phase with each other, by just minutely affecting the speed of one of the two tape machines. It creates this wonderful whooshing effect. Usually, you reserve it for a moment in a song to emphasize something, like a drum fill or an introduction to a chorus. Dennis liked to be the one who had his hand on the speed control that would determine whether the phase is whooshing upwards or downwards, or the speed at which it changes.
On the opening track "Expresso," the entire drum track is phased from start to finish, and it's extraordinary-sounding. The technique for doing that was actually quite complicated. It's quite easy if you've got two mixes on two tape machines. You play them together and you can get the whole thing to phase. In this case, we just wanted the drums to phase, so what you do is you're playing your multi-track tape with all the channels coming up your console, but on tape machines you have a record head and a playback head. The record head is also sometimes called the sync head. The record head and the playback head have different electronic qualities, and the playback qualities of the playback head are superior to the playback qualities of the record head, or the sync head. But when you're doing an overdub, you have to play things from the sync head, otherwise they won't be in sync when you play them back.
However, when you're mixing, you put everything onto the playback head because that's where the quality comes from. Now, because the record head's before the playback head, that means the audio will be in advance of where it's playing off the playback head. It will be a fraction of a second before. So, you feed that sound from the drum tracks—from the sync head—into a stereo tape machine, where the gap between the record head and the playback head is roughly similar to your multi-track machine, to get the audio back in time again. Because you're playing it an instant—you're recording it on the recorder head and playing it back on the playback head, live—that introduces a delay.
So, now you've got it back in time with itself again, but if you control the speed of the stereo machine with a varied speed control, which very finely adjusts the speed, that then causes this in-and-out of phase thing that creates the effect. That's rather a technical way of putting it, but that is the origination of tape phasing. This is done live while you're mixing music. You couldn't program anything to do it. Dennis was just sort of sitting there having fun with this while I'm hands on, on the desk, mixing the song. That was a very enjoyable thing. And to this day I just adore listening to that track, and the memories of invoking tape phasing.
Tape phasing has become an absolute lucky charm for me. Every album I do has to have that sound on it somewhere. You'll find a moment of that sound on every record I do. I even managed to get it into Kate Bush's Before the Dawn live album.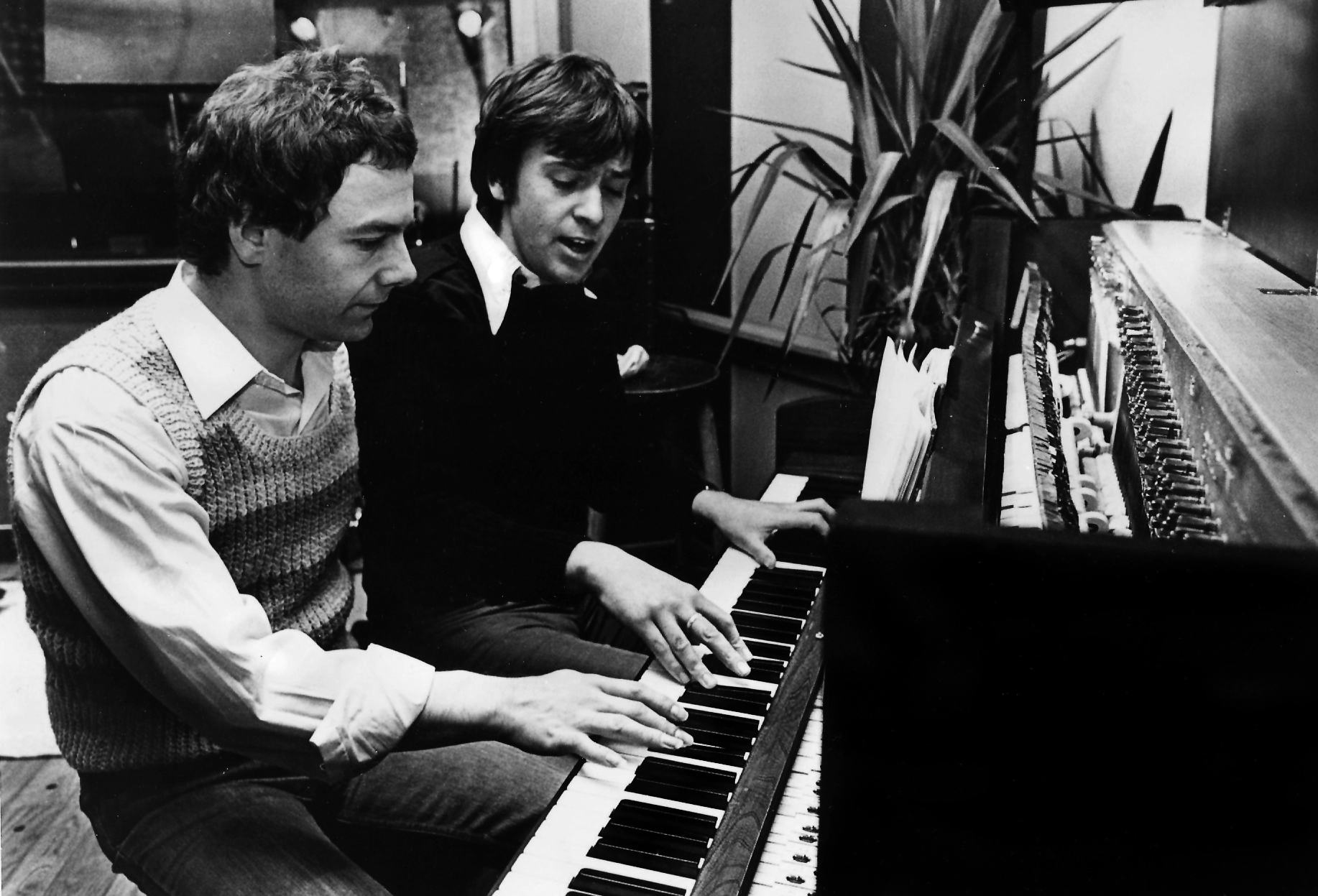 Robert Fripp and Peter Gabriel working on Gabriel's second album, 1978 | Photo: Atlantic Records
Peter Gabriel's self-titled second album (1978).
I wasn't involved in it initially. There was a relatively new engineer who was junior to me at Trident, called Stephen Stewart-Short. He had come into the business from being a live sound engineer and he joined as a tape op. He was a couple of levels down the ladder from me at that point.
He found himself being booked on the session to mix Peter Gabriel II, or Scratch, as it's known. This session wasn't recorded at Trident, but it was being mixed there, again in the new mix room after the revamp I talked about earlier. Robert Fripp was producing, so there was obviously a very particular approach to how this album would sound.
It seemed like Peter and Robert were at odds with each other. There was a lot of arguing going on. Robert had very specific ideas about how things should be mixed and presented. He had a concept called "secret reverb," which meant if you could hear it, then it was too loud. He had a particular liking for putting Peter's voice through a Harmonizer—the pitch-changing device I was talking about earlier. It would make the voice slightly off key, so that there's this kind of double-track effect on it, which is a really clever and nice effect. But quite often the idea was to have the harmonized level louder than the original vocal.
Things were very dry sounding and it almost had a sort of two-dimensional effect. There wasn't much depth in the sound. As it turned out, this rather inexperienced sound engineer, who went on to have a proper career afterwards, was struggling because he wasn't able to cope with being involved in the friction between Peter and Robert. So, I was brought in to help and to kind of take over and supervise. They'd already started trying to mix a few things, so I wound up mixing most of the record, but not all of it.
How did you manage the tension between Gabriel and Fripp?
I just tried to be a diplomat. This is one of the things I try and do—resolve complications and problems. I don't like problems, so I try to not have them. That's kind of my philosophy. In general, I try to look for common ground and the compromise that makes everyone happy. It's not always easy or attainable. I always try to understand what everyone's point of view is. If someone is describing they want the snare drum to have more middle or high frequency, the other person may be thinking in terms of color—like it should sound more "red" or "brown." I have to understand how everyone is interpreting things. Another example is that someone may describe a sound as "warm," but another may think of that as soft, full or bass-y. And then another person might think "warm" sounds shiny, sharp and bright. I have to find out what everyone means. It's a juggling act in terms of interpretation. In the end, it's all about trying to get things done.
The truth is the album was a bit of a struggle and I know to this day, Peter isn't happy with it. That's a real shame because there's some fabulous music on there. I'd love to get my hands on the multi-tracks and have another go at it.
Rupert Hine, Howard Jones, Andy Scarth, and Stephen W Tayler during Jones' Human's Lib sessions, 1983 | Photo: Rupert Hine
Howard Jones' Human's Lib (1984).
I first heard about Howard many years before I worked with him. My old friend, who had been head boy at High Wycombe Royal Grammar School, played me an album by a local band called Warrior. Unbeknownst to me at the time, I had grown up in the town that Howard lived and went to school in. Warrior performed instrumental music along the lines of The Nice and ELP—bands that were hugely influential at the time.
I worked with Howard for the first time eight or nine years later. Rupert Hine was asked to get involved with Howard in 1983 when he had already released his first hit single, "New Song." I've heard that Howard had been aware of Rupert and had been interested in him for some time. Farmyard Studios in Little Chalfont, Buckinghamshire, where we were based, was quite close to where Howard was living and that made getting together even easier.
It was exciting to be involved with the one-man band approach that Howard had adopted at the time. MIDI was in its infancy. You have to remember that digital technology was very new and I had just started experimenting with it. We were all on the cutting edge, looking at this new frontier together.
We used one of the first devices capable of sampling, an AMS DMX 15-80S digital delay unit that had a "lock-in" feature on it. This would record one second's worth of audio that could be replayed by pressing the hash key. At great expense, this device was upgraded to 10 seconds worth of recording time, which I gather cost £1,000 per second for the memory chips in the early '80s.
It was also the first project we ever produced with the newly-acquired SSL recording console. During the first week of the album project, we were required to record and mix Howard's single "What Is Love?" in its entirety, so it was a steep learning curve for me. We then continued with the rest of the tracks. But hey, it turned out to be a hit. In fact, it was at No. 2 in the UK Charts as we were finishing up the mixes of the rest of the album.
Howard was also quite unique in that the messages he wanted to put into his music and songs were really uplifting and positive. This remains the case to his day. I think it's important to remember that this was not always an easy or fashionable position to adopt. I've always admired not only Howard's musicianship but his integrity.
Howard, Rupert and myself all got on like a house on fire. We were all so happy to experiment and try out new things all the time. You couldn't keep us out of the studio. Luckily, we were pretty much left alone by the label to get on with it. Maybe it had something to do with being isolated out in the countryside.
Howard wasn't following any particular trends or rules. He was making them up as he went along, and so were Rupert and myself. Howard was one of the innovators of the era and I believe he still is. But at the root of this, he's really a fine songwriter. It's not all just about beats and sounds and styles.
Jethro Tull's Crest of a Knave (1987).
We're in the mid-'80s and I was doing a lot of mixing for Chrysalis. Crest of a Knave was a very strange experience and I found Ian Anderson to be rather eccentric. He had made a fortune in salmon farming and had an estate in Buckinghamshire, not far from Farmyard Studios. And yet, he caged a lift off someone and brought a packed lunch, even though we had a wonderful kitchen at the studio.
I do remember him being very straightforward and matter-of-fact. I was hoping he might be more expressive, but he'd already mixed a lot of the record at his home studio. I mixed the long track "Budapest" and the single "Steel Monkey." "Budapest" was a long, involved process, but Ian wound up sticking with his own mix, which I was a bit disappointed with. I felt his mix felt was a bit flat compared with what we managed to do together, but it was his choice. He was really dead set on certain details and aspects of it. But "Steel Monkey" had a strange, synth-y, clangy bass sound. Ian was very happy with my mix on it.
Of course, the album went on to win the oddest Grammy in the hard rock/metal category, which left a lot of people very confused. It's the closest I've come to a Grammy myself.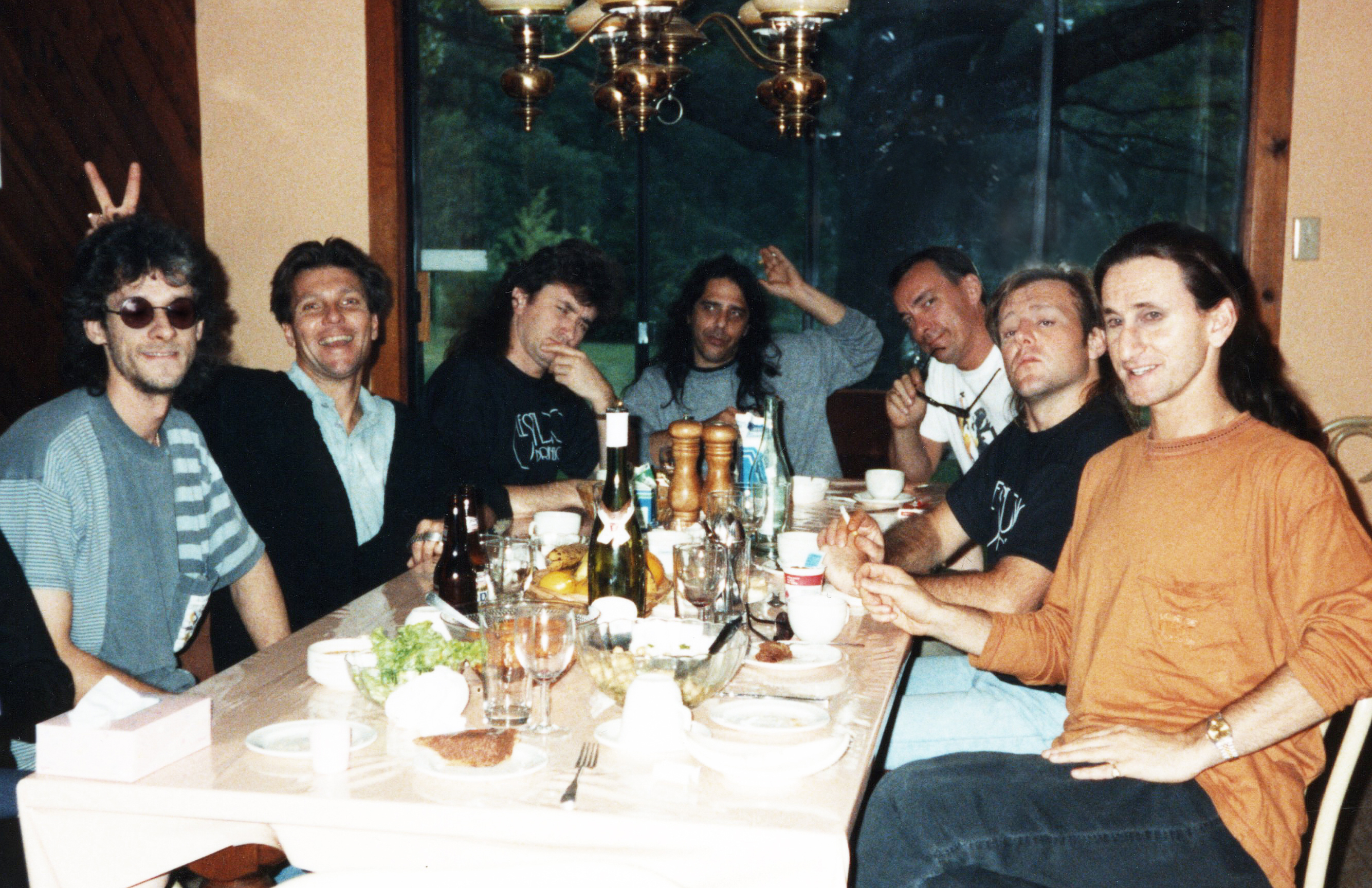 Presto team dinner, 1989: Stephen W Tayler, Larry Allen, Jim Johnson, Jack Secret, Neil Peart, Alex Lifeson, and Geddy Lee | Photo: Stephen W Tayler Collection
Rush's Presto (1989) and Roll the Bones (1991).
It was a big change. They switched labels and producers. Now, they were signed to Atlantic and brought Rupert Hine and me in for those records. I think it was because Geddy Lee was a fan of Immunity. Also, having worked with Saga on two albums, Rupert and I had a bit of a Canadian prog connection there.
Rupert likes to have a lot to do with productions, usually at a musical level. He's very big on working on the songwriting aspect of things. He comes at projects from a songwriter and musician perspective, rather than as an engineer or session player. My job is more about presentation. I think Rush was looking for a new kind of input into what they do.
But Presto was rather strange in that Rupert didn't contribute that much to the recording sessions. That's why the album says "Produced by Rupert Hine and Rush." He wanted it that way. He felt he wasn't contributing a ton to it. He was there as quality control. I think he was more involved during the preparation and songwriting stage of the album.
One thing he really wanted to encourage Geddy to do was sing in a lower register and to bring the keys of the pieces down. I think he wanted something different from the high registers Geddy was famous for.
Previous albums had been produced by Peter Collins, and they were more synth and keyboard-based. Rush wanted to get away from that and focus more on guitars and open up the drum sound again. That gave it quite a different soundscape from the previous records, which felt more commercial in a sense, trying to be more relevant to the electronic side of the '80s. Rupert and I had a vision of how we wanted Presto to sound. We didn't want to reference previous Rush recordings. We wanted it to feel like it was a new band creating a new sound.
I recall Neil Peart being a joy to work with. It was quite complicated to set up all the microphones and sound check for his substantial drum kit. On Presto at Le Studio, Morin Heights, we took a day to record each drum track. He was really well-rehearsed but took plenty of time to capture the ultimate take, each always in a single pass.
However, when we were setting up for Roll the Bones at Le Studio a couple of years later, it was winter and the weather was really bad. There was a power outage after a truck hit a power line, and that managed to take out the power supply of the Mitsubishi 32-track recorder. Due to a shortage of parts and difficulty reaching the studio up in the mountains, we weren't able to record.
We had 10 days set aside for recording the drums and we couldn't record for eight days. Neil became very annoyed and frustrated, but he came in and rehearsed endlessly each day with a guide track. When we were up and running again, he managed to completely smash all the drum tracks for Roll the Bones in a day-and-a-half. It took Geddy by surprise as he wasn't expecting to have to then immediately start working on his bass tracks.
I remember it being quite complex working on the rap sections of the track title track of Roll the Bones. Neil found it challenging at that time trying to input his ideas into the drum machine, which was possibly a Linn Drum, but Rupert managed to help out with the groove and sound samples. It needed to be really simple in contrast to the complex drum parts. The rap part was Geddy. I think we just sped up the tape to record it, so it sounds bigger and lower in pitch when played back at normal speed.
Neil was always a wonderful presence in the control room, sitting in the corner with his very early Apple Macintosh Plus computer, refining his lyrics and printing out immaculate copies on a very high-end printer.
While Alex, Geddy, Rupert, and myself were all staying in the Le Studio's accommodation, Neil had a cottage on the other side of the lake where he lived with his family, and he kept himself to himself. He would cross-country ski over to the studio every day.
One thing I'm disappointed about with Presto and Roll the Bones is we had absolutely no control over mastering. Geddy took control over that. Bob Ludwig mastered them, but they came across thin and toppy. The mastering took some of the guts out of what we tried to inject into them. I'm also totally aware of people's opinions on those two albums. But what can you do? You have to try and do something different.
On the positive side, what jumps out at me was how well-crafted the albums seem and how immaculate the performances are. These were made before computers and digital editing were introduced into the audio world. We had to capture and commit the performances to tape, usually under the pressure of expensive studio time and budgets.
When I heard about Neil passing away at age 67, it was tragic. When such wonderful people I have known and worked with leave us, it makes me stop and take pause. It always leaves me feeling like I want to just make the most of everything I'm passionate about. It's a wake-up call. All the members of Rush are about the same age as myself.
Neil, despite being a monster drummer, was actually a quiet and private character when he wasn't playing. His intellect and sense of humor were unique and adorable. It's no wonder everybody will miss him.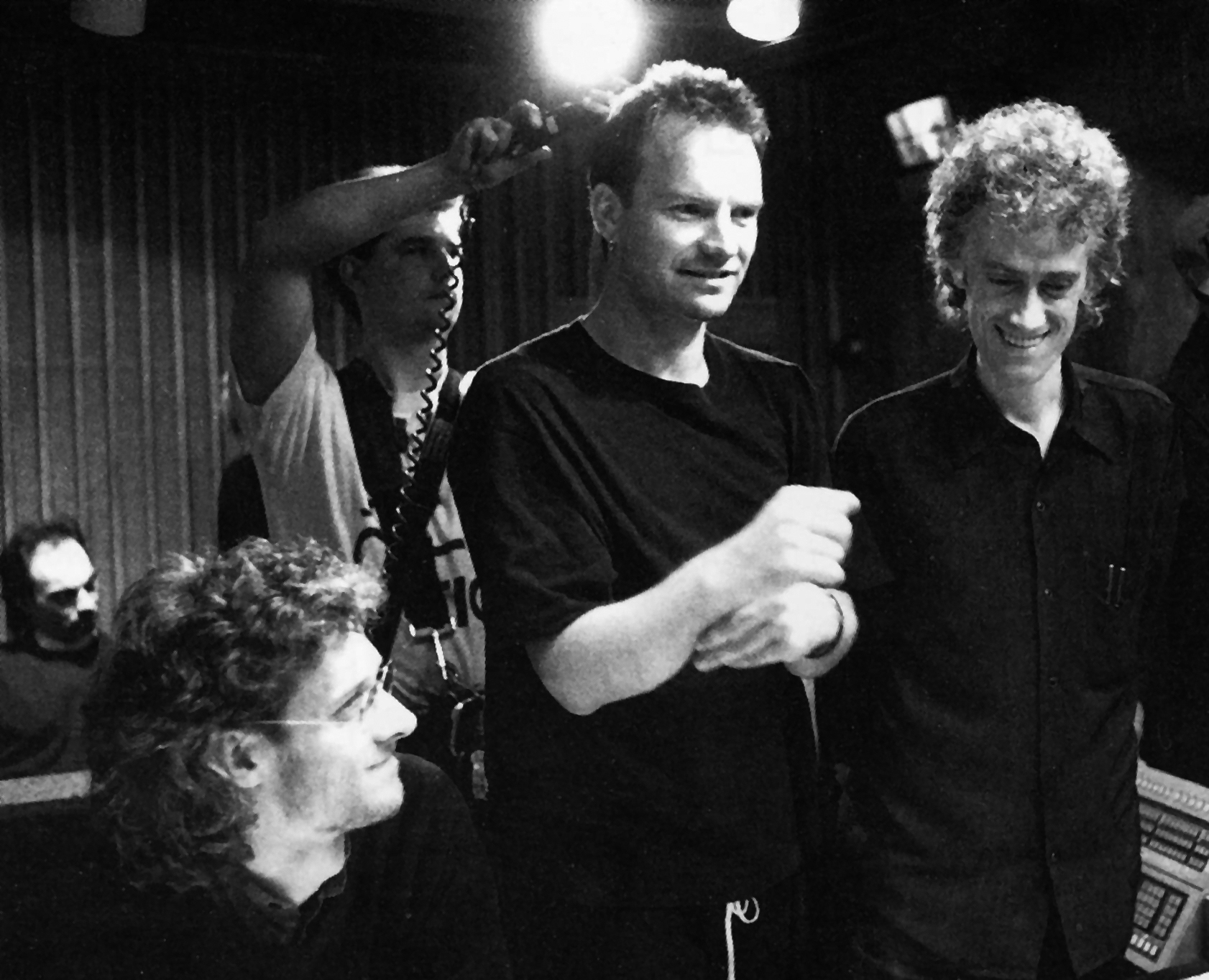 Stephen W Tayler, Sting and Rupert Hine at the NYC One World One Voice sessions, 1990
One World One Voice (1990).
We're now in the '90s and Rupert and I had previously been based at Farmyard Studios through the '80s. Until 1988, that was our home where we did all our work. Starting in '88, we went to work with Stevie Nicks in Los Angeles. We became an on-location team, working in people's homes or other studios. We started traveling, and some of it worked really well, but some things were a bit difficult. It felt like a break in what Rupert and I had sort of perfected up to a certain point. It felt like things were becoming more straightforward and simple, with less identity. I think it was a trend back then as pop and rock went back to more acoustic-based music and songwriters during the period, rather than more experimental musicians and bands.
At the time, Rupert and I were working on an electronic album for a band that never came to anything. We were working in Rupert's basement in Marble Arch that had a studio in it. And Rupert gets a call from Kevin Godley out of the blue saying, "I'm doing this production with the BBC." They wanted to put together a kind of Live Aid concert to conclude this fortnight of world global broadcasting called One World. And Kevin said, "That's been done. That's boring. I've got this idea of doing a musical chain tape, where you start the idea with one guy and then you pass it on, and you add to it. A bit like a chain letter involving dozens of artists. And I think I'd like to travel around the world and film it and make it into a 20-minute long piece of music that the BBC can present."
I heard from Rupert. He said, "I'm going for a meeting with the production team for this. You have to come along," So, I went along and heard a room full of people talking about what their role would be and all the rest. Rupert said, "Right, we're dropping this album we're in the middle of. This is starting Monday." And I go, "What?" He said "Yes, we've got the rest of this week to decide what equipment to take with us. We've also got to get visas." I replied "Well yeah, this sounds great, but aren't we in the middle of something?" He said, "Don't worry about it."
So, suddenly Rupert agreed to become the musical director of this filmed musical event. But we really had no idea at this stage what it would involve. In this meeting, we met the producers, Kevin, the cinematographer, and some of the production assistants. Rupert introduced himself, I had to introduce myself, and it was everybody trying to kind of imagine what their role might be.
I was given a budget and decided on a set of recording equipment to take with me. They didn't want to record all this in studios because that would just look boring on film. They wanted to film the performances, so therefore they had tried to find locations or opportunities to film people so that it would look interesting.
I took four stereo portable DAT machines, which were quite new at the time, thinking it's a good idea to have backups. They also had an eight-track Roland cassette recorder, if you could imagine managing to get eight tracks onto a bloody cassette tape. We took that because we thought that might be a way of trying things out and compiling things on the road. We also had a couple of little portable speakers, a range of mics including some new stereo condensers made by Sony, and some good old Shure SM58 handheld mics. I also had a half-dozen pairs of headphones, lots of cables, connectors, and a bag of 100 DAT tapes.
Our first trip to record was New York. We turned up in a couple of recording studios, and I even bumped into Eddie Jobson, working down the corridor in another facility. Sting had written a bass line, along with a beatbox groove from a rapper to start the thing off. And then Rupert came up with some chord ideas to go over the top of it. We went into the studio and recorded and filmed Sting. They got Steve Stevens in to play some guitar, using some wild electronics that he did.
We had three rappers in, who on the spot made up appropriate lyrics to go with the subject of One World One Voice, which was about the environment, the planet and trying to bring people together to be aware of the state of the world. And then Rupert received an email from Jeannette Obstoj who'd written some lyrics for a chorus they could add in. So, the project was accumulating all these ideas on the go. The idea was that it really was all about things developing on the spot, being filmed and captured.
Then we came back to the UK and found ourselves right here at Real World, which would have been the first time I ever came here. This is Spring 1990. The idea of it was whoever was around could join in. Stewart Copeland, Geoffrey Oryema and Peter Gabriel were there. Peter came up with some ideas for a sort of soundscape, using some of his famous drone sounds, along with made-up rhythms and wordless vocals. David Bottrill was engineering. We were creating the basis for the project. I came away from that—and every session—with results copied onto DATs and cassettes.
A few days later, we ended up at Howard Jones' house doing some more recordings of basic tracks. All the time, we were making rough mixes of all these elements. The master tapes used on the recordings were being sent back to a central office in London to accumulate the masters. I think the same thing was happening with film footage and all the rest of it. But I would be carrying around working copies on DAT.
We worked on so many different tape formats in different studios around the world. It was quite a jigsaw putting it together. Having got these basic tracks put together, we started to find ourselves on location. We'd be on the street or on a beach, or in an abandoned theater or in a hotel room with my portable gear and the musicians.
My favorite moment was in Los Angeles filming and recording Wayne Shorter. He was in his lovely living room in his house. He's sitting on the sofa with candles burning on the table, a pair of headphones on, playing beautiful-improvised sax parts over some of these basic tracks. A film crew is in front of him, along with Kevin, Rupert and the production people. Meanwhile, behind the sofa, lying on the floor is yours truly, with one DAT machine feeding the backing track to Wayne through the headphones, and the other DAT machine recording the saxophone. This wound up being the joke. I would often be hiding somewhere in the vicinity of the musician, or just out of shot. It was very entertaining from that point of view. I found myself in some very strange situations. There are shots of recordings being made in my hotel room and all kinds of things that were included in the documentary they made of this.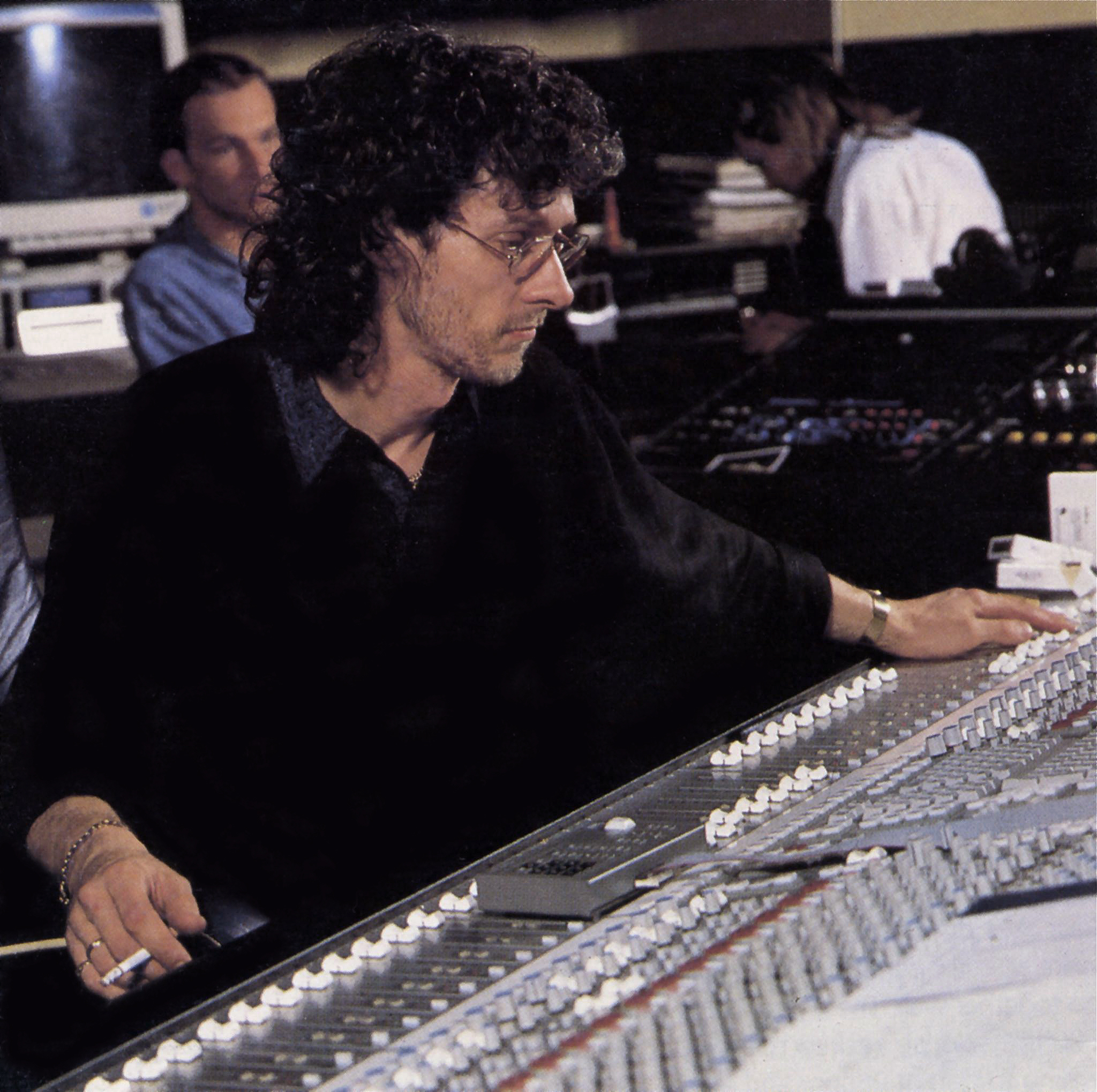 Stephen W Tayler at the Nomis Studio One World One Voice sessions, 1990
It was challenging. We never slept because every plane or train journey, or evening in a hotel would be spent preparing. We knew where we were going to go to next and who we were going to record the next day. We had to prepare the bits for them to add to. For instance, we might have wanted to hear a bit of the Peter Gabriel backing track, and a bit of Wayne Shorter that we recorded in LA, as well as the addition of a performance by Ryuichi Sakamoto from Paris. I had to keep trying to piece these together, using DAT machines and a cassette machine. Remember, there were still no computers or Pro Tools then.
We also went to Helsinki to record The Gypsy Kings and UCLA to capture the Kodo drummers. We even did a recording in Dar es Salaam in Tanzania, where I recorded a live concert set of Remmy Ongala and Orchestre Super Matimila, using dodgy equipment run on generators. I recorded direct to eight-track cassette and that's what we used. We wound up with such a lot of material. I remember thinking "What are we going to do with all of this?" The original idea of 20 minutes was ridiculous. We had so much material, we decided to make it an hour long.
It came down to two teams of people working together. Once we recorded and filmed everyone, we had six weeks to deliver it for broadcast and there was no room for error. Rupert and I made our home in a studio in London called Nomis Studios, which is no more, but was it was superb. It had a big control room with the best-sounding stereo monitors I've heard anywhere in the world and a good SSL desk. So, imagine, we had a set of tapes and tape machines—digital, analog in all different sizes. Quarter-inch tapes, half-inch tapes, cassettes, DATs, ADATs, 16-tracks, 24-tracks, at different speeds. It was a challenge.
The main question was "How do we piece it together?" Rupert and I were working on a musical journey, trying to choose collaborations and make a story of it. We'd get it together, hand it over to the film editors, and they'd see if they had footage they could make work with it. Sometimes they'd say "You can't use that bit of music because the film's no good" or "We didn't capture it." There was a lot of back and forth happening.
During the post-production period, we had to go to Russia to film the Leningrad Symphony Orchestra with a minimal crew. We had one camera and no sound people. We recorded a 100-piece orchestra with three DAT machines if you can believe it. Extraordinary. Two mics in the middle of the orchestra, two in front, and two at the back of the hall.
Looking back, I don't know how we managed to do it all in that time period, but we managed to pull it together. The BBC featured the making-of documentary as the pinnacle of their One World week. Typically, you see the film, and then the documentary. But this was all about the journey of how it came together, and then they showed the main film. I think that was a lovely way to do it.
It was screened to about a third of a billion people on the same night around the world. I remember there being a big crash for me, personally, after that, because everything led up to this moment of broadcast, and boom, it was all over.
I've never done anything so challenging or interesting in my life. What it absolutely cemented into my being is it's not all about the quality of the equipment or having to have particular equipment. It's what you can do with what you've got at hand.
Noa's Calling (1996).
Working with Noa was fascinating. She had come from a somewhat traditional jazz background and wasn't well-known in the UK. She was a superstar in Israel and very big in France.
Rupert Hine produced it and had some very specific ideas on how to approach the album sonically. He wanted to break the rules. He said "Don't use a drum kit, but let's do the drums with unusual percussion." He would experiment with how the guitars could be recorded, including using guitar synths and multi-tracking techniques.
The album was recorded at Rupert's home in France at the chateau where he had a studio at the time. He'd set up things in what was once probably the dining room. It was a proper ballroom with a big ceiling and high windows. We used that as our recording space. It's why there's quite a lot of roomy-sounding stuff in there. We had a control room next door, recording to ADAT, using a Mac for programming, and Focusrite preamps for clean recording channels.
It was a great, creative environment. We all lived there while we were making it. The idea was to find an unusual setting for Noa's extraordinary voice, and also the extraordinary guitar playing of Gil Dor. The album also features a lot of Rupert's keyboard sounds as well.
The weirdest session that took place was when Pat Metheny came to overdub on a track. His heart really wasn't in it, but he was enjoying the experience of visiting the chateau.
Noa is an unbelievable singer. I could listen to her sing for hours on end. She did her vocals pretty much in one take, with no tweaking. It's very rare to work with somebody who's that completely performance-oriented in every rendition of a song. Sometimes she and Gil would start singing Madonna songs, standing out in the ballroom, just endlessly entertaining us all the time. It was very enjoyable.
We created a really unusual record. Once again, like Rush's Presto and Roll the Bones, I know it pissed a lot of people off. It made a few new fans for her, too.
Rat Bat Blue's Greatest Hits Part One (shelved 1998 album, released in 2018).
Rat Bat Blue were signed in the mid-'90s to Atlantic Records by Tim Sommer, who had signed Hootie and the Blowfish. Rupert was chosen as producer and I was brought in just before the final mixing stage.
They were a collection of wild musicians who mostly had other roles in the music industry, working at studios and record labels. Their music and lyrics represented their eccentric lifestyles. Many songs were about drugs, sex, behaving badly, poking fun at others, and frankly, they were hilarious. Musically, they were great musicians and performers. It was alternative rock tinged with hints of Frank Zappa.
They made one of the most fun and interesting albums I've ever been blessed to be involved with. It was a big budget affair, and I was drafted in to mix at A&M Studios in Los Angeles. I was allowed to put my personal stamp on the mixes, all done very much with analog gear on a beautiful Neve console. But I was also able to implement my first investment in a digital editing device—the magneto-optical Akai DD1000. This was before computers were introduced into studios. It allowed some manipulation, editing and post-production tricks. The Akai system, which cost me £12,000, travelled with me in flight cases for many projects during the '90s. I became very expert with many useful editing tricks.
The album was a beautiful collection of wild, dynamic songs and stories. It was great music that was both funny and explored provocative subjects. It all spoke to me. There's one song that stuck out for me, and produced what I consider one of my favorite mixes ever, called "It's My Life, Not My Habit." It takes me on a complete, emotional journey, and moves me to smiles and tears every time I hear it.
I've no idea exactly what happened, but I imagine the personnel changed at the label, which happens all too often, and despite a fortune having been spent on the album, the newcomers decided to drop the album. The record didn't come out in 1998 as it was supposed to. It finally appeared online in 2018 under a new title A Bitter Pill.
I've recently reconnected with Ace Baker, their front-man and guitarist. He became a hugely-successful front-of-house live mixer, working with such acts as Dream Theater, Violent Femmes and Joe Satriani. He's asked me to get involved with material with ex-Rat Bat Blue keyboard genius Alan Okuye. I have to say the material is a strong—and hilarious—as ever.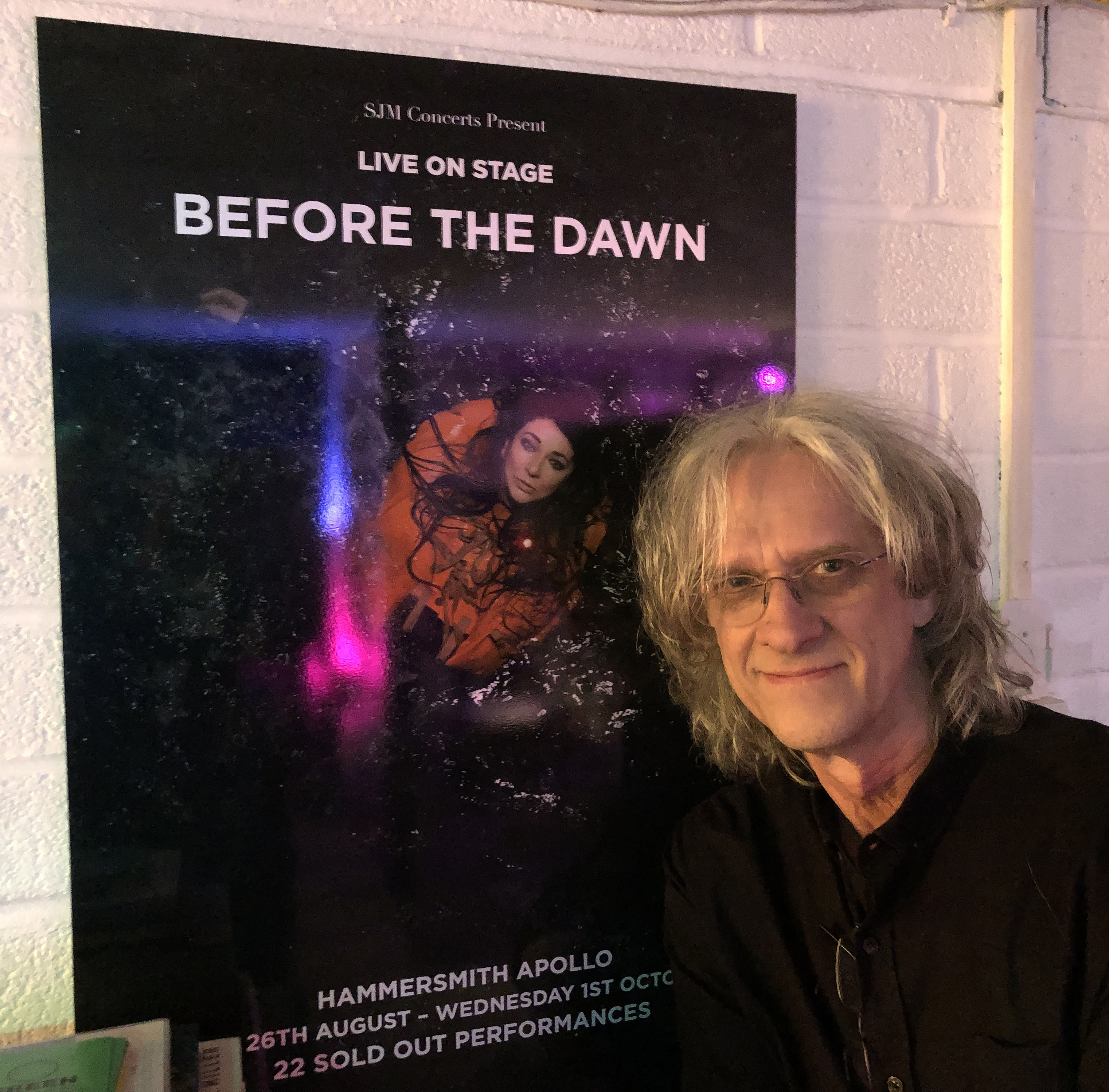 Stephen W Tayler at Real World, 2020 | Photo: Anil Prasad
How did you first begin working with Kate Bush?
My first involvement with Kate was in 1987 working with Rupert and Bob Geldof on the VHS release of The Secret Policeman's Third Ball. Bob originally wanted his contribution and the rest of the show to be mixed by us. For some reason, we only mixed Bob's tracks and Kate's version of "Running Up That Hill" that she did with David Gilmour. We didn't do anything else.
I recall Rupert collecting Kate from her home and bringing her down to Farmyard Studios. Rupert spent all the time hanging out with Kate while I worked on the mix. I remember her being charming, delightful, tiny, and not quite what I was expecting. She just seemed so very calm, polite and lovely.
So, that was my first introduction. Then in 2010, I got a call from a good friend who used to be Rupert's manager many years ago, who wound up representing Bob, Underworld and Kate. He said "Are you free next week?" I said "Well, I could be. What's it for?" He replied "I can't tell you, but I just wanted to find out if you're free." I asked "Well, yeah, but who is it for?"
A couple of days later he calls me back and said "Hi Steve, it's for Kate Bush." I'm going "Oh wow, I wasn't expecting that at all." He arranged for me to go meet her at her home, where she also had a studio. Kate asked me about my background and played me a track she was interesting in me having a go at mixing. As I was leaving after the discussion, I said "I don't know if you remember, but I worked on your track for The Secret Policeman's Third Ball." She said, yes. I left thinking "Well, that was a nice meeting. I'm sure I'm up against some stiff competition here."
Then I got a call saying "Kate would like you to come down and mix something next week." I said, "Yes, absolutely." And the project was Director's Cut, her reimagined versions of earlier works that had been partially re-recorded. Some keys had changed to accommodate her more mature voice. I'll never know the reason she was looking for somebody new to bring into her fold. I don't know if I was in competition with anyone else. But it was lovely. We got on like a house on fire and spent a few days mixing the first track, which was either "Lily" or "Never Be Mine."
I then got a call back saying "Would you like to come and do the rest of the tracks?" That's how I wound up mixing eight songs from that record. One had already been mixed by James Guthrie. Two others had been mixed by Del Palmer. I did the majority of them.
Kate was dissatisfied with some of the recordings from The Red Shoes and The Sensual World. She used digital technology to record a lot of them and she felt there was a lack of sonic texture. Her earlier albums were made in the analog world and moved into the digital realm during the '80s. We were discussing how things were in such a state of change, technologically. She wanted to revisit some of the material using traditional methods and techniques. She also wanted some of the songs to have a different rhythm feel, so she used Steve Gadd, instead of the original drummer. She added some bass parts and changed some guitar parts. It was her vision and I'd work with her to achieve the balance she was looking for.
I went away thinking it was a lovely experience with a dedicated, very serious producer, performer and artist. She also had one of the best senses of humor I've come across. Frankly, half the time was spent in stitches just having a ball.
Shortly after Director's Cut came out, Bush asked you to work on 50 Words for Snow. Tell me the story of how that opportunity emerged.
After we wrapped up Director's Cut, I went away thinking "Gosh, I was lucky. I'd love to do something else with Kate, but she's well known for taking her time between projects." Well, blow me down, as it was just a matter of days later that I got a call announcing she had this other album almost finished, which was of course, 50 Words for Snow. She surprised the entire world by coming out with it so soon after Director's Cut.
For 50 Words, I wasn't part of the main recording, although I did record some of Steve Gadd's drums, as well as the contributions from Elton John and Stephen Fry. But I was responsible for all of the mixing on the record. Kate wanted to bring the atmosphere of snow and winter into the album. She gave me a lot of ideas about how to sonically represent that. Those are tricks I can't divulge. But it had something to do with a subconscious undertone approach.
Elaborate on what she was looking for, sonically.
We were trying to imagine the feeling when you walk out on a dark night and the snow is falling. There's a very different kind of silence in the air. It feels very dead, yet at some time, there's still a presence you feel. How do you personify that in sound? It was about making people experience a sonic texture, dimension or depth. It sounds abstract, but these were the kinds of discussions I had with Kate. She wanted to make people feel something specific when they heard it, instead of just how they respond to the lyrics or playing. Sonically, how does it make you feel? That was the big question and what we were trying to accomplish. We would have wonderful conversations about these things.
Through making Director's Cut, Kate and I found a way of communicating and expressing things to one another that worked. So, when it came to 50 Words, we had a shared language we could speak to each other.
One thing I had to get used to was Kate's pace of working. Things take a long time, but it doesn't have anything to do with indecision or trying other things out. Rather, things start out with a very strong idea and we'd get 90 percent of the way very quickly. Then it becomes a process of refining and stepping back and considering detail. It's a very long process, but with a very clear goal. That was different for me because I was used to delivering things super-quickly and efficiently—it was what was often demanded of me. I think getting into this other frame of mind with Kate did me a lot of good. It was a really creative experience.
In 2014, you worked with Bush on a new version of "Wild Man" for The Art of Peace − Songs for Tibet II compilation. It was billed as featuring "Remastered Shimmer." I'm curious what that meant.
It was something I worked on with Rupert. I added layers of sound to it, but they're almost inaudible, which was done with Kate's approval. In fact, fans were pissed off because they felt it wasn't any different to the original version. In fact, it's completely different. It has a very different sonic approach. We asked Kate to name it and she said it should be "With Remastered Shimmer" so that's what it was called. I should mention I also did the 2012 remix of "Running Up That Hill" which was featured during the 2012 Summer Olympics Closing Ceremony.

Kate Bush gold records awarded to Stephen W Tayler | Photo: Stephen W Tayler Collection
Describe how you became involved with Bush's Before the Dawn 2014 residency at the Hammersmith Apollo.
After all the work I'd done with her on the recordings we've discussed, I didn't expect to hear anything from her for quite a while. I was as shocked as the rest of the world when I saw in the news that Kate had announced she was going to do 15 dates at the Hammersmith Apollo. Tickets went on sale and they had to add an extra seven dates because there was so much demand. I thought "That's brilliant. I hope I get to see that."
Then, out of the blue, I got a call from Kate and she said "What are up to?" I said "I'm in the middle of two mixing projects." I was here at Real World having a good time doing what I was doing. Then Kate said "Well, are you free?" I said "When?" She said "Now." [laughs] I asked "What is it for?" She explained that after chatting with people doing the sound and production, it was decided it would be a really good idea to have somebody focused completely on the sound and presentation of her voice for the show. She said "Are you interested?" I replied "Well, absolutely." In the back of my mind, I'm thinking, "I've never done anything like this before. I'm a studio guy. I think I'm being asked to be part of the live show." But I dropped everything and jumped at it.
When I was brought in, I had no idea the production, even at the early stage of rehearsal, was so enormous. I visited a hidden place in the middle of the countryside with about 100 people working on pre-production for the show. Kate gave me the title "Kate Vocal Navigator" in the program. My role was specifically to handle the sound of her voice. I controlled the effects that were used extensively throughout all the changing scenarios of the show. I handled her vocals and fed them to the front of the house. I was on stage, not out front. I never heard how the show sounded upfront. My main focus was to control the individual sound for every song. I would be hearing in my in-ear monitors exactly what Kate was hearing. I was controlling not just what the audience heard, but what Kate heard herself. It was about giving her the right sonic environment to suit her performance.
I was entrusted with a mountain of equipment dedicated to her voice—good-quality microphones, preamps and radio receivers. She had a headset and a handheld mic. They had to have the same kind of character and signal path. I'm adding the usual things like reverbs and delays that come and go, as well as room sounds and stereo-widening to create sonic effects and dimensions. The whole show was incredibly scripted from the point of view of the lighting, theatrics, acting, singing, musicians, and props. I was operating this script in which I knew there had to be a snapshot for every song to create the right setting for her voice. It was a bit like what I do in the studio, but having to reproduce it live, every day, for months of rehearsals, and then the shows. I came away from the experience really enjoying the environment and the danger of live performance, which I'd never been involved in, previously.
What do you mean by danger?
I was always on the edge of my seat thinking "Is this going to work? Is everybody going to be coordinated?" It was terrifying for everyone involved because of how sophisticated the production was. It was also really enjoyable.
There was also the solo piece she did at the end of the set during the encores called "Among Angels." I mixed the original album version of that song for 50 Words for Snow, which took quite a few days. I heard it hundreds of times back then. But every day, during the rehearsals at our secret venue, when everyone would go and have lunch, I would stay with Kate as she routined the song. So, I heard it loads of times more during rehearsals. The trouble with that is I love the song so much, it almost brings me to tears every time I hear it. In that song, I'm doing things with levels, knowing when she breathes and when she's going to enunciate something. It was a very emotional process.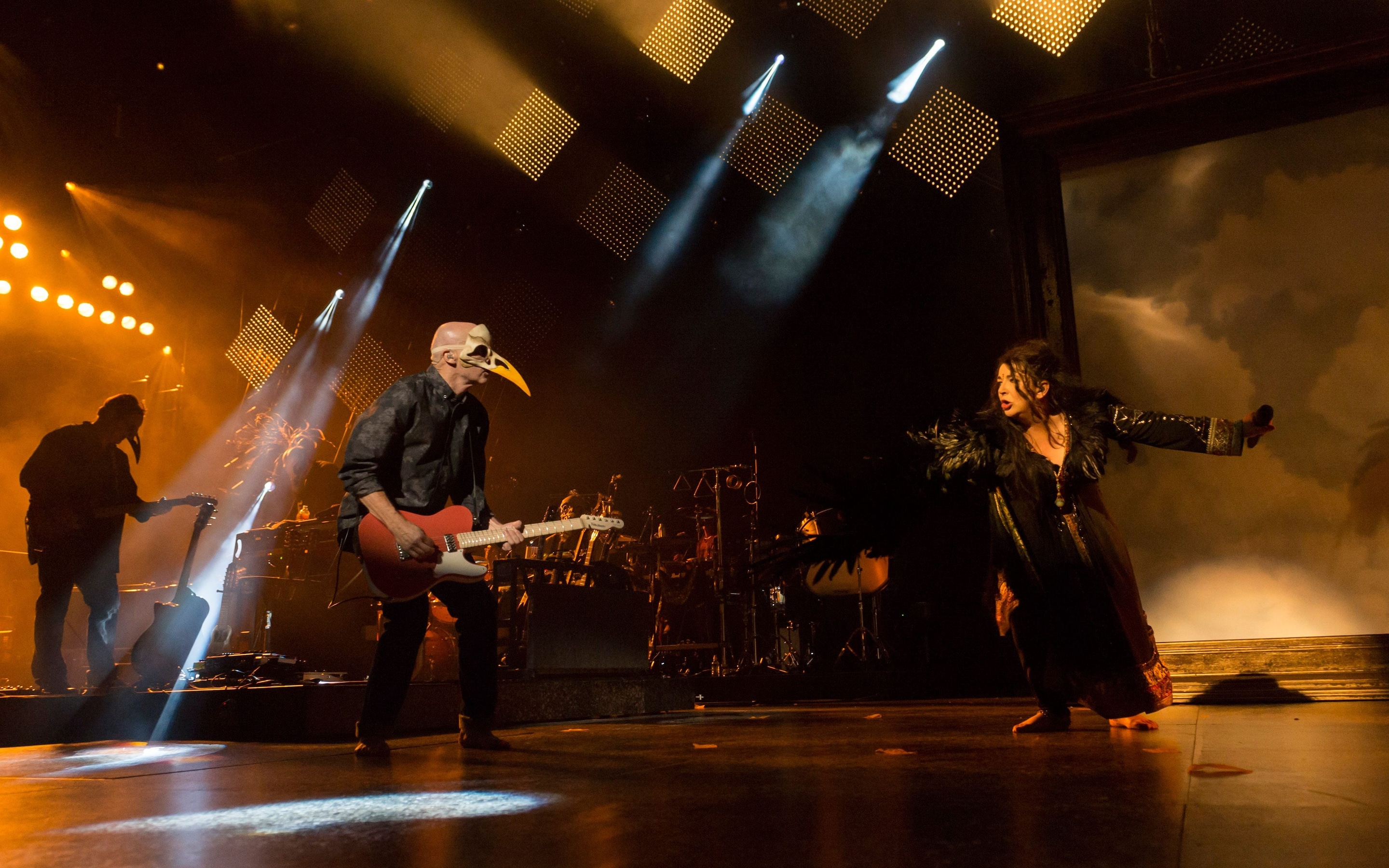 Kate Bush, David Rhodes and Friðrik Karlsson performing at Hammersmith Apollo, London, England, 2014 | Photo: Rex Features
You also mixed the live album from the residency. What can you tell me about that process?
They recorded every concert. We were looking at a mountain of admin with 150 channels of audio from 22 shows and a rehearsal. They asked me to get involved with the presentation of the album as mixer. It was mind-boggling to begin thinking about. But I was very happy to help find a way of honing it down into a manageable process.
We had to figure out how to listen to 22 shows, compare the performances, and hone it down to a handful of choices. The recording levels of the later shows had been perfected and the performances were getting more and more steady.
It took weeks to organize things. I found the best way to manage this number of performances was to take each individual song from the shows and burn a CD with all those versions of that one song. So, I ended up with perhaps 30 CDs of these individual songs, and then it was down to Kate to really listen through and select what she liked. It required a lot of patience. Kate had taken a long break after the shows before we started mixing. The sessions were then spread out over a few months because there was a lot to do. It was a gradual process of refining. Again, a wonderful experience. I had to live with the music for many months.
It was a massive opportunity and privilege for me. I've never done anything like that previously. I've worked with great people in the studio. I've been involved in many amazing projects. But by the time of Before the Dawn, doing regular studio albums all the time had sort of lost some magic for me. So, I like looking for new challenges and Before the Dawn was certainly that. It's also why these days I'm so much more involved in more than recording and mixing. I'm now a composer and working on visual and audio art.
Before the Dawn was great because I was doing something I'd never done before at a very high level. The team involved was a wonderful family. Experiencing working on the theatrical production, and all the techniques and technicians involved was quite something. There was also a lovely band, and Kate was terrific to work with. I was very lucky.
You recently rekindled your working relationship with Brand X. Describe how that's cascaded across all three of its reunion releases to date.
I try to keep my involvement with Facebook to musical connections, friends and a bit of promotion and sharing of things I like. One day, I came across the official Brand X page on Facebook. I clicked "like" and very quickly I got a "Wow, is that you Stephen?" message back from a manager. He said "Can we talk?" I said "Sure, yeah." We got some nice discussion going about how I was involved originally with them on the Moroccan Roll album. I said "If you ever do any live recordings, I'd love to have a go at mixing them for you." The response back was "That would be wonderful." Now, at that time, they had just started doing gigs, playing music from the period I was involved with, including Unorthodox Behaviour and Moroccan Roll material.
I said "I know this music so well. If you record anything, send it to me and I'll give you an honest opinion." I got a call a few days later and the manager sent me a multi-track recording they had made from the Sellersville Theatre in Pennsylvania. I put it up in my system and felt I could do something with it. I picked the tracks I felt worked best, what maybe should be left out, and did a test mix of things and sent it back. I'd encouraged them to start capturing the current lineup which was getting very good feedback from audiences. So, we worked on it further. The manager actually visited me in Real World and stayed for a few days as we worked on final adjustments and tweaks. It turned into the But Wait... There's More! 2017 live album.
The band continued to tour and kept getting an excellent reaction. They changed drummers from Kenwood Dennard to Kenny Grohowski. The manager said they had a new recording from Longs Park Amphitheater in Lancaster, Pennsylvania. They chose to do a more compact, single-disc release. I remained enthusiastic. It came together beautifully in the end as the Locked & Loaded release, even though I was doing it remotely here at Real World, away from where the band was operating in the US.
For me, the high point was when the manager got in touch again and said "We've filmed the show from The Rites of Spring Festival." We think we could do a Blu-ray of this. Do you know anyone who can edit it? I said, "Well, I do some visual work and editing. I could do the whole package for you—video and audio." So, I did that. It was really nice to do, because I was constantly letting the sound affect the visuals and vice-versa. A nice dynamic was happening while working on it.
There were some challenges with putting together the Blu-ray. It was filmed with four static cameras, with no direction. There were a few difficult moments to contend with, such as when the person playing a solo isn't even on camera. So, I had to be inventive working with some of those restrictions. It made it more of a creative project, actually. I'm very happy with how it turned out. I'm pleased there's still an audience that's getting something out of these projects. I started with Brand X at the beginning of my career, mixing Moroccan Roll from start to finish. To be working with them again 45 years later was pretty amazing.
One of your key, ongoing projects is creating new stereo and surround remixes for the Be-Bop Deluxe catalog. Provide some insight into how you got involved and your philosophy as you approach the music.
I was asked by Mark Powell, who runs Esoteric Recordings, if I could tackle the back catalog from Be-Bop Deluxe for special edition box sets. I was delighted to get involved, because although I've been doing 5.1 mixes for a few projects since the early 2000s, it's quite a niche market, so there have not been so many opportunities.
I was well aware of Be-Bop Deluxe back in the mid-'70s, but because that was at the start of my career, I was working solidly and never really heard their albums at the time. That's actually quite positive as I can bring a fresh approach to them today. However, it's a challenge to determine how to present these mixes. My first priority is to remain faithful to the original mix and just open up the soundfield and reveal some detail that may have been lost in the original stereo image. I try and replicate as much of the original effects and dynamics as possible, as there are always some expectations from existing fans of the original albums.
Due to certain restraints of time and costs, the new stereo mixes are derivative of my 5.1 mixes. This means they are quite close to the original. I'm not trying to improve on the originals. Some people say they would prefer a radical remix, which I understand, but that would therefore require twice the time to achieve. However, my new stereo mixes have received very favorable responses from many people.
I've fallen in love with these albums, the themes, the lyrics, and the wonderful musicianship. I'm reminded of many of the ideas and production approaches from those days, as I was so active in recording during that exact period, and I aim to bring that mentality to my remixes.
Funnily enough, I have yet to meet Bill Nelson. He's very busy and active and prefers to concentrate on new material. He's not actually involved in the remixes or is even particularly interested in revisiting the past, but he supports the process. He does benefit from these reissues, which is a good thing because he never saw much from the original releases due to poor management and contracts.
So far, we've done Modern Music, Futurama and Sunburst Finish. I'm currently finishing Axe Victim, the fourth in the series and I really enjoy doing these.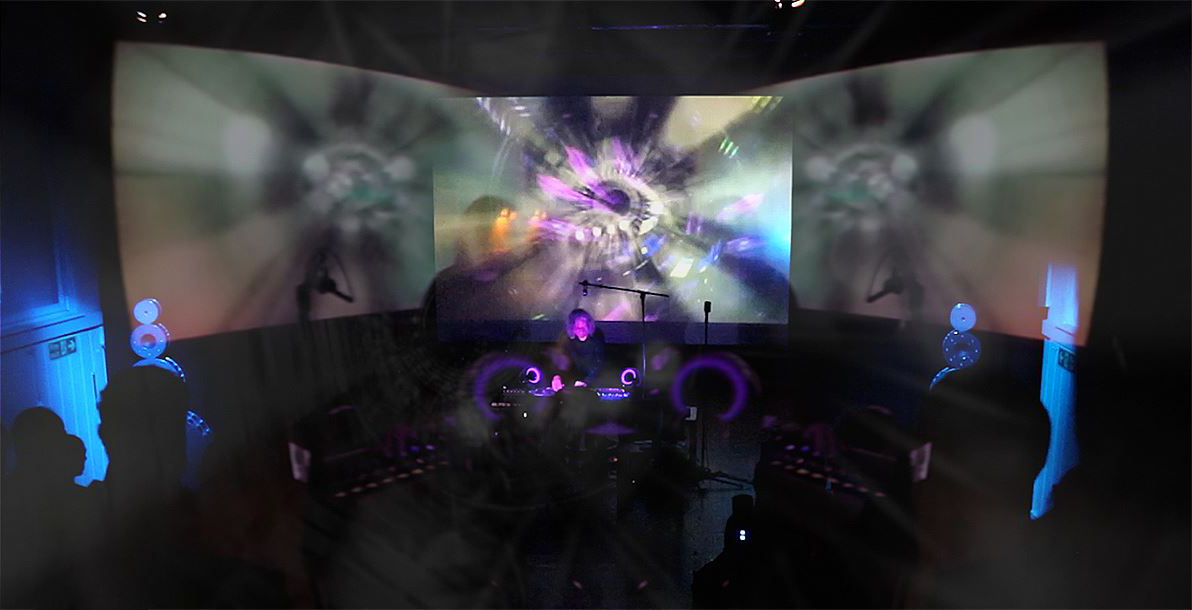 Stephen W Tayler performing Ostinato live at Pound Arts in Corsham, Wiltshire, England, 2017 | Photo: Stephen W Tayler Collection
Explore the journey that led to your first solo album Ostinato.
At first, I'd been writing some music for small, experimental films and even a fashion show. I was starting to accumulate my own musical ideas through these projects. I was searching for a concept to pull my own musical vision together. In the mid-'90s, I worked with a composer called Éric Serra known for soundtrack work and pop songs. He was doing a solo album produced by Rupert and I got to live in a Montmartre hotel in Paris for weeks and weeks, while working at his studio.
MiniDisc portable recorders were a new thing back then. I picked one up, along with some binaural microphones that you wear in your ears. They pick up what you hear naturally and were great for recording ambience and atmospheres. I started recording all kinds of things in Paris, including train station and terminal sounds. I even recorded the sound of crowds on the street, cars and the Paris Metro.
One morning at 6 am, I decided to go for a walk with my microphones up to the Sacré-Cœur cathedral in Montmartre. The doors were open, but the cleaners were sweeping, vacuuming and moving furniture around. There was this incredible ambience in there. I stood in there for a while with all this sound echoing around the beautiful dome. It inspired something in me and I started putting music together then in '97 and throughout the early 2000s. But there still wasn't an overall vision.
I can't pinpoint when it started happening, but I started to imagine how I could express the feeling of being in those environments, musically. I used the sonic backdrops of places I had been to as musical inspiration. That's why there's a track called "Euro Star" on it, which includes a lot of the emotion and feelings of trains and stations. There's another titled "Sacré-Cœur" which is me imagining myself being in the cathedral. It's a minimalist piano piece capturing the ambience of that place.
"Peripherique" is inspired by a late-night drive around the ring road in the periphery of Paris. It has the sounds of traffic, rhythmically treated. It relates to a piece called "Samsara" that I did with Rupert Hine on Immunity, in which the rhythm is derived from gated or treated traffic noise.
"On the Beach" goes back to when I was in Tanzania, working on the One World One Voice project in 1990. I had recorded the sounds of the gentle lapping of the Indian Ocean in Dar es Salaam. I brought those sounds back to inspire the feeling for that track.
Gradually, I was trying to find a purpose and way to use natural sounds, combined with soundscapes I created. I love to create sonic vistas you can draw music in and out of. I tried to restrict my instrumentation to piano. It's all done with sampled, treated and prepared piano sounds.
This relates back to one thing that had a huge influence on me and my works. In the year 2000, I was privileged to be invited to the entertainment after a private dinner party in an artist's loft in Manhattan. It was during the time I was working with Suzanne Vega on her Songs in Red and Gray album at Philip Glass' Looking Glass Studios on Broadway.
The party was hosted by Philip for about 20 guests. The loft was filled with paintings. After dinner, Philip went over to the piano and started playing. Patti Smith also stepped up to join him to read works by Alan Ginsberg while Philip played his classic piece "Mad Rush."
The loft windows were wide open, so there were sounds from the streets outside. At one point during the performance, a fire truck drove past, sirens blasting, drowning out the music momentarily. This didn't feel like an interruption or an annoyance. For me, it was a part of the total experience—the people, the music, the words, the environment, and the sounds. I was totally captivated. This was my true New York moment.
Although I had experimented with adding sound effects and soundscapes to a handful of music productions previously, this was an experience that convinced me that you could really add to the feelings and emotions of a recording. Since then, there have been many projects, including Ostinato, I've been involved with where I've created a sonic backdrop. That might be urban, nature, weather, traffic, or even just the equivalent of tape noise. Most of the time it's completely subliminal. I actually find these subtle interactions have a big effect on me, and I know they're there. I don't expect anyone else to understand this. I just hope to help add to the way these works can have an emotional and magical effect on the listener.
Going back to Ostinato, I introduced a few other sounds into it. There's some electronica occasionally, but not a lot. There's also the clarinet, which I studied when I was at music college, but I like to use in a much more sort of abstract way. Some of the music has a nod toward Terry Riley's early works, with the layering and repetition involved.
Ostinato's closing track, "The Boy Who Said Yes" relates back to one of your earliest artistic experiences.
Yes. At the age of 13, I was taking part in an opera by Kurt Weill as part of a school opera project. Weill wrote works for boys' voices that could be performed in schools and this one was based on an ancient Japanese traditional tale about the boy who said yes called "The Yes-Sayer" or "Der Jasager" in German. When we did our performance, it was done using an English translation.
I played the boy who said yes. It's a very entertaining, complex piece of music performed with a small orchestra and only three main characters. There's the boy, the teacher, the mother, and then there are two extra students. We're all dressed in almost quasi-traditional Japanese garb for this opera. But the story is about a boy whose mother is sick and it looks like she is going to die and this is where the teacher comes in.
The teacher says "We can go on a trip across the mountains to get medication and bring that to save your mother." So, that's the plan. The opera has interaction between the mother, the boy and the teacher. They say goodbye and go off on the journey. This is where the traditional element of the Japanese story emerges.
The boy on the journey travels through the mountains and gets sick himself. He's in danger of jeopardizing the whole mission. The choice, according to ancient laws, is that either the entire party has to return home or the boy, the person who gets sick, has to sacrifice himself and die to allow the others to carry on the journey in order to get the medication to take back and save his mother. The boy is posed with a number of questions by the teacher. And this is all sung in sort of recitatives in, in this amazing Weill way. The teacher presents this scenario to the boy and basically says, "Do you understand what I'm saying?"
The boy responds, "I understand you. You shall not turn back." He sings that back with piano accompaniment. Then the final question is, "So are you saying, yes, we can throw you into the valley?" Then the boy says, "yes." He chooses to sacrifice himself to save his mother. And this is basically the story.
I had a recording of a performance I was part of done on some tape recorder back in 1967. I managed to extract the piano and the boy's responses performed by me. I then went and got permission from the foundation that looks after Weill's catalog. They heard what I had done and let me do it, which was great. That was very emotional.
I performed a live version of it in 2017 in which I sang along with myself in one of the verses. That was freaky for me. I don't know how it came across to the audience, but for me it was really extraordinary.
You've said Kate Bush gave you the confidence to release Ostinato. How did she inspire you in that way?
Working with her inspired me to finish and release my album. She heard it in its early stages. She provided me a nice quote that went on the sticker that came with the package. And then having done the Hammersmith Apollo shows with her and seeing her have the nerve to do something on that scale, I wanted to be back up on the stage myself. I lost my nerve when my voice was breaking. I used to be a super-confident performer as a child until that point. I suffered stage fright thereafter.
I carried on performing classical music and played in a few bands over the following years, but I never really got over the stage fright. Losing my confidence in my mid-teens is one of the reasons I wound up going behind the glass and becoming a producer.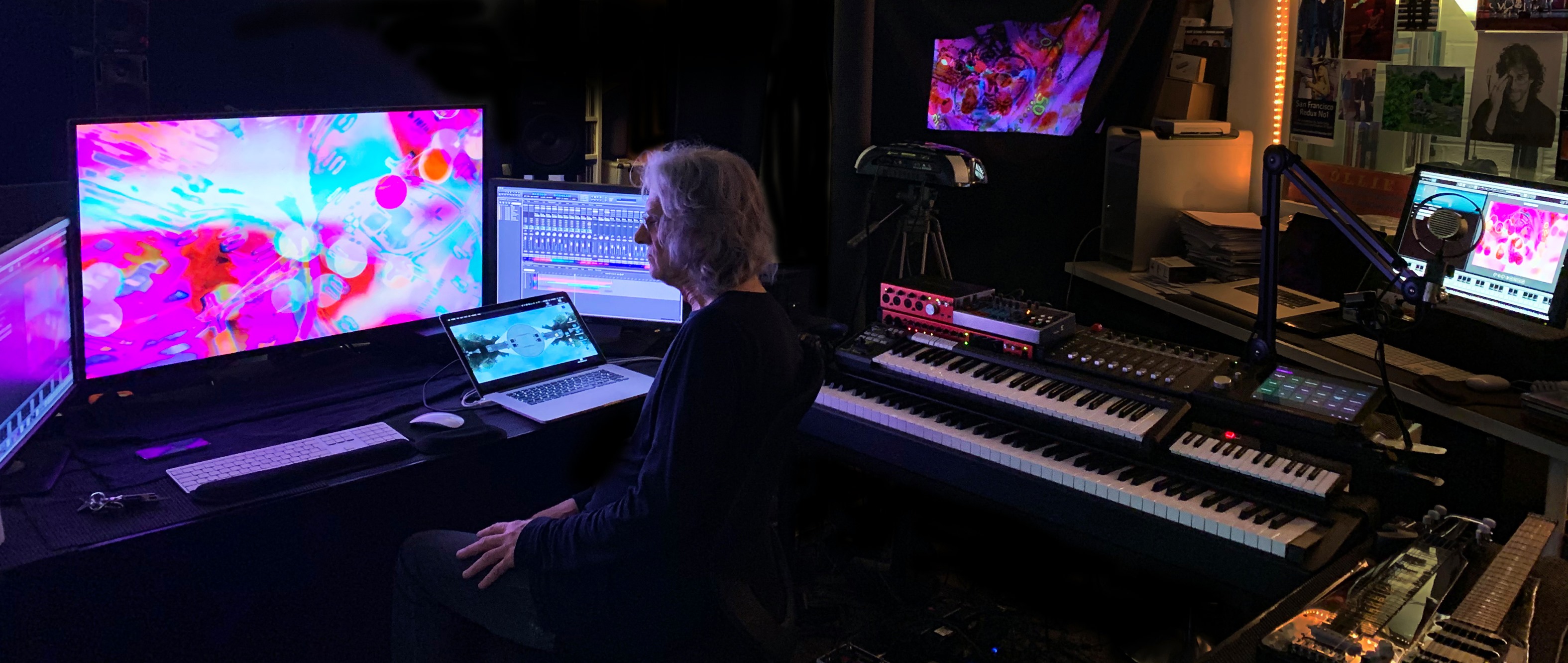 Stephen W Tayler working on Da Capo visuals at Real World, 2020 | Photo: Sadia Sadia
What can we expect from your forthcoming album and multimedia project Da Capo?
In January 2019, my wonderful partner Sadia reminded me—and reprimanded me—that I had said I would follow up my live show of Ostinato from 2017 with a new project in 2018. I had been incredibly busy with a multitude of great projects, but apparently that was no excuse, so she went ahead and booked The Big Room at Real World for December 2019 to launch my next project and presented it as a fait accompli!
No pressure! But I actually do respond well to a goal or deadline. I had a few ideas on the go for my working title Time. I went ahead and cleared a period in my diary for the summer to try and get it all together. It wasn't going to be just another show, but an entire new album of material. The deadline was a blessing. My whole concept then started with creating the entire show and album simultaneously, and working straight away in surround sound mode.
When I made Ostinato, it all started with the music, ideas and soundscapes. I then developed visuals to match, and eventually built a live event around the concept. With the Time project, I decided I would start with the idea of a live audio-visual event, and that the album would follow from that.
I had several ideas based on memories, experiences and emotions that I wanted to express. It seemed like the title Time was a bit overused, so I tried to come up with a time-based title, using the same reference to Italian musical terms as I did with Ostinato. I eventually settled on Da Capo, which implies "back to the top" and "from the beginning." This seemed to be perfect for both the repetitive nature of my musical themes and their reference to past events and memories.
Several of the pieces are purely based on an emotion or a memory. With "Sunday 5:44 pm," I was trying to express the melancholy I've habitually experienced on Sunday afternoons—probably something to do with sad family memories and the feeling of having to go back to boarding school or work. "Time Stood Still" captures how I felt when Sadia took me to the highest point in Joshua Tree National Park at dawn in 2017 when it was completely deserted. That was a magical experience. As with Ostinato, all my musical pieces are set to atmospheric soundscapes that shift and change throughout.
A lot of the music and visual concepts were conceived simultaneously. In one case, "Four Ways to Fiveways," the film came first and instantly inspired the music, all captured on one beautiful September early Sunday morning here in Box, Wiltshire.
Once again I've included a recording of my performance as a boy chorister with New College Choir in 1966. "Coda Capo," the final piece, features a slide show of images from throughout my life. It forms the celebration of not only this project, but my whole life so far, as it intentionally picks up the pace.
The live Da Capo show in December 2019 at Real World was a great experience and very well received. I have not done much in the way of live performance since I was a student, but it was a truly absorbing feeling for me. I hope everyone managed to share that feeling with me.
The Big Room at Real World is not a theater. It's a very large recording studio control room that can be set up for 100 audience members at most. It has a large screen and a fabulous surround sound system that is occasionally used for mixing film soundtracks. The presentation of Da Capo involves projection, atmospheric soundscapes, some instrumental playback, and live performance elements all controlled by me. The instruments used live are virtual piano and prepared pianos, some synthesized sounds, lap steel and EBow guitar, clarinet, penny whistle, as well as some voice treatments. Everything involves using live mixing, audio processing and looping techniques. My control and treatment of sound is an instrument in itself.
I'm currently working on a CD/DVD release for Da Capo including the original visuals set to the surround mix.
Tell me about the pub session with Hugh Padgham that helped you develop your overall philosophy as a producer, engineer and mixer.
During the initial days of working at Farmyard Studios in the early '80s, a few of us, including Hugh, gathered in a pub in a village nearby. We knew each other from childhood. When we were both in public school, he had a school band he played bass in. He moved on and I wound up playing bass for the same band. Once, he came along to my house with some friends to my parents' house, where they built a music room for me. We had met long before either of us were involved in the business.
So, we're sitting around the table at the pub and Hugh said "Remember, this isn't all about making great recordings. This is about making great records." For some reason, that was like being slapped in the face. We were all recording engineers at this table. What Hugh said made what we do so clear. Way back in the early days of recording, engineers used to wear lab coats. They were technicians. They had titles like mix engineer and balance engineer. Back then it was all about capturing a good recording.
But everyone at this table had grown up during the '60s, during which a shift occurred and things became more about making great records. The goal was to make the record an experience. I still like referring to them as records because it means you're trying to present something cohesive to people. I don't want people to sit down and listen to something I work on and think "Ooh, that's a very nice, clean recording. It has a lovely snare sound. What mics did you use on it?" [laughs] Fuck that! I don't want to hear that from anyone. What I want is to know they enjoyed the overall sonic experience of the record itself and got something meaningful out of it. That's the goal of what I do.