Mike Stern
Diverse Shadings
by Anil Prasad
Copyright © 2010 Anil Prasad.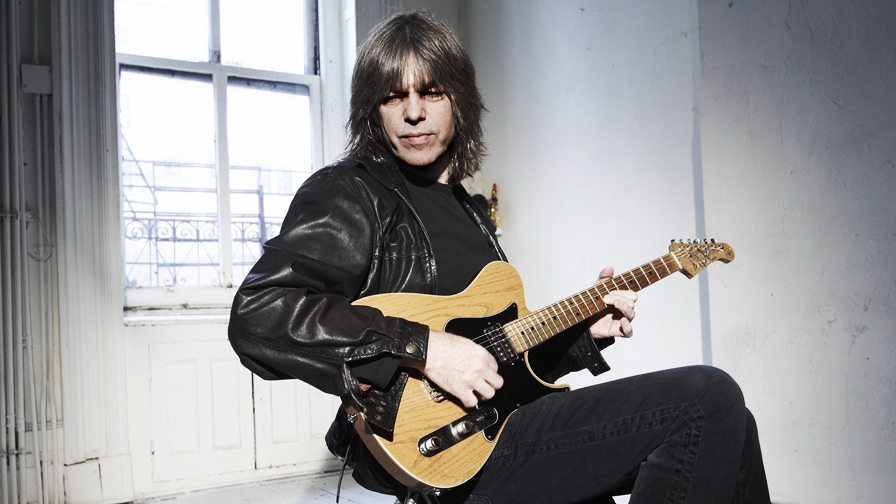 Resting on his laurels is not an option for jazz guitarist and composer Mike Stern. His career has spanned four decades,14 solo albums and numerous legendary musical partnerships, including stints with Blood, Sweat and Tears; Billy Cobham; Miles Davis; and Jaco Pastorius. And his influence on guitarists, as well as modern jazz and fusion musicians in general is immeasurable.
While Stern is certainly pleased with his esteemed status and career longevity, his core motivation remains pushing forward into new realms by incorporating fresh ideas, personalities and sounds into his ever-evolving output. That's certainly evident on his new CD Big Neighborhood. The wide-ranging release finds Stern extending his jazz-oriented proclivities by incorporating rock, Latin, Middle Eastern, African, and other world music flavors into his work. The album's guest list is no less expansive, with musicians including Cindy Blackman, Richard Bona, Randy Brecker, Terri Lyne Carrington, Eric Johnson, Steve Vai, and Esperanza Spalding along for the ride. And as with his other recent releases, Stern continues to branch out beyond his instrumental focus by including several vocal numbers.
Stern has arrived at a highly satisfying juncture in his life. He remains an in-demand touring musician worldwide, he has the deepest respect of artists and listeners alike, and he enjoys a long-term marriage with his wife Leni Stern, an acclaimed guitarist and vocalist in her own right. But the road to his current destination has been a rocky one, with lessons learned we can all benefit from. Stern discussed the thoughts and experiences that have informed his triumphs, as well as the tribulations he has successfully overcome.
Big Neighborhood is the most diverse record you've released. Describe the philosophies behind its creation.
Whenever I write music, it's all about a language of the heart. It's something people have said before, but that doesn't make it any less true. I'm trying to connect with something in my heart, whether it's an exciting tune, a ballad or a sadder tune. This record is no different. I wrote all of the tunes, which helps unify it. I've also been more adventurous in getting people I really dig to play on my work—people that bring a lot of vibe to my tunes. It's often by instinct, not by calculated design, that I go and ask a certain person to be on a record, then I just feel my way through the collaboration in terms of how things connect. This is probably the most eclectic record I've put that idea into practice on. The people on this record have very different things they bring to the music and have different priorities. A couple of them really weren't jazz players, but I had an idea of the tunes that would fit those players best. I thought they would bring a unique spirit to the tunes and they did. So, there are connections between the language and the people on the record to create stories with emotion. Music is amazing in that way. You can say things about emotions with music better than with any other language. There's something about music that moves your heart and you don't even know why. And that's always been my priority.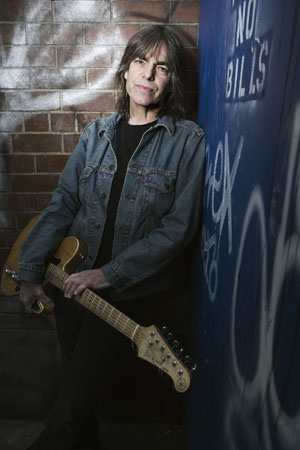 Your last few records have really showcased a wide-ranging approach too. At what point did you decide to pursue the freedom to infuse so many influences in your work?
It's something that's evolved. It wasn't a specific decision. It started happening because I had been playing with so many different kinds of players, and also because I've been introduced to more eclectic music in recent times. I remain a big fan of music in general and love anything that moves my heart. My focus, if you would call what I do one thing or another, is jazz. I'm a jazz musician and I love bebop. I'm still checking out that stuff all the time. You'll still find me transcribing Charlie Parker, Sonny Rollins, Herbie Hancock, and people like that. But I'm also into all kinds of other stuff. I grew up listening to rock and blues—mainly guitarists like Hendrix, Beck and Clapton with Cream, as well as The Beatles and The Stones, and other music from the early `60s.
Jazz players from my generation and younger are typically influenced by the music they prioritize, which is jazz, but the guitar really blurs the boundaries between genres and it's natural that they're also influenced by classical, pop, rock, country, and world music. In world music, there are all kinds of crazy stringed instruments, so if it's not guitar, it's an instrument that's related in some way. So, even if it's not your favorite music, you can relate to it because you hear your instrument on it. That's something that's caused me to be really open to different stuff. The other key influence for me is my wife Leni. She's a guitarist and is always playing with lots of interesting people. She's very adventurous in terms of what she does musically. She's now playing with Salif Keita, and he just asked her to tour with him. Leni knows all the other people in his band too. She goes to Mali and recently did a record called Africa. She's doing another one with that same vibe with African instruments. She's always bringing back a lot of world music that I've been checking out for the last few years.
Also, just living in New York City has made me go in lots of directions. New York City has everything. So, there are a bunch of meanings in a title like Big Neighborhood. But the general idea is music is a big neighborhood. New York City is also a big neighborhood. It's where I live and there's a lot of stuff around to get exposed to. All of this has contributed to me gradually doing more varied stuff and working with all kinds of people. I figure there's no time like the present at this point. [laughs] I better get to it!
So, getting older is part of the motivation to branch out?
That's part of it. I've been doing this for a long time, so now really is the time. When you realize you've said things like "Steve Vai's done some cool shit and maybe I should ask him to get on one of my records" 15 years ago, you think "Maybe I better get to it now." [laughs] I've also been talking to Eric Johnson about being on a record for years, but it never happened. Every time I saw him, I'd say "I'm still interested." So, this time I got them both on the album. That was really different for me. They're not in my usual orbit. They're not from New York City and they're not jazz players. But they don't have to be for me to dig them. They've got a lot going on, and a great deal of feeling in their playing, as well as some humor too. Steve can make a lot of crazy sounds. He makes the guitar kind of talk, like a next-generation Jeff Beck, but with his own style. Eric is a beautiful, melodic blues kind of player. I thought it would be good for all of us to work together and it turned out great. Like everyone on the record, they played their asses off.
We played live. They couldn't come to New York, so I went out to Austin to play with Eric. I took a great drummer with me named Lionel Cordew, as well as Lincoln Goines on bass, in addition to Jim Beard who produced the record and played keyboards. We didn't want to send files or any of that stuff. You come up with such cool shit when you work together live. The next day, we went to Los Angeles to play with Steve. Dave Weckl was already there, so he played drums, along with Lincoln on bass and Jim on keyboards. That was killing. It was so cool. It was worth the extra work to get those guys on the record. They were willing to do it as an overdub, but I said "That's not going to work for me." [laughs] It's really worth it to do it the way we did it.
Richard Bona has been an important part of many of your gigs and CDs in recent years. What makes him such a special presence for you?
Oh man, I love him. I met him 15 years ago at the Red Sea Jazz Festival in Israel when he was there with Joe Zawinul. I was there with a band I co-led with Bob Berg. I heard about Richard and said "Let's play some stuff in my hotel room." We hooked up, and I had a little amp, and he came by and knocked me out. We played some standards and he was swinging his ass off. Then he started singing a couple of tunes off my first record for Atlantic called Upside Downside, accompanied by his bass. I said "Man, one of these days I want to get this guy on my records singing." I was shy about it for awhile, but 10 years later, we met in New York and I said "I have all these tunes and all of them could have vocals. Would you sing on some of them?" He was totally down and even pushed me to do the project, which turned into Voices—my first album of music with vocals.
Richard sang on four tracks, and since then he's done some other projects with me, including These Times, Who Let the Cats Out? and Big Neighborhood. He's amazing. And like a lot of singers, he told me he could hear voices on my earlier tunes. Sometimes, that's how I write them. I'm almost working from a singer-songwriter perspective, except I'm not a singer. But I'll sing the melody and write it down while I'm playing the chords. Some things I write are crazy and aren't singable, but some really are. Richard was the guy who inspired me and encouraged me to explore this world. Once I got a taste of it, I wanted to do more of it.
Esperanza Spalding is another great person on the new album—an incredible bass player and singer. I first saw her with Terri Lyne Carrington. Terri Lyne plays on Big Neighborhood, and when I initially discussed it with her, she was in the middle of a special project with Esperanza. So I said "Esperanza, do you want to play on my record too? I'd be really into it. I have these three tunes in mind that Terri Lyne could play on, and you could sing on." So, it went like that. It was about instinct and impulse, and realizing that it was a perfect opportunity. One day, Esperanza and I were on the same flight, and we were hanging at the airport. I took out the guitar and played a bit of the melody of one tune and said "Is the range okay?" She started singing it right there. Then I said "Here's the bridge" and sang it to her, and she played it back. That's when we realized it would work perfectly.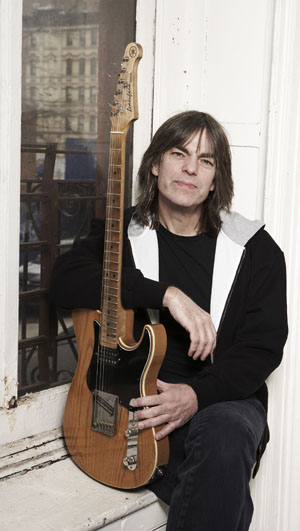 It sounds like your creative process is very fluid.
Exactly. It's "Let it just go and see what happens." [laughs] That way, I don't restrict myself. Lately, I want to see if things just kind of work out. And if I have the sense that it will, it usually does. So far, I've been lucky and had a good enough sense about what will and what won't work. The one thing that unifies the record is the fact that I write my own tunes. If you have a sequence that works, and there is a lot of variety on the record, that's usually a good direction to go in. The goal is to get out of my own way and still be surprised by how things turn out.
You've been transparent about your recreational indulgences over the years. How would you contrast the creative process under the influence, to that of the straight-living person you've been for a very long time?
Music has always been a serious, positive passion of mine my whole life, so even when negative stuff happens, a lot of the times the positive stuff wins out. When I was getting high a lot and drinking, it got in the way, but it didn't kill the strength of the music, because music can cut through a whole lot of shit. But there was a lot of shit to cut through. [laughs] I was really getting fucked up. I've been sober for 25 years, but back then, I wasn't just having a few glasses of wine with dinner. I'm talking about getting fucked up from morning 'til night. That's a whole different thing. I wasn't one of those guys that could do a little bit of something and leave it alone. It was all or nothing. When I got sober, things became a lot better in terms of creative energy and life in general. I was able to play with a wider range of emotion with more colors involved. The ballads had a deeper feeling in them and the up stuff had more of a spark in it. I retained whatever I had before, but now there's more consistency, more options, more diverse shadings and emotions, plus there's so much more energy available.
Your first album Neesh from 1983 was reissued on CD in Japan. How do you look back at it?
I liked how it came out. I hadn't heard it for years, and then they put it out again. I thought it was a lot better than I remembered. The only problem was I wasn't as connected because I was getting high—really high. David Sanborn was sober then. He had just become sober five or six months before recording it and he was playing his ass off on there. I could still play some stuff too, so it was cool. The other players were killing, including Victor Lewis on drums and Tom Barney on bass, who I played with when I was with Miles. Hiram Bullock produced the album, as well as Upside Downside, after I cooled out. I remember being really nervous making Neesh. I had all kinds of anesthetics going through me. [laughs] I was getting so fucked up that it took care of the nerves. But you know, you want the anxiety. It can help you make a record. Anxiety means you care about it and it gives you extra motivation. With Neesh, I was trying to deaden it, but the record still came out good.
Reflect on Hiram Bullock and what he meant to you.
Big Neighborhood is dedicated to him. He was an amazing musician, and a completely natural player. When I first met him, I was still playing with Blood, Sweat and Tears. I was 23 years old. I'm 56 now, so that was a lot of years ago. He was a killing player and always practicing different scales and jazz standards—really hard tunes. You could not take the guitar out of his hands.
When I started coming down from Boston to New York City, he had just moved there from Miami. I first met him when he was in Florida. I was playing a week in Miami and he'd come down to the gig and we'd get together and play a bit. I was knocked out by what a great player he was. Later, in New York and in Boston, we'd do bebop gigs and some electric jazz gigs too. We became really good friends.
Hiram, Will Lee and Cliff Carter ended up living together in a loft space on 24th Street in New York. They had a band called The 24th Street band, that had Steve Jordan in it too. I would go down to 24th Street and we'd just jam. Those guys were playing all the time. They'd do sessions during the day and then they'd play non-stop through the night. Hiram was always playing bebop. He just played the shit out of jazz. As the years went on, he let go of that and focused on writing tunes, singing and pursuing more of a Hendrix vibe. He was jumping all over the stage and it was very cool the way he did things. He had a great sense of humor. He was reckless at times, running all over the stage and dancing out in the audience with his wireless guitar. He had a great vibe. His rock and pop roots came out stronger as the years went on, but he had an amazing amount of music in him. I went more into the jazz world and stayed there. It's still my priority. I don't like the genre labels, because they aren't so clear, but jazz is what I love. Hiram moved away from that, but he was still an incredible musician and remained a great friend and a really warm person, with a great sense of humor. I'm so sad to see him go because he was really special to me.
I've been so sad to see a lot of people go. Jaco Pastorius was a great friend of mine and what happened to him was such a shock. I heard about it right away when he was in the hospital. He was supposed to come out of his coma. They thought he was getting better, but he had a stroke. Jaco and I were hooked up a lot. I saw him pretty regularly. I remember being sober for a couple of years and he started saying "Man, you're doing pretty good. How are you doing this?" Before that, he said "You're looking good man, let's celebrate and have a taste." [laughs] After awhile, he started catching on that I was serious about being sober. I explained to him "I'm going to meetings and doing what I need to do." He started asking Mike Brecker too. Mike had been sober for longer than a lot of people. We were kind of in the same bunch of people. He was one of the first guys in New York amongst us who tried to get totally sober. He realized he couldn't stay alive very long without cooling out. But now, those guys are gone—Mike, Jaco, Miles, and Hiram. It's really sad for me to think that they'd still be alive because a lot of it had to do with getting fucked up in the early years. Even Mike had liver stuff and one thing led to another. Hiram had cancer, but he OD'ed right after he kicked the cancer. I think he went out and celebrated, and it was toxic overload, because he still had some of the chemo in him. He went out, got fucked up and his body gave up.
I'm sad, but I'm also very grateful to have known these guys—all of them. I'm counting my lucky stars that I'm still around. I take everything one day at a time. My health has been really great and I'm lucky as hell—lucky as can be. When Miles starts worrying about you, you know you got some problems. [laughs] He tried to put me in a rehab center. Gil Evans also tried to talk me all the time because he was worried. Those guys weren't saints, that's for sure, but they could see I was really nuts. Luckily, everything worked out the way it has for me. But all of those people are still a big part of my life and always will be.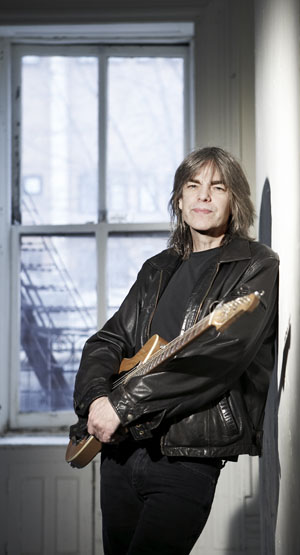 Describe your days as part of Jaco Pastorius' Word of Mouth band.
That was fun, man. We were playing together all the time. Sometimes we'd play morning through the night. He was living in my loft in SoHo. Me and Leni had a space above 55 Grand Street. Then they started having jazz at the venue. The owners were cool and wanted more live music, and it became a real music hang. It was kind of nuts in those days, but the hang was pretty heavy. [laughs] Jaco was there all the time. As soon as I left Miles, Jaco asked me to play with the Word of Mouth band. I wish I had been more sober with it, but I played with him for years. He's also on my Upside Downside record. Having cooled out by then, I remember saying to Jaco "I want you to play on this record, but you have to show up, be straight and play your ass off." Of course, I knew he would. So, he showed up, he wasn't drunk or fucked up, and he did just that—played his ass off on a track called "Mood Swings." But looking back at the Word of Mouth band, even though he was high for a lot of it, it was happening, man. It was fun as hell to hear him every night. We were like brothers. It was a great experience.
How would you describe your philosophy as a bandleader?
It's really an honor to be a bandleader. I never take it for granted that I can go out on the road playing my music with different people. I like to change it up a lot. This fall, I'll be out with Randy Brecker, Dave Weckl and Chris Minh Doky. Randy's amazing. Most of the instrumental stuff I write is written with saxophone in mind. Randy has to make some octave adjustments and stuff, but he does it effortlessly because he's such an incredible player who plays the shit out of the stuff. Earlier, I had a co-led band with Bob Berg in which we did a lot of my tunes and some of his, but for the last 20-odd years, it's been more my own groups—usually quartets with sax, bass, drums, and me, and occasionally with keyboards. Most venues give you 75 minutes to play, so I always want everyone to get a chance to be able to play and show what they've got. With four people, they all get a chance to stretch out. It's been a real pleasure to make records with so many different people. Even if I don't go on the road with them, sometimes we end up doing that a couple of years later. Having all these cats learn my music and put so much into it is so inspiring. I love when they put their hearts and souls into my work and bring their own vibe to it. It's been cool.
What did Miles Davis teach you about bandleading?
He was great. He had a way of letting go and just guiding musicians. That was especially true for the first band I was in—the one I liked the most. That group had Marcus Miller, Al Foster, Bill Evans, Mino Cinelu, Miles, and myself. There were no keyboards unless Miles banged away on a piano a little bit. It was basically me just playing all the chords. Miles used to just intimate what he wanted and things were very wide open after that. He was still searching for something and it kind of came together as we played more and more. If he wanted a Spanish sound, he'd just say "Spanish" in his Miles rasp. He might play something on the piano or horn to give you the vibe and the musicians would take it from there.
When I bring a tune into the studio for someone to play, it's more thought out than that. I have a vibe and it's built into the tune and its storyline. There's an obvious kind of feeling in the tune and hopefully people play the melody and hear the groove I have in mind. But things can be interpreted in different ways and I like players to provide their input. Sometimes the bassline is written out, but there's a place where the bass player can totally get away from it, while keeping the same vibe. I like to provide room to stretch out and solo. That's one thing I learned from Miles.
With the second Miles band I was a part of, things got a lot more defined, which was still fun, but not as fun, mainly because there were so many more musicians—two keyboardists and two sax players. It wasn't as open as the smaller group.
You've done a lot of work with Alain Caron. Describe what it's like to work with him and why you guys haven't recorded together yet.
What a great musician he is. I always love playing with him. He has such a lyrical approach to his playing. He has a very singing sound on the bass. I definitely want to hook up with him again and record with him too. It's just one of those things you sometimes don't get to for awhile, and then it happens. There are so many logistical things happening and sometimes you have an idea for a tune, but you can't get everyone you want on a record. I'm sure it'll happen eventually. We have done a few things for radio, though.
I recently did a special project with the WDR Big Band. They performed my music, and they were talking about Alain and what an amazing player he is, because they did a project with him too. The WDR Big Band is a phenomenal group of people. From time to time they ask different players to join them for special projects, including guys like Maceo Parker and Bill Evans. I'm hoping my WDR recordings become a record, but I have to work it out with the label.
Did you get to work with the WDR Big Band's guitarist Paul Shigihara?
Paul came to the gigs, but he wasn't on those dates because I was doing all the guitar stuff on my own music, but he's smoking, man. I hung with him a bunch. He's a sweet guy and a bad motherfucker. We're gonna hook up in the future. I'm a big fan of his. I've heard the stuff he did with Bill Evans, so I was very aware of him. We did a clinic and we played together 20 years ago in Germany. A really cool guy.
You once said "I know less now than ever before." Elaborate on that.
Yeah. The more I know, the less I know. [laughs] That's because music is huge. It's true of life in general. The older you get, the more questions you have, when you keep an open mind. With music, there's a universe of information. When you start going down different roads, more possibilities open up and the world gets bigger and bigger. Sometimes it gets to the point where I say to myself "I don't want to go there right now, because I have my hands full with what I'm already doing. If I go there, I'll be overwhelmed." One of the things I want to try to do more of is write for large ensembles or big bands, but I haven't gone into that too much. I did a little bit of it when I was at Berklee, writing for horn sections with four-to-six people.
I'm really fortunate to be able to take my own band out on the road and play my own music. I'll never take that for granted. It's a real honor. But the travel is a bitch sometimes, as well as being away from home. I have to be able to stay home and study hard to do brand new stuff like writing for string sections. There are a lot of things I want to get to, and I'll keep on trying.
The possibilities and amount of vocabulary you can learn are incredible. When you transcribe a Sonny Rollins, McCoy Tyner or John Coltrane solo, you realize the depth of where you can go. I mean, a 'Trane solo? Fugetaboutit! [laughs] There is so much in there. I'm still studying with a guy named Charlie Banacos who teaches in Boston. I do a correspondence course with him. He's always teaching me new scales and new ways of thinking—not just possibilities and sounds to play over, but different chords. It's a journey that never ends. And it's a wonderful one.