Steven Wilson
Perceptions of Reality
by Anil Prasad
Copyright © 2017 Anil Prasad.
What is truth? Does it really exist? Steven Wilson delves into those questions on his new album To the Bone, his major label debut on Caroline International. They're particularly pertinent given the socio-political uncertainty and turbulence so many nations and communities around the world are currently embroiled in.
To the Bone offers perspectives from the personal to the macro on the state of humanity, including the plight of refugees, the obsessive and hypocritical mindsets that inform terrorism and religious fundamentalism, and the continuing decline in civility and ethics society is experiencing. Wilson also offers his view on antidotes to the situations, including encouraging future generations to transform the world around them for the better. He also suggests reflecting on positive history as a reminder that we have a choice to pursue more constructive paths.
Musically, the album is a diverse effort that finds the singer-songwriter and multi-instrumentalist known primarily for progressive rock-influenced output exploring a more accessible, yet ambitious sound. Wilson describes it as reflecting his adventurous pop ambitions. He points to Kate Bush's Hounds of Love, Peter Gabriel's So, Talk Talk's Colour of Spring, and Tears for Fears' Seeds of Love as touchstones informing his vision for the record. To the Bone has clearly connected with a wide audience, entering the UK charts at number one.
Wilson's last two records, Hand. Cannot. Erase. and The Raven That Refused to Sing (And Other Stories) both had pop elements embedded within their conceptual frameworks. Early incarnations of his work with the group Porcupine Tree, as well as his output with the duos No-Man with Tim Bowness, and Blackfield with Aviv Geffen, also point to Wilson's great love for expansive pop forms. To the Bone represents a synthesis and extension of that history.
The album was co-produced by British guitarist Paul Stacey, who has worked with Oasis and The Black Crowes. It features acclaimed musicians including keyboardist Adam Holzman, bassist Nick Beggs, guitarist David Kollar, drummers Craig Blundell and Jeremy Stacey, harmonica player Mark Feltham, and vocalists Sophie Hunger and Ninet Tayeb. Wilson also performs a great deal of guitar, bass and keyboard work himself—a decision related to him wanting To the Bone to be his most personal and direct statement to date.
In addition to his own career as a recording and touring artist, Wilson remains one of the world's most in-demand surround sound remixers, having helmed major projects for Jethro Tull, King Crimson, Gentle Giant, Marillion, Simple Minds, Tears For Fears, and XTC. He also runs his own record label Headphone Dust, which recently released a new EP by the ambient pop act Fovea Hex titled The Salt Garden II.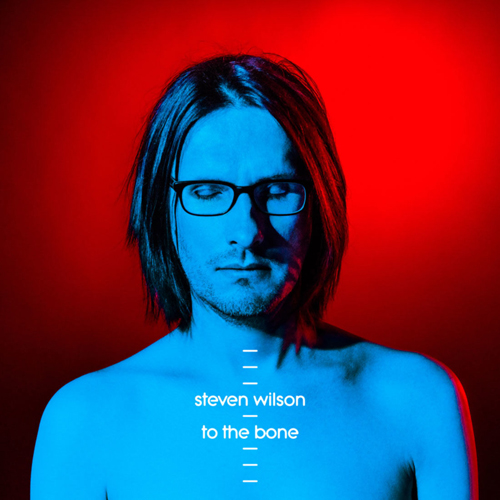 Describe the vision propelling the new album.
It's very much focused on a particular aspect of mine that I've put on the back burner for the last few years, which is my love of songwriting and melodies that aren't weighed down by a conceptual element. I realize the latter has been a strong part of my work for a while. There's a strong lyrical strand that comes up throughout the new record, so it has that unity without it being conceptual. The album is an ambitious pop record inspired by the records I grew up with in the '80s. That's when I was a teenager. Records that were equally ambitious and accessible without any sense of dumbing down were part of pop culture then. That's the kind of artist I've always seen myself as wanting to be—someone that has the ear of a potentially very large mainstream audience, but at the same time creates journeys that can incorporate pop melodies, experimental textures, great musicianship, cinematic production, and quite weighty lyrical subject matter. It's all there on the new album in a way perhaps it hasn't been before in my work.
What made this the right time to pursue that vision?
There were two fundamental things. The first is the need for me to do something new. The least appealing thing to me is the idea of repeating myself. That's a different stance to take than most artists who tend to make something that works for their audience. They tend to want to repeat the formula and give the fans what they want. It has always been my contention that the really great artists like Miles Davis, Frank Zappa, Neil Young, Peter Gabriel, and Kate Bush confronted audience expectations. They all had a need to evolve, change and keep things interesting for themselves. There was never a possibility that I would continue simply making more of the same music.
The second reason, which is more practical, is that I was listening to a lot of those kinds of records as I remixed them. I was working on Tears For Fears' back catalog. When you're completely immersed in someone else's music for days or weeks on end, deconstructing and reconstructing it, you're inevitably going to find that it rubs off on you. I really did fall in love with that era of music again with great records released by Talk Talk, Peter Gabriel and Kate Bush. In particular, Kate Bush has been a strong influence throughout my career. Artists like David Bowie and Prince passing away also affected me. I revisited their extraordinary back catalogs. They were never interested in repeating themselves or catering to their audiences, either.
Tell me about what you're communicating with the album cover.
The cover goes very well with the title. It reflects the idea of stripping the music down to the fundamental thing, which is the songwriting and the melody. It also conveys the idea of stripping away some of the conceptual stuff and muso elements. It seemed to me that the cover should reflect the idea of getting to the core of what I am, which is a songwriter. When people ask me what I do, I rarely say "musician." I say "producer" or "songwriter." This is the first time I've put a portrait of myself on a cover without it being obscured by a gas mask or being in silhouette. When I told some of my friends "I'm going to put myself on the cover," they said "Finally, you're not going to hide behind your artwork anymore." So, there was a feeling of putting my personality to the fore with it. When I was going through the Bowie and Prince catalogs over the last 12 months, I realized those guys always put themselves on the front cover. They weren't afraid to connect the personality and the music together. In fact, you can't separate those things with them. So, this cover is also an acknowledgement of that. It's still a very heavily art-directed portrait, but ultimately, it is me. I'm also naked on it. It very much is "to the bone."
Many musicians have said it's much harder to write a concise, effective pop song than it is to create a lengthy epic. What's your perspective?
I can only echo that. It's a cliché because it's true. It's so hard to write a good pop song. Some people have said to me "Why did it take you so long for your Abba pop fixations to emerge in your music?" For many years, I've been very clear I grew up in a house where the conceptual rock music of Pink Floyd was just as important as the pop of Abba, The Carpenters and The Bee Gees. I never saw any distinction between those artists until much later in life when I realized other people did. I've tried over the years to write convincing pop music, but it's hard and it's not something that comes as naturally to me as the more melancholic, conceptual side. I don't know why that is. I would say "Permanating" is the first true piece of pure pop I've released. That's a testament to how hard it is to pull something like that off.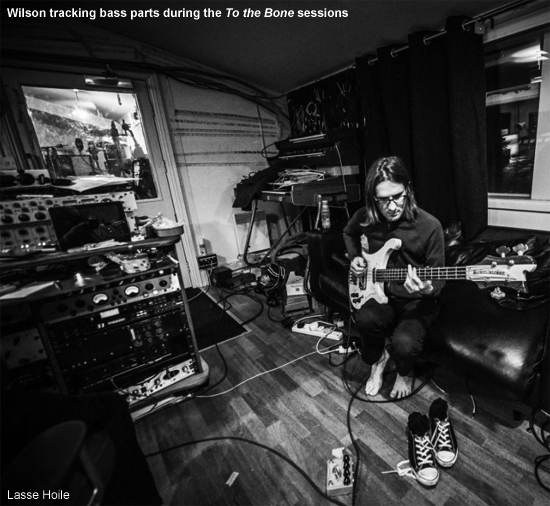 Richard Thompson once told me that one of the perils of concise songwriting is trading accuracy and honesty for a good rhyme. What's your take?
One of the things that really doesn't work with pure pop is complex lyrical imagery. It sounds faintly ridiculous when you try cramming it into a pop song. So, I think part of the struggle is finding a way to have the words fall into the right place. Pop music is such a well-established form. It's hard to avoid falling into those kinds of lyrical traps Thompson refers to. I have new admiration for the likes of Abba, The Beatles and Tears For Fears now. I've realized how difficult it is to make something seem so effortless. Therein lies the irony.
Provide some insight into the creative process informing the album.
It was about focusing on solid, more economical songwriting. I played a lot more of the music myself. I didn't have as much of the superstar muso element on the record. I played most of the guitar and bass, as well as a lot of the keyboards. I can't play particularly technically, so in a sense, that already meant the music was going to be a little more straightforward, direct, simple, and organic. I had to rely on myself more as a musician rather than as a director or producer of other musicians.
The first three songs I wrote for the album sounded like they could have been on Hand. Cannot. Erase. and that's almost always the case with me. I find I almost have to flush my system out every time I write a new record. The first handful of songs always sound very much like a continuation of whatever the previous record was. The only criteria for me for a record is do the songs excite me? I'm not worried about the fans, management or record label.
Those first three songs were easy to put aside, because I realized they were part of a process I had to go through in order to come out the other side to write the music that would actually be on the record. There are some songs that make it over the final hurdle, get recorded and mixed properly, but for whatever reason, don't quite gel. It's an easy decision to distill the album down to the 10 or 11 songs that have fulfilled their potential and feel like they belong together.
There was one song called "How Big the Space?" which is a really good song with Andy Partridge lyrics, but it sounds like it's part of another record. It's a '60s psychedelic-sounding song and it wouldn't have fit on To the Bone. Context is always a question. The songs that ended up on the album felt like they fit together to me. "How Big the Space?" is something the record company felt could be a single. It's definitely something we're putting aside as the lead track of an EP or something else down the line.
How did Paul Stacey influence the way the album turned out?
Paul and I have mutual friends. Every time I would go out to dinner with these friends, they would say "You should really work with Paul." It was usually when I was in the middle of writing for my band-focused albums. I decided this album was going to be more of a solo project, even though there are a lot of other musicians involved. But it's not a band album. It was about finding the right musicians for each track, whether that was me or someone else. Once I realized it was going to be that kind of record, I knew I needed someone else to bounce ideas off. It's harder to be objective when you're the one playing guitar, bass, keyboards, and singing. So, I thought this would be a good time to work with Paul.
I went and met Paul and we spent a whole day listening to records and talking about what we liked about them. I laid out my manifesto that I wanted to make a record in the tradition of the great ambitious, accessible albums from the '80s. He was really excited by the idea and very good about keeping it focused on that. If he felt I was moving back towards my clichés, he would steer me away from them and try new things. He was essential to the project. I didn't originally plan to credit him as a co-producer, but it was very clear that halfway through the process he had naturally fallen into that role, which was great.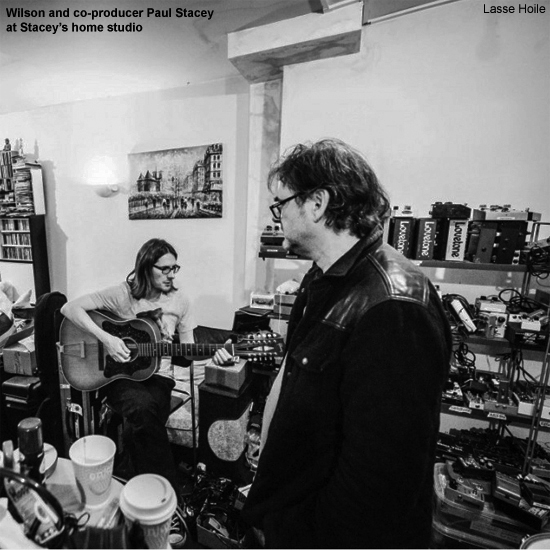 Stacey's home studio where you recorded the album looks claustrophobic in the session photos. Describe how the environment contributed to the recording process.
Paul basically lives in a junk shop. [laughs] He won't be offended by me saying that. He lives in a place that is just full of equipment. There is literally no way you can sit down without moving aside a beautiful piece of vintage gear. It was very inspiring because whenever we got to a point in the album when inspiration was running low, all I had to do was look around the room, fix my eyes on something and say "Let's plug that in Paul and see what it does." It was great to be surrounded by so many instruments, effects pedals, Leslie cabinets, amplifiers, drums, percussion, and other gadgets. A lot of that came into play on the record. It was like being a kid in a toy shop to be able to grab any of this equipment, experiment with it and employ it.
It was a very different process for me. The last couple of records involved having the music written and arranged prior to going into the studio. We'd go in for a week and record it. To the Bone involved three months in the studio with Paul. Most days it was just me and Paul and perhaps another musician would come in. It was a much more experimental studio experience. I was happy to change things up and keep things interesting.
The title track, with lyrics by Andy Partridge, opens the album and sets the tone for what's to come. Tell me what it's communicating.
As I said, there isn't a strong conceptual element to this record, but there is something that ties all of the songs together and it's questions like "What is truth? Does the concept of truth really exist? Isn't truth really perception?" We live in an age in which truth is so often twisted and perverted to serve different agendas. Truth is something that is filtered through so many different things, like your race, gender, politics, and religion. So, it seems to me that truth isn't really truth at all. It's your personal perception of reality. I wanted to write a song about that, but didn't really know how to go about doing it, initially. It needed to reference the world of politics and that's not something I'm really good at. I thought to myself "This would be a perfect opportunity for Andy, one of my favorite songwriters, to have a crack at it." So, I called him up and said that I want a song about the idea of truth as a flexible notion and perception. He ran with it and came up with not just the lyrics, but what became the album title.
Partridge and Stacey both have backgrounds unrelated to the world of progressive rock. Was working with both of them part of this perceptual shift you sought to make?
Neither Andy or Paul are particularly interested in making records or writing songs that are generic and that was so important to me on this record. I didn't want it to be a progressive rock record. I didn't not want it to be a progressive rock record, either. I just wanted it to be a Steven Wilson record. Andy came out of punk and New Wave, but quickly moved on completely away from those and defined a new sound. Paul has been with Oasis and The Black Crowes. Those are the sorts of musicians I've always admired—people who have carved their own niche. Andy and Paul weren't aware of my background in prog-rock or as the so-called "King of Prog" or any of that stuff. I realize it sounds like perhaps I'm being very ungrateful or disingenuous when I say these things. But it's not that I don't like receiving accolades or awards. Of course I do. I have an ego like anyone else. It's fun and great to have that kind of affirmation and vindication. But at the same time, I felt really uncomfortable with the idea that I am only a prog-rock musician, because I don't see myself that way. I felt if I can get people like Andy and Paul excited about my music and the songs we're writing, recording and producing, that means it's music that has transcended being generic. It's just good music.
Describe how "Pariah" relates to the theme of truth as perception.
It's a song that illustrates that in the simplest way possible, which is within the context of a relationship. The two people each have their own perception of how things are going and if it's working or not. The man is saying "What's the point of waking up in the morning and going on?" The woman is saying "There will be another day. You will rise again. Take comfort from me. Things are going to get better."
I wanted to specifically write for Ninet Tayeb. She previously sung on "Routine" and "Don't Hate Me" but those weren't written for her. This is the first time I wrote a song with her in mind, knowing what she's capable of. I very much wanted it to be a duet for us to sing together. In fact, we literally sang it together, face to face in the studio. That was very uncomfortable for me in a good way. I've never had the confidence to sing with anyone else in the room before. Paul was very focused on getting a performance out of me. He got me to think of myself as a singer, rather than a songwriter who happens to sing their own song. It took me outside of my comfort zone to be in the same room with Ninet, who is an extraordinary singer. It was completely exhilarating for me.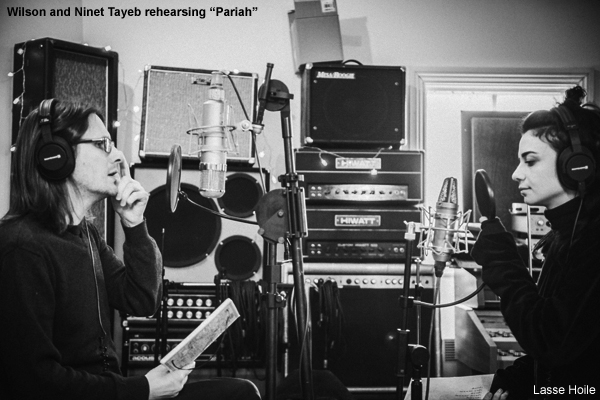 "Song of I" explores obsession and truth. What perspective is it conveing?
I wanted to write a song that had ambiguity at the heart of it. The song is about someone saying "I'll give up anything, including smoking, drinking, gambling, and staying out all night. But the one thing I'll never give up is you." That sentiment can be seen in one of two ways. It can be extremely romantic or a bit creepy. The idea of the song is to look at that balance. On one hand, it's a love song. On the other hand it's a song about obsession that can spill over into something destructive. I wanted it to be sung by both the man and woman together, so there wasn't any sense of it being gender-specific. Both genders are capable of this sort of obsession. I didn't use Ninet for it because she has this massive, powerful voice. I wanted someone that could sing it like a robot, but still make it sound really sexy and sensual. [laughs] Sophie Hunger was recommended by my record label. She also records for Caroline. I think she did a fantastic job singing on it.
"Detonation" is about twisting truth for reprehensible purposes. What inspired it?
The source of inspiration was the 2016 attack on the Pulse Nightclub in Orlando, Florida by Omar Mateen. He killed 49 people at the gay venue. There was a strong suggestion that he didn't really have an affiliation with a religious or terrorist group, but that he used the idea of a religious war as some kind of badge to justify his actions to himself and the rest of the world. The idea that this somehow made it okay for anyone because of a perceived religious fundamentalist organization linkage really started to worry me. The song is about one of those people.
Musically, it starts out as a very electronic piece and ends up in a four-minute groove. It's a nine-minute song, but on my previous work, a song of that length wouldn't have had the same two chords going around and around. It's a similar idea to the track "Dream Within a Dream" from Propaganda's Secret Wish album. It has a cinematic section with two chords going around. That's what the second half was originally going for, but then I had David Kollar play a pretty amazing guitar solo on it. It's really the only muso moment on the record, but I love it. The solo took the song slightly away from the almost Trevor Horn ZTT groove thing I intended. But even though it's nine-minutes long, it's not a piece you would have heard on Hand. Cannot. Erase. or The Raven That Refused to Sing. It's a different approach to the epic.
"Song of Unborn" is a track in which you encourage an unborn child to pursue a positive trajectory in life. Expand on what it's discussing.
I'm often accused of writing negative, depressing and melancholic music. A lot of fans would like me to stay that way, but I wanted to have some positivity on this record. At a time when the world seems more depressing than ever, I wanted this song to say to a child "You're looking out into this world and thinking 'Why would I want to be born into such a fucked up place? Why would I want to be born into a world where there are terrorists, politicians who lie, refugee crises, and religious fundamentalists?'" The song's message is simple: because you can do something extraordinary with your life. The gift of life is unique to all of us and it's up to us to make something valuable out of it. I do believe the arc of every lifetime can be really profound if the gift of life is embraced. I thought that was a beautiful message not just for an unborn child, but for anyone. It's an obvious thing to say, but sometimes I think it needs to be said. This is the last track on the album, which unusually for me, means it ends on a very positive note.
"Permanating" also has an uplifting theme, focusing on how happy childhood memories benefit us in adulthood.
It's about the idea of a crystallized moment of happiness. We all have certain memories of great joy that comfort us. We draw from them as a well of positivity when we need them. A lot of them come from childhood—an innocent period when we have no responsibilities and are discovering things for the first time. It's also about adulthood and being able to celebrate life and rising above all of its difficulties. I've long harbored ambitions to be able to pull off something I felt could sit alongside classic pop songs like ELO's "Mr. Blue Sky" or Abba's "Mamma Mia." In my own way, maybe I'm now starting to approach that with a song like "Permanating."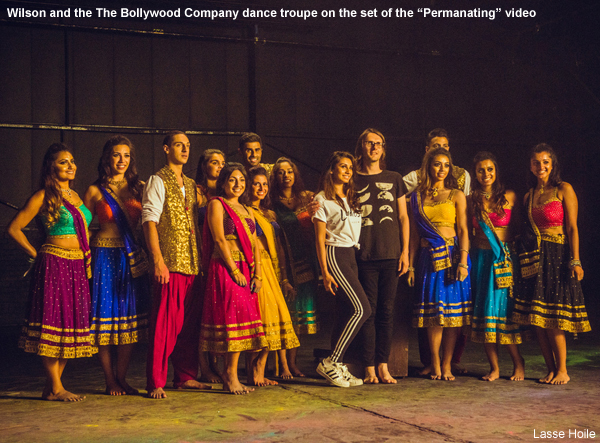 The video begins with you at your piano, solo, playing the introduction to the song as Bollywood dancers emerge around you. Is it implying you're in a dream state as you perform?
That's the implication, yes—that the whole thing is coming out of my head. I remember playing the song and then watching some Bollywood dancing on YouTube and I felt the two would work together well. So, that became my ambition for the video. It was quite complicated to pull off. In fact, we had to shoot the video twice. The first idea was to do it like a flash mob video. We filmed it in a public place and had the flash mob come out of nowhere, dancing as I play piano, with the people passing by being amused. It was going to have a kind of documentary feel to it, but it just didn't work. It didn't have the magic I was looking for. So, we went in a completely different direction and shot it in a cinematic way, full of glamorous costumes. We did away with the documentary feel.
Is there an element of exploding stereotypes for you with the video as well?
Again, it goes back to my childhood, in which there wasn't a distinction between conceptual rock music and pure pop. I didn't realize there was supposed to be snobbery about something that was in the mainstream. I think fans have a romanticized view about musicians not wanting to be mainstream, but I've never met a musician that didn't want to be in the mainstream. I'm sure there are a few out there. But if you said to a typical musician "Would you like your music to reach a mainstream audience?" almost everyone would say "Of course. Why would I not want to?" Music is for sharing. It's for as many people to enjoy as possible. I never wanted to be an underground musician. I've worked very hard to promote my music. I'm hoping with "Permanating," along with its video, that I now have a song that has the potential to cross over to a more mainstream audience and provide a doorway to the rest of the album, as well as my back catalog. But honestly, the song itself and the video weren't contrived to make these things happen. It just seemed so obvious that it would be a single and that it should have a joyous video.
Do you feel there's potential for cognitive dissonance with a video that has Bollywood dancers without any Indian elements in the music?
I don't think anyone can watch the video and say the dancing doesn't fit the music, because it does. These sorts of combinations are how the arts move forward. Putting things together that people don't expect and not being too reverential or hung up on cultural authenticity is what artists have always done. They've borrowed stuff from other cultures, put it together with what they do and tried to make things evolve. I'm not interested in being pure or faithful to any kind of music, cinema or dance. In this case, I was just trying to make something fun that appeals to me as a piece of film.
Were there any specific Bollywood films that influenced the video?
"Permanating" is a song all about color and joy. So, the look of the video involves maximum glamor, cinematic elements and color saturation. It was influenced by dance sequences from Bollywood films I've enjoyed, including Kuch Kuch Hota Hai, Dilwale Dulhania Le Jayenge, Guru, and Devdas.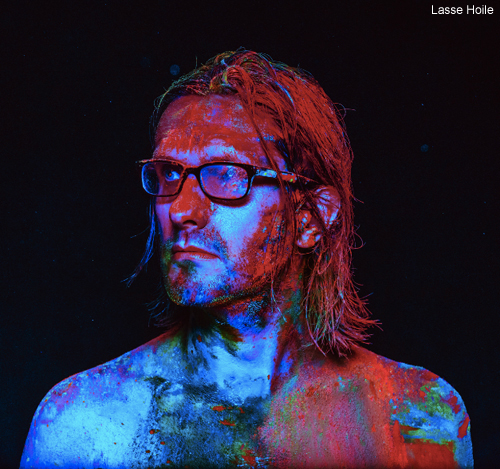 While we're on the topic of Indian culture, are there any Indian musicians you admire?
The percussionist and composer Selvaganesh is just incredible. I also really like Lata Mangeshkar, including the way the British act Four Tet sampled her work for its Morning/Evening album. It's wonderful how Kieran Hebden of Four Tet, who's half Indian, combined Mangeshkar's voice with electronic music on that recording.
In India, you're considered part of pop culture and your fan base continues growing significantly there. What do you feel has enabled you to penetrate that market?
It's very hard to say why my audience in places like India and Latin America is predominantly young, open-minded people who appreciate what I do in an open-hearted way. In America and the UK, my audience is older, more male-dominated and sees me as a prog-rock musician. I don't understand why things develop in different ways in different countries. I think it has something to do with the amount of mainstream exposure I get in those countries. In India and Latin America, I'm covered by the mainstream media. The music has also proliferated in those countries through file sharing and radio, opening it up to a younger demographic. So, it's always thrilling to tour in those places.
What are your thoughts about touring India?
The first show I did as a solo artist was way up in the North of India in Shihlong. Poverty is more prevalent there compared to places like Bangalore and Mumbai. But people seemed so full of life and joy. No matter what their social status is, people had big smiles on their faces. When you play places like Britain where people have everything, they're kind of spoiled. So many people go around with a grimace on their face, getting pissed off at one another for the tiniest things. At one point, I was going to name the new album Ask Me Nicely. [laughs] I had a song by the same name that didn't make it on the album that reflects on the idea that people can be so rude, short-tempered and aggressive at the drop of a hat. It's the opposite to India, where you can't get anywhere on time and you get stuck in traffic jams. It took us three hours once to get to the first big Indian festival show. We had to drive in with the fans. It was chaos, but everyone was hooting and having fun. No-one was losing their temper. Again, they had a sense of joy—the same joy that goes through the song "Permanating" and its video.
The new album finds you collaborating with a lot of new musicians instead of mostly working with your live band as you've done previously. Describe the philosophy at work.
One of the reasons I stopped being in Porcupine Tree was to do just that. That's something you can only do as a solo artist. If you look at the careers of Frank Zappa and Neil Young, both had bands for a period of albums or years. What I found slightly frustrating about being in a band was the notion that I couldn't change lineups from song to song. Now, the one thing I can't change in my career is me—my voice, my personality and my clichés. But now I can bring in different musicians and use them to inspire me and take me in different directions, whether it's Paul Stacey, his brother Jeremy Stacey on drums, Mark Feltham on harmonica or Robin Mullarkey on bass, who's John Giblin's son. Bringing in people like that is what I always wanted to do as a solo artist. I want to keep changing the lineup, moving the goalposts and changing the whole landscape of the music. If anyone thinks they have a handle on me, whether it's the style of music I make or the people I make it with, they're going to be disappointed time and time again, I'm afraid.
How did you first encounter guitarist David Kollar and what drew you to his approach?
Pat Mastelotto recommended him to me. They work together in a band called KoMaRa. David also contacted me independently of that. Pat gave me a copy of the KoMaRa album and I immediately thought David was a very interesting, unique guitar player. For "Detonation," I wanted a dazzling guitar solo, but I didn't want it to sound old fashioned. I wanted something about it to be fresh and modern, and David nailed it. When you listen to his solo, you're listening to someone who's shredding, but it's difficult to place what genre it's coming from. It's not blues, jazz or metal. It's all of them at the same time. His use of sound processing also appeals to me. He integrates his guitar pedals and laptop into the fabric of what he performs. There aren't a lot of guys like David that I've come across. It was an experiment to use him on that track and it paid off, musically.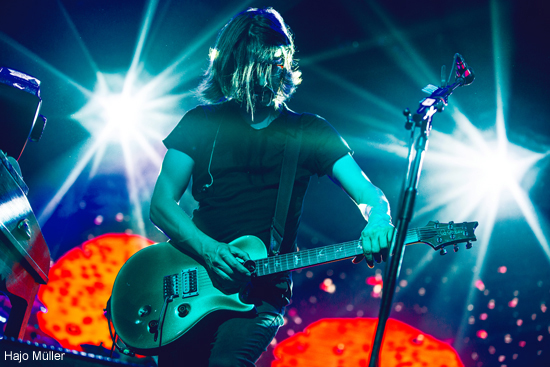 Historically, you've been self-deprecating about your own guitar work. On To the Bone, you perform most of the guitar parts yourself. What made you want to put yourself to the fore in that regard?
I think it was a natural consequence of the decision to make a more song-based record. The one thing I felt strongly when it came to solos on this album is I wanted them to be an extension of the vocal melodies. When you bring in a superstar guitarist like Guthrie Govan, Dave Kilminster or David Kollar and say "You have 32 bars to do your thing," they see that as an opportunity to make their mark. They want to show what they can do. That's completely understandable, of course. But that's not what I wanted on this record. So, even though I'm not the greatest guitar player, I do have a strong personality on the instrument. I think it's a recognizable sound. It's an organic approach. I'm not showing off. I've always been more attached to people like David Gilmour than shredders. I've always been more interested in musicians that serve the song. This doesn't just apply to guitar. It also applies to the bass playing and keyboard work I did. I knew what was required for the songs and felt I could play those parts myself.
Adam Holzman is a constant presence on this album. What makes him an indispensable musician for you?
Adam completely understands where I'm coming from—not that other people don't. He's a guy that is basically a jazz musician, but listens to electronic music and progressive rock. He grew up with those things and doesn't have any snobbery. He played most of the piano parts on the record. There's a lot of piano on the album. I remember wondering if Adam was going to dig playing the almost mechanically-repetitive piano part on "Permanating," but he did and loved doing it. That's what I love about playing with Adam—he really enjoys playing in service of the song. He's very easy to work with and very open.
Tell me about the decision to move from Kscope to Caroline for To the Bone.
I thrive on change. I was on Kscope for a long time. I made four records for them. This record was made before I signed to Caroline. I know there are some people who are going to try and put two and two together and say "He signed with a major record label and they forced him to make a record that's more song-based." The exact opposite is true. I made a more song-based record and felt I should look for a label that might be able to take it to a different place and have a wider reach. I felt Kscope had done as much as they could for me. I think they felt the same way.
I wanted a new label that didn't have a preconception of me as stuck in a particular genre. Caroline didn't have anyone like me signed. And I like that. I like the fact that I'm now on a label with Van Morrison, Underworld and St. Vincent. All of these people don't have preconceptions attached to them other than the fact that they're really interesting artists. At Kscope, I felt slightly like I was part of a job lot of bands that had a very defined sound and market. It ultimately became a negative thing to me to be on a label where all the other bands were similar stylistically and marketed in a similar way to a similar demographic. At the same time, I acknowledge that can also be helpful when you're starting out.
Caroline has a very different approach and philosophy. They're a lot more involved in online promotion. To their credit, Kscope was all about physical product and maximizing the audience that is still interested in that. They never really encouraged me to engage with things like Spotify before. I admit I wasn't enthusiastic about it for a long time, either. But the simple truth is, if you want to reach a younger audience between ages 18 and 30, you have to be on Spotify. Things have changed.
To the Bone has generated polarized reactions from your existing fan base. What do you make of the conversations occurring?
I'm aware of the reaction from the fan base as being quite controversial and mixed, but I take that as a very positive thing. I never look at social media postings. I've never been particularly interested in that stuff. One of the problems with putting human beings together on the Internet is that you get people who become very fond of their own voice and enamored with their own opinions. It's a very modern thing I try to avoid. I haven't read a single comment to be honest. I have people tell me when something is happening on Facebook, but that feedback isn't relevant to me. It's a very 21st-Century thing to be able to get feedback directly from fans. During the golden era of pop and rock from the '60s through the '80s, musicians didn't have that kind of connection to fans. They never really knew what fans thought about their music. I prefer to maintain a similar kind of state.
The songs leading up to the release of the album like "Pariah," "Song of I" and "Permanating" were deliberately chosen to emphasize the differences between this record and the previous ones. What I would say is if you had decided that I am a prog-rock musician or fit into some sort of box, that's your problem and assumption, not mine, because I never claimed to be that. Yes, I have made a lot of records in that style. But if you look at my catalog in the broader sense, which is 50-60 albums including Bass Communion, Blackfield and the metal albums, probably less than half of them could be called progressive rock. I will acknowledge that the progressive rock albums by far have been the most successful of my career. But I don't feel particularly bound to the genre. I've done something that doesn't fit that categorization with the new album.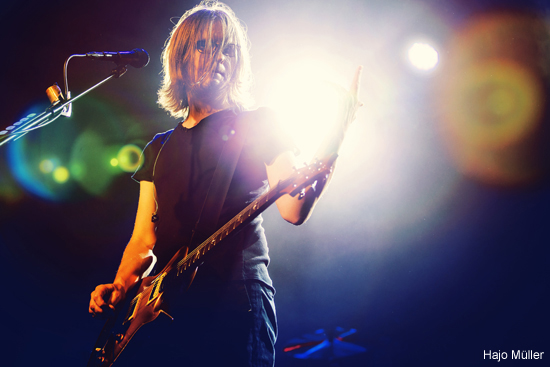 You do have a strong presence across social media, despite the song "Pariah" having a line in it that goes "I'm tired of Facebook."
I'm not anti-social media. I do use it, of course. In some ways, social media is amazing. The idea that I can get information to my fan base so quickly, so easily and for free is incredible, whether that's Facebook, Twitter, Instagram, or YouTube. The downside is the unbelievable amount of noise and bullshit. There's something about social media that stimulates the need to share everything, no matter how banal or trivial, with the rest of the world. Also, the fact that you can be very negative, critical and vitriolic towards other people from a position of complete anonymity taps into all the worst aspects of human nature. You can get bogged down in that world and it can become very depressing, very quickly. You can also become addicted. Social media stimulates an obsessive side of your personality. It can also be an incredible waste of time. It's an unbelievable way to waste hours going through this pointless rhetoric. That line in the song is to a degree, autobiographical. I am tired of Facebook. I'm tired of everyone being a journalist and a critic. I wish I could tune out the whole world of social media, but I can't because it's very useful from a professional perspective.
You've released two Fovea Hex EPs, The Salt Garden I & II, on your Headphone Dust label. What makes the band's output special to you?
The simple answer is I thought it was incredible music. When you hear something incredible no-one else has heard of, you get evangelistic about it and want to spread the word. That's ultimately what makes people want to start record labels. I've been listening to Fovea Hex since their early EPs and felt it was sublime, spiritual and totally extraordinary music. I'm not alone. Brian Eno feels the same way about Clodagh Simonds from the group. She's working in an area not many are in ambient music. Fovea Hex is song based, but it doesn't have any of the New Age banality that music sometimes ends up having. The closest comparison would be like what Dead Can Dance was doing at its peak. Fovea Hex's music has that quality for me. It's jaw-droppingly beautiful music. It has been great to see some of my fans discovering the music. That's what I hoped to achieve.
Provide a snapshot of your upcoming album remix projects for other artists.
I've done virtually nothing during the last year because I've been totally focused on To the Bone. I'm catching up on things between promoting the album and the tour next year. I'm very committed to continuing with the XTC remixes. Black Sea was just announced. We're averaging one a year, which is about right when you consider the amount of work that goes into each of those. They're really like a box set on a single Blu-ray disc. Andy Partridge puts demos, rehearsal tunes, videos, promotional films, the instrumentals, a flat transfer, and stereo and surround remixes on them. It's amazing how much stuff is on those. And yet there are people who still feel entitled to more. It's extraordinary the comments I read about them sometimes.
I'm continuing with Gentle Giant too. We're about to release Three Piece Suite, including my remixes of material from their first three albums. Ray Shulman from Gentle Giant also authors a lot of my Blu-ray discs. We have this relationship in which he does a job for me and I do a job for them. He authored the To the Bone Blu-ray as a swap for me remixing the tracks for Three Piece Suite. No money changes hands. And I love their music, too, so it's a great situation. Gentle Giant is perfect for surround. It's contrapuntal music with a lot of layers. Everyone is playing different parts. I can do a lot with that.
I'm continuing with the Jethro Tull back catalog as time allows. That's been a very well-received series and a lot of fun to work on because Ian Anderson is so motivated and supportive of the project. I think the next one will be Heavy Horses and we'll eventually do the first album at some point.
Marillion's Misplaced Childhood just came out. That was a tough one because there's not a lot to work with for a surround mix on that album. The 5.1 mix is nice, but it's not particularly whiz-bang. It's a very simply-recorded album. There aren't any backing vocals or sound design. Most of the time it's drums, bass, a single guitar line, a single keyboard, and a lead vocal. What could I do with that? Not a lot is the answer. I made it sound nice and a bit more immersive.
I've started working on Marillion's Brave, which is a completely different kettle of fish. There are backing vocals, sound design and all kinds of layers to the music. It's a very conceptual record that will sound very cinematic in surround.
Do you feel your approach to surround remixing has evolved over time?
I've got a bit better at it. I think I hit on the approach people like pretty early on when I did the King Crimson and Porcupine Tree surround discs. They went down very well in the surround sound community. I think it was probably because I was approaching them without any preconceptions of what you should and shouldn't do in surround. I just did what I felt sounded good to me. I realized later I was doing stuff other people hadn't really done. I was being very aggressive with the surround elements, including using the center speaker for vocals. People seemed to dig that, so I've stuck to my approach ever since.
Several artists now embed your name right into the artwork of the remixed albums. How does that make you feel?
It appeals to my ego. [laughs] It's nice to see the subtext there, which is my name to some extent has become an indication of a certain level of quality for the surround mixes. There have been plenty of examples of surround mixes that haven't been done very well and weren't well received by people who loved those records. For whatever reason, my remixes are seen as something that people can have a degree of confidence in because they're done sympathetically. It's flattering to be acknowledged on the artwork or the sticker on the album.
What can people expect from your 2018 tour?
It's going to be spectacular. I'm investing a lot more, not just in terms of money, but in terms of thought and time. I'm preparing something even more visually immersive than before. Previous shows have been visually immersive, but this show is going to take that to another level. A lot of the themes of the album will be explored through new films and visuals. A lot of the show will be based around To the Bone, but I'll also be delving into my back catalog again to pick out some gems from the past that I haven't done with my solo band before.
The band lineup will be mostly the same as the previous tour, with Nick Beggs, Craig Blundell and Adam Holzman. We have a new guitarist, Alex Hutchings, because Dave Kilminster, who did the last tour, is out with Roger Waters next year. Ninet Tayeb will also be touring with me. She has her own touring commitments, but will perform at as many shows as possible.
What does turning 50 this November mean to you?
It means I'm running out of time. I don't think I feel or look 50, but the facts speak for themselves. Every step along the way in my career, I feel I'm getting a little bit closer to what I originally dreamed I could be when I was age 10. That's when I first fell in love with music and had this idea of what I could be and achieve as a musician. The truth is, it has taken a lot longer than I ever thought it possibly could. I never wanted to be a prog-rock musician. I just wanted to be a musician who could do anything. It has proven to be quite painful for some of my fans to realize I'm not interested in being a generic prog-rock musician. Time is ticking on and every album feels like things are getting closer to what I imagined the music can be. But it's really tough, because the music industry has gone in the opposite direction to the one that would have facilitated this path. I've been constantly swimming against the tide to reach my goals. The process continues with To the Bone.