Swati
Healing Influences
by Anil Prasad
Copyright © 2007 Anil Prasad.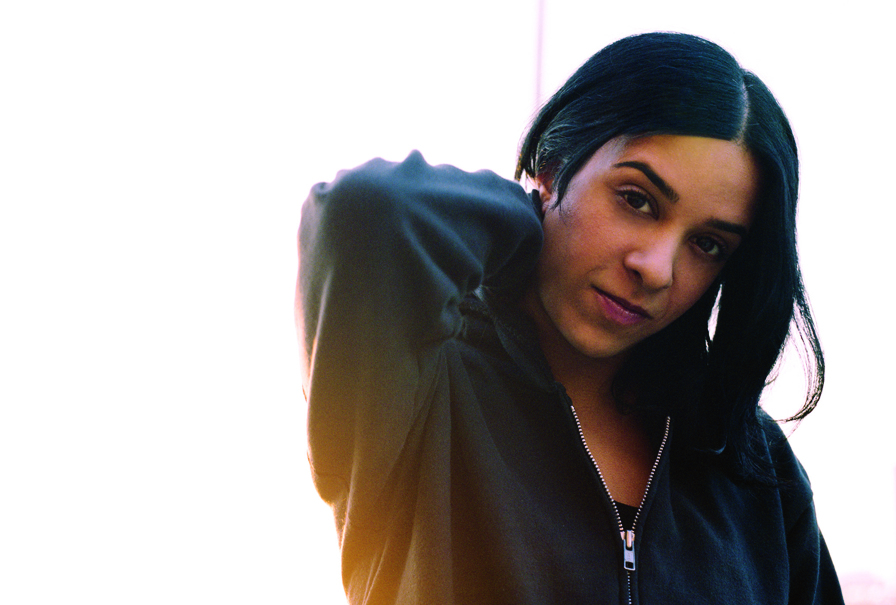 Finding beauty in chaos is at the core of New York City-based singer-songwriter Swati Sharma's latest CD Small Gods. Sharma, who prefers to go solely by her first name, explores themes that include triumphing over the soulless pursuit of material wealth, untangling parental strife, and the healing influence of finding intimate emotional connections with strangers. The raw intensity of her brutally direct lyrics and gritty vocals are mirrored by her guitar accompaniment. Swati relies on a delay- and distortion-drenched Alvarez Yairi acoustic-electric 12-string to create mercurial arrangements that range between intricately-picked rhythms, ambient chords, to wild shred-fests that would make the most jaded metal-head blush—sometimes within the same song.
To say Swati's Alvarez Yairi set-up is unconventional is an understatement.
"I chose a 12-string because I wanted a bigger, swelling sound than a six-string," explains Swati. "However, I also wanted en even beefier low end, so I took off the octave strings except for the B and high E strings, leaving only eight strings on the guitar. I kept the double B and high E because I like the chorusy, orchestral element they add."
Swati typically tunes everything a half-step down to make her sound even richer and deeper. She also employs 10 other open tunings that she's memorized and intuitively finds through her own string-to-string comparison tuning process. At the center of her sonic storm is a Boss DD-5 Digital Delay pedal that she often pairs with other pedals including a Boss DS-2 Turbo Distortion, Boss OC-2 Octave, and Fulltone Clyde Standard Wah.
"When I was a kid, my father got me an overly-complex Digitech rack delay system that I used with my first guitar," says Swati. "The action on the guitar was so high that there was no possibility of being able to play it properly, so I just hit the strings percussively as if I was playing a piano or a drum. I felt the way the delay unit screamed back at me worked hand in hand with that rhythmic approach and it played a major role in developing my sound on the instrument."
Delay also evolved into one of her key arranging tools.
"When I start to play and the invisible, digital action starts happening, it initiates a subconscious reaction inside of me that helps me see where I want to go with a song," says Swati. For instance, on 'New Me,' I play four chords in the main verse, but they kept bouncing back at me and filled in all of the space as I was putting it together. The delay created a flow that guided me into each successive part of the song, including the choruses. It really helped me think about and create a structure for how the song unfolds."
As for sowing the seeds of her songs, Swati prefers serendipity over process.
"I've never once sat down with the intention of writing a song and I don't play scales or practice chords or anything like that," says Swati. "Writing is a kind of mediation for me. I find that music and words come together in my head at the same time and hopefully I remember everything long enough to get to my guitar and make it happen. I avoid writing things down because I feel if the music and lyrics are meaningful they'll stick in my head. Also, I find if I write things down it sounds as if I'm singing from something written. So, what I do is take what I hear in my head and find a rhythm to settle into that reflects mind, body, spirit, and guitar. I'll keep going with that rhythm using my delay and jam for five minutes up to a half-hour and hopefully ideas will emerge. It's a therapeutic experience. I'll find that if I'm sick, my throat will often clear up at the end of one of those sessions. It's pretty cool."