Jamaaladeen Tacuma
Infusing Grooves
by Anil Prasad
Copyright © 2008 Anil Prasad.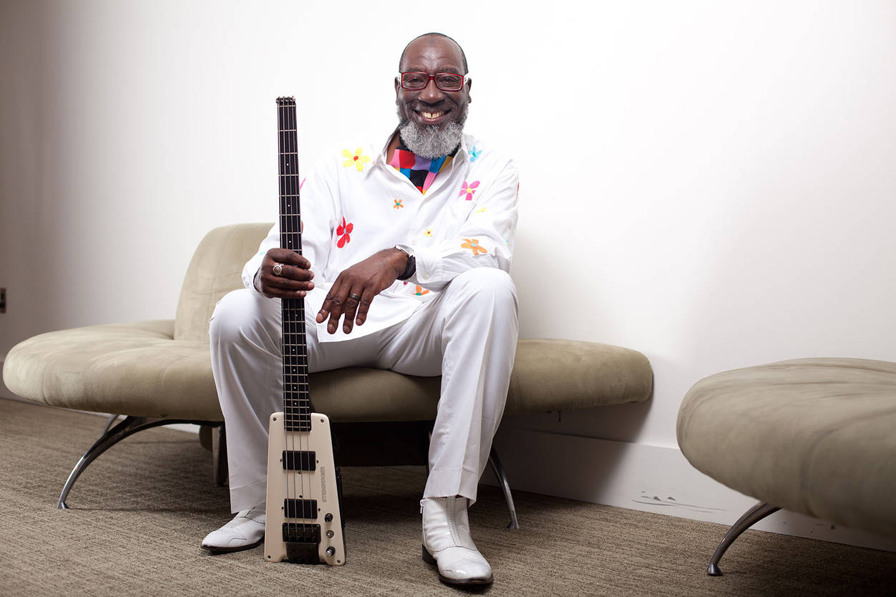 Jamaaladeen Tacuma is fiercely proud of his musical chameleon status. One never knows what they're getting when a new Tacuma album gets released. Will it be free jazz, fusion, world music, hip-hop, soul, funk, pop or something that straddles several of those genres? The answer won't be revealed until the "play" button is pushed. It's a philosophy he derived from working with mercurial sonic omnivores such as Ornette Coleman, James Blood Ulmer, and Kip Hanrahan early in his career, and one he's applied to his new CD The Flavors of Thelonious Monk Reloaded.
The live recording features highlights from the jazz icon's classic repertoire recast with deep funk basslines, dynamic percussion, and pulsating electronic textures to create a unique tribute album. The Philadelphia-based musician brought along several high-caliber local players along for the ride, including keyboardist Orrin Evans, drummer Tim Hutson, percussionist Napoleon Black, and DJ King Britt.
Tacuma's appetite for the unexpected also manifests itself in Free Form Funky Freqs, a new, all-improv power trio with guitarist Vernon Reid and drummer G. Calvin Weston. The group's debut disc, Urban Mythology: Volume One, captures a live studio session that seamlessly shifts between rock, jazz, and funk. Jamaaladeen's other group, the bass quartet Basso Nouveau, includes fellow Philly bassists Gerald Veasley on 6-string, Warren Oree on acoustic upright, and Tyrone Brown on electric upright. The group's most recent album, All Basses Covered, offers spirited originals along with covers of tunes by bass influences Stanley Clarke, Charles Mingus, Larry Graham, and Sam Jones.
What drove you to pursue the Flavors of Thelonious Monk Reloaded project?
It's a continuation of a project I started with an Austrian saxophonist named Wolfgang Puschnig. We released the first Flavors of Thelonious Monk album in 1994 to bring our duo concept and textures to Monk's music. We wanted to represent the music of the masters in the current era. It's cool to put on a tux and go hear Beethoven and Brahms, but getting dressed up to go hear the music of Monk and Coltrane is great, too. We want to have this music taken as seriously. I revisited the idea on The Flavors of Thelonious Monk Reloaded because I wanted to approach Monk from another angle, with piano and a full band. It's almost a movie approach in which you explore a concept, and then come back to it years later with different actors and producers to get a different feel and effect.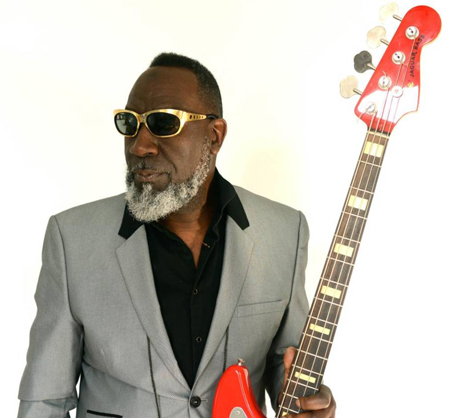 Tell me about the philosophy behind infusing Monk's work with 21st-century grooves.
Monk's music truly stands alone. There was nothing melodically or harmonically I could do to make any of it better, and I didn't set out to try. I wanted to create a modern representation that reintroduced his genius with a groovier foundation. The beats and grooves are what distinguish American popular music of the last 30 years. As a bassist, you have to understand a lot of things, but the concept of the groove as it relates to the foundation is very important to me. I like that supporting role, but when I'm improvising, I'm even happier. That side is represented on the album, too.
Your new album with Free Form Funky Freqs was entirely improvisation-based. Describe the process of putting it together.
We started with a series of concerts in which we didn't talk about the music before or after we performed, and the audience loved it. We went into the studio with that same concept and played everything that came to our minds over the course of two hours. The tunes began with me striking up a groove and Calvin and Vernon jumping in, so it was extremely organic. We had to break down the material and edit it for the CD, but that was easy. The obvious starting point for the tunes was the groove, and when a groove changed, it often represented a logical place to end a track. I've only heard the album once, and I don't want to hear it again. I'm concerned that if I spend too much time with it, it might influence how the next recording or concert comes out.
How do you avoid low-frequency clashes when playing with the other three bassists in Basso Nouveau?
We rely a lot on arrangements to pull it off, but it's a real challenge. If we're not careful, we can end up in some murky sonic territory. In essence, the drummer is the accompanist in the group, and we are all soloists, so we each have to stay very conscious of what the others are doing. If somebody is starting to approach a range you're in, you have to immediately go somewhere else. We also physically look and see where the others are playing to see if someone is going somewhere in conflict. It's a lot of fun, but there's a constant whirlwind of tonal and harmonic adjustment going on.
Your current instrument of choice is the DiPinto Belvedere Deluxe Bass Guitar. What makes it ideal for you?
I used to play a beautiful all-maple Gibson EB-750 hollowbody bass. They only made something like 70 of them. It got stolen, and I wasn't able to find another. So, I went to the luthier Chris DiPinto and said I wanted to have another hollowbody instrument with a vintage look. He and I developed the instrument together. We made two custom, semi-hollow versions first, and then he started manufacturing them. The one I play now is off the rack. It has a mahogany body, maple neck, two chrome single-coil pickups, a black and white vintage finish, and a "sparkle" headstock. I love the instrument's versatility. When I'm playing in more of a supporting scenario, it can have a very wide, round bass sound, and when I'm improvising, I can access great mid- to high-range sounds, too, so I can be heard in terms of melody.
You've strictly avoided using effects in any of your recent recordings or concerts. Why is that so appealing?
It brings me into an organic state. At the end of the day, it's just you, the instrument, and what you bring to the audience. The idea is to use what you have and do the best with it, unlike the rich guy who has all this stuff in front of him when he goes to play. When I hear that, I'm not impressed. Come on—if you have a decent bass and amplifier, just go play. If you're a great bass player, you don't need a thousand pedals in front of you.
When I do clinics, I tell the guys right away, "Some of you are going to be great bass players, but you know what? Some of you are going to be doctors, lawyers, and bus drivers." They get upset and say, "We paid all this money and the first thing you tell me is this?" Yes, because that's reality. If the Creator wants you to have something, ain't no one gonna take it away from you. If you're not supposed to have it, you ain't gonna get it.