Richard Thompson
Narrative Journeys
by Anil Prasad
Copyright © 2010 Anil Prasad.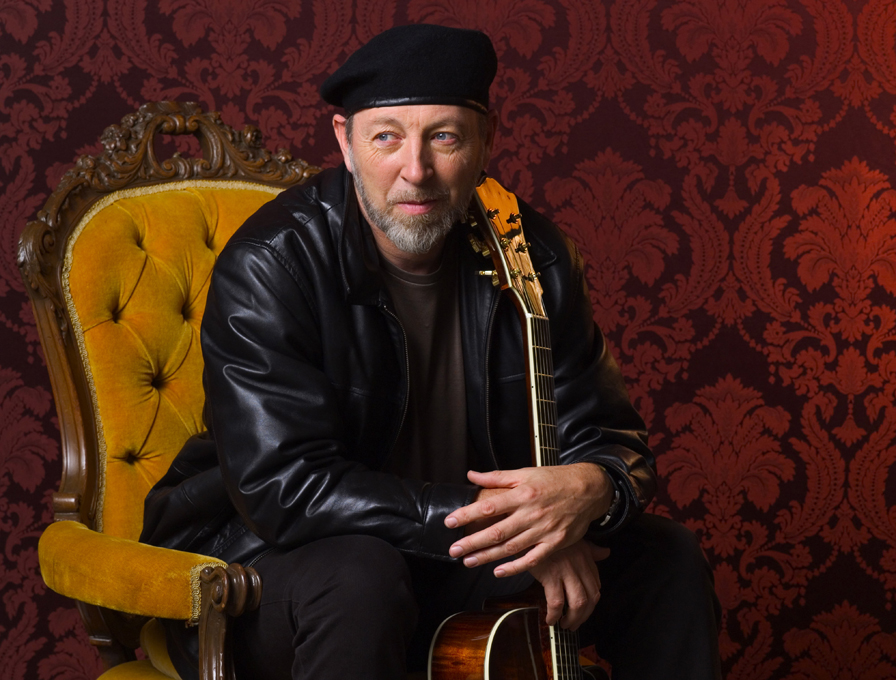 Richard Thompson is truly a consummate musician. His searing, soaring electric guitar work and intricate acoustic hybrid picking are the stuff of legend, and have firmly established him as one of the most versatile players to ever emerge from Britain. His output as a singer-songwriter is no less impressive, with an enormous body of work spanning more than 40 years and 400 songs, encompassing rock, folk-rock, traditional folk, jazz, rockabilly, and soundtrack contributions.
A new comprehensive four-CD box set, Walking On A Wire: Richard Thompson (1968-2009), captures highlights from across his career. It includes tunes from his tenure as a founding member of British folk-rock pioneers Fairport Convention, his duo albums with ex-wife Linda Thompson, as well as a wide-ranging selection from 20 of his solo discs.
Another notable recent release bearing his name is the Lowden F-35C RT Richard Thompson Signature Model guitar. Currently serving as his acoustic instrument of choice, it features Ziricote back and sides, matching Ziricote veneer on back and front of the headstock, a Cedar top, a soft cutaway, Rosewood bridge, and a five-piece Mahogany/Rosewood/Walnut neck.
Aspiring mock guitarists can also experience what it's like being in Thompson's shoes via his participation in the popular Rock Band 2 video game. "The Way That It Shows" from 1994's Mirror Blue is now available as a downloadable track that lets gamers play the song's riveting solo through its guitar controller.
Thompson is currently working on material for a forthcoming electric band album. He also hopes to mount several upcoming performances of his new large-scale song cycle Cabaret of Souls—an epic undertaking he discussed during this expansive conversation.
The new retrospective represents the third time a label has boxed you up...
Yes indeed. Embarrassing isn't it? [laughs]
How would you describe the journey it reveals in terms of your evolution as a musician?
Wow. Easy questions first! A journey from incompetence to competence? [laughs] I suppose the older you get, you probably acquire what's referred to as "maturity as a musician." What I think that means is you make better choices. You might have better technique, but because your musical sense improves, you also get more tasteful or your phrasing gets better. So that's my impression of it, assuming I was to sit down and listen to the whole thing, which I actually haven't done.
Really?
Really. [laughs] I'd have to be dragged screaming to hear that many hours of my own music. That would be terrible. I can listen to short bursts, but to listen to the whole lot would be too painful. Box sets are supposed to be a summary of your career, but when I think about them, thoughts like "Is that all there is?" and "Is that the best I can do?" come to mind. Also, I say to myself "Surely there must be something else worthy in the future." So, I usually find these releases kind of sobering and they drive me to work a bit harder.
When you listened back to the short bursts of material on the box set, were there any revelations about your early guitar work that surprised you?
There's nothing I'd be appalled by. [laughs] When I was younger, I played fine. Certainly there are technical things I'd change about the notes I played, but technically there's nothing embarrassing. There's nothing I responded overwhelmingly positively to, either. I'm not that far away from the stuff that's even 40 years old. I manage to hear my older stuff periodically one way or another, so I don't think there's anything in the set I haven't listened to for a long time.
Are there any songs in the set you'd point to as representing an ideal balance of song and guitar craft?
Gosh, more tough questions! The performances I like most are the ones where the guitar is really playing around the structure of a song. For me, guitar playing is always about the song. I like to bring whatever skills I have—guitar playing or singing—into the song framework. My favorite songs are those in which the guitar is sitting right there in the framework. If a solo is played, my preference is that it's not shouting out at you or about showing off. Rather, it's just part of the fabric of the song.
Let's take a song like "Did She Jump or Was She Pushed?" from Shoot Out The Lights. That's a good example of the guitar being a part of the furniture, but in a way I really like. Every song I release has an arrangement and that arrangement can be very, very loose, in which the singer sings a verse and the guitar solos for a verse, but it's nice when the elements of the arrangement are more integrated than that. Ideally, when the singer is singing, the guitar is answering or playing something that fits the rest of the arrangement, along with the bass and drums. I like the guitar to provide some interesting musical development from verse to verse. I like to harmonically tease things along so I'm almost developing the narrative along with the singer. You're telling an instrumental story against the vocal story. And when it comes to a solo, you're stepping out a little bit, but not that far, so you're still in narrative, storytelling mode. You're not jumping too far away from the rest of the rhythm section. You're just kind of sliding along and developing things harmonically, thematically and melodically to the point where the vocal can take over again and continue with the narrative in word form.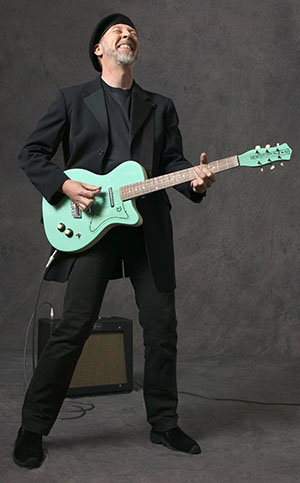 You believe successfully creating a solo with any complexity requires players to do some homework. Elaborate on that idea.
The homework is you have to work out the components of what you're going to play. When you create a solo, you're usually playing bits and pieces of things you already know and the challenge is to reassemble them into something new. You have these clichés that you play and they might be your clichés or based on someone else's clichés. They might also be a general part of the guitar playing vocabulary. The other side is when you start to flow as a soloist, sometimes your imagination will rearrange these little pieces into a new structure and build something unpredictable on top of that. In the best case, when your imagination is really taking flight, it's as if the solo is playing you and you're being taken on a journey. For me, the best feeling in music is when you're truly improvising and don't know where you're going, but you know you're going to arrive at an interesting place. It's really exciting. At the end of it, you think "Wow, that's amazing. How did I play that?"
Lowden guitars are your favorite acoustic instruments. What makes them special for you?
I have a few Lowdens, but I think my F-35C-RT signature model is exceptionally good. It sounds great because it's loud, punchy and sweet at the same time. It creates a unique impact for each note in that every one of them projects really well. It also has an even balance between bass and treble and offers very even response across the fingerboard. I use a walnut and cedar Lowden L32C onstage, which is basically the same model and shape. The Lowdens also really work well with my pickup configuration. For the L32C, I use a Sunrise magnetic sound hole pickup and a Countryman Isomax condenser mic inside the sound hole.
You've said you're a "rock and roll acoustic guitar player" at heart. How does your Lowden setup enable you to express that side of things?
The Lowdens really let you do most things well, rock or otherwise. They're really good for finger-picking, fingerstyle work and strumming. I think the pickup configuration contributes to the acoustic rock sensibility even more than the guitar. The Sunrise pickup gives you a lot of level. You can really crank those things without getting feedback, which is important because I like to play fairly loud onstage and have the monitors very loud as well. I'm not working with polite acoustic guitar levels. The Sunrise isn't screaming in your face, but I think it's edging towards a rock sensibility.
Describe your acoustic signal path.
I use a Ridge Farm Industries Gas Cooker pre-amp which warms up the sound considerably. The Sunrise pickup can sometimes be a cold, slightly metallic-sounding thing and it becomes a lot more human through the Gas Cooker. The internal condenser mic puts a lot more air around the sound too. I've also got a Line 6 DL4 Delay Modeler which I mostly use to create treatments that are similar to old tape echo-like sounds and warm repeats. In addition, I use a Fulltone Deja'Vibe Rotating Effect Pedal on a few things because I like the way it sounds with acoustic guitar.
Your '59 Sunburst Stratocaster, with a Maple '55 neck, and a custom Strat-style Ferrington are your favorite electric guitars. Why do you find the Strat universe so appealing?
My '59 Strat doesn't play live these days very much because it's in need of serious work, so I use the Ferrington, which has an extra-wide maple neck, as my main onstage electric instrument. The reason I first got into Strats is because guitar players I admire were playing them when I was younger. I was a big Buddy Holly fan, who was a major Strat player. I was also into James Burton. Although he was playing a Telecaster, he put me into that Fender frame of mind. Hank Marvin of The Shadows was another glorious Strat player who inspired me to pick up the instrument. Another reason I like them is because Strats and Strat-like guitars use a single-coil pickup, which provides a sound closest to the one I hear in my head. I think it really imitates a human voice well with its slightly edgier and toppier sound. It's a more expressive instrument. It also offers a kind of weight to each note. Somehow, Strats make the notes count more. You can point to musicians like Charlie Christian and Louis Armstrong and say with certainty that every note they played was absolutely essential. I think the Strat's single-coil pickup helps me make each note important.
The Ferrington includes three pickups, each with a separate selector and volume control. What flexibility does that give you?
The guitar lets me combine the pickups—a P-90 in the neck, an Alnico Strat in the middle, and an old Broadcaster in the bridge—any way I want, which is great. I can roll-off volume on any pickup to create an infinite number of unique tone variants. It allows me to generate really good tones that blend in well with other instruments. They're less spiky or in-your-face than full-on volume tone. That means rhythm guitar tones can be made more subtle. Setting the guitar up this way was an experiment. We went through a bunch of pickups until we came up with something that sounded really good. The pickups are all glued on, not screwed on, which gives them more sustain too. Also, the guitar has less circuitry in it than most, which makes the tone a little purer than other instruments.
What setup do you typically run your Strat and Ferrington through?
For amps, I use a Divided By 13 FTR 37 Head and a Divided By 13 2x12 Speaker Cabinet. As for my pedal board, it's pretty standard stuff. It includes a Divided By 13 Switch Hazel; a Sweet Sound Electronics Mojo Vibe set to vibe mode; a Fulltone Supa-Trem Tremolo Guitar Effects Pedal; a Carl Martin Red Repeat Delay pedal; a Barber LTD Overdrive Pedal; and an Ernie Ball Volume Pedal. I also like using the Fulltone Deja'Vibe in my electric rig. It provides a real fullness and expands the lows and highs of what is really a mid-range instrument. It's also nice to have a bit of wobble. I've always liked a bit of wobble on everything I do.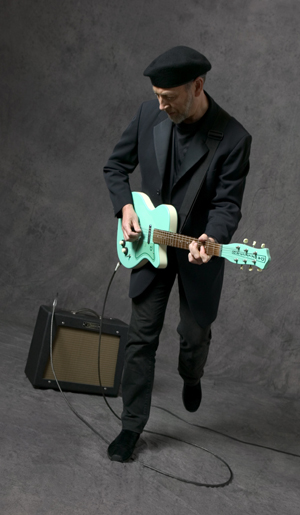 You're a fan of alternate tunings, particularly C,G,D,G,B,E; D,A,D,G,B,E and D,A,D,G,A,D. What draws you to those three?
They give you more notes ringing over your playing, which creates the impression of a fuller sound that makes the guitar more orchestral. Modal tunings like C,G,D,G,B,E also really extend the possibilities of the guitar by giving you a richer bass sound that to me, is almost like having three keys available at once with just a very slight adjustment of your fingers. Any modal tuning offers a slightly elusive quality that blurs the edges of the key you're playing in. They really add a haunting quality to British traditional music, which is often performed unaccompanied. When you first investigate a traditional song, it's not always clear what tuning you should use. Your mind might conjure up a harmony that fits around a naked tune, but it's unclear what the key should be. A modal tuning makes it possible to keep that elusive nature and retain an almost pleasing ambiguity. There's nothing worse than a folk song that sounds floaty and ethereal because it's locked down into a very European musical tradition focusing on A, D and E, with all of the harmony filled out. That stifles the song. I like to use open tunings keep the modal quality and mystery alive.
These days, onstage, I try not to play in too many tunings. I use three or four max, because it's such a pain retuning throughout a set, unless you have hordes of guitars or techs backstage tuning everything. It's also a pain to keep switching guitars.
Video game enthusiasts can now have their way with "The Way That It Shows" via Rock Band 2. How did that opportunity come about and what do you make of the result?
I don't know anything about Rock Band. I've never seen it. I don't own one. I don't know how it works. I gave permission for them to do it in my naiveté and I hope it's great. [laughs] It sounded like a good thing to do. People said it's a great idea and that I should take part in it and I said "Okay, fine."
You recently premiered your ambitious new song cycle Cabaret of Souls in Philadelphia. Tell me about the concept behind it.
It's insanely ambitious. It's the first time I've really done something with an orchestra. In this case, a string orchestra. It's a commission by the International Society of Bassists. They asked me to write a piece that features the double bass. So it's a song cycle in 30 parts. Most of the pieces are songs, but there are a few instrumentals. There are some long songs and some very short songs. I had five singers, the string orchestra, guitar, bass, and drums perform it. The concept is a talent contest in Hell. It's akin to the Greek underworld—a kind of grey, dark place where souls are waiting around. The keepers of the underworld are bored, jaded and frustrated with dealing with humanity, so they decide to have a talent contest in which they drag souls out of the darkness and have those souls sing songs about their former lives.
What inspired you to go in that direction?
I was reading The Odyssey by Homer. In it, Odysseus goes to the underworld to see Achilles. The theme of him meeting Achilles and having these dead souls gather around and try to suck the life out of him was very interesting—especially when Achilles says "I'd trade eternity for just one more breath of life." That's probably where it started.
Describe your guitar approach in the project.
I'm playing acoustic guitar, but I'm really just fitting into the proceedings. There's not much in the way of guitar solos—a little bit here and there. There are a lot of bass solos because it's a bass feature that focuses on Danny Thompson. I'm really a part of the rhythm section most of the time. Ultimately, it's more of a song feature.
What are your plans for future performances or recordings of this work?
I think there will be future performances, but it's a little unwieldy in these times of financial belt tightening. We recorded it live and hopefully it will be released at some point. The people who funded the show will receive a copy of the show, but when it goes on general sale, I don't know.
Tell me about the motivation to pursue a fan-based financial model for the event.
It was a really expensive production. It's a commission, but the commission fee is very low and absorbed just by shipping instruments to the show. That alone took up the whole of the fee. So, there was a large downside to putting this on as one performance, so we had to reach out to fans for their support.
Will Cabaret of Souls be your next proper album?
No. The next album will be an electric band album that I'm working on songs for right now. Hopefully we'll get into the studio this year and it could be released early next year.
Last December, you played a one-off show at Villa Montalvo in Saratoga, California in which you covered material by Bob Marley, Midnight Oil and Edwin Starr, among many others. Describe the motivation to put so much planning into that single gig.
It was really time consuming to prepare for a show in which you don't know 70 percent of the material, but I thought it was an interesting concept. The Montalvo Arts Center came up with the idea of songs of protest and social injustice. I found it intriguing to see what kind of show we could put on. It let me cast a wide net, all the way from traditional music, including "Keep That Wheel A-Turning" from the Northeast of England, which is probably 150 years old, all the way to "Minority" by Green Day.
What were the most challenging tunes to perform from a guitar perspective?
They were all challenging. [laughs] "Beds Are Burning" by Midnight Oil found me using the Octave-A tuning I mentioned earlier, so I could be my own bass player. That worked out fairly well. But the key that put me in was the absolute top of my range—a note too high, really. However, I figured that it was a song that kind of needs screaming, so it fit. We also tackled "Get Up, Stand Up" by Bob Marley. I thought "I can't do a reggae version. I have to do something different." So I thought a British traditional reading of the song put into 6/8 jig time would work. [laughs] Again, I was trying to be both guitar and bass, so I had a triplet figure going on with my fingers so I could independently play the bassline that echoes the melody line with my thumb.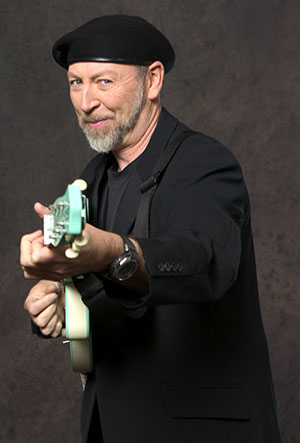 You reconvened with Fairport Convention at the Cropredy Festival and the Barbican last August. Do you approach your Fairport-era material differently as a guitarist today?
There are limits to what you can do with that music. I try and play every tune a bit differently though. Also, with the more complicated stuff—the dance tunes, which are really fiddle tunes that don't fit that well on the guitar—I'm always trying to think of new fingerings or ways to play them to make my life easier. The problem is that stuff flies by at breakneck speed and there is some tough crosspicking involved. I'm always looking for an easy way out, if you like. [laughs]
"The Lark In The Morning" medley is a good example. It runs through four tunes and the last tune is a reel, which is awkward on the guitar. If you could retune for that bit, it would be easier to play, but you really can't do that and keep up. I hate playing fiddle tunes in which I'm just flatpicking—the way someone would if they were a bluegrass musician. I don't want to get that sound on the electric guitar. I'm looking for a different way to do it, so I play fingerstyle. And that means a lot of crosspicking. I'm always trying to find ways of making that approach really ring and sing on the guitar, but it's difficult and awkward with everything moving so quickly.
You've been highly critical of the last round of remasters of the Island-era Fairport Convention and Richard and Linda Thompson albums. What do you dislike about them?
The main thing is I really don't like bonus tracks. There are reasons you don't put outtakes or extra tracks on an album and that's because they don't belong there. They're not good enough. I want to keep a certain unity when I make an album. It should start and finish with a purpose. I come up with track orders designed to tell a story. When they repackage or reissue things and add tracks, it really messes up the whole thing. I know why they do it, but I don't like it. And sometimes the remastering isn't what it should be, sonically speaking. Sometimes the original just sounds much better than the remaster. That's not supposed to be true, but it often is. So, those are my reservations, but there's nothing I can do about it. Those records are owned by the companies involved and the artist has no rights. They can do whatever they like, but they continue to disappoint me.
What was it like for you to work with Nick Drake as an accompanist on his music?
Even people like me who knew Nick, didn't really know him. It was okay to be very, very, very quiet in the '60s. Nick wasn't even the quietest person I knew back then. It was socially okay to just sit in the corner of the room and give a little smile occasionally. That was considered fine. It was a social norm in those days. But it meant that you didn't communicate a lot with those people. I was very shy in the '60s as well, so any conversation Nick and I would have could probably be written down in two words. Musically-speaking, Nick was really interesting. His records are beautiful and exquisite. Some of it's down to him and some of it's down to really excellent arrangers and producers. The whole is just wonderful. Very few people knew about his music when it came out. He might have sold 5,000 records in his lifetime.
I played on two songs of Nick's and my contributions were provided as overdubs. I was never in the studio at the same time, even though a lot of the things he did were live. One of my favorite cuts is "River Man," which has a string orchestra accompanied by Nick playing guitar and singing along with them, live. Just absolutely fantastic. When it came to stuff with rhythm sections though, he didn't like to put that stuff down simultaneously. It was added later. I don't think I was ever given a brief. They just rolled tape and I just responded to the music. Nick was never there. He didn't want to be there. I think he trusted the producer to find stuff and then he'd hear that stuff later and say if he liked it or not. At some point, I passed muster. I think my playing on his records is fine. I like what I played and loved the songs. They are so beautiful. If I had to do it again, I know I could do a better job. [laughs] I say that about most things.
What can you tell me about your days with your first band Emil and the Detectives?
That was a school band around 1965 I had with Hugh Cornwell, who went on to form The Stranglers. Obviously, we were a cover band and we did R&B songs, including some obscure stuff. The drummer in the band was the son of the jazz critic of Melody Maker, so we would get to hear all of the Melody Maker demos, singles and promotional copies that would come through. We used to sift through that stuff to find interesting material, so we were slightly less orthodox than some of the bands in North London in those days. We used to do a bit of Chuck Berry and Bo Diddley. Some of the songs I remember doing included "Man With Money" by the Everly Brothers, "Jack O'Diamonds" by Ben Carruthers and Bob Dylan, "Ain't Nothing Like The Real Thing" by Kiki Dee, and "Parchman Farm" by Mose Allison.
I don't think we ever had a real name. We had a new one every week. Emil and the Detectives might have been the name for one of those weeks. For 16 years old, I think I played pretty well. I was still developing. I probably had the beginnings of my sound. Two years later, I was a much more complete musician. At 16, I was still really just copying people like Pete Townsend, some of the blues guitarists like Otis Rush, and traditional acoustic players like Davey Graham. I also grew up listening to Django Reinhardt and Les Paul via my dad's record collection. Those were other underlying influences that informed how I play.
Last December, you participated in a Thompson Family Christmas concert in Britain. What can you tell me about the event?
It's a charity show that Teddy has put on for the past three years. It was the first one I was able to get to and it was fantastic to be a part of it. There were a lot of Thompsons on the bill, and loads of other people as well. Christmas songs were played. It was great to play with Teddy, as well as Kami, who's a great singer. My 14-year-old grandson Zac was there and he's a really good singer and guitarist too. It was a cast of thousands and great fun.
Some tend to reflect on these sorts of events as epochal moments in your career. My perception is you don't see it quite so dramatically.
[laughs] I probably wouldn't, you're right. I assume they're thinking I'm back onstage with Linda and that sort of stuff. We probably shared a chorus here and there, but it wasn't like we sang a song together. I probably wouldn't want to do that. I see that as water under the bridge.
You recently turned 60. A lot of musicians describe it as a turning point or something that motivates them to get on with things in a way they haven't previously. Does that hold true for you?
Absolutely, yes. Turning 60 is a little terrifying. Just like turning 40 and 50, it increases your sense of urgency, but even more so as you get nearer to the final coda of life and head for the large orchestra in the sky. A sense of one's creative span being finite really does emerge and I do feel I have to work a little harder to get more things done these days.