Tim Bowness
Instinctual Reality
by Anil Prasad
Copyright © 2019 Anil Prasad.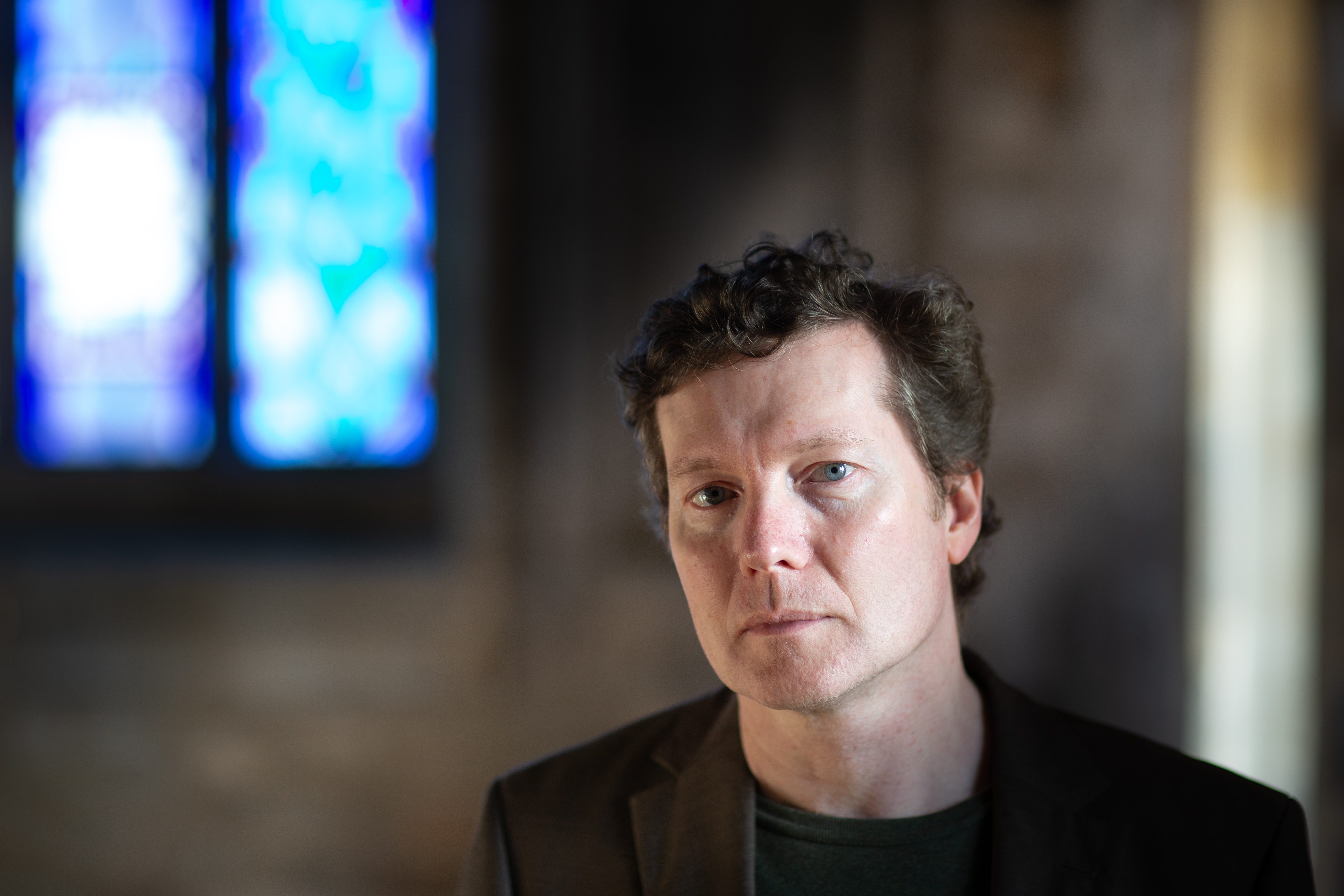 Photo: Rob Whitrow
Singer, songwriter and entrepreneur Tim Bowness pursues a unique set of comingling music industry paths. He's one half of No-Man, a 32-year-long partnership with Steven Wilson focused on wildly diverse, multi-genre-inspired songcraft. In parallel with No-Man, since 2004 he's helmed a solo career that's yielded five releases exploring similarly eclectic terrain, including his latest, Flowers at the Scene.
In 2001, Bowness co-founded Burning Shed, an online store and label that enables a large ecosystem of artists and independent labels to easily sell and fulfil recordings and merchandise worldwide. Burning Shed unapologetically emphasizes physical media, catering to a global clientele who are bucking the "streaming as the only path forward for musicians" narrative. Burning Shed's influence is now significant enough that its sales have enabled recordings to achieve official chart placements. For instance, in Britain, Flowers at the Scene hit number five on the rock charts and number 38 in album sales, largely on the strength of Burning Shed transactions alone.
Flowers at the Scene is Bowness' most mercurial and propulsive solo album to date. It finds him exploring expansive arrangements infused with surprising and captivating twists and turns. It also showcases a significant progression within his vocal approach. Bowness is at his most creative, playful and confident as a singer on the release.
The album includes guest appearances by many renowned musicians, including Peter Hammill, Andy Partridge, Kevin Godley, Colin Edwin, and Dylan Howe. Wilson also plays a significant role on it. He and Bowness co-produced the recording, with their shared duties credited to No-Man. In addition, Wilson mixed the album.
Bowness has several other ongoing collaborations. One of his more intriguing recent efforts involves the rekindling of Plenty, his band that preceded No-Man. The group reformed and re-recorded all of its 1980s demos, releasing it as its debut album It Could Be Home in 2018. Original members guitarist Brian Hulse and bassist David K Jones participated. The trio quickly realized it still had excellent working chemistry 30 years after breaking up. In fact, Hulse and Jones went on to contribute to Flowers at the Scene as well. Additionally, guitarist Michael Bearpark, multi-instrumentalist Peter Chilvers, and violinist Steve Bingham contribute to the Plenty release.
Bowness' duo project with Chilvers also continues with Modern Ruins, the follow-up to its 2002 debut album California, Norfolk, due later this year.
He explores the intersections between his many pursuits, as well as candidly reflects on the complex current realities of the music industry in his fifth conversation with Innerviews.
You've said Flowers at the Scene feels like you've pushed "reset" on your solo career. Describe what you mean.
As is the case with most artists, my albums are either a continuation or rejection of what's immediately preceded them.
My 2014 solo album Abandoned Dancehall Dreams was a logical step on from No-Man's Schoolyard Ghosts from 2008. Stupid Dreams That Mean the World from 2015 developed out of ideas on Abandoned Dancehall Dreams. Lost in the Ghost Light from 2017 took certain elements from Abandoned Dancehall Dreams and Stupid Things—including epic ballads such as "Sing to Me" and "Smiler at 50"—and magnified them by 10 and made an album out of them.
In relation to Lost in the Ghost Light, Flowers at the Scene, though very different musically, is a little like No-Man's 1996 release Wild Opera was when compared with its predecessor Flowermouth from 1994. Wild Opera was spontaneous and harsh, while Flowermouth was considered and lush. Lost in the Ghost Light was a focused genre piece, while Flowers at the Scene plays with possibilities.
The impetus for Flowers at the Scene came out of how enjoyable and energizing working on Plenty's It Could Be Home was. After we completed the album, Brian Hulse and I continued to write songs apropos of nothing. Around the same time in early 2018, I came up with "Rainmark" and "It's the World" and something fresh felt like it was happening.
I don't know whether it was my being reintroduced to certain ways of working that I'd long since abandoned or whether I was just in a good place at the time, but I honestly felt like I'd woken up out of a deep sleep while making Flowers at the Scene. The lyrics were often devastatingly bleak, but the music felt vibrant and positive. Reconnecting with approaches I'd used during the era of Plenty and early No-Man was genuinely invigorating, but I don't think I could have written—or at least written as well—the likes of "Not Married Anymore" when I younger.
I still feel Lost in the Ghost Light is successful for what it is. What it is though—for reasons related to the lyrical concept—is me making the sort of album I'd have loved when I was in my early teens and first obsessed with music. That said, I hope I personalized the project vocally and lyrically, and that the concept made some valid observations about the creative musical life at this moment in time.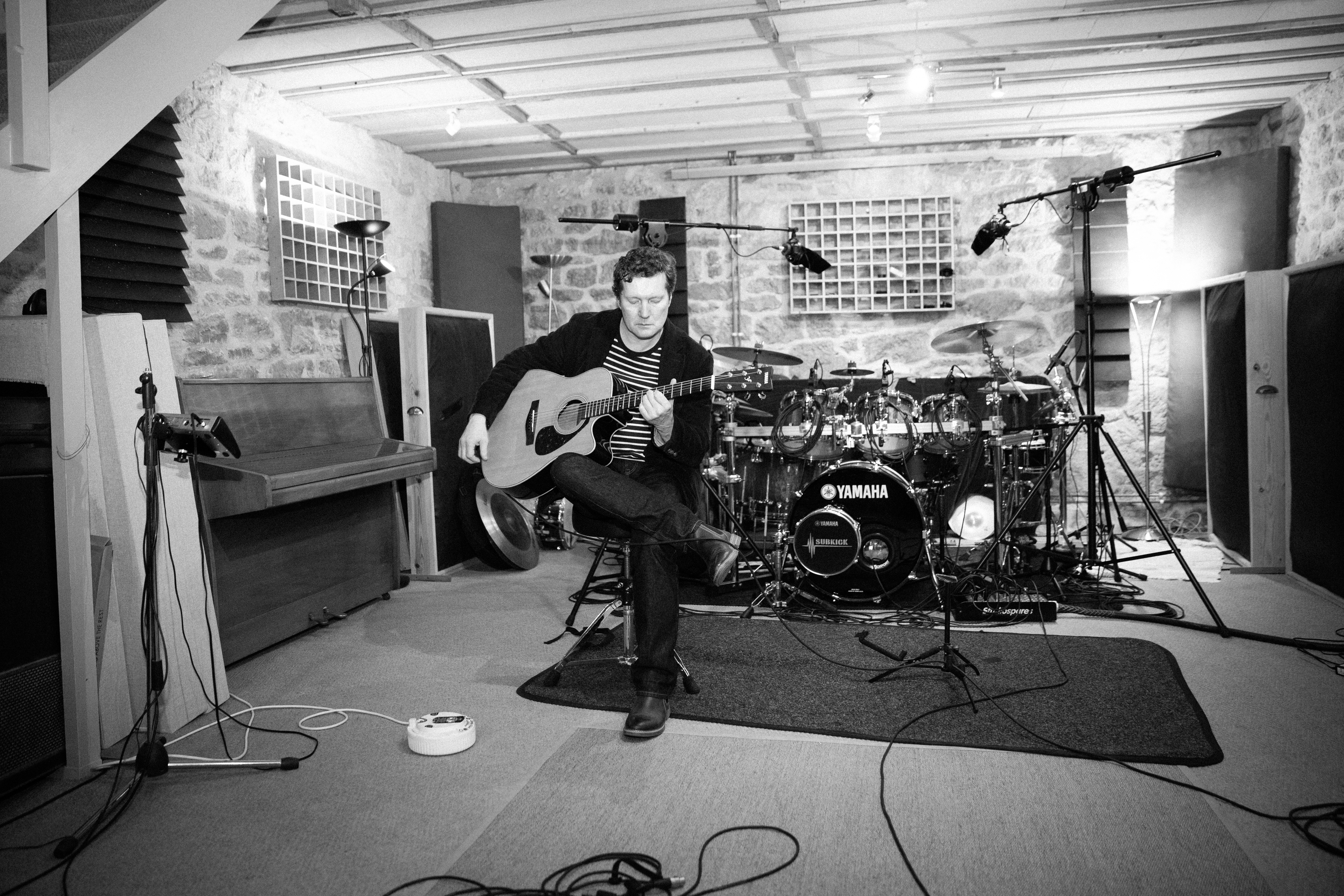 Photo: Rob Whitrow
Describe the intentions and experiences that inform the songs on the album.
I think aspects of my life and experiences always find their way into my lyrics, though I rarely, if ever, directly write about my personal circumstances.
"Truenorth" has nothing to do with me, but that journey from desolation to happiness resonates in some ways with my life—and hopefully with other people's lives as well.
"Lost in the Ghost Light" is conceptual and about someone who isn't me, but it's possible to read into some of the lyrics my own fears regarding the possible obsolescence of my work and the work of artists I admire. The album is partly a homage to the near-vanished era of the culturally-significant album, and partly a commentary on how revolutionary spirit can be corrupted by success, indulgence, corporate interference, and gradual audience indifference. It's a prog confessional! [laughs]
For me, Flowers at the Scene consists of 11 very separate songs with 11 very separate lyrics. I see them as cinematic short stories, or snapshots of intensely emotional moments in time.
The title track concerns the repercussions of a stabbing in a park. "Rainmark" deals with romantic love in the midst of an apocalypse. "I Go Deeper" inhabits the fragmented, medicated mind of a patient wandering around a hospital at night. And so on. Chuckles aplenty.
"Not Married Anymore" has become the most talked-about track on the album and I think that's because the song is an unflinching account of a relationship breakdown. Some of the images come from my own experiences. Some of the sentimentality, and to a lesser degree, self-destructive impulses, are also mine.
My adolescence was a miserable one saved by my love of music, films and books. Even outside of familial death and mental illness, my childhood was frequently akin to living in Edward Albee's Who's Afraid of Virginia Woolf? or John Osborne's Look Back in Anger. It was a time of regular parental break-ups, threats of suicide, and constant, vicious arguments. At the age of 16, I was pretty much abandoned and left with a house to myself. I've no doubt that the path my music took partly results from the freedom that afforded me, and the experiences that preceded it.
Although I grew up in a relatively affluent area, it was in a predominantly working class and conservative town. Wanting to be a musician or write poetry was a definite case of "having ideas above your station"—and that was my family talking! Of course the positive in all this is that it's given me a lifetime's worth of experiences to draw from in my lyrics.
You've released four solo albums in six years. How do you feel you've evolved as a musician and songwriter across those recordings?
I do think I've got better at confidently putting together large-scale projects in the way that I want to hear them. I've had a lot of expert assistance from Steven Wilson, Brian Hulse, Jarrod Gosling, and Stephen Bennett in particular, but from the individual songs to the album sequencing to the artwork to the people who play on the albums, I've had complete control and final say over the recent run of solo albums.
With the exception of California, Norfolk, my 2002 collaboration with Peter Chilvers, if I listen to anything I did outside of No-Man before Abandoned Dancehall Dreams in 2014, it seems unfinished. Those recordings are more like a photocopy of the painting in my head than the painting itself. I'd like to think that what I've done with my solo work on the Inside Out label, and also with the recent Plenty album, has approached or matched No-Man's levels of quality control.
It's fair to say I'm more obsessive about details than some people I work with and that that's caused problems in the past as they may have considered that something was complete when I didn't. Steven Wilson is even more obsessive and perfectionist than I am and that's something I admire greatly as I feel he's pushed me to do better things.
I was a teenager in an era when across genres, innovative or beautifully-produced and richly-detailed albums would regularly be commercially embraced in a major way. Given the music I make, it may sound odd that I aspire more to producing a communicative and idealistic mainstream album such as Dark Side of the Moon, The Colour of Spring, Gaucho, The Soft Bulletin, What's Going On, Mezzanine or The Hounds of Love than I do a peripheral release which has a small but dedicated following. Of course, a lot of my favorite albums are unknown outside a small group of obsessives, such as Robert Wyatt's Rock Bottom, Eric Chenaux's Slowly Paradise, and Mark Eitzel's Don't Be a Stranger, but there's an art and an attention to detail in albums like Aja or Rumours that I'm in awe of and would love to match.
I always fail in my grand aspirations, but hopefully—as Beckett would say—I fail better with each release.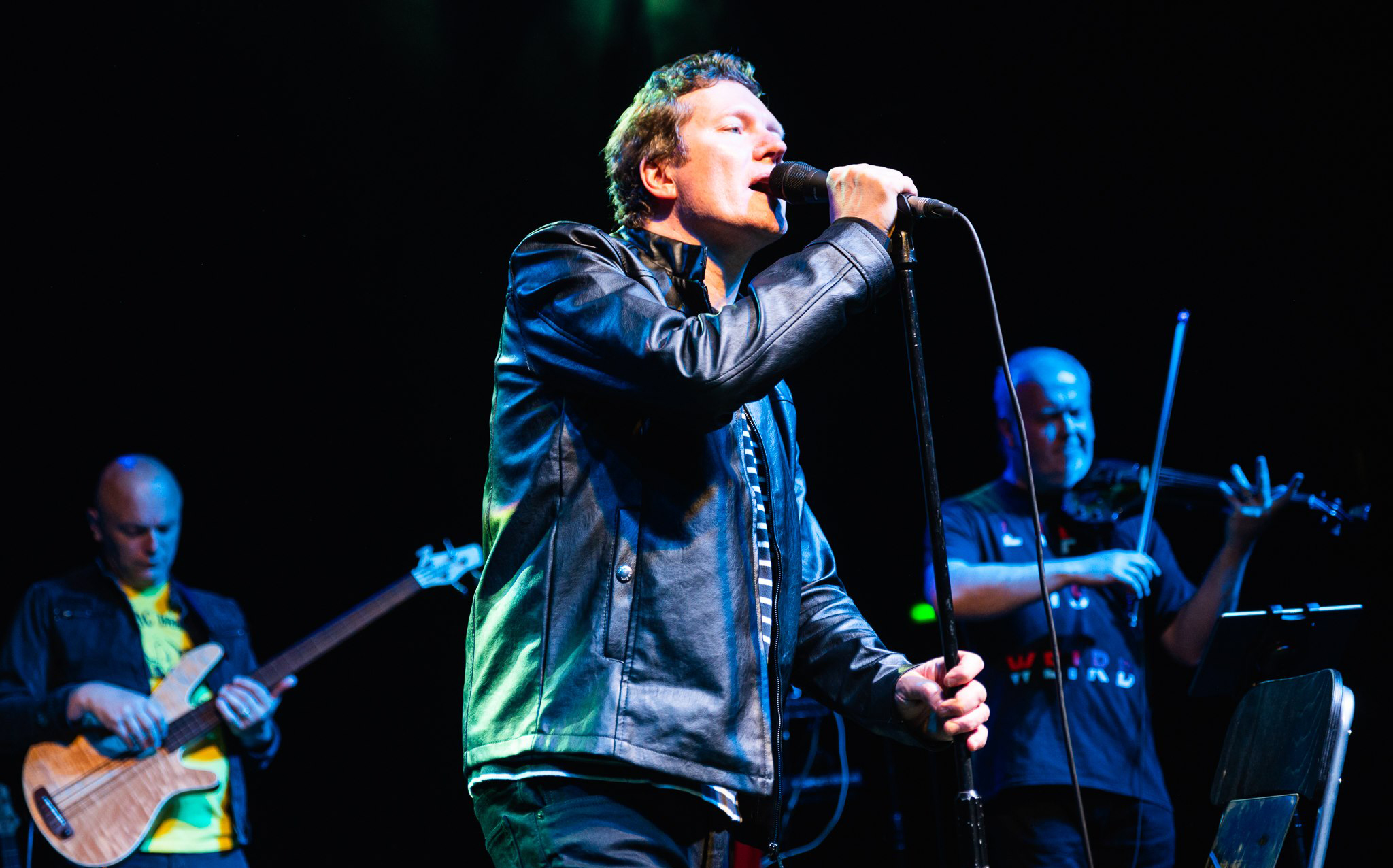 Tim Bowness with John Jowitt and Steve Bingham, live in Warsaw, March 2019 | Photo: Robert Grablewski
What are the biggest challenges you've faced and lessons learned during this fruitful period?
I've relished the challenges of late, so nothing's ever felt that difficult. The worst aspect has also been the best aspect and that's that I'm in control. Being without a manager, I have to be proactive and deal with the press side, label side, live side, invoicing side, and video side myself. If I do nothing, nothing happens.
Generally speaking, family and friends—completely understandably—have other preoccupations. Making an album is an intense process and while it means everything to me, it means nothing to the people surrounding me. I don't feel remotely bitter about that. It's as it should be, but it adds to the sense of isolation I sometimes feel. I don't tour or regularly interact with people who like my music either, so feedback is rare.
The one thing that struck me about your question is that it doesn't feel like it's been a particularly fruitful period to me, yet when I look objectively at how much I've released in the 2010s, I'm genuinely surprised. I'm more aware of the times when I'm not writing or working on something than the times when I am. There was a gap of a year-and-a-half between the completion of Lost in the Ghost Light and the start of Flowers at the Scene, and though that gap was filled with the recording of the Plenty album, the absence of new songs weighed heavily on me.
I sometimes wonder if my recent prolificity is part of the process of getting older. When I worked with Judy Dyble in 2008 and 2009, she was around five years older than I am now and she had an urgent desire to complete as much as she could in the time left available to her. It's possible that I'm subconsciously all too aware of what little time I have left and that that's spurring me on. Things didn't seem as pressing 10-20 years ago.
It may seem strange, but I still feel at the beginning of things creatively. Every project is a fresh start. If I ever repeat myself musically or lyrically—or in interviews—it's because I've forgotten what I did or said previously. What I do is highly thought-out, but it's also highly instinctive. I still strongly feel the need to write and express myself musically and lyrically.
I always find it fascinating that major artists I admire such as Pete Townshend, Peter Gabriel, Kate Bush, Paddy McAloon, David Sylvian, Paul Buchanan, Randy Newman, Joni Mitchell, Roger Waters, and others seemed at the end of their creatively active careers by their forties or early fifties. They're all still great—Bush's 50 Words For Snow is my favorite album of hers, for example—but none of them has been particularly productive from their forties onwards. That also applied to the late, great Mark Hollis.
Luckily, the likes of Peter Hammill, Robert Plant, Neil Young, and Philip Glass provide different role models. Leonard Cohen was also fairly active and producing great work in his eighties, which I found inspirational.
In some ways, the last few years have been a golden age for older artists, with many great albums being produced by performers in their fifties, sixties, seventies, and even eighties. David Byrne's American Utopia, The Specials' Encore, and Bowie's brilliant swansong Blackstar are perfect examples.
You were initially very reticent to pursue a solo career. Why was that the case and what was the turning point for you when you fully embraced the possibilities?
I'm still very reluctant to pursue a solo career! I'd be far happier hiding behind a band identity. Growing up, I loved what I perceived to be the entity that was Pink Floyd. In the time before the public spats between David Gilmour and Roger Waters, the band seemed to be an enigmatic essence that comprised its evocative artwork, highly-visual stage shows, atmospheric music, and somewhat world-weary lyrical vision. For me, Pink Floyd was the jaded beauty of "Us and Them," the evocative Hipgnosis covers, and the pyramid poster on my wall. For a long time, I didn't think of the people behind these fantastic creations. I just fell in love with the pure group identity that Pink Floyd seemed to represent.
Although the likes of Peter Gabriel, Roxy Music, David Bowie, and Kate Bush were also amongst my earliest musical interests, I was never drawn to theatrical performances or image. I much preferred the understated approach of artists such as John Martyn, Patti Smith Group or early Talking Heads.
I want to reach as many people as I can with my music, but I've always felt uncomfortable with being a focal point. That said, I've found that I've become a more confident performer of late and that I genuinely enjoy communicating directly with audiences and bringing fresh life to studio creations in a live environment.
Going back to the question, if there was a turning point in terms of my solo career, it was Abandoned Dancehall Dreams. I'd originally written and co-written the songs for it with a new No-Man album in mind. It was put together the way in which Schoolyard Ghosts had been and I was hoping that Steven would be able to co-produce and help turn what I'd done into a full-blown No-Man project. At the time of hearing the material, Steven was in the middle of making The Raven that Refused to Sing and said that he couldn't spare the time for a full collaboration, but was happy to mix whatever I came up with. I used that as a springboard to put Abandoned Dancehall Dreams together.
The resulting album felt stronger and more cohesive than My Hotel Year—my debut solo release from 2004—and the reaction to it was very encouraging. That positive experience gave me the confidence to pursue Stupid Things that Mean the World. From that point on, I'd say that a solo focus, both musically and visually, developed.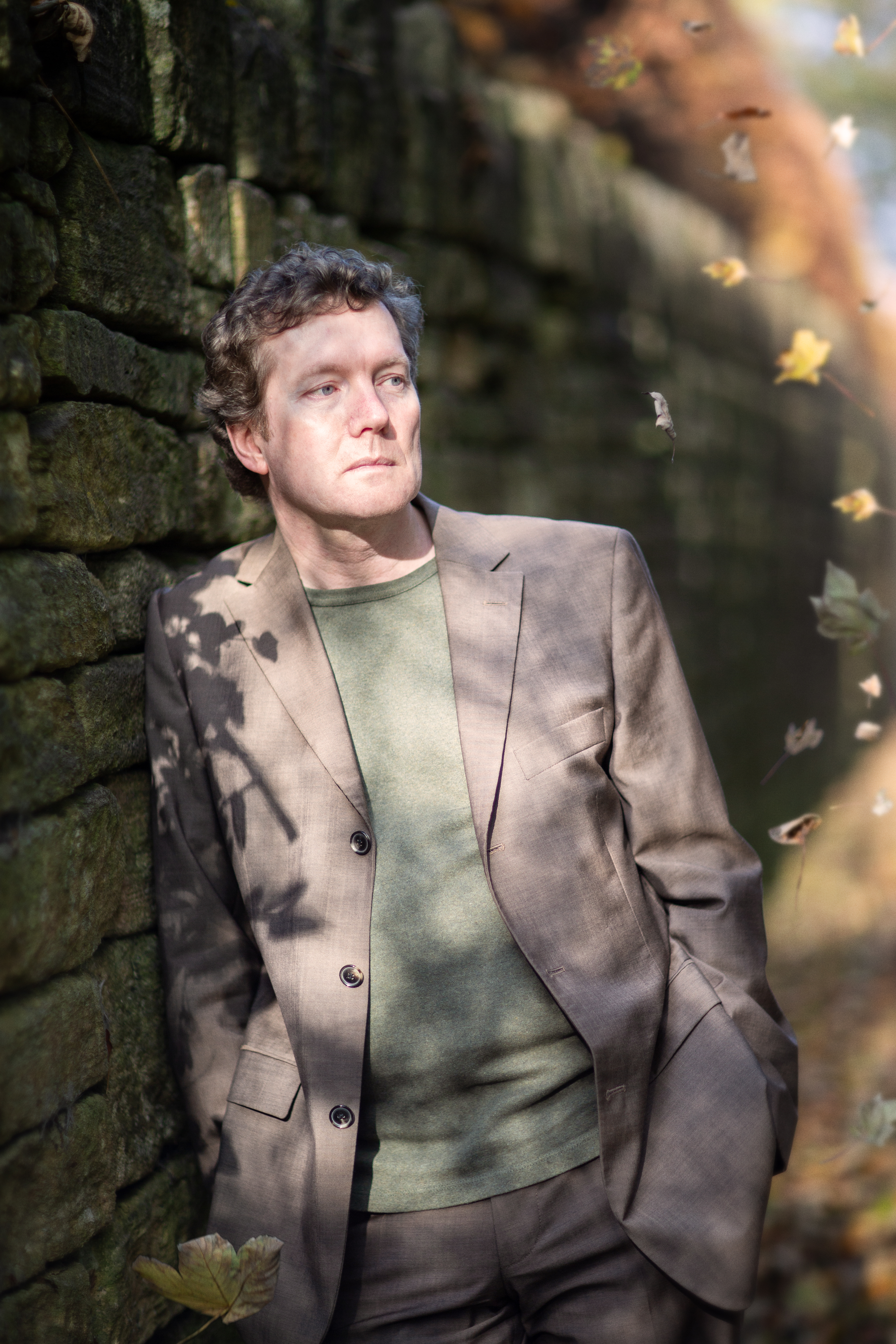 Photo: Rob Whitrow
Your vocal approach is much more elastic than it was in the early days of your career. Tell me about how you became comfortable with vocal ornamentations, creative enunciation and the infusion of space into your singing.
It's something I'm not aware of, to be honest. I always write melodies to the music and lyrics to the melodies. I spend a lot of time on my lyrics, but while there can be brilliant songs with terrible lyrics, you can't save a terrible song with a brilliant lyric.
The worst period of my singing was 2004-2008. For whatever reason, there was a very understated, defeated quality to my voice at that time—something I can't connect with at all from this vantage point. My singing on Mixtaped, the No-Man live DVD, is the worst example of this, though that had a lot to do with nerves on the night combined with the fact that I had a bad cold. Solely because of my contribution, it's one of the releases I've been involved in making that I find almost impossible to listen to.
The only thing I can think of is that in recent years I might have naturally gravitated back to the more declamatory way I sang when I first started out in the 1980s. Hopefully, I've imbued that with qualities I've gained over the years.
Vocally, my biggest early influences were David Bowie, Peter Hammill and Scott Walker. Possibly even Frank Sinatra, whose ballad concept albums I loved. All of those vocalists were known for their clear enunciation. Later on, the sweeter tones of John Martyn, Paddy McAloon and Marvin Gaye permeated what I did. I've always loved gritty, soulful singers such as Paul Buchanan, Richie Havens, Peter Gabriel, Billie Holiday, and Nina Simone, but I have none of their qualities, so I couldn't really call them an influence. Subsequent favorite vocalists have included Mark Eitzel, Terry Callier, Devon Welsh, and Eric Chenaux.
One fact that always surprises people is that I was a consistently loud vocalist throughout the 1980s. A combination of hearing myself in the way that I heard others—listening to my first two vinyl releases on my record player—and a few people saying that I tried too hard and imposed myself on the material I sang over made me reconsider the way I sang. Since No-Man's "Colours" in 1990, I hope that my singing voice has been my own.
How has your perspective on the possibilities of arrangement expanded over the years?
I've always worked on a song-by-song basis, so arrangement is a flexible thing for me that serves whatever a particular song suggests. As a result, over the years I've been responsible for big productions, as well as stripped-down recordings.
With tracks like "The Train that Pulled Away" and "Rainmark," the addition of string quartet on one and trumpets on the other just seemed the right thing to do.
Much as I did when I started making music, I follow my instincts. The only difference between now and then is that I know the musicians who can make my arrangement ideas a reality.
Tell me about Brian Hulse and how he influenced the recording.
Brian was one third of Plenty, my pre-No-Man band from Liverpool. It's fair to say that outside of Steven Wilson, in terms of people I've worked with directly, he's the musician who most influenced me. Tony Cottrell and Stuart "The Still Owl" Blagden in Still, and composer Robert Cox were also instrumental in introducing me to new music and new ideas.
Brian and I hadn't worked together for nearly three decades prior to the 2016-2017 recording of It Could Be Home which reignited the relationship. As mentioned earlier, once we'd finished the album, we continued to write because we were enjoying working together again. What we were coming up with was anything but a rehash of Plenty and we were both excited by it.
Over half of the songs on Flowers at the Scene were co-written with Brian. Outside of that, his role was as a supportive and creative sounding board. Like Steven Wilson, he selflessly helped me realize the music I wanted to make and, as is often the case with Steven, we were pretty much in agreement throughout the process. As such, he was very willing to try out arrangement ideas or guest player suggestions that I made. I think he was as excited as I was by what particular players brought to the songs. The likes of Colin Edwin, Tom Atherton, Dylan Howe, Ian Dixon, and Jim Matheos brought a sophisticated musicality and depth to the songs and managed to deliver what I wanted while also taking the material somewhere fresh. Brian's playing on the album—particularly his guitar solos on "I Go Deeper" and "Ghostlike"—was also fantastic.
Given that he hasn't been actively involved in music since the late 1980s, it's astonishing that he's remained as good as he has done and that he's still learning and developing as an artist.
"It's the World" is one of the most aggressive pieces of music you've been involved in. Describe what you're conveying in the song and how the arrangement reflects its messages.
I think each of my last few albums has contained one aggressive outlier. For example, look at "Press Reset" on Stupid Things, "Kill the Pain" on Lost in the Ghost Light, and "Climb" from It Could Be Home. Very early No-Man had a ratio of one in three or four pieces that contained as much noise as music. Ultimately, we didn't feel the aggressive material represented No-Man at its best, so we didn't release any of it. I mention this as I feel that "It's the World" isn't quite the anomaly in the context of my career that it appears.
"It's the World" began with a couple of loops I'd created out of unused guitar parts Jim Matheos had recorded for a Memories of Machine song. I subsequently developed some loops out of trumpet player Aleksei Saks' recordings for Slow Electric and placed them over the top of Jim's riffs. Pretty quickly, I expanded upon this and wrote a song to what I'd come up with. On hearing my demo, Brian Hulse liked the feel and the lyrics, but felt it was missing something and created the basis for the chorus. I then asked Colin Edwin, Tom Atherton and Peter Hammill to contribute, and got Jim to re-record his looped parts to make the piece feel more natural.
The lyric is an account of someone blaming everything external on what might be an internal problem. Most of the imagery stems from the character I'm writing about, though a couple of lines come from my own experiences. The song is an explosion of rage that gets more intense as it progresses and hopefully the lyric and arrangement work in sync to achieve a certain kind of hysteria by the end.
What does the title track communicate, symbolically?
"Flowers at the Scene" was one of the most extreme examples of one of the working methods deployed on the album. Four different drummers, two bassists and two guitarists played on the piece, and there are quite a number of unreleased variations of the song featuring different combinations of players. This process was interesting in that it honed my idea of what I wanted musically from my collaborators—usually a mix of what I hear in my head and something that surprises me—as well as defining and questioning my tastes.
There are a couple of odd facts about the piece. One is that the wild and dexterous double bass playing was the first time David K Jones had played that particular instrument. The second relates to that. I loved what David did, but when combined with drum takes from Dylan Howe and Andrew Booker, it sounded too chaotic. Colin Edwin subsequently delivered a far more restrained double bass performance, but that made the existing drum parts sound too busy. The idea was for Tom Atherton, whose drum part was eventually used, to play against Colin's bass. Accidentally, the files were incorrectly labelled and Tom ended up playing against David's part. The result, along with Jim Matheos's expressive solo was inspired and unexpected. I like that there's a vibrant sense of groove and momentum in the rhythm section and something more controlled on the surface of the piece. There's a tension bubbling under throughout the song that appeals to me.
The lyric was one I wasn't expecting to write. It chronicles the aftermath of a stabbing of a child in a park. It's about the repercussions of senseless tragedy and how it impacts on family and friends. In a way, it's the actual story behind an all too familiar two-line headline in a local newspaper.
For the artwork, I explored the term "Flowers at the Scene" in a variety of ways. So, outside of leaving flowers at the scene of a tragedy, the cover depicts flowers in a more romantic or domestic fashion. The main image was deliberately ambiguous. It could represent old lovers reunited, parents at the funeral of their child, or an expression of gratitude between friends.
I hear an element of David Sylvian's influence on "Ghostlike." Describe its genesis and how it morphed into the version on the new album.
This song dates from the mid-1980s and at the time it was written, Sylvian's Gone to Earth was a big influence. I loved the combination of massive atmospheric soundscapes, fragmented, heavy drum grooves, and the fragile songs that somehow held everything together.
"Ghostlike" started out as a piece called "Sacrifice." Musically, It was very electronic and claustrophobic-sounding, while the lyric was spartan and unfathomable. Despite the flaws, it was a piece I'd wanted to re-visit for some time.
The 21st century Flowers at the Scene album version retains the spirit of the 1980s demo, but instrumentally it's been substantially overhauled. It features considerably more live instrumentation and it finally captures the epic quality that I thought resided in it all along. The structure was slightly altered, along with the lyrics. Partly evolving out of the new approach, the menacing nature of the song's story was also accentuated.
The Gone to Earth origins can probably still be heard, though the brutal sound of the drums and bass was more inspired by Steve Lillywhite's production work for XTC and Peter Gabriel, and albums like PIL's Flowers of Romance, Flaming Lips' The Soft Bulletin and Swans' White Light from the Mouth of Infinity. From Phil Collins to Echo and the Bunnymen to Icicle Works, I've always loved that heavily-treated late-1970s to early-1980s tribal-influenced approach to drums. It was exciting and fresh then and I still think it has a capacity to surprise now. "Pigeon Drummer" and "The Warm-Up Man Forever" also experiment with this style. I'm in awe of intricate jazz drummers such as Brian Blade, Jon Christensen and Tony Williams, but I'm equally drawn to the heavy-hitting likes of Keith Moon, John Bonham and Steven Drozd.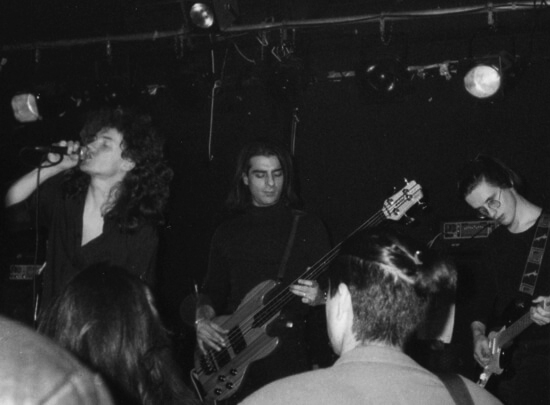 No-Man with Tim Bowness, Mick Karn and Steven Wilson, live in Leeds, October 1992
In 1992, No-Man collaborated with Richard Barbieri, Steve Jansen and Mick Karn. Reflect on that period.
Our record company wanted us to use a live rhythm section. I felt this was a pity because the trio configuration of the band—voice, guitar, violin, and backing tapes—was unusual and worked well. We reluctantly went along with the suggestion and in true No-Man fashion said that the only rhythm sections we were prepared to work with were Talk Talk's or Rain Tree Crow's. Laughing Stock and Rain Tree Crow had come out the year before and we thought the rhythm approach on both albums was brilliant. In some ways, what we'd said was unrealistic wish-list thinking in order to put the label off the idea. However, our publisher approached both Talk Talk and Jansen, Barbieri and Karn. We met Lee Harris and Paul Webb at a gig, and while nothing came of that, Keith Aspden—Talk Talk's manager—decided he wanted to take No-Man on as a client. The meetings with Jansen, Barbieri and Karn went well and they ended up touring and recording with us.
The studio recordings—"Sweetheart Raw" and "Heaven Taste"—were really strong, but I don't think the musical match was a good one live. Both No-Man and JBK were diminished by what we produced together on stage. Despite Ben Coleman and Mick Karn being a phenomenal live pairing, the music sounded more conventional than it did in the studio. Regardless of my misgivings, it was and remains a thrill to think that it happened at all.
"Killing to Survive" also has an atypical arrangement full of nuance and surprises. Describe how that piece came together, including its lyrical origins.
While we were writing and recording Flowers at the Scene, Brian and I were discovering all sorts of half-forgotten and sometimes totally-forgotten songs that we'd written together over the years. The best was the very first Bowness/Hulse song from the summer of 1986—a John le Carré-inspired Cold War ballad called "This Side of the Border." It was written at the same time as "Towards the Shore," on an old school piano. Both songs represented the strongest things I'd done up to that point.
As for "Killing to Survive," I had no recollection of writing or singing it. I knew it came from the early 1990s and that was all. It featured a backing track that seemed to have been recorded after the vocal and everything was badly out of sync in terms of tuning and timing. The vocals were dreadful and the music seemed half-formed and written for another song entirely. Despite this, we could hear potential.
Lyrically and musically, the song was substantially overhauled. New sections were composed, such as the minimalist, easy-listening vocal coda—which sounds like Ray Conniff meets Steve Reich—and the guitar solo-dominated middle eight. It finally began to make sense. Colin and Tom's bass and drum contributions were incredibly subtle and clever throughout the song. Peter Hammill's backing vocals added something interesting sonically. Prior to the final mix, I suggested that we further emphasize the differences between the verses and choruses by stripping out some textures and beats, and adding echo guitar. Overthinking and overworking can often derail a track, but in this case the piece improved with each change that was made.
Like a lot of the album, a desolate lyric about idealism confronting reality is offset by a surprisingly optimistic melody and backing track.
"What Lies Here" features the intriguing combination of Kevin Godley and Andy Partridge, who serve to illustrate a very intimate lyric. Tell me how their contributions mesh with the song's intent.
That was the last piece to be written for the album in late summer 2018. There's a haunting and reflective quality to the piece and as soon as it was finished, I knew it was the perfect closing song.
I'd always imagined the lyric to be about two people experiencing the same sense of loss without realizing it. The lyrics revolve around something or someone slipping beyond another's grasp and my feeling was that it could be about a long-term relationship unravelling, the loss of youth and possibilities, or the way in which children grow up and evolve beyond their parent's reach.
Initially, I wanted a female voice to exactly mirror mine and approached a couple of people, including Jane Siberry. I then had the idea of getting Kevin Godley involved, because his voice is one of my all-time favourites. Luckily, Kevin liked the song and agreed. After a few weeks of communication and packages being sent to Dublin, we had a take.
Kevin's presence resonated strongly with the notion of youth passing and children growing out of reach. His was one of the voices that soothed me to sleep as a child and his performance fit the concept and the soundscape perfectly. He did a lead vocal version, but in the end I just used his backing vocals as I felt my lead worked better within the context of the album.
Andy is someone whose music I'd bought since I was 13. A bit like 10cc, XTC was fantastically musical, witty, clever, and highly emotional when required. I'd worked with Andy via Burning Shed and had met up with him at his studio where he played me a brilliant solo version of one of my favourite XTC songs, "Love on a Farmboy's Wages." So, I had it in mind to work with him for a while.
He liked the "end of season" feel of "What Lies Here" and added multiple guitars. His original vision was far more dissonant and edgy than the one I went with. It was fascinating, but I brutally edited down what he gave me and just kept the impressionistic parts that can be heard on the album. Both Kevin and Andy brought rich layers of sadness and soul to the song.
I'd urge anyone reading this to listen to the likes of XTC's glorious Apple Venus Volume One and Godley & Crème's wildly-inventive L.
You often talk about pursuing a "classic LP flow" on your releases, the process of which inevitability leaves pieces by the wayside. Explain what you mean by that.
I strongly feel that for music like mine, the classic 38-44 minute LP length is ideal. It's just the right amount of time to make a statement without stretching the listener's patience. The CD age ushered in albums that were overlong merely to fill the available space and quality suffered. There are so many releases from the early 1990s to the early 2010s that would have been twice as good if they were half as long.
The age of streaming has favored the single, but partly for reasons of helping an album chart, it's also spawned extremely-long albums with 20 or more tracks, plus versions and mixes on top of that.
Whenever I create an album, I spend a couple of weeks working on the sequencing so that it makes for a satisfying and coherent listen. I try to imagine how it comes across from the perspective of someone other than me. The flow I'm after is to do with the relationship of the songs to one another, specifically the musical dynamics and emotional shifts.
I realize this is Canute-like, but in the age of streaming, I take more time over arrangements, mastering, artwork, and track flow than I've ever done. As music has been so important to me, ultimately, I want to inspire people in the way that I've been inspired by it.
You've had a multi-year working relationship with Peter Hammill. Tell me about its beginnings and how it evolved into collaborations across both words and music.
I discovered Peter's work in the late 1970s. Van der Graaf Generator's Pawn Hearts and Peter's solo album Over were the first two releases of his I bought. I was blown away by the wild ambition of Pawn Hearts and the raw intimacy of Over. He was one of my biggest influences when I was an emerging musician and I'm pleased to say that I can now call him a friend and an occasional work colleague. He continues to be an idealistic and singular artist.
In the mid-1990s, we both appeared on albums by Italian artists and through various means, we were put in contact with one another.
Peter's very open to ideas and willing to help out, so I've got him involved with quite a few of my projects of late. In return, I've linked him up with Kscope for his reissue program and set up a store for him on Burning Shed.
Peter contributed to a few of the Flowers at the Scene pieces, including one non-album song he prominently appeared on, which will be released at a later date. He gave a lot of himself.
With "It's the World," I felt I sang the song well enough, but I could imagine Peter's voice on it, as I wanted additional bite in the chorus. He added the vocals and venom that I felt would lift the song and also spontaneously replaced the chorus guitars with a far more savage and loose slice of riff-o-rama. Unasked for, Peter had spotted exactly what was wrong with the song as it was and fixed the problem in his own unique way.
Peter still inspires with his attitude. He remains excited by what he creates and he always works on the basis that each album and concert will be his last. It's something that has become part of my thinking as well.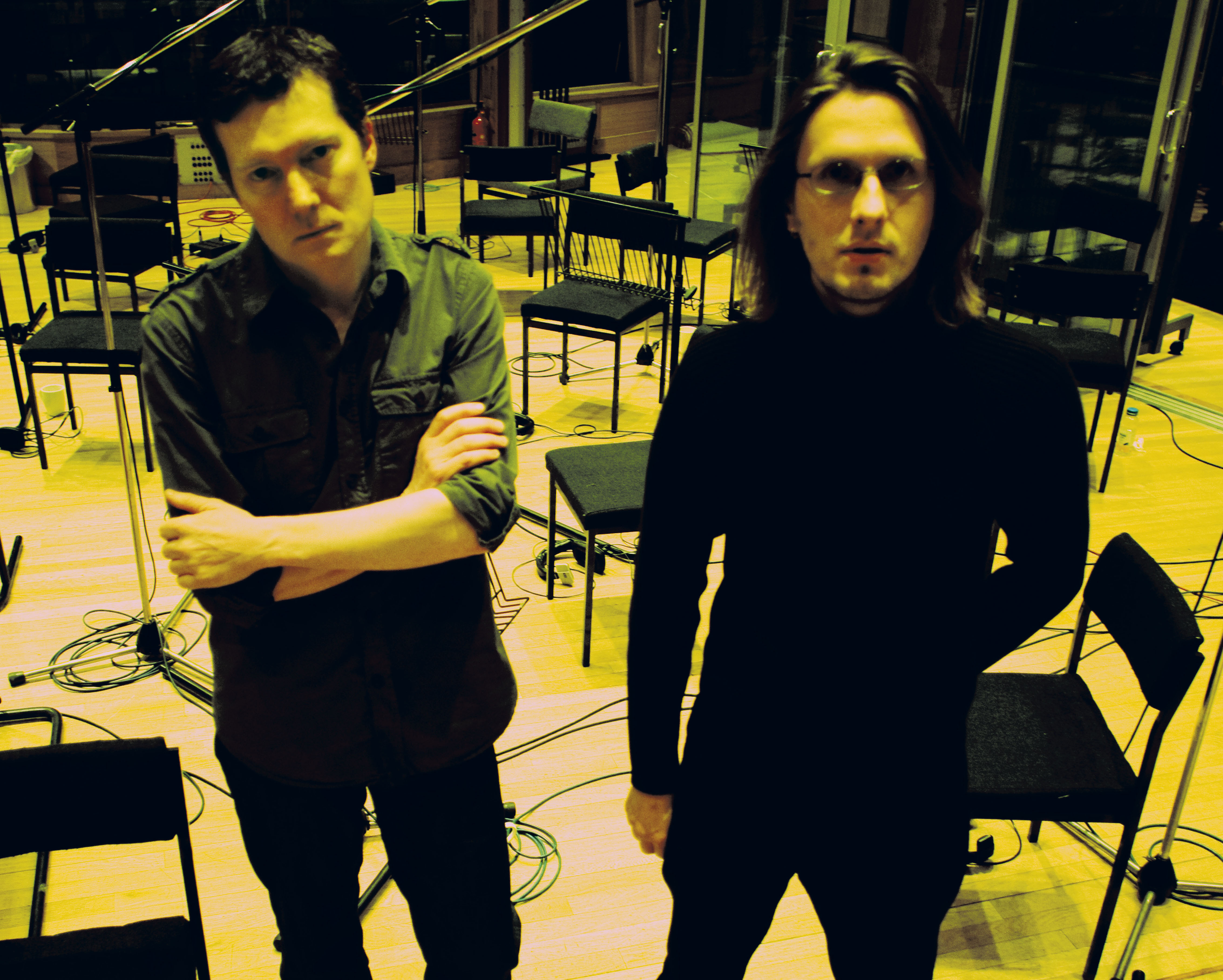 Tim Bowness and Steven Wilson during No-Man's Schoolyard Ghosts sessions, 2008 | Photo: Carl Glover
Describe the role Steven Wilson played on the album, including the scope of his input.
With my previous Inside Out albums, Steven acted solely as mixer, aside from Stupid Things, which was mixed by Bruce Soord. I would give instructions as to how I wanted the songs to sound and he'd realize them. He works extremely well, extremely quickly and automatically knows how to make my music sound the way I'd like it to.
With Flowers at the Scene, I've credited it as produced by No-Man and Brian Hulse, which is accurate. But the truth is more complicated than that. Some pieces, like my first two Inside Out albums, were my productions. Some were barely changed from the demos Brian and I came up with. Some songs Steven made a big difference on, and others we all had a strong say in.
"I Go Deeper," "Borderline" and "Killing to Survive" are based on ideas I had sound-wise. "What Lies Here," "The Train that Pulled Away" and "Flowers at the Scene" are large-scale versions of the demos Brian and I came up with. "Not Married Anymore" and "The War on Me" were enhanced by Steven and possess a real No-Man quality, I think. "Rainmark," "Ghostlike" and "It's the World" contained production ideas that all three of us suggested.
As an example, we tried a few drummers out on "Ghostlike." Charles Grimsdale's take was the one we used due to its primal force. I brought in Ian Dixon and Charles and encouraged Brian to play out guitar-wise. Brian created the rhythm and sound palette, and Steven stripped down and re-edited elements of the song, such as taking the bass out of the beginning and creating the haunting trumpet coda. As such, all three of us had a strong influence on how the piece eventually ended up sounding.
Many years ago, Steven and I discussed the idea of creating a No-Man production team. No-Man has a distinctive sound and we thought it could be interesting to creatively work with other people and spread the band's DNA. It was a casual conversation, but Flowers at the Scene belatedly provided an ideal opportunity to try out the idea.
You and Wilson are currently working on a new No-Man project which sees you revisiting a very old long-form piece of music you've described as a "disco epic." Describe the project and how it's shifted over the years.
The last time you interviewed me, I said that the possibility of No-Man wanting to dedicate serious time to fully realizing an electronic beat-oriented folly seemed slim. Well, things change.
We both count Pink Floyd and the disco epics of Giorgio Moroder and Donna Summer amongst our formative influences. In some ways, it was a strange combination for us both to be enthusiastic about. Conceptually, the piece began as a kind of homage to the likes of "Shine on You Crazy Diamond" and "Love to Love You Baby," but inevitably what we did deviated from that. Beyond the scale of the music and the combination of electronic and acoustic elements, I'm not sure how much of the inspirational DNA remains. Also in the mix was the early No-Man dream pop sound, given we'd just finished Loveblows & Lovecries, the then current Underworld experiments, Berlin school electronica, Miles Davis' mid-1970s' music, and the ZTT productions that we both admired—particularly Grace Jones' Slave to the Rhythm.
From 1994-1998, the piece slowly developed in between projects and from 1999-2012 we did the occasional re-recording and overdub. In 2013, we wrote a new section that was compositionally related, but very different in feel. At the end of 2018, we decided to commit ourselves to finally completing the album we'd always intended to make.
We spent three days and late evenings throwing ideas around in the studio, much as we used to when we first started the band. I had a list of approaches and using these as starting points, new sections were written. What was great was that while I might have had a particular idea in mind, what emerged was often a total surprise and seemed to suggest fresh possibilities that were then pursued. It was a wholly collaborative effort and a really enjoyable experience. The great thing was that just like when we started in 1987, no idea was off the table. We both have very eclectic tastes and no sense of embarrassment regarding what we like.
The album's finished compositionally and I've been doing vocal re-recordings and slight lyrical rewrites over the last couple of months. In addition, we've had a few musicians contributing some incredible parts, including Adam Holzman, David Kollar, The Dave Desmond Brass Quintet, and Ash Soan. Bruno Ellingham, who's worked extensively with Massive Attack, UNKLE and Ben Watt, is currently working on mixes.
The album will comprise two musically- and lyrically-related 20-minute pieces and combines quite a number of disparate influences. Despite or maybe because of that, I think it's possibly the most distinctive and distinctively No-Man sounding music we've created. When it's released, I'd urge people to listen to it as a whole, as it logically goes to places you wouldn't anticipate from its beginning.
On one level, it's a propulsive electronic pop song with visions of grandeur and a lyric revolving around the pop music staple of "The Break-up." On another, it's a genuinely exciting, unpredictable 40-minute piece of music featuring a sophisticated overview of a relationship, with the lyric written from several perspectives.
Since it was originally conceived, we've probably gotten better at realizing our ideas. At the very least, we've got a better idea of how to put something epic together. What we wanted to do was beyond us in 1994 and the piece features some textures and influences—including something of Together We're Stranger—that didn't exist at the time of the song being written.
Part of the reason it's worked out this time is that both of us have found ourselves experimenting again with the possibilities of more energetic and electronic music. Entirely coincidentally, our views on what we'd like to do are as in sync as they were when we made albums like Returning Jesus and Together We're Stranger.
How has your working relationship with Wilson changed as both of your solo careers evolved?
It has changed over the years, though at the moment it feels like it's almost come full circle. I think the worst time was between 1995-1998. Porcupine Tree was deservedly gaining attention and success and No-Man had conclusively—and understandably—been dropped as Steven's main project. I still loved the music and it was difficult to accept it as second best. It coincided with a time when the band was gradually being dropped by everyone, including our manager, publishing company and record label. Wild Opera and Dry Cleaning Ray conveyed some of the desperation I felt during that period.
"My Revenge on Seattle," one of my favorite No-Man songs, was written at a time when it felt like I was the only one carrying the torch for the band. An undoubtedly distorted and self-piteous memory is of me singing the song passionately while Steven chomped on biscuits looking blankly at the computer screen. That whole period was terrible for me as I was also going through the collapse of a long-term relationship and barely earning anything as the No-Man advances were running out.
After that, I think we hit on something good. Porcupine Tree reigned supreme, but there was also an ongoing commitment to No-Man. I really enjoyed the making of Returning Jesus and Together We're Stranger and remain incredibly proud of the albums. It's possible that the experience of making them felt different as I was in a better place. By that time I'd started Burning Shed and was working closely with Peter Chilvers and Stephen Bennett.
Schoolyard Ghosts was a different beast entirely. It originated almost exclusively out of ideas and songs I brought in. Inevitably, Steven added to these ideas and during the process we also managed to write things together. "Wherever There Is Light" was spontaneously composed in the studio, for example. For whatever reason, Schoolyard Ghosts wasn't much fun to make, but I felt the album itself was strong. Steven pushed me to do better work than I would have done outside of him.
Since we first met in 1987, we've never had a big falling out. Inevitably, things have changed in our personal and professional lives and some times have been better than others, but I hope and think that there's always been a mutual respect and affection in the relationship.
I would say that Steven's been a lot happier since he started his solo career. He's in an ideal situation in that he can produce what he wants with whomever he wants. In addition to that, he has a highly-successful career mixing music that was important to him as an artist. For me, my solo work has been artistically fulfilling, while Burning Shed has thrived in the background. Within that context, No-Man is pure fun and pure artistic expression. It's making music for the sake of making music with friends, which is exactly how it began.
The one thing that amazes me is that we actually managed to create a distinctive sound together. When we first met, we were fans of anything and everything from 1960s and 1970s singer-songwriters to post-punk to prog-rock to minimalism to disco to industrial/electro rock to ambient to funk/soul to ZTT to dub to vocal harmony pop to Elizabethan Madrigals, and so on. It's dizzying to think of the amount of music we were listening to. Despite this, I think a strong focus and identity emerged.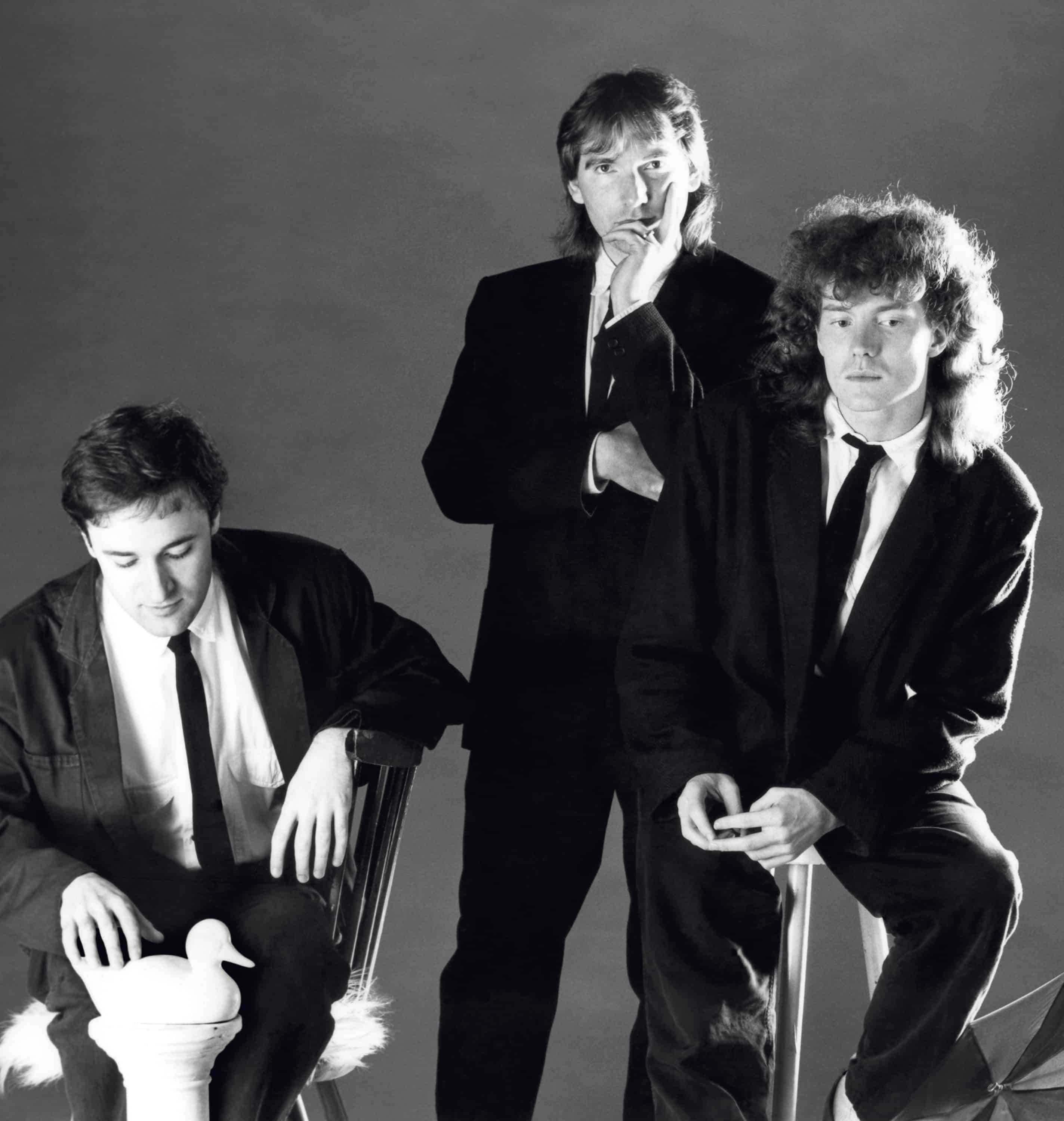 Plenty, 1988: Brian Hulse, David K Jones and Tim Bowness | Photo: Rob Whitrow
Describe the seeds of Plenty's It Could Be Home and your desire to pursue a professional recording to completion decades later.
It Could Be Home was a New Year's resolution come good. I'd been thinking about making "the Plenty album that never was" for years and on January 1, 2016, finally got in touch with the other members of the band suggesting we work together again. Luckily, the timing was good as everybody was still alive and still available.
It took us a year and a half to record the album. It started while Lost in the Ghost Light was being made. We stayed true to the original arrangements and the sounds of the era that the songs were written in. What had changed was our understanding of what made something work. What ended up on the finished album was more sure of itself than the 1980s demo recordings.
From my side, I changed some lyrics and made some melodies work better for me as I sing now. It ended up being a really energizing and creative project, and it was truly instructive being reintroduced to ways of singing and writing that I'd long ago abandoned. Jacob Holm-Lupo did a wonderful job of mixing and I'm really pleased with the resulting album. I've no doubt that the positive energy surrounding the making of It Could Be Home fed into Flowers at the Scene.
Outside of a very short-lived Manchester-based band called Still and a one-off collaboration with an electronic composer called Robert Cox, known for his work with Rimarimba, Plenty was the first band I was in where I was making the sort of music I wanted to make and the sort of music I'd listen to myself. Many of my formative bands were just ways of making a noise with people and there wasn't a great deal of common ground in terms of tastes or personality.
From the start, Plenty was strongly aligned as in terms of vision and shared influences. We made sophisticated art-pop that was very much of its time in the mid-1980s. The emphasis was on detailed songwriting and imaginative contemporary arrangements. There was a great attention to sonic and compositional detail in the music, which is something that had been missing from my previous work.
I felt and still feel that with Plenty, I co-wrote some of the best things I've ever been responsible for. Working with two talented older musicians—Brian Hulse and David K Jones—brought out more in me than my prior bands had and it was a great period of musical education.
Steven Wilson first got in touch with me a few months into my time with Plenty. After a couple of long phone calls, in which we discussed what we did and didn't like about the contemporary music scene, we decided to do some recording together. Initially, the recordings with Steven were monthly affairs and more about just experimenting with possibilities. About a year after we'd started working together, we got some industry interest in our work and a dilemma emerged. Should I stay in Liverpool with Plenty or travel to London to help make No-Man into a fully-fledged band? The decision wasn't easy as I loved the music and approaches of both bands.
Plenty was all about discipline, precision and operating within fairly strict musical and genre parameters, while No-Man was open to making anything in any way. Steven was also as ambitious and proactive as I was in terms of wanting to get the music to people.
I threw my lot in with Steven in late 1988 and moved to London. Subsequently, it seemed to me that aspects of Plenty's sophisticated arrangements and lyrical detail seeped into some of No-Man's songs. We even performed a couple of Plenty pieces live until 1991.
Provide a preview of the forthcoming Bowness/Chilvers album.
It's called Modern Ruins and it was completed in the Autumn of 2017. Peter Hammill did the final mix.
I feel it's taken our music several steps beyond California, Norfolk. If anything, it's lyrically even more bleak, while musically it alternates between atmospheric piano-based ballads and pulsating electronic-influenced pieces.
I'd say it definitely showcases how far Peter has progressed since he started working with Brian Eno and contains at least two of the best songs either of us has been involved in writing.
With so much going on in our lives professionally and personally, it's been difficult to find a time to release it. Hopefully, it'll appear over the next year.
The music industry preaches that physical media has no future, save for the mini-vinyl renaissance in play. What's your empirical experience at Burning Shed?
It seems strange to say this in the face of what I know is happening in the industry globally, but Burning Shed has had 18 years of growth. The number of people opting to receive our newsletter has risen from 2,000 to over 90,000.
We deal almost exclusively with physical music media and we've found that CD sales have stalled rather than fallen, while sales of deluxe CD and LP box sets have risen dramatically. We've also had a slight increase in interest in cassettes, music books, surround sound releases, and t-shirts.
Also, going against the grain, over the last few years there have been artists we run stores for who have seen their physical sales increase. It's not all a downward trajectory for musicians at the moment.
The widely-reported upsurge of interest in vinyl is definitely borne out by Burning Shed sales. We've had a tenfold increase over the last decade, but the CD remains our best seller.
I realize that all of this could collapse tomorrow, but I think Burning Shed has succeeded partly because it's remained artistically focused, partly because it's very professionally run—we have a great team in the office and warehouse—and partly because a lot of people aren't finding what they want in shops. Due to the latter, we're one of the only sources in the world for certain releases.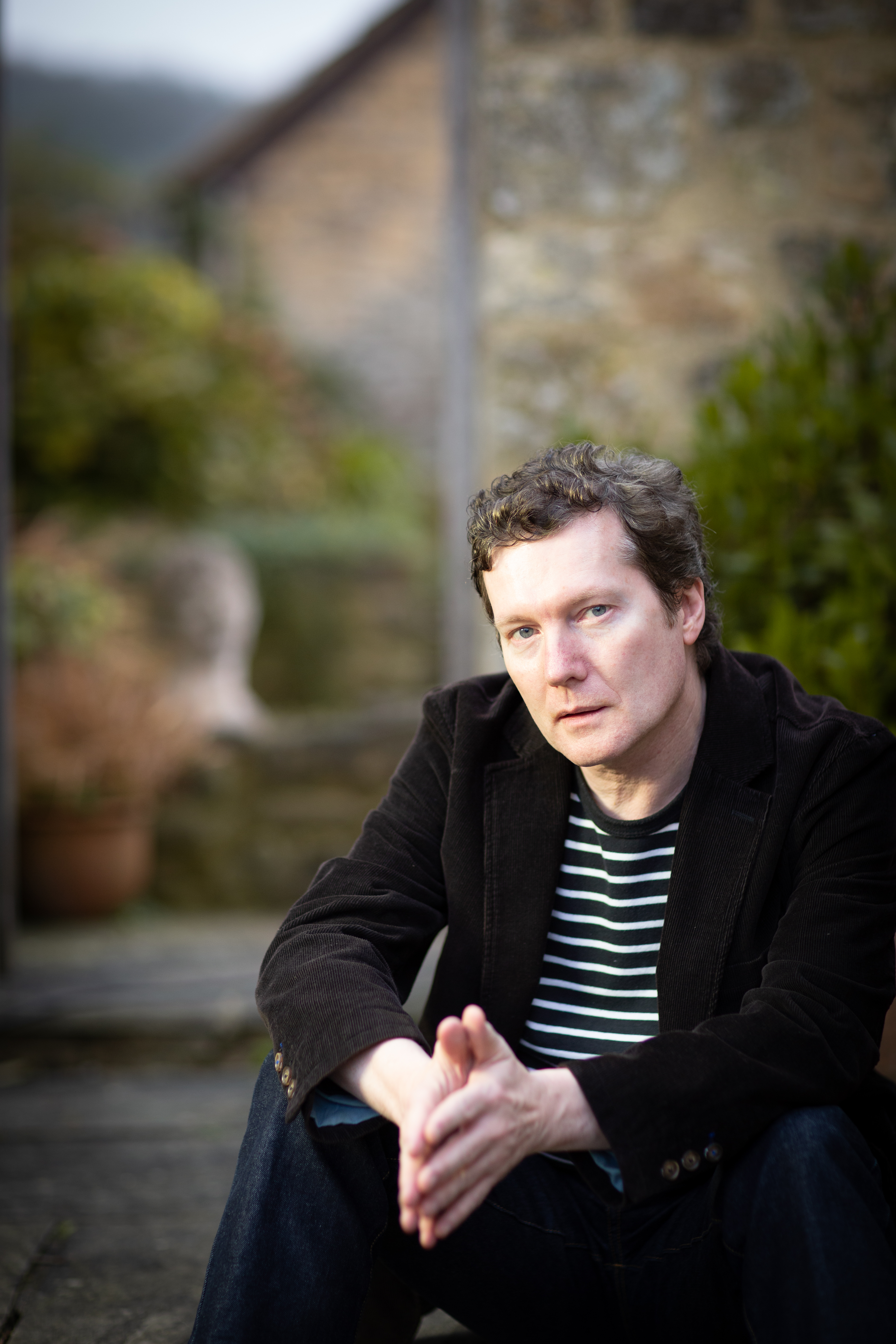 Photo: Rob Whitrow
It's clear the streaming companies have absolutely no interest in the livelihoods of musicians. As we've seen, they are willing to stoop to legal action to keep royalty rates as low as possible. Why are only a small percentage of musicians are willing to express their outrage at this reality?
That I can't explain.
For reasons I'm happy to go into, I find streaming a little inadequate as a means of experiencing music, though I completely understand why people use and like it. More importantly, I think that if it does become the sole future for music, it would mean the fall of many independent music labels, the loss of even more music industry jobs, and the almost total disappearance of income for most musicians—especially non-mainstream artists who are already finding things tough.
What the digital companies pay for streams is pitiful and what little they pay is filtered through aggregators, collection agencies or labels. For context, to break even on one of my relatively inexpensive albums, I'd probably need to generate 5,000,000-plus streams, which is unlikely.
While musicians have sleepwalked into allowing their work to be sold for virtually nothing in the digital world, the publishing, TV and film industries have managed to protect their "talent" from being exploited. With films, despite the triumph of streaming and the collapse of DVD and Blu-ray sales, there's been an increase in cinema attendances. For instance, 2018 was the best in 48 years in the UK. Additionally, Netflix and Amazon pay the going rate, if not more, to create their own content and also pay decent licensing fees for other programs and movies. I'm not sure why there isn't a decently-funded Amazon or Spotify music label equivalent of a Netflix Original.
The book as an object is still attractive to readers. I don't know what's happening elsewhere, but physical book sales in the UK are still strong and stores such as Waterstones are one of the only success stories on the British High Street. Also bear in mind that Kindle prices aren't that far off book prices and offer more royalties for the authors. If a Kindle sale is equal to an album download, there is no streaming equivalent for books.
The important thing is that the film, TV and publishing companies still seem to place a value on content, artists and the unsung technicians and editors that help bring these things to life.
Unfortunately, it does appear that the remaining major labels are actively trying to kill physical music media, much as they tried to do with vinyl in the early 1990s. We're lucky in the UK with HMV still surviving and a healthy number of decent independent record stores keeping afloat, but in the US there doesn't seem to be a major retail outlet selling CDs or LPs, and globally the death of the CD is being hastened by cars and computers no longer having disc drives and electronics stores stopping selling CD players.
For the major labels, who have decades of back catalog to offer digital platforms, no physical media will mean costs are down as they no longer need product manufactured, warehouses to store the product in, staff to run the warehouses and so on. Digital marketing, data uploaders and influential playlist placement are the growth areas.
Profits from streaming are filtering through to major labels, label shareholders, digital music companies, and mobile phone and Internet providers. Whether by accident or design, corporate control is stronger than it ever was and musicians in general earn less than they ever did. This doesn't take into consideration engineers, producers and music studios, which also face massive pressure from home studios and reduced recording budgets. The diminishing number of audio experts are also being devalued in this environment.
Burning Shed deals with some artists, both well-known and obscure, whose business models revolve around releasing two or three albums a year, pressing a thousand or more CDs of each release, and subsequently selling them online and at concerts. It's not a path to wealth, but it provides enough of an income for them to keep doing what they do. Vinyl is very expensive to manufacture and not guaranteed to sell, so if CDs died, an income solely derived from streams of a few thousand would necessitate these artists having to give up or just do what they do as a hobby.
I also feel that streaming is destroying good listening habits, and partly as a result of that, negatively impacting on the nature of music creation itself. The format is immediate, disposable and, above all, convenient. The appeal is obvious, but evidence suggests that the average listener has become more like an A&R person and gives a song only a few seconds to impress them.
When you invest in an album or single, you tend to give it time. I personally enjoy the immersive ritual of losing myself in music while poring over the credits and artwork on gatefold LP or digipak CD, and I find that if I don't immediately like something, I'll give it a few more chances due to that investment. Some of my favorite music I initially hated and even if I continued to hate something, I found I'd learned something about my tastes on the repeat listens. For some people it will be different of course, but in general I don't think streaming encourages deep listening.
I use streaming and YouTube purely to see if I like something and want to buy it. As a packaging junkie, one of my great frustrations is that expanded artwork and detailed information, sometimes including correct release years, are pretty much non-existent via streaming platforms.
Outside of this, the number of financially equivalent streams to physical sales in the album chart is too low, by about half in relation to CD and double that again in relation to LPs. The top-100 UK singles chart is now 100% stream dominated, and the album chart is following suit with 60%-70% of entries now determined by streams. Partly as a result of this, we have the least musically diverse and most static charts in living memory. Charts are vanity, but they also dictate what gets radio and TV plays and mainstream media attention, so they remain important.
Fans don't owe musicians a living, but I think the realities of what the digital era is doing to music should be discussed more openly. Most listeners don't care how the music they like is made and what it costs to make it, and why would they?
The problem is that while streaming may have enhanced the visual entertainment industry, and so far bypassed the publishing industry, it's laying waste to all but a few big companies and mainstream artists in the music world. Maybe it's all part of a process and the sort of music I like and make are on their way out like the silent movies, but I still feel there's a very strong public interest in all kinds of music and I think it's something worth fighting for.
A simple question to ask is: is it right that streaming platforms and mobile phone companies do better out of music streams than the musicians themselves? It's as if in the age of vinyl, the manufacturing plants and plastic companies were making a fortune while the musicians busked on the streets for pennies.
I'll stop here, but needless to say I think it would be a great shame if physical music media disappeared altogether and I believe the ramifications of a streaming-only future based on the current business models will mark the end of many careers, strengthen corporate influence, and mean less interesting and less diverse music being made.
How might Burning Shed morph in the coming years to mesh with changes you foresee in the music industry?
We've thought of developing the label side more by trying to license titles that aren't getting the treatment they should be. An example is the recent David Sylvian deluxe vinyl reissue program. Despite the fact that they'd sell around eight times more on CD than LP, there are no plans to issue them on the format. We feel there's a gap in the market not being catered to. It strikes me that there are still many releases that could be given deluxe physical reissues that are being abandoned by the industry, partly because of the digital agenda and partly because there's a genuine ignorance of the music's existence.
A major label may now be aspiring to hundreds of millions of streams for mainstream artists, but it seems crazy to neglect thousands of releases that could still generate anywhere between 1,000 and 75,000 physical sales.
What advice do you have for artists to attempt to monetize recordings in the current environment?
Maybe it's as it should be, but if I were to start now, I'm not sure I'd know what to do. It was difficult in the 1980s and 1990s when only around 0.1% of aspiring musicians ever made it to releasing something properly, but it's even more difficult now.
There will always be big new mainstream artists, and some of them will be interesting. There will always be music used in film and television. And the justifiably legendary likes of Pink Floyd, The Beatles, Radiohead, Prince, and Marvin Gaye will likely thrive in perpetuity due to the cultural impact they've already made.
For new or lesser-known non-mainstream musicians, I'm not sure how they'd go about gaining a significant foothold in the new world order, but nothing's impossible.
New ethical streaming companies could emerge. The existing ones could suddenly see what they're doing isn't fair, form labels and pay more. The public could learn to love music packaging again—much as it fell back in love with the book. The album as app—something I've had in mind for a decade or so—could emerge as a serious income provider. The more Internet speeds increase, device memories expand, and programming expertise spreads, the more it could become an everyday reality.
My current advice is to go against what prevails. Create the most beautiful, lavish and ambitious music and artwork you can and provide an experience that the streaming platforms can't.
Tell me something positive about being a recording artist in 2019.
Despite all the above, it's still a thrill being able to make music. From writing and completing songs to seeing the final release, it remains exciting and emotionally fulfilling to me.
Improved home studio technology has made creating high-quality work far easier and while sometimes feeling like a Pandora's Box that should never have been opened, the Internet has brought fans and musicians closer together and enabled different ways for musicians to successfully work outside of the industry mainstream.
Technology moves on. Attitudes change. Nothing is ever guaranteed.
Websites:
Tim Bowness
No-Man