Timbuk3
Rolling With the Punches
by Anil Prasad
Copyright © 1991 Anil Prasad.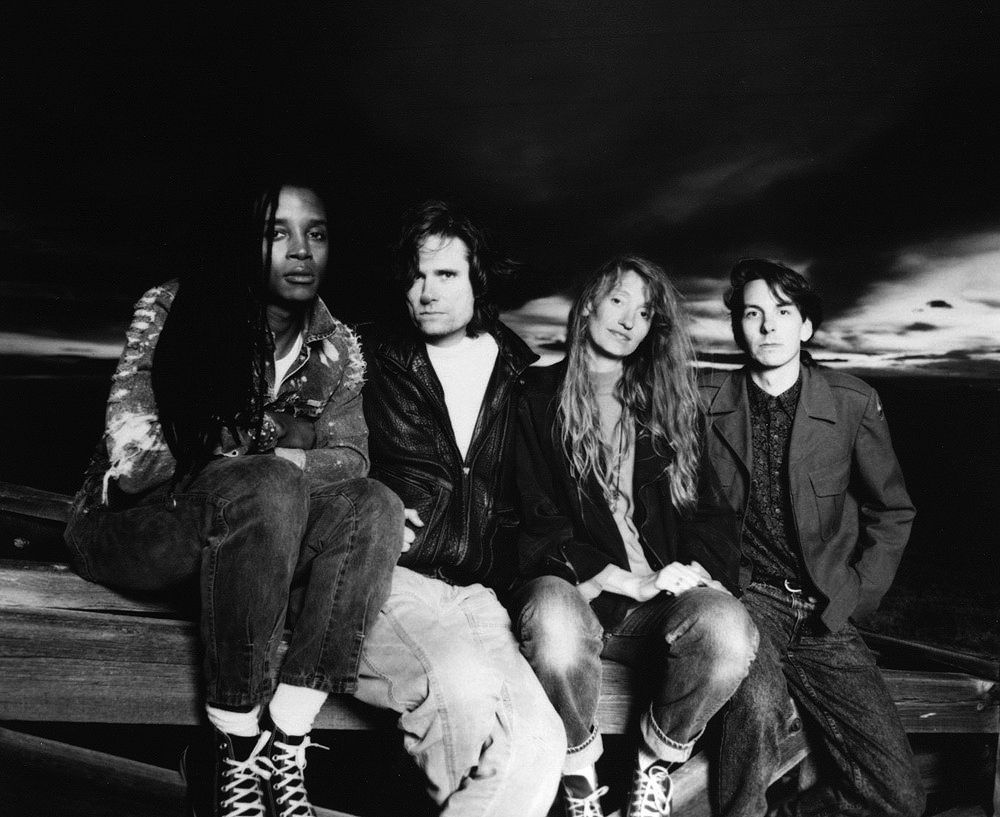 Timbuk3: Courtney Audain, Pat MacDonald, Barbara K, and Wally Ingram
Timbuk3 is a duo turned quartet. The Austin, Texas-based outfit began with Pat MacDonald and Barbara K, a husband-and-wife team that first came to widespread attention in 1986 with their top-20 hit "The Future's So Bright (I Gotta Wear Shades)."
Since that single, the duo has released three adventurous albums, each exploring new musical trends and offering intriguing social commentary. Each release is a distinct collection, tied together by acoustic and electric guitar, harmonica and one-of-a-kind vocal harmonies.
"We kind of drive for a really strong vocal identity by having our voices come together to sound like one," says Barbara.
In the past, these Timbuk3 traits appeared atop thumping rhythm tracks created by samplers and drum machines. In concert, the duo reproduced their sound with the aid of a boombox from which all the rhythm tracks would emanate. All this has changed with their their latest album Big Shot In the Dark.
With the recent addition of drummer Wally Ingram and bassist Courtney Audain, new avenues have opened up for the group. The original motivation to augment the duo began with the desire to make up for the limitations of playing live as a twosome. The new members were also used to full effect on the new album, infusing added detail and depth to the group's already unique sound.
"We spent a lot of time trying out many new things," says Barbara. "Some of it works and some of it doesn't. You have to throw some of it out the window and start over again, but it's a real educational process and it's a lot of fun too."
The samples used on Big Shot In the Dark possess a different tint from the norm.
"A lot of people that use sampling lift riffs from other people's music and use that as a base for a song," says Barbara. "What we do is play our own music and then lift our own samples from it, which is the basis for some of the music on the album."
Timbuk3's sound has evolved, but the group's trademark lyrics featuring wry societal observations, hilarious imagery and earthy themes remain intact on the new album. It includes the bouncy "Mudflap Girl," an anthem for the perpetually road-weary trucker, and the drama of "The Border Crossing" which depicts the band's near-foiled attempt to get to Austria from Germany for a gig. The album's title track deals with the universal subject of someone selling their ideals and beliefs for wealth, power and fame. That scenario is one Timbuk3 has faced and resisted throughout its existence.
"Here we were, this little band that our label didn't spend much money on—kind of a budget band that had a top-40 hit," explains Barbara. "It blinded our record company to what Timbuk3 was really all about. Instead of really understanding us as songwriters and our music, they got greedy and all they wanted were top-40 songs. Instead of coming up with a creative way to market what we're truly all about, they just threw their money away trying to market what weren't really top-40 songs."
Regardless of the industry outcome for the new album, Barbara is confident the band will persevere.
"We have a lot of faith in ourselves and our music," she says. "We know this is all we can do and this is all we're gonna do. I don't really care about commercial success. I'm not in it for the money or to be famous or anything like that. What I'm in it for is the music and I believe in it."
Timbuk3 is currently touring North America. If you're lucky, you might even see the band fly past you on rollerblades before the show.
"We got some rollerblades as a gift and I tell ya they're a blast," says Barbara. "Wally Ingram already had a pair and Alan, our monitor man has a skateboard. It's quite a sight when we pull up at a truck stop or gas station and we all get our skates on."