Ralph Towner
Sense and Sensitivity
by Anil Prasad
Copyright © 2010 Anil Prasad.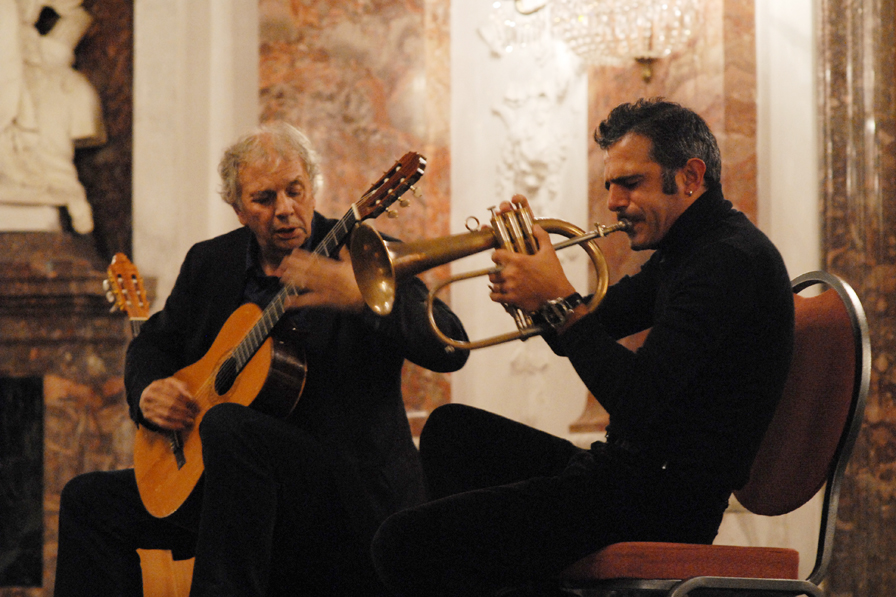 The intimacy of the duo setting has long appealed to classical and 12-string guitar virtuoso Ralph Towner. During his expansive four-decade career, he's released several adventurous duo albums with jazz luminaries including electric guitarist John Abercrombie, vibraphonist Gary Burton, saxophonist Jan Garbarek, and bassist Gary Peacock. His latest release, Chiaroscuro, is a gorgeous pairing with Italian trumpeter Paolo Fresu continuing that proclivity.
The exquisite, jazz-oriented disc finds Towner and Fresu exploring new and earlier Towner compositions. It also features two improvised pieces and a cover of the Miles Davis and Bill Evans classic "Blue in Green." Additionally, the album presents the first recordings of Towner performing on baritone guitar, an instrument that allowed him to open up fresh sonic vistas and further extend his already impressive compositional palette.
Towner's pieces also take center stage on From a Dream, the first recording by MGT, his new trio with classical guitarist Slava Grigoryan and jazz guitarist Wolfgang Muthspiel. It's one of the most unique guitar trios to emerge in recent years, unifying three distinct voices, jazz and classical elements, and acoustic and electric instruments into a singular statement.
2010 found Towner hitting some significant milestones. He turned 70 in March, yet shows no sign whatsoever of slowing down. And his group Oregon, a pioneering act that combines jazz, world, and classical music, celebrated its 40th anniversary. The band, also featuring reedman Paul McCandless, bassist Glen Moore, and percussionist Mark Walker, will soon record its 26th album for release later this year.
What made working with Fresu so appealing to you?
Paolo and I first played together 15 years ago at a jazz festival in Sardinia. I was commissioned to write a piece for a Sardinian group he played trumpet in. The piece was half ethnic Sardinian music and half jazz. As soon as he started playing the melody of the tune, I was taken by how good he sounded, and I made a mental note that I wanted to use him on a project. It took 15 years, but the opportunity finally came up. I was debating what to do as my next release after three solo guitar CDs in a row, and the clarity and flexibility of the duo format was appealing to me. Paolo remained in the forefront of my mind for that. I was debating whether or not to have a rhythm section, but realized that I really didn't need it, because working with Oregon satisfies my band needs. As the guitarist in the duo, I get to cover the rhythm roles, and I also cover some of the piano roles, all of which I enjoy doing. The album contains a link to the first time Paolo and I played together, on "Punta Giara," which is the jazz half of the piece we initially collaborated on.
I understand the unique chemistry you share with Fresu is informed by your shared love of Miles Davis' music.
We definitely have a real connection through Miles' output and his approach. And because I'm also a piano player, I have a really special connection with Miles' keyboardists, especially Herbie Hancock, Keith Jarrett, Bill Evans, and Victor Feldman. Of course, there's the trumpet playing, too. Paolo is always moved by Miles and is influenced by him, as most trumpet players are. Paolo is a very lyrical player and his sense of phrasing is wonderful. One of the great things about the chemistry in a jazz duo is there's a lot of leeway in how you phrase and respond. You're both composing and inventing as you improvise. It's very interactive without anyone having a fixed role.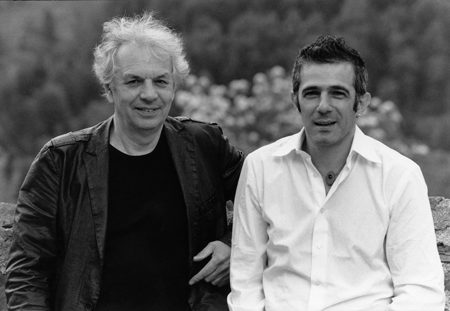 Your first instrument was the trumpet. Provide a snapshot of that experience.
I have a sense of the instrument, having started playing it at age 6. It belongs to my musical history and life. It's why I've always said somebody with a sensibility like Miles would be able to fit very well with my type of guitar playing. By the time I was 12, I was playing jazz, swing, and dance music in several bands, and I kept playing trumpet throughout high school in the '50s. It was quite an exposure to jazz and it felt like a natural instrument for me. But when I went to university, I didn't want to be in a marching band. I wanted to become a composition student and shifted to piano, later also incorporating a guitar focus. That's what I am: a piano player who plays guitar. It's always been my approach to the instrument. My experience with the trumpet isn't what necessarily drew me to using Paolo, because a successful duo depends solely on the players' creativity. In some ways the instrument is secondary. But the trumpet is an instrument I've always enjoyed hearing.
Describe the creative process that drove the pieces you wrote and adapted for the new album.
The most important thing for me was to have a picture of the areas in which I thought Paolo should be comfortable. He's more of a jazz musician than a classical one, so I wanted to compose music that reflects the Miles Davis aspect of his playing. I also wanted the music to take advantage of the touch of melancholy that naturally occurs in Paolo's playing. In addition, we chose to include music that wasn't totally based on a bebop swing feel. So, there's some music that we did rubato, meaning we weren't playing in a strict time feel. There are also a couple of older compositions that I adapted for the duo format. I've always felt that if a piece of music is good, it should work with any instrument. I had to adjust some of the earlier compositions via octaves to keep them within the range of the trumpet. A lot of the tunes I wrote specifically for Paolo were done on my new baritone guitar, which is tuned a fifth below a normal guitar. So those pieces have a really different flavor.
Who made your baritone guitar?
An Australian luthier named Graham Caldersmith built the instrument. It looks like a great big guitar, with a long string length and neck. It's quite a stretch to play in the first position. The unique thing about the instrument is that the bracing underneath the top is made of carbon-covered balsa wood, which is very strong, yet very light. So the top is quite thin. I can feel it vibrate when I play, and the instrument has tremendous resonance.
What new territories does it enable you to explore?
I like the fact that I can't play the same chord voicings I typically would on a regular classical guitar, because everything sounds so low. It makes normal voicings sound too blurry, so I had to write music specifically for that instrument, taking into account that it gets muddy when you play close intervals down too low. It alters how I approach things and lets me create big, open voicings with wonderful resonance. You can hear it particularly on the piece called "Sacred Place."
What other guitars did you play on Chiaroscuro?
I used my old faithful classical guitar made by Jeffrey Elliott and Cyndy Burton. It was built in 1995, using East Indian rosewood and European spruce. It's the most perfectly-balanced guitar I've ever played. You always know exactly how loud every note on every fret in every register will be when you pluck it. There aren't any notes that jump out unexpectedly. It's like playing a very well-voiced Steinway piano when you hit a bunch of notes in unison and want them to all be exactly the same volume. It gives me so much control over dynamics. I also like the tone of the instrument. It's very lyrical and warm, while still being very clear.
I'm also playing my custom Guild 12-string with a Fishman under-saddle pickup that was made for me 40 years ago. It has a very wide classical neck so the strings aren't too crowded together like on most 12-strings. It's also made of rosewood and spruce, with a cutaway that makes it easy to play. It's a really beautiful-sounding instrument that's well balanced, and has exceptional tone.
Describe your unique 12-string technique.
I play it differently from everyone else. I press the double strings down and try to pluck them as much at the same time as possible. I use an angle across the strings rather than plucking from a 90-degree angle like many players. That lets me avoid the sort of "ba-dup" double sound that's typical of 12-string guitars. I'm always pushing to make use of my classical right-hand technique on it. It's tough on my fingernails, but it's one of the reasons it sounds distinctive when I play the instrument. The 12-string doesn't have a real tradition in the jazz world at all. I use it within the genre because I can create interesting overtones that are closer to those of a harpsichord.
Is it a challenge to write for and perform with two other guitarists in the MGT trio?
It really is, because two guitarists can pretty much cover everything, so the trick is integrating the third guitarist. I also had the task of writing for a fourth guitarist recently. The Eos Guitar Quartet from Switzerland commissioned me to contribute a piece called "Dawn to Dusk" to the group's new 20+/20th Anniversary album. When writing for three or four guitarists I sometimes take the approach of writing single lines for each one. In MGT, the third guitar always works well because typically I'm playing my Elliott-Burton classical or Guild 12-string and Slava Grigoryan is playing his classical guitar, and we're handling the fixed melodic and accompaniment parts. The third part is often Wolfgang's territory. He'll use the same harmonies, but not play specific, pre-defined music on his electric guitar. The roles also sometimes get passed around in terms of who's playing melodies and who's soloing. I really love MGT. Slava and Wolfgang are both just fantastic people and the group really lets me cover a lot of bases in terms of jazz, classical, and improvisation.