Yves Theiler
Dreaming of a Perfect World
by Anil Prasad
Copyright © 2016 Anil Prasad.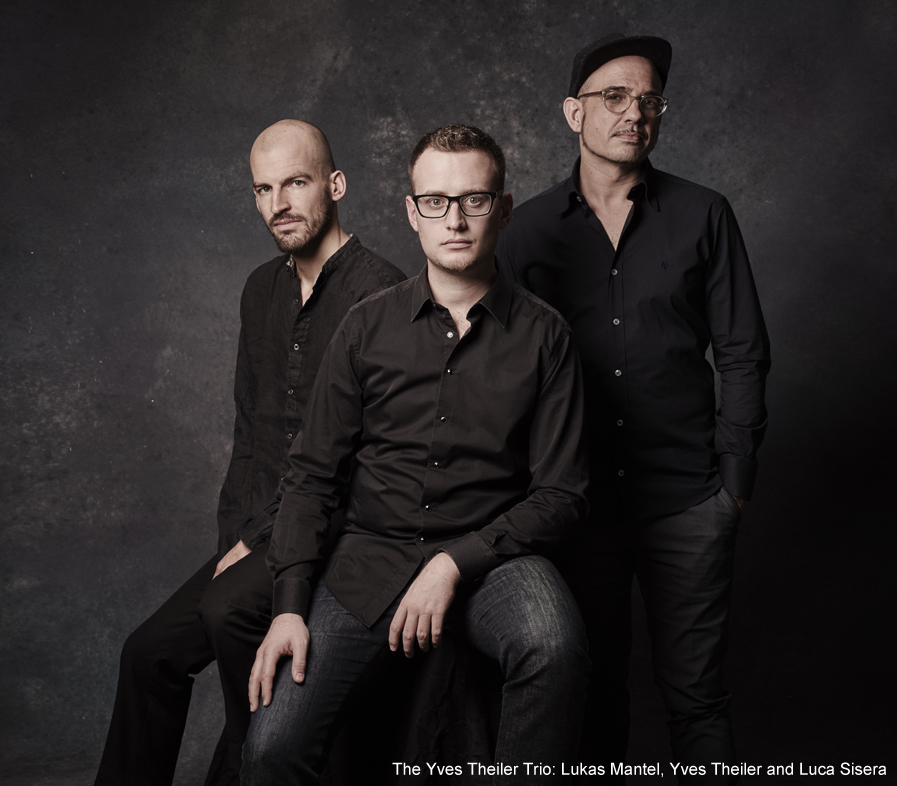 The muse knows no borders for Swiss pianist and composer Yves Theiler. While primarily focused on the jazz universe, the 28-year-old's pieces seamlessly integrate minimalist and world music influences. They're also infused with kinetic, playful energy and propulsive rhythms. His new album Dance in a Triangle, recorded with his trio featuring bassist Luca Sisera and drummer Lukas Mantel, captures a depth of vision far beyond Theiler's years. He sees his music—and in fact, all music—as a way of connecting people and cultures that no other art form is capable of.
"I strongly believe music is a spiritual vehicle because music itself is 100 percent peaceful," said Theiler. "It doesn't know exclusion, race, favoritism, or hunger. Everyone who listens to music is truly free to think or feel whatever they want. A painting can depict race or nationality. A book can preach war or hate. Spoken words can express jealousy. But a note on a piano can do none of these things. Music is a gift that helps make it clear that life is precious. This is what I want to communicate in my work. I want to make people feel alive. I want it to touch people. I want listeners to fly in a flow of their own feelings."
Theiler studied his craft intensely prior to launching his career as a leader in 2012, with his acclaimed Out of the Box release. He obtained music degrees from the prestigious Zurich University of the Arts, University of Music and Theatre, Leipzig, and Lucerne School of Music. He was also taught by jazz masters Richie Beirach and Chris Wiesendanger. Some of the key lessons he took away from those experiences are the value of spontaneity and the knowledge that there are no wrong notes, as long as they feel right.
"I used the word 'triangle' in the album's title to signify the trio format and combined it with 'dancing' to describe the importance of the energy and vitality of the interaction between the three of us," said Theiler. "The music is often very rhythmic and represents my personal version of dancing. The title track demonstrates my perspective in detail in that it showcases all three members each playing with a different rhythmic emphasis, yet we're completely connected."
As Theiler intimates, the trio shares an almost telepathic chemistry, enabling its members to shift together across Dance in a Triangle's complex, ever-morphing changes.
"Lukas and I share a long and strong musical history," said Theiler. "We've played together for 10 years. I appreciate his openness and unique approach to the drum set. Luca is a recent addition to the trio and he fits in wonderfully because of his fantastic energy and presence. He expertly combines virtuosity and being rooted in the groove. We're a collective rhythm section. Every instrument takes a melodic role at some point with another serving as the groove element. It really is a triangle in which we switch functions at any given moment depending on what the music asks of us."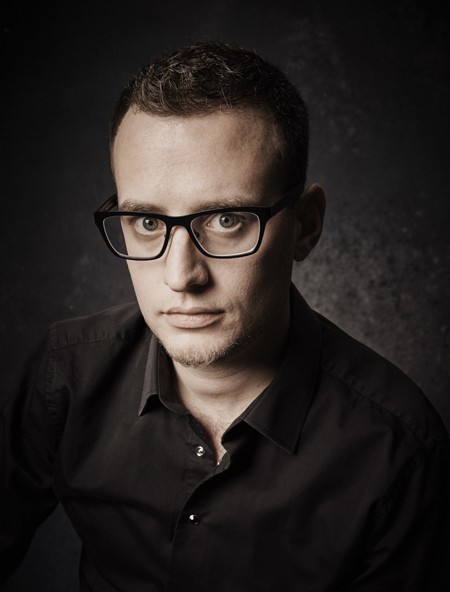 Theiler's compositional approach on Dance in a Triangle is open-minded, and full of nuance and intrigue.
"It goes far beyond piano- and traditional-jazz-driven territory, with influences such as Romanian folk music and Nubian music from Northeast Africa," said Theiler. "There are also pop and hip-hop elements in there. On this album, those influences may not be readily apparent, as the music remains within the sound culture of a piano trio. The more exotic inspiration is hidden in certain rhythms and harmonic systems. I think I'm a step closer to realizing a broader compositional vision with this recording. For me, this album is about clarity. It's the most clear expression of my musical direction to date."
Theiler's creative process works at an accelerated pace. The ideas rain down hard and fast. He's also reticent to interfere with the music that materializes for what he feels are critical reasons.
"I'm often able to write long tunes in an hour and then I leave them as they are and don't change them," said Theiler. "Modifying what was created in the moment often sounds wrong to me. I'm talking about the overall structure of the piece. What gets repeated or how long it gets repeated are the sorts of things I change later on. But if an idea doesn't work right away, I usually throw it away and start on something new. The dynamic flow of the pieces is mostly an organic process resulting from playing compositions alone over and over again. After the piece is presented to the trio, each member brings their own perspective to it in terms of approach and organization, and it further develops. But the overall architecture of the piece is typically complete from the start."
Theiler acknowledges the strong impact of the Swiss jazz scene and the musicians that fueled its creation. But they're one element of a broader perspective.
"My father is a great watch designer and former goldsmith," said Theiler. "So, I was born into a universe of aesthetic awareness. While I often focus on a minimalist approach, some of my pieces also feature many notes within short periods of time. It's colorful music. There's definitely a bridge in my work to new music composers such as Philip Glass, Steve Reich and Howard Skempton, as well as jazz composers such as Ethan Iverson who had a strong impact on my understanding of arranging for the trio format. Hans Feigenwinter, the great Swiss jazz musician, is another major influence. He's as important to me as John Coltrane is for others. His compositional approach and musical flow when he improvises have always fascinated me."
The question of influence is often difficult in the jazz world. How can a musician absorb myriad influences without being governed by them? Theiler takes an open-ended approach that goes back to his "there's no such thing as a wrong note" perspective.
"I believe acknowledging influences is fine, but imitating them isn't," said Theiler. "As a creator of music, I honestly accept my influences. They came through via my natural and intuitive selection of music across my life. I believe that embracing influences inspires me to spontaneously and intuitively create new music using my own ideas. I'm always searching for the sound of the moment. Some call that creativity. It's up to others if that's so. But in my opinion, unless you're actively copying something else that's been done before, you're creating new music. When I hear saxophonists who remind me of John Surman, it doesn't mean I'm not also hearing something new in their music."
When performing live, a significant influence on Theiler's music is the audience itself. In this context, he believes listeners are as important to the group as its members.
"I sometimes dream of a perfect world in which everyone respects one another and music has a major role to play in this," said Theiler. "The pieces on Dance in a Triangle are about exposing the deepest feelings of all three musicians to listeners. By listening, the audience is a participant in the music, not just a recipient. They're a part of the triangle, along with the music and musicians. They complete the exchange of energy, unity, harmony, and disharmony."