Ottawa Citizen
Music That Matters
By Peter Hum
October 21, 2010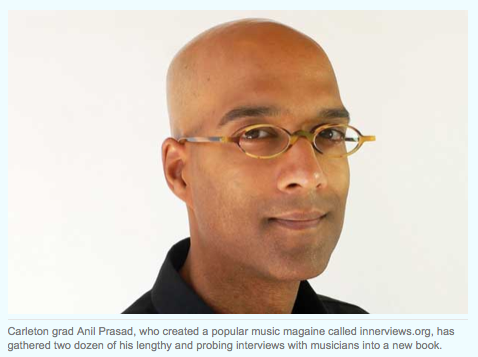 In the 1980s, when Anil Prasad was a teenager, he counted on the staff at record stores to help him cultivate his musical tastes.
"I would wander in looking for a Blondie release, and a wise record store clerk would send me home with a Kate Bush album instead," recalls Prasad. "Or I would go in looking for Steely Dan, and get lectured by these guys about how I should listen to Weather Report, John McLaughlin or Montreal's Uzeb instead to really appreciate where this jazz-rock stuff was really done well.
"There was almost a level of mentorship from the guys that ran these stores," he says.
Since he left Ottawa more than a dozen years ago, Prasad, now 41, has become a mentor of musical taste via the Internet. Since the mid-1990s, Prasad has amassed 250 or so lengthy and probing interviews with musicians at his website, innerviews.org, which he calls the "World's longest-running online music magazine."
Begun as a test of his Web-coding skills when Prasad worked at Nortel Networks in 1994, the website now receives between 30,000 and 100,000 views daily, Prasad says.
Not content with mere Internet presence, Prasad, who is based in the San Francisco Bay area, this week published Innerviews: Music Without Borders, which collects two dozen new and expanded interviews with a diverse range of artists including Björk, Chuck D, Ani DiFranco, Tangerine Dream, Ralph Towner and McCoy Tyner.
The book follows the recent release of a free Innerviews iPhone/iPad application that has cracked the Top 40 of music apps worldwide, and even the Top 20 and Top 10 in some countries, Prasad says.
While Innerviews has refused to be bound by genres—Prasad covers rock, jazz, fusion, hip-hop, world music, pop, and folk—the site has always been discriminating.
It's a Britney- and Bieber-free zone, but Prasad has lots of time for musicians such as singer-songwriter Tori Amos, the British pop act Massive Attack or the folk-rockers Fairport Convention.
While the site's popularity spikes when bigger names such as Genesis or, oddly, William Shatner are featured, Prasad remains true to the music that matters most to him, flowing from his music purchases as a teenager in Montreal, London and Toronto.
"I quickly amassed a large record collection of the most amazingly diverse stuff as a kid, including progressive rock, electronic music, jazz and jazz-fusion, and avant-garde stuff," Prasad says. "I still remember my friends thinking I was a nutcase for being so out of sync with the mainstream, but it really planted the seeds for my core interests as a human being today."
Prasad attended Carleton University in the 1990s, earning a master's degree in journalism. He began his career doing communications work for Ottawa tech companies, including Nortel Networks and then a startup called Televitesse. In 1997, he was lured to work in Silicon Valley—where he still works today in the tech sector—by Netscape because some big Innerviews fans worked at that pioneering web browser company.
The move to California allowed Prasad to raise his game with Innerviews. He interviewed bigger names, often in person, as they played the San Francisco Bay Area, one of the world's great musical hotspots. While he eventually left Netscape, Prasad landed steady freelance work with Guitar Player and Bass Player magazines.
Prasad said that after so many interviews the key skill he has learned "is to shut up and get out of the way." In his book, his questions are typically well-researched, very concise and open-ended, and the musicians are exceptionally candid with their detailed answers.
For example, bassist Bill Laswell, who has produced albums by Herbie Hancock, Yoko Ono and Laurie Anderson, tells Prasad that recording has too often been a "really absurd process...there are a few people that make it real and personal, but for the most part, you are at the mercy of people who know absolutely nothing about what you're doing, but are telling you what to do."
In response to a question about the lack of respect for hip-hop compared to rock, jazz and R 'n' B, Public Enemy frontman Chuck D tells Prasad: "The elements of hip-hop, which include graffiti, breakdancing and turntablism—the musicianship of it all—have been extracted from hip-hop to leave only rap. If the DNA has been extracted out of it and rap with shock value is the only thing you've got left, then what you've done is strip hip-hop down to the point where it can't lift itself out of the gutter."
Prasad often asks musicians about the role of spirituality in their art. Although DiFranco is an atheist, she nonetheless tells Prasad that music is her "church...The act of performance, like after you've been jumping around, sweating, screaming and wailing away on a guitar for an hour puts you in an altered state of consciousness."
Some of Prasad's interview subjects have become his fans. Bassist Victor Wooten says Prasad "is like a great musician. The way he expresses himself through his own art—his writing—causes readers to feel inspired, as if we've learned about ourselves, as well as the subject of his interview."
Jazz pianist McCoy Tyner says Prasad "really knows what he's talking about" and is "doing the music a great service."
From all of his conversations, Prasad says that he has come to realize how hard it is to be a serious artist.
"There is very little that's easy about the life of a musician," he says. "From the initial creative process to the release, promotion and touring phases, artists' working lives are typically fraught with complexity. I feel musicians deserve an incredible amount of respect for what they do, and they often don't get it.
"Serious musicians are much more than entertainers," Prasad says. "They're communicators, and they're revealing essential truths about who we are as people in their art."